FTC Disclosure - This post contains affiliate links and I will be compensated if you make a purchase after clicking on my links.
*Item received for free for promotional consideration or a sponsored link.
Designing around a statement sofa is a challenge many do not want to tackle.  However, for those brave few, it can elevate your space and scream luxury.  If done right, of course.  With this particular design element you are combining a dominant piece of furniture with a bold style, color, or fabric.  If you've ever seen a gorgeous, in your face, sofa that you wanted but didn't know how to work it into your room, keep reading.  Below are a few thoughts about how to approach this design challenge.
Designing with a Statement Sofa
Why choose a statement sofa over a nice comfortable neutral? Because it's awesome, that's why.  No further reasoning necessary.  

How do I avoid my statement sofa overpowering my room?  The statement sofa is meant to overpower the room, but in a good way.  The trick is to allow it to be the focal point and the other elements to compliment.  If you allow other accents to compete for attention you may end up with a visual mess.  To do this, first make sure your colors are balanced.  Choose complementary colors.  For reference, check out colors opposite on the color wheel.
Alternatively, you can repeat the shade of the sofa throughout the room.  Pillows, drapes, and rugs with the same accent color would be a good idea.
Finally, when designing a room around a statement sofa, remove anything else that may compete for attention.  Avoid televisions, colorful children's toys, and bold art work in a room with a statement sofa.  Remember, the sofa is the art you wish to feature.
What are my statement sofa options? Look for a unique silhouette, unconventional pattern or fabric, or an amplified classic.  Examples below.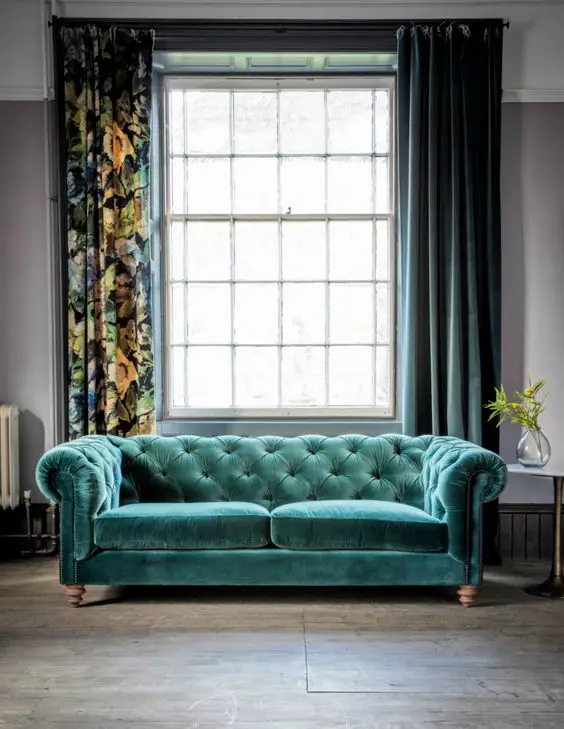 Final thoughts.  Throughout this post I've used the term "statement sofa" quite literally, however, figuratively speaking a statement sofa could be a chair, ottoman, or coffee table.  The idea is to bring that bold shouting piece to the forefront and let it dominate the space in the best way possible.  That's all I have for now on the subject.  What are your thoughts on incorporating statement sofas into a design.  Please comment below.
Thanks for reading!
furniture
sofa
statement decor
statement decorating
statement furniture
statement sofa
statement sofa colors
statement sofa decor
statement sofa styles