FTC Disclosure - This post contains affiliate links and I will be compensated if you make a purchase after clicking on my links.
*Item received for free for promotional consideration or a sponsored link.
Mother of pearl has officially been dethroned by bone inlay.  For a long time, jewelry, decor accents, and furniture inlaid with mother of pearl were the height of sophistication.
The beautiful iridescent shine amped up the look of anything it touched.  The magic of mother of pearl inlay still exists, but the hype today is around bone inlay.
What seems to have started the craze, in particular, are the Anthropologie bone inlay furniture currently available on their website.  These artisan pieces are exquisite.
The time and craftsmanship put into creating these items are mind-blowing.
So, what is bone inlay and how is it produced?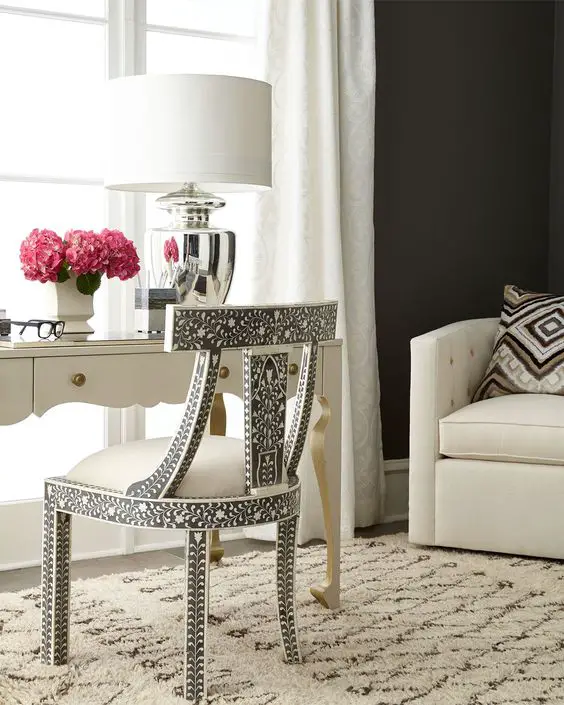 What Is Bone Inlay?  Is Bone Inlay Furniture Ethical?
Let me start off by saying this.  Bone inlay is less of a thing and more of an art.  Skilled craftsmen practice the art of bone inlay mostly in India.
This process involves gathering discarded bones from animals, most often camels (Note: No animals are slaughtered for this process.  Ethical practices are followed when gathering remains of animals that have died naturally).
The bones are then carved or filed into shapes that will be used to develop an intricate pattern. Once all of the bones are laid, a hot resin will be poured over the entire piece.
This is what will become the background color of the item.  Once the resin has cured, sanding will begin.
The resin is sanded down to the level of the bone, thus revealing the inlay pattern.  The item will then go on to finishing where it will be cleaned, fine sanded, polished, etc.
The process itself is very cool to watch (video below), but undoubtedly time-consuming and labor-intensive.  Without question, if you have an authentic bone inlay piece of furniture, you have something truly special in your hands.
And, if you have an item that is a combination of bone inlay and mother of pearl, keep it forever!  It is a work of art.
Where Can I Buy Bone Inlay Decor?
Now, I would love to be able to say that you can purchase right here from DianneDecor.com.  But, unfortunately, you cannot.
As you may or may not know, we specialize in affordable, inexpensive home decor items.  Authentic bone inlay is well… not that.
Expect to spend anywhere from $500 – $3000 on a piece of furniture featuring bone inlay.  Anthropologie's collection is undeniably gorgeous.  Crate and Barrel along with West Elm also have offerings.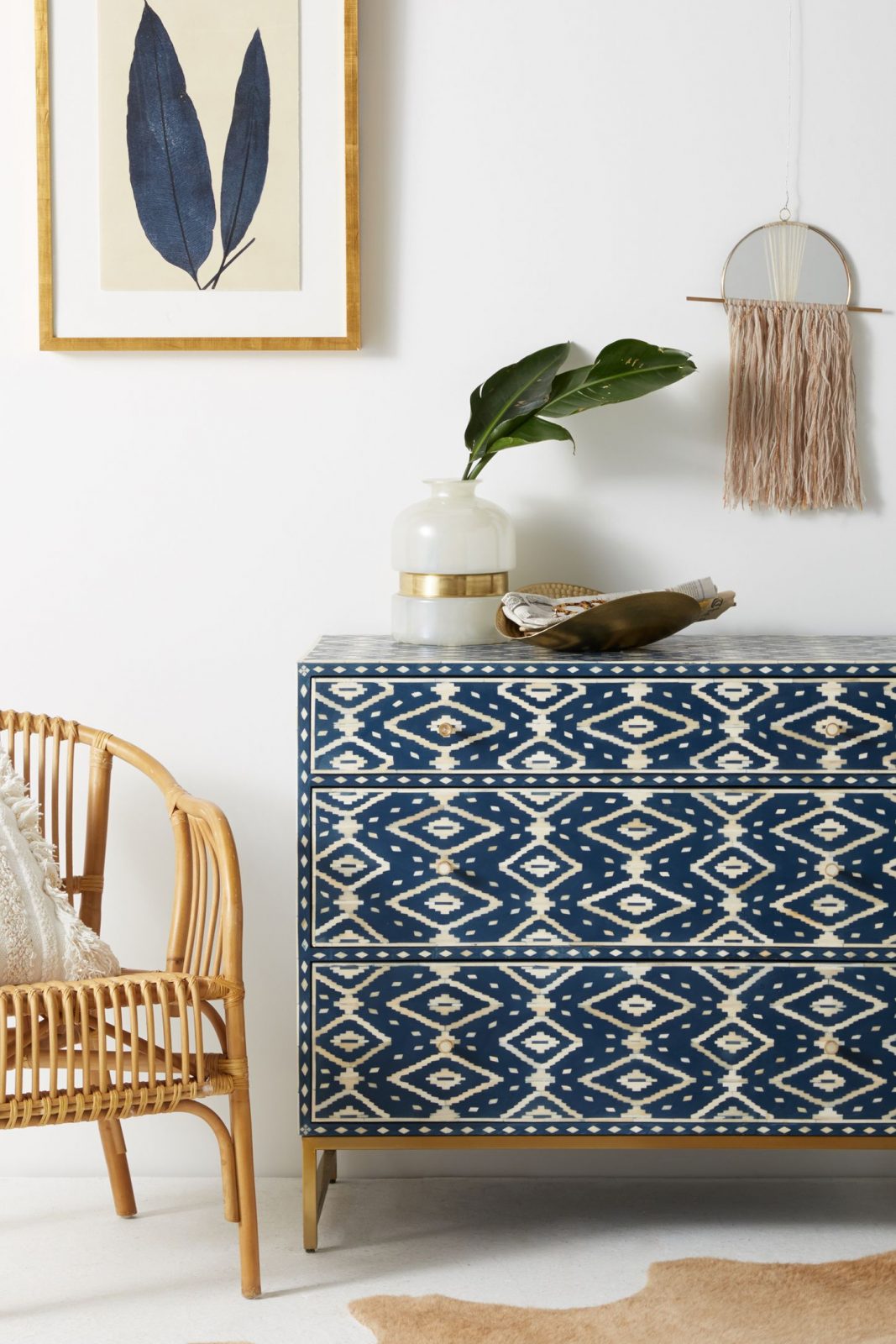 Where Can I Find Affordable Bone Inlay Decor?
AHA! Now you're talking my language.  The answer, of course, is an easy DIY project.  You can create an imitation bone inlay piece from the comfort of your own home.
This can be done with the furniture you already own, paint, and some stencils.  One caution when attempting this project, it is very easy, but take your time stenciling and painting.
You'll want a crisp pattern without any smudging or smearing.  If you're careful with your creation, no one will be able to tell from a distance that your dresser is not bone inlay.  They'll simply see a beautifully patterned piece.
If you'd like to try this out here is a link to a tutorial on CuttingEdgeStencils.com.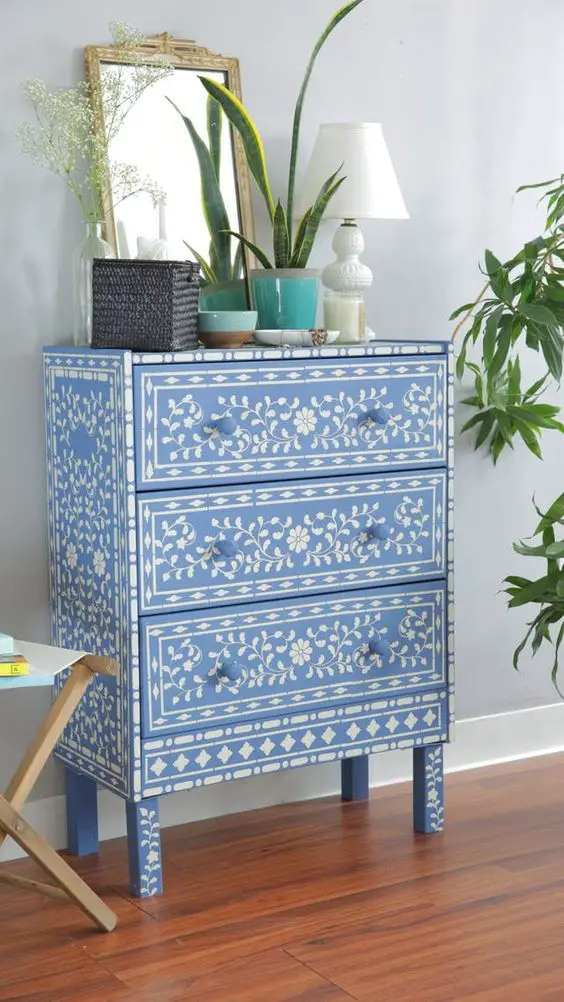 Conclusion
I hope this post was helpful.  Please share this post and follow me on Bloglovin' for more content.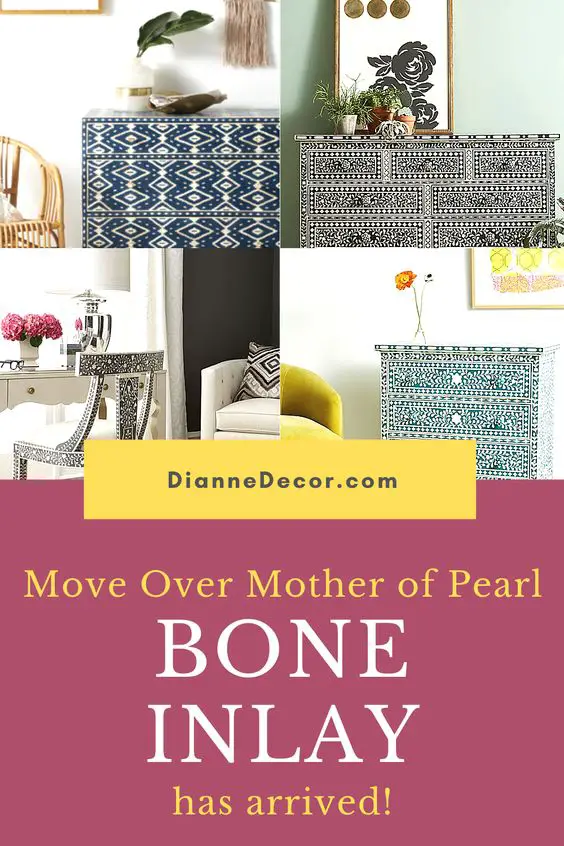 Thanks for reading!
bone inlay
decor stencils
diy
diy furniture
do it yourself
mother of pearl
stencil decor
stencil furniture