FTC Disclosure - This post contains affiliate links and I will be compensated if you make a purchase after clicking on my links.
*Item received for free for promotional consideration or a sponsored link.
Are you loving the resort-style home decor floating around Pinterest?  The one thing everyone has in common when it comes to wants and needs in their home is a "retreat".
When you come home you want at least one space where you can just exhale and feel a reprieve from the outside world.
If you've been wanting to take that feeling of calm and serenity to the next level, resort-style decor is for you.
When it comes to achieving this look, there are three main areas of your home that must be addressed.  They are the bedroom, the bathroom, and your outdoor space.
Additional rooms are extra, but these three are vital for a continuous feeling of relaxation in your home.  Let's look at each in detail.
The Resort Style Bedroom
In this room, luxury bedding along with crisp clean sheets are a must-have.
Try not to go overboard with the accent pillows.  You don't want to create a chore for yourself every evening removing.
Additional seating by way of a bench or small reading nook should also be incorporated.  You want to have space within your bedroom to sit and rest that doesn't require you to climb into bed.
Next, clear out the clutter.
If you're trying to achieve a resort-style bedroom it should be a mash-up of minimalist and romantic decor.  Add fresh flowers and a few large scale pieces of artwork on the wall and some sleek, simple lamps.
Other than that, leave table tops as bare as possible.  An accent rug with a subtle pattern will help bring in that cozy feeling.  Particularly if you have wood or tile floors.
Lastly, invest in some nice window treatments.  Consider a double rod with heavy drapes and white sheers for versatility in the space.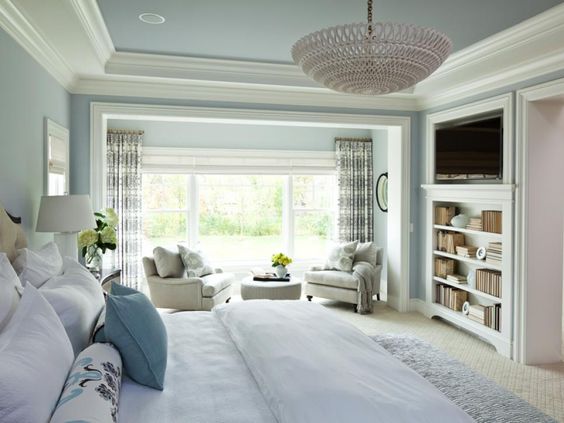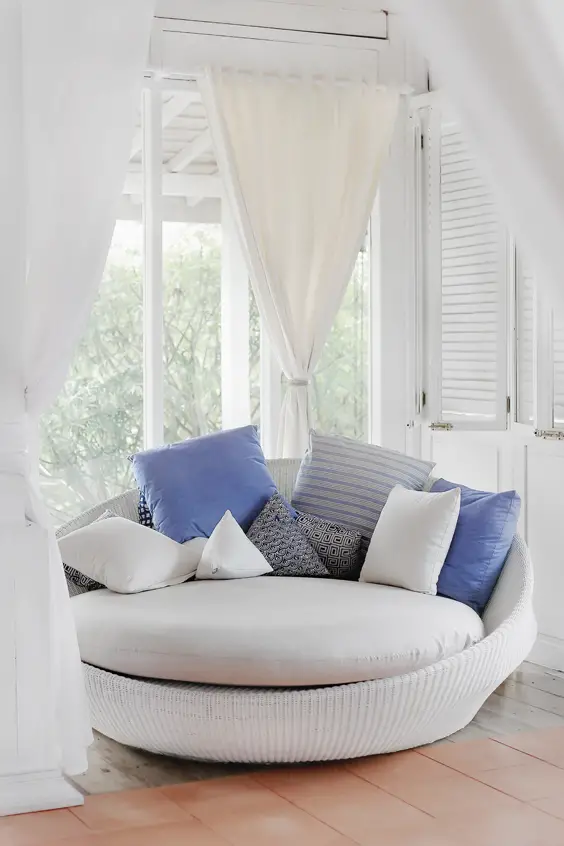 The Resort Style Bathroom
If you have a full remodel budget then go big.  Think stand-alone tub, double shower heads, vessel sinks, and waterfall faucets.
If you're doing a makeover on a budget, clear your counter space of everything but a tray with a few choice items.  Candles, a vase, and a jewelry tray would be appropriate.
Add a freestanding towel holder and some super soft, high-quality white hand towels.  As for the rest of your items, tuck them below the sink or in a drawer, but contain everything with drawer dividers, baskets, or bins.
Wicker baskets with nice linen lining would be my number one pick for larger items such as bath towels, washcloths, and slippers.
If you have a separate shower and tub, keep the shower items to a minimum.  One shampoo, one body wash, one conditioner (etc.).
Also, consider transferring your products into uniform labeled containers for a clean crisp look.  This way you won't have a bunch of different colored bottles sitting around on the shower shelves.
It will help bring visual calm to your space.  For your tub, add a few large candles to the corner of a tub and large clear plastic vase or container filled with bath bombs or potpourri.
You can use glass, but be careful.  Make sure it's not sitting near the edge where you routinely get in and out of the tub to avoid accidents.
Finally, you may want to think about picking up one of those cute bamboo bath trays for those times you really want to sit and luxuriate.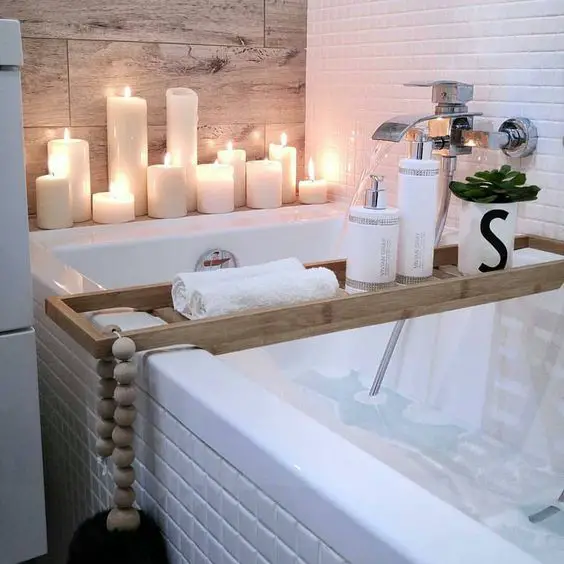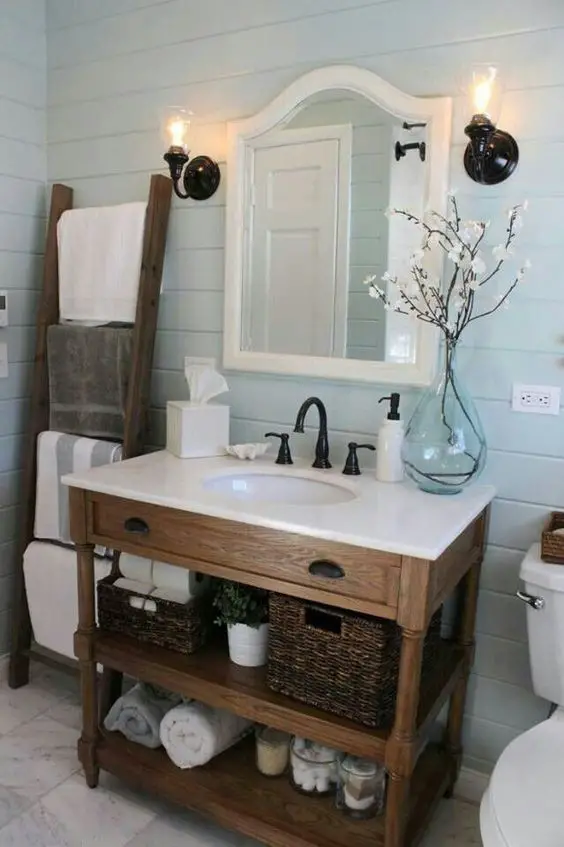 The Resort Style Patio
When creating a resort-style patio you'll want to first frame your space.  This is done for you, somewhat, if you have a covered patio.
Let the edge of the canopy roughly carve out your perimeter.  Then, further, define the space with linens and lighting.  Add long flowing drapes, cabana-style, to the corners of the patio.
This can be done by installing curtain rods in an "L" shape on the corners.  The curtains do not need to span the entire length of the side.  Using just the corners is sufficient for defining the space.
Next, add some string lights to run along the ceiling of the patio cover or line the perimeter with some torches.
Now that the perimeter is taken care of, you can move onto the surface area of the patio.
Most resort-style patios are designed around a conversation space.  Arrange your patio furniture to face each other and place a table or fire pit in the center.
Add a nice outdoor rug, or waterproof a traditional accent rug so it can be used outside.  Feel free to pile on the accent pillows out here.  It will make it cozy and inviting for late-night chats.  Lastly, bring in some additional lighting with candle lanterns and you have yourself a beautiful resort-style patio.
Your resort-style home is complete.  You have now created not only a personal retreat in your bedroom and bathroom but also a retreat to share with other family members and guests outside.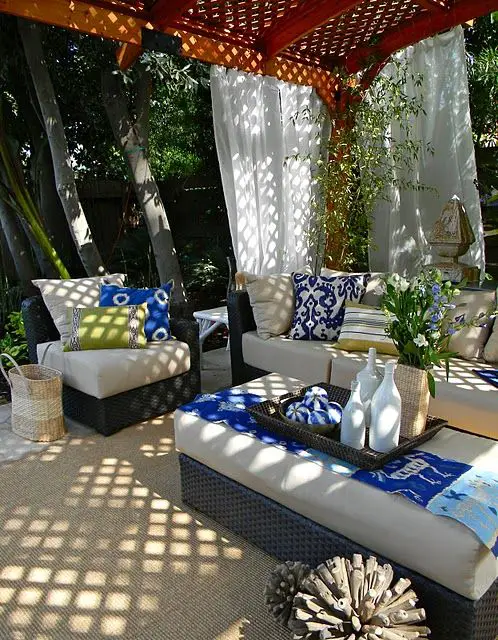 Conclusion
For more examples, check out my Pinterest Board that goes along with this post.
I hope you found this article helpful.  If you did, please share it with a friend and follow Dianne Decor on Twitter, Pinterest, and Instagram.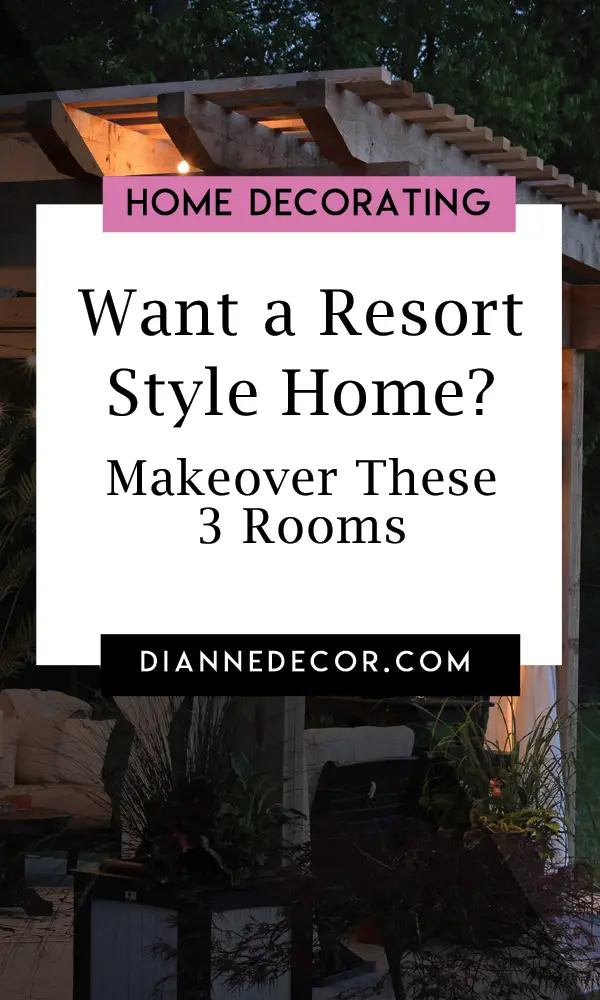 Thanks for reading!
bathroom decor
bedroom decor
cabana
master retreat
patio decor
resort decor
resort style decor
retreat decor
sanctuary decor
spa bathroom
spa bedroom
spa decor