How To Decorate Around a Corner TV Expertly
FTC Disclosure - This post contains affiliate links and I will be compensated if you make a purchase after clicking on my links.
*Item received for free for promotional consideration or a sponsored link.
Learning how to decorate around a corner TV requires some out-of-the-box thinking. Frankly, decorating around any TV is tricky task.
On the one hand, you don't want to leave that corner of the room empty.  But on the other hand, you don't want it to be so cluttered by other objects that you can't spend time enjoying your favorite shows and movies. 
Moreover, how do you balance out the rest of your room with so much visual interest concentrated in one corner?
Back in the day, we used our DVD and CD collections as decor and would fill our entertainment centers with rows and rows of movies.
It was a place to display your curated collection.  But now that we're all digital, what are we supposed to do with all that empty space?
So, if you can't settle on how to decorate around a corner TV, keep reading.  In this post, I'll share a few tips to help you out.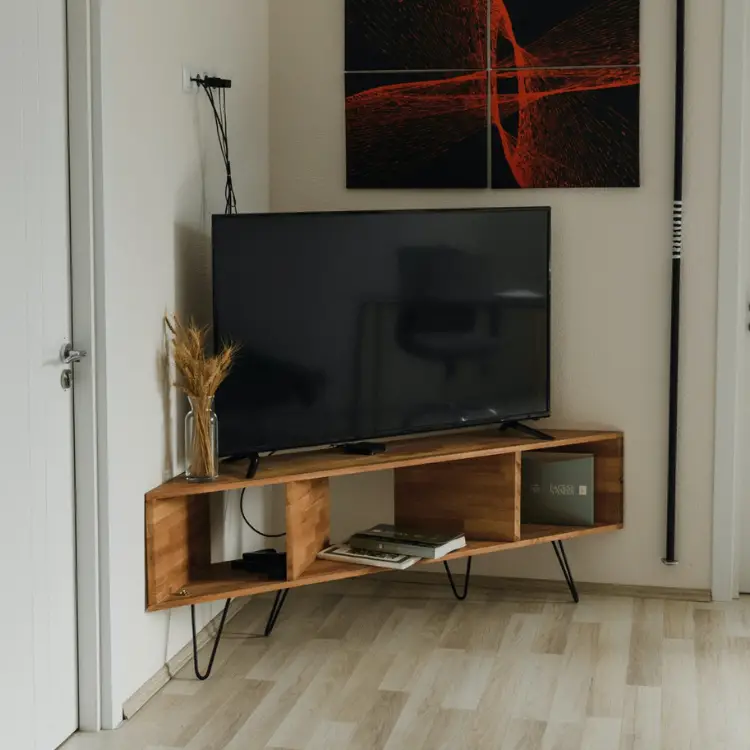 Choose Your Corner TV Location Wisely
Deciding on where to put your TV requires careful planning. 
You'll want to choose your corner wisely to prevent issues like people walking back and forth in front of the screen and glares coming from windows.
Choose the corner that will be least likely to have people walking past it.  This is usually a corner opposite the entrance to a room. 
Not only is constant traffic annoying, but it makes any decorative display you set up around your tv more vulnerable to being bumped or knocked over.
Unfortunately, there are times when we simply don't have a say in the matter.  
Things like built-in shelving, the location of cable jacks, or the need for a multi-use space may force you to place your television in an odd corner.
If you truly have no option but to place your corner tv in a spot where there is a lot of cross-traffic, try to elevate your tv by mounting it on the wall or placing it on a media table.
3 Ways to Decorate Around a Corner TV
Once you've got your placement down, try one of these 3 methods for how to decorate around a corner tv.
#1 – Flank your tv with wall art, baskets, or potted plants
When the television is on it's easy to forget about the things surrounding it and get sucked into the high-def moving pictures.
But when your TV is off, it's another story.  You're essentially left with a giant black box just sitting in the corner of your room.  
Suddenly, the absence of design and decor is glaring and it becomes a less inviting space.
To keep your room feeling cozy and cohesive flank your tv with wall art, decorative baskets, or potted plants.
#2 – Use a corner tv stand and decorate the shelves
In lieu of housing your favorite movies, decorate the shelves of your corner tv stand with some of your favorite things like souvenirs, books, small potted plants, jars, and vases. 
Decorate these shelves just as you would a bookshelf.  Stick to groups of 3 or 5 items, choose items that are the right scale for your shelves, and coordinate with your color palette. 
For more styling ideas, check out the post "How To Decorate Floating Shelves and Bookcases".
#3 – Create a gallery wall backdrop
Showcase your favorite pieces of art against the corner TV wall gallery style. 
You can choose frames that contrast against the wall's colors to make your art pieces stand out. Or, go the tone-on-tone design route and choose a shade just slightly lighter or darker than your wall.
And while I've seen a lot of examples of gallery walls behind televisions featuring several different frame colors, it can be a bit busy and distracting to the eye.
Personally, I would go for a lighter, monochrome look that would recede into the background instead of competing for attention.
No matter which route you choose, a gallery wall as a backdrop to decorate around a corner tv is a classic way to style this space.
For more info on gallery wall types and how to create one, check out the post "The Ins and Outs of Gallery Walls".
Decorating a Corner TV Near a Window
If your corner has a window nearby, decorate minimally. 
Your window treatments will help to create visual interest on one side of the TV.  
Simply balance that out on the other side with a piece of wall art of potted plant/tree. 
For your windows, you will want to use a sheer curtain or combination of sheer and blackout curtains to avoid glares on the screen. 
Since this is likely a common area in your home, you'll want plenty of natural light coming into the space.
Of course, you don't want so much that it strains your eyes while you're trying to watch tv.  So sheer curtains are ideal. They'll keep the space bright while also diffusing the harsh rays.
Things To Avoid When Decorating Around a Corner TV
Now that we know what types of things to use to decorate, let's talk about things to avoid.
Skip the complicated corner wall mounting and opt instead to set your television on a piece of furniture.
At the end of the day, setting your tv on a piece of furniture is the fastest and easiest way to set up your room. Not to mention, it makes hiding your cords a breeze. 
Mounting a corner tv on the wall will just create more problems to be solved.  
Figuring out how to decorate around a corner tv is challenging enough all on its own.  There's no sense in piling on with specialty equipment, extra cords, measurements, levels, etc.
Avoid using floor lamps or indoor plants that may obstruct or distract from the TV viewing area. 
Smaller plants, especially low-maintenance ones, are your best choice around the TV. 
You may also keep away from large floor lamps, especially those with multiple heads. 
They can be hard to position in a way where they don't impede the television screen. Moreover, they'll unevenly light the screen at night.
Don't place chairs right next to a corner tv or directly under a mounted tv. 
 It will be awkward to view the television for those sitting directly beside it.  
And even when the tv is off, the unlucky person with the seat directly below a heavy tv mounted on a wall will likely feel uneasy.  
It's just uncomfortable all around, so avoid doing it if you can.
Conclusion
Figuring out the best way to decorate around a corner tv may involve a little trial and error. But, once you've figured it out you're set.
Try flanking your television with decorative accents, creating a gallery wall backdrop, and styling the shelves. These things will bring this space together nicely.

I hope you found this post helpful.  If you did, please share it with a friend, and don't forget to join the mailing list before you go.  I'll send you a copy of my weekly newsletter filled with weekend reads, decorating inspiration, and the latest deals on home decor