2020 Interior Design Trends & Decorating
FTC Disclosure - This post contains affiliate links and I will be compensated if you make a purchase after clicking on my links.
*Item received for free for promotional consideration or a sponsored link.
In this post, we'll take a look at the 2020 interior design trends.  Here's what's new, what's old, and what isn't going anywhere.
2020 Interior Design Trends
Each year home design and decorating trends make incremental shifts away from what was previously popular.  Simultaneously, we see new concepts (or revitalized old concepts) beginning to garner more and more attention.
This is the trend train that keeps coming, year after year.
Moreover, we see a new set of ideas revolving around upcoming seasons and holidays like summer, winter, and Christmas.
So, what are the 2020 interior design trends?  Let's take a look.
What Are the Interior Trends for 2020?
1. Eclectic Decor
First up is Eclectic Decor.  Gone are the days where you were pigeonholed into one home decor style.
Instead, there is a movement away from identifying with a singular style, to embracing a mix.  That mix is said to give your home more of a curated feel.
If you're not quite sure how to apply this idea to your home without making it look like an unrefined mess, check out the post Eclectic Decor – Everything You Need to Know.
One way to look at the eclectic decor style is to view it like going to a museum exhibit dedicated to a single focus.
Let's say it's elephants.  In that exhibit, there will be pieces from different artists, in different styles, possibly from different time periods, but all having the underlying theme of elephants.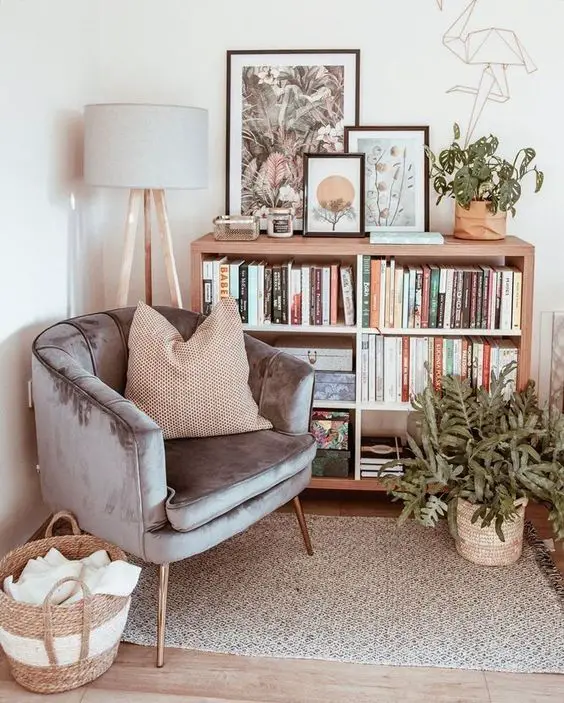 A sculptor may create gorgeous ceramic elephant statues, a painter may create a landscape scene of a herd of elephants crossing a desert, and a quilter may embroider elephants into a magnificent tapestry.
All of these are different styles and forms of art, but with a common theme.
When it comes to interior decorating, your common theme will most likely revolve around a color palette.  From that, you would source diverse decorative accents and furniture to merge together into your space.
You could choose from different decorating styles, different time periods, or artisan decor from different parts of the world.  For more on eclectic decorating methods, see the post "Eclectic Decor – Everything You Need to Know".
In past years, we have grouped ourselves into strict camps of interior styles.  There's the Modern Farmhouse crew, and the Boho group, etc.
With this, many of us limited the style of our home accents and accessories to those home decor styles.  If you were all about a Bohemian interior, you chose a Boho style vase, and a Boho rug, and Boho style bedding.
Eclectic decor is more about a mashup of styles.
2. Relaxed Styles
The days of perfectly karate chopped pillows are gone and instead, we're seeing more relaxed casual interiors.
Those Instagram perfect dining rooms and living rooms that are so pristine you wonder if anyone really lives there are a thing of the past.
In its place are relaxed, unpretentious interiors that require low maintenance and are inviting.
3. Open Shelving in the Kitchen
Next, is open shelving in the kitchen.  I have mixed feelings about this, and it seems interior designers do too.  Some say open shelving is among the 2020 interior design trends.  Others say it's out.
Personally, I think this trend will hold on for at least another year.  But, it will eventually dissipate.  Why? It's a lot of upkeep.
Open shelving means you're committing to keeping that area clean and tidy all the time.  Your items are on display in what is likely the most highly trafficked room in your home.  If those shelves are a mess, they can detract from the entire room.
This makes open shelving a high stakes move.
Also, traditional cabinets do serve a function besides a place to stack shelves and dishes.  Their enclosure helps keep dust out and protects your clean dishes from splashes and splatters in the kitchen.
This is something I've often wondered about when it comes to open shelving.  How are you keeping these dishes clean long term?
Anyways, I digress.  We'll most likely see open shelving holding on for another year and then see a transition back to glass door shelving options or some new improved version.
This is the best of both worlds in my opinion.  Your beautiful dishes are on display and have an opportunity to add a decorative element to your kitchen; but they are also protected and kept clean.
Suggested Read: "Do I Have to Decorate My Kitchen?"
4. Multi-Functional Rooms
Rooms that are able to serve multiple functions beautifully are a big focus this year.  This is, of course, because so many of us are working from home now.
Multi-functional rooms are a solution to the increased demand for our home/work/school/play balance at this time.
If you're struggling to create a multi-functional space in your home or you're trying to figure out how to create a designated workspace, check out the post "No Home Office, No Problem – 6 Ways to Create a Workspace".
5. Quartz
Granite is out and Quartz is the new countertop surface of choice.  Aside from aesthetics and price, the difference between the two is minimal.
They're both good for high heat, scratch-resistant, and resilient against harsh chemicals.
Granite, however, has more of a patchwork to its coloring while quartz and marble (also popular) have more of a veining running throughout it.
Resource: Kitchen Countertop Comparison Chart
6. Rattan & Wicker
There has been a huge push back to natural elements in 2020.  This is true of both material and color selection.  Rattan and wicker are very big right now and are being used both indoors and outdoors.
7. Bold Trim
Expect to see more bold and contrasting trim used in residential spaces.  This 2020 interior trend is a push back against white on white trim and other monochromatic backdrops.  We've been seeing this trend increase in popularity over the last few years.
Matte black was introduced as an option for kitchen cabinet hardware, a window and door frame option, and even sink faucet and shower faucet finishes (see: How to Use Matte Black in Your Home).
Black and white will be a color combination that we'll be seeing more of in the future.
Suggested Read: "8 Ways to Design a Black and White Kitchen"
8. Patterns
Prints and patterns are very trendy right now.  You'll see them in everything from kitchenware (a la Pioneer Woman) to curtains and wallpaper.
This is yet another way that we are departing from the pristine, clean-cut interiors.
New Standards: Home Trends That Aren't Going Anywhere
I recently came across an article posted from mydomaine.com titled "Home Trends Designers Hate and Design Ideas to Try Instead".  And while it was a good read, I have a serious bone to pick with some of the suggestions made here.
Let's look at each of these in turn.
Fast Furniture
While perusing similar 2020 interior trends lists, I saw "fast furniture" appear multiple times, not just in the aforementioned article.
The straight truth is, no matter how you feel about the culture of fast fashion or fast furniture, it's not going anywhere anytime soon.
Most people can't afford handcrafted or artisan furniture pieces.
Let's take a quick look at this example.  Below is a beautiful bookcase/cabinet from Better Homes & Gardens at Walmart.  It's well priced at $259.00.
And as a person who has owned multiple furniture pieces made by Better Homes & Gardens, I can attest that their stuff is solid and durable.
Now, let's take a look at a similar cabinet from Pier1.  It's currently priced at $1259.99.  And that's ON SALE and marked down from $1399.99!
Are you serious Pier1!?!  We can't afford that.  Fourteen hundred dollars is crazy talk!
I mean really, is anyone surprised they're going out of business?  Not me.
This is not a question of sustainability, eco-consciousness, fair-trade, or even respect for the arts.
This is about the bigger issue of wages and inflation in this country, and people being able to afford things outside of basic essentials.
Furthermore, for the vast majority of us, the purchase of furniture is merely a solution to a problem.  We need someplace to sit and entertain guests, we need a place to set our plates to eat a meal and a place to rest our books to study.
Sure, style is a factor, but this particular home item will first and foremost be a solution based purchase.  And, because of that, the demand for furniture that is inexpensive and immediate is not going anywhere any time soon.
Faux Materials
Some speculate that with a return to natural materials being a trend, faux materials will be out.  And while this may be true for some of the more extreme imitations like tile that looks like wood, there will still be a huge demand for faux materials.
Things like engineered wood, peel and stick backsplashes, and plastic accents made to look ceramic (i.e. planters and vases) aren't going anywhere.  They're economical.
That being said, I don't necessarily believe that their impact on the environment should be ignored.  I'm just saying, faux materials make things affordable and accessible to the masses and that drives the retail segment of our economy.
As a result, faux materials are a standard, whether we like it or not, and not a passing trend at all.
Neutral Tones
Neutral tones are another "trend" that has been deemed outdated by designers.  But, I strongly disagree.  Neutral tones progressed past a trend and became a new standard years ago.
I suspect this happened around the same time the term "move-in ready" became popular in real estate.
Neutral tones in a residential space are powerful.  They're soothing, settled, and invite imagination.  It's easier to picture yourself and your belongings in a space with neutral tones (white, black, grays) or near neutrals (browns and tans).  We also call these earth tones.
What is trending, however, are richer earth tones like sage (see. Working with Sage: How to Use Sage Green With Your Interior Style), eucalyptus, and spice.
Classic Blue is Pantone's color of the year for 2020 and it is absolutely everywhere.  There is no shortage of blue accents anywhere.
What's interesting is Pantone has collected a fashion color trend for Autumn/Winter 2020/2021 from the New York Fashion Week and they're showing warmer, bolder versions of earth tones.
However, at the bottom of the page you'll see they're also showing Autumn/Winter 2020/2021 Classics.
This collection of tones is much more like the earth tones we typically identify with and more in line with Behr's color scheme.
Who Sets Interior Design Trends?
The answer to "who sets interior design trends?" may surprise you.  It's not designers or artists.
Designers merely spark interest.  It may be the way they've chosen to use a particular material, or the colors they choose, or how they reinvent an old concept that triggers interest.
But, it's retailers and marketers that truly set the trends.  Nothing becomes a trend without mass accessibility.
How Do Interior Trends Develop?
First, an idea is formed.  Then, it must be manufactured into a tangible, sellable good.  Next, marketing comes into play to suggest to us that we want, nay need that tangible sellable good.
Add a celebrity endorsement or two and you have a hot item on your hands.
More people purchase it, which triggers more production, and so on and so forth.  That's how trends develop.
Sure, when we talk about the creative arts like interior design and home decorating, a lot of it is method or practice.  For example, the idea of mixing contrasting patterns or casually slinging a throw blanket over the edge of a sofa.
But, in order to mimic that in my home, I might need a chunky knit throw blanket or some oversized floral print pillows to get the look I see in a magazine or on Instagram.
And when you present an idea or inspiration to enough people, and they like it, they will seek to replicate it for themselves.  When they do, retailers will be ready to capitalize on that interest.
If it's successful, they'll continue to produce and offer variations on that initial idea.  This cycle continues until something new comes along and people lose interest.
Conclusion
In conclusion, those are the 2020 interior trends and my two-cents on what's here to stay for the long term.  I hope you found this post helpful.
If you did, please share it with a friend and find me on Pinterest and Bloglovin' for more content.