FTC Disclosure - This post contains affiliate links and I will be compensated if you make a purchase after clicking on my links.
*Item received for free for promotional consideration or a sponsored link.
It's no surprise that even before January rolled in, there was a lot of buzz around the new "color of the year".  Traditionally, the color of the year has had a huge impact on the popular kitchen colors for 2022. 
As we all know, the kitchen is the heart of the home and often the biggest selling feature for a house.
Kitchen remodeling can be expensive and even something as simple as an outdated color palette can turn buyers off.
On the other hand, presenting your kitchen at the cutting edge of a new trend can be a huge bonus.  And a big part of pulling that off is having a contemporary color scheme.
Here's a round-up of the kitchen colors that will be making a splash in 2022 and beyond. 
1. Muted Greens
Both Sherwin Williams and Behr have chosen a light, muted shade of green as their color of the year.
These shades of green are being welcomed into homes as both overall wall colors provide a tranquil backdrop and accent shades.
Evergreen Fog
Muted green like Sherwin Williams Evergreen Fog can do wonders as an accent color in the kitchen. 
It also makes a fantastic neutral base for the living room, bedroom, or even home office. 
But when added to the kitchen especially, it creates a modern, minimalist, Scandinavian-style effect. 
Black hardware and faucets as well as white countertops coordinate beautifully with this color.
Breezeway
Behr has announced its 2022 Color of the Year is Breezeway. 
This silvery green shade is inspired by the natural sea glass found on beaches. It's a cool, peaceful tone that is sure to make a splash in your home. 
On the Behr website, it is described as one "where a breath of fresh air meets a fresh coat of paint" in our minds and spaces. 
I have to admit, that's a great line.  And a great color.  It even looks great on front doors. 
Breezeway is a soothing shade that will certainly bring a feeling of tranquility to your home. It's also versatile.  It can be an all-over wall color or used as a tasteful accent shade throughout a house. 
Imagine Breezeway as your go-to neutral on kitchen cabinets or on living room walls. What better way than to signal the start of the year? 
Why We Love Green
Let's not beat around the bush, the past couple of years have been stressful on everyone.  So it should come as no surprise that the color more and more people are gravitating towards are shades of green.
Think about it, what's the most common piece of advice we hear when we tell someone we're stressed out?  
Get outside.  Go for a walk.  Get some fresh air, it will calm you down.
Greenery and the outdoors have a way of instantly relieving our eyes and bringing a wave of relaxation to us.
A little relief from the tension of life is something the masses are searching for and they've found it in the color green.
In the kitchen, shades of green can be played up with wood tones, white quartz, and gold.
2. Dusty Blues
Deep dusty blue shade and blue-grays are also trending this year. In fact, over the past few years, we've seen a number of dark blue shades taking center stage in the kitchen.
Colors like Sherwin Williams Downing Slate and Behr NYPD make for lovely cabinet colors.
3. Wood and White
Wood, white and black is the hallmark colors of the Modern Farmhouse style.  And while people are beginning to modify their modern farmhouse style and trending towards rustic chic and other styles, this color palette is still going strong.
In other words, wood and white is a classic that is definitely here to stay. 
It was a good choice a decade ago and is still going strong now. 
So if you like a classic look but still like the idea of splashing in some subtle color, wood and white are great complements to the soft muted greens we just discussed.
These colors are the perfect mix for a neutral, earthy look that is still light and bright.
3. Black Hardware & Fixtures
The popularity of matte black hardware, faucets, and trim are at its peak.  If you're updating your kitchen in 2022, black accents are the way to go.

While stainless steel is not completely out of date, updating to black hardware and fixtures will give your kitchen a sleek and modern appeal. 
Matte black has made its way past modern industrial and into the farmhouse, transitional, and modern interior styles.
What's great about black hardware is it is widely available.  A few years ago you really had to hunt for that finish, now you can find it at just about any retailer and from any brand.
You can incorporate black hardware in your kitchen sink through a sleek faucet, in the bathroom with towel rings and cabinet handles.  They look great with light marble and quartz surfaces, providing a lovely contrasting look.
There's also a huge variety of black chandeliers on the market now as well.
Much like the little black dress, it suits many home decor styles such as farmhouse, rustic and modern. It is tasteful, neutral, and bold. 
For more ideas for how to use black hardware and fixtures, check out the post "Top 5 Ways To Use Matte Black In Your Home".
Subtle Neutrals
The Sherwin Williams West Elm Collection's color palette features neutrals that include go-to whites, cool blues, grays, and rosy hues.
Whether it's clean and simple or bold and refreshing, West Elm has a smart mix of light and dark blues, grays, and sandy tones. 
If you still love your bright white kitchen, you can use a color like Commodore for the base of your kitchen island and lower cabinets.
Or you could go for an all-white backsplash and countertop paired with Passive or Essential Gray for your cabinets.
The Sherwin Williams Pottery Barn Collection, by contrast, has more beige neutral shades leaning towards fawn and cooler earth tones. 
You'll find lots of greens, beige, and warm grays in this collection.  It also includes a couple of deep blue tones such as Denim and Commodore. 
This array of colors is a great place to start if you're exploring new kitchen colors for 2022.  The palette is soothing, modern, and on-trend.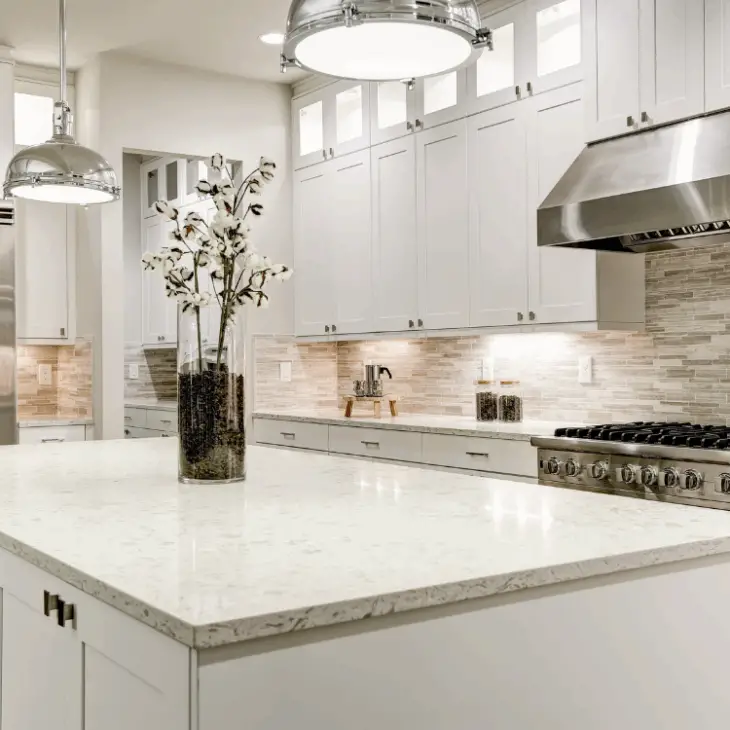 Conclusion
2022 is the right time to update your kitchen if you are looking to rework it as a soothing, welcoming space. 
There are a number of updated palettes worth a try for the kitchen, but green is by far the most popular shade.  It's a workable neutral base or subtle accent for just a splash of color in your home. 
Upgrading to black hardware and fixtures is a good investment for a budget-friendly kitchen makeover. Moreover, they look amazing with these trendy shades.
I hope you found this post helpful.  If you did, please share it with a friend and check out some related posts below.
Don't forget to join the mailing list before you go.  I'll send you a copy of my weekly newsletter filled with weekend reads, decorating inspiration, and the latest deals on home decor.
Thanks for reading!
breezeway
color of the year
color trends
evergreen fog
kitchen colors
kitchen colors 2022 kitchen reno
kitchen design
kitchen trends