FTC Disclosure - This post contains affiliate links and I will be compensated if you make a purchase after clicking on my links.
*Item received for free for promotional consideration or a sponsored link.
If you been researching ways to give your kitchen a little update, you've come to the right place.  In this post, I'm going to share 6 kitchen innovations that will make a huge impact on your space.
While I won't be talking about kitchen colors today, there will be a post on that in the near future.  Instead, I'd like to focus on foundational innovations.  These are things that make your kitchen function like never before.
Let's get started.
Kitchen Innovations Throughout The Past
Kitchen trends come and go year after year.  But, innovation is something that fundamentally changes the way we use the space long term.  These are things like the introduction of the kitchen island, the popularization of pot fillers, and pull out drawers designed to conceal garbage receptacles.
Faucets and appliances have also come a long way.
As a mom of two small children (1 and 3), I can attest that I spend an extraordinary amount of time in the kitchen.  On average between meal prep, eating, and clean up 3 times per day, 7 days per week, I spend 20 hours per week in the kitchen.  And that's with modern appliances!
So when I hear about any new kitchen innovation that may make my life easier, I'm all ears.
Here are 6 kitchen innovations you need to know about.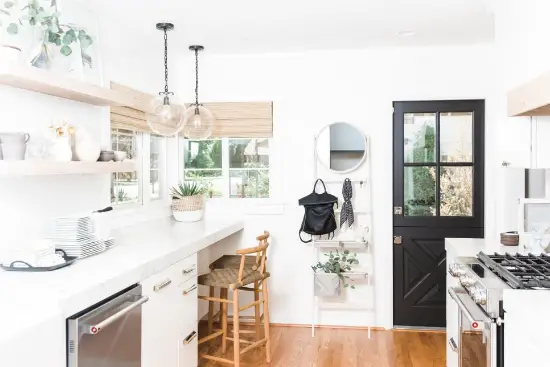 1. Drawers Over Doors
At last, we can stop straining our backs trying to pull heavy pots and pans out of the bottom cabinets.  New cabinet styles are favoring drawers over doors.
Up until now, the standard has been two lower cabinet doors and deep hard to reach shelving behind them.  Lower kitchen cabinets are most commonly used to store heavy pots and pans.
Nowadays you can expect to find convenient pull-out drawers for these items in new kitchens.
As a result, we're now able to place your most frequently used cookware in an easy drawer that requires minimal bending and straining.
And even if you don't have a new kitchen, you can still reap the benefits of this innovation.
Your current stationary shelves can easily be converted into sliding shelves.  This merely requires the installation of rails along the inner walls of your cabinets.  Most homeowners can complete this project on their own.
It's a great retrofit option if you're not in the market for a full reno.
You can find sliding drawers and baskets in a variety of places like Home Depot, Lowes, Build.com, and even the container store!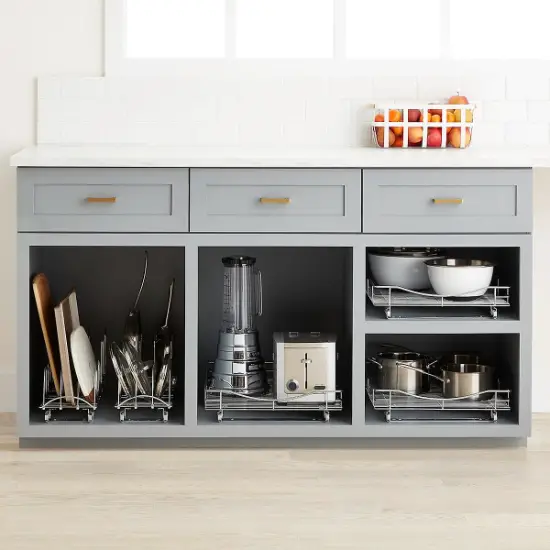 2. Smart Fridges
I remember when the sign of a modern kitchen was black appliances.  With the first introduction of black appliances back in the 1990s.
Then, black was out and stainless steel was in (and still is).
Then came a true kitchen innovation, smart wifi-enabled fridges.  Now, when these first came out, I thought they were silly.  Their main selling feature was a little camera on the inside of your fridge that let you see what you had inside without opening the door.
While they made a good effort in marketing this feature, it didn't send people in droves to buy a new fridge.  Instead, it just seemed like a cheap, unnecessary gimmick.
Smart Fridge 2.0
What did interest people, however, were LCD displays!   In my opinion, this is genius.  You can check the weather, watch tv, pull up recipes, view photos, leave notes, and see your schedule for the day.  How amazing is that!
The kitchen is the natural hub of the home and the fridge is the hub of the kitchen.
It's where notes are left, mementos are displayed, and schedules posted.
But, as refrigerator styles evolved, we lost a little bit of real estate each time.  First, we lost space when water dispensers were added.  Then a little more space when freezer drawers and produce drawers were introduced.
We had less and less space to display things and save stuff to the front of a fridge.
So, the fact that all of these things are now being given back to us in a sleek, uncluttered display is awesome.
Moreover, these built-in displays leave our kitchens looking incredibly stylish.  This is a kitchen innovation that brings the return of the kitchen hub where you not only find food and snacks but everything you need for your day.
3. Double Islands
The concept of a double kitchen island is not for everyone.  Moreover, there are a few criteria your existing space must meet to pull off this style.  That being said, if you can do it, you'll likely find this kitchen innovation incredibly helpful.
For most with a double kitchen island, the goal is to provide an additional seating area that is separate from your food prep area.  This additional seating can be used to replace a kitchen table, or as space for an alternative activity such as homework or crafts.
Most often the double island is presented in a row after row type orientation like seats in a movie theater.  However, I've also seen examples of a side by side orientation as well.
For me, while I love having a kitchen island, I feel like mine is not quite big enough to share the functions of eating and food prep properly.  If I want to have an enjoyable dining experience at the island I want it to be completely clean.
I don't like sitting next to dirty dishes or even seeing them in the sink while I'm trying to enjoy my food.  There's a reason why the seat next to the kitchen in a restaurant is undesirable.  There's noise, traffic, and is visually unappealing.
A dedicated kitchen counter space that is separate from food prep would be great.
I'd also be more likely to use it as a workspace.  With a little extra space and without the worry of getting water splashed on papers or worse a computer, you have a proper multi-functional space to work with.
So, if you have a generous open floor plan, a double kitchen island may be for you.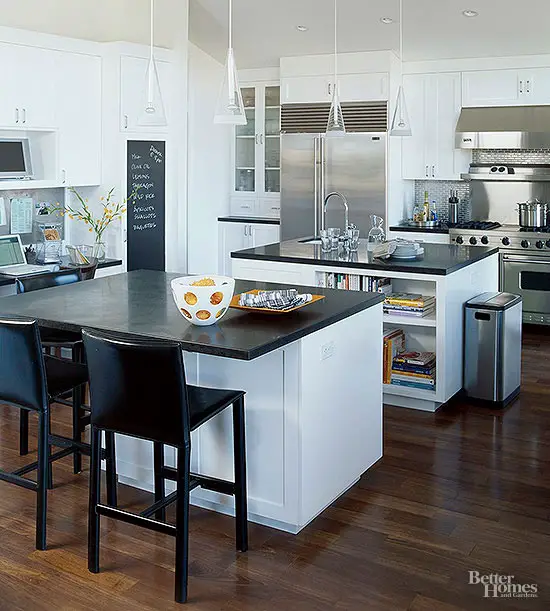 4. Kitchen Islands With Bench Seating
While I like the solutions a double island brings, I much prefer the kitchen islands with built-in bench seating.  This is essentially like having a prep station and booth-style seating all in one.  It's very cool.
With this new kitchen innovation, one side of your island would be dedicated to food prep.  Here you'd have your sink and countertop space for chopping, dicing, etc.  Then, the opposite side of the island tiers down to a bench.
To create a complete dining area, pull a table up to the bench, add a few additional chairs, and voila!  You have an instant eat-in kitchen.
Having a separate surface that is away from the splash zone is exactly what you need to create an inviting dine-in kitchen.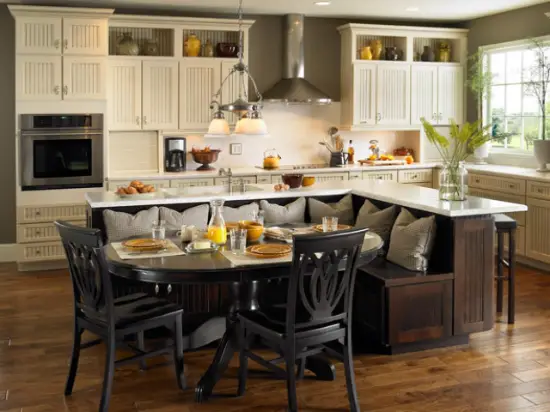 5. Beverage Centers
Built-in mini-fridges have been rebranded as beverage centers.  And while at first, I was hesitant to label this a kitchen innovation, it does fundamentally change the way you would use your kitchen.
While most beverage centers are little more than wine fridges, their use in your kitchen ultimately depends on what you put in them and where.  One person's beverage center may simply be an extension of their coffee station.  Flavored creamers, cold brew coffee, and coffee beans could be stored and climate-controlled in a beverage center.
Similarly, it could be used as a part of an at-home bar to store wine, champagne, mixers, and seltzer.
Either way, the inclusion of a built-in beverage center begins to introduce auxiliary features to the kitchen that may have once been housed in another area of the home.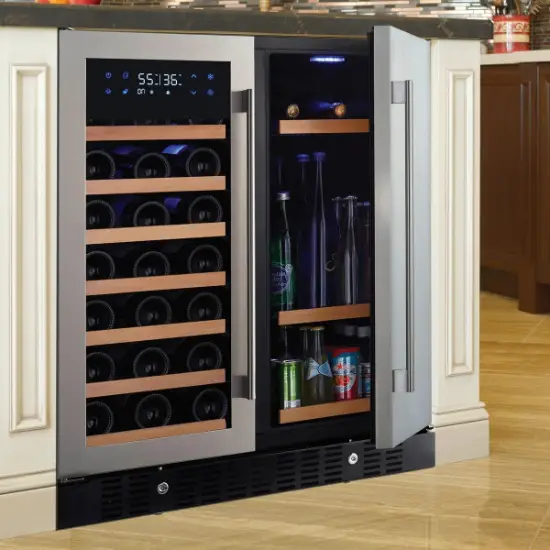 6. Under Cabinet Lighting
Last but not least is statement lighting and supplemental lighting.  Elaborate pendant lighting and chandeliers in the kitchen have become the norm.  Another feature that has become accessible to everyone in the past couple of years is undercabinet lighting.
When this trend first became popular, you really needed the assistance of a professional to install it so that your wires were properly hidden.  Now we have a ton of wireless, battery-operated options that are controlled via app or remote control.  How awesome is that!
I'll tell you, before having kids the idea of needing a nightlight or any type of soft lighting in my kitchen was not even on my radar.
Why would I need that?  I sleep peacefully throughout the night.  I don't trek around my house in the dark, and I don't rummage through the fridge at 2 am.
Boy oh boy how the tide has changed.  I now frequent the kitchen in the middle of the night and want nothing more than lighting that isn't at full blast seconds after I've been abruptly woken from my sleep.
We now have so many little plug-in nightlights throughout our home that it is subtly illuminated at all times.
Our next upgrade will be wireless under cabinet lighting.  I'll share an in-depth post on this topic in the coming months.
Statement lighting, whether it be undercabinet or dimmable chandeliers is a huge game-changer and one of the most popular kitchen innovations of the past 5 years.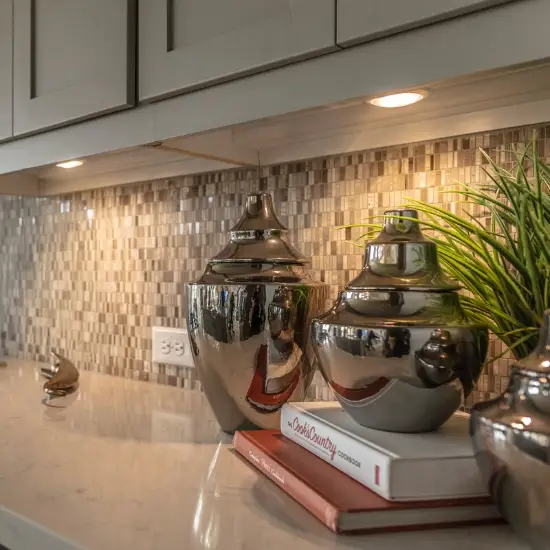 Conclusion
To sum up, kitchen innovations change the way we function in this space.  They extend far beyond fashionable trends to provide us with functionality that we may not have even realized we wanted or needed.
Thanks for reading this post, if you found it helpful please share it with a friend and follow Dianne Decor on Bloglovin' for more from me.  You can also find me on Pinterest, Twitter, and Instagram.
To have my latest posts delivered directly to your inbox, join the mailing list before you go.  I'll send you a copy of my weekly newsletter filled with weekend reads, decorating inspiration, and the latest deals on home decor.
To view past issues of the newsletter, check out the newsletter archives here.
Thanks for reading!
beverage center
double kitchen island
kitchen design
kitchen innovations
kitchen island seating
kitchen island with bench seating
kitchen trends
kitchen upgrades
smart fridge
under cabinet lighting
wine fridge