FTC Disclosure - This post contains affiliate links and I will be compensated if you make a purchase after clicking on my links.
*Item received for free for promotional consideration or a sponsored link.
Wondering what to put in jars on your kitchen counter?  You've come to the right place.
Jars can add dimension to your kitchen counters, not to mention, they're a great food storage option.  
Uniform, cylindrical glass jars are the best way to display items on your countertop. 
And while you can display items in jars with unique shapes, like an urn shape, you're greatly limited to the types of items you can place inside.
Another, more practical benefit to storing items in jars on your kitchen counter is that you can easily see when an item is running low.
So, without further adieu, let's get into the different types of things you can put in jars on your kitchen counter.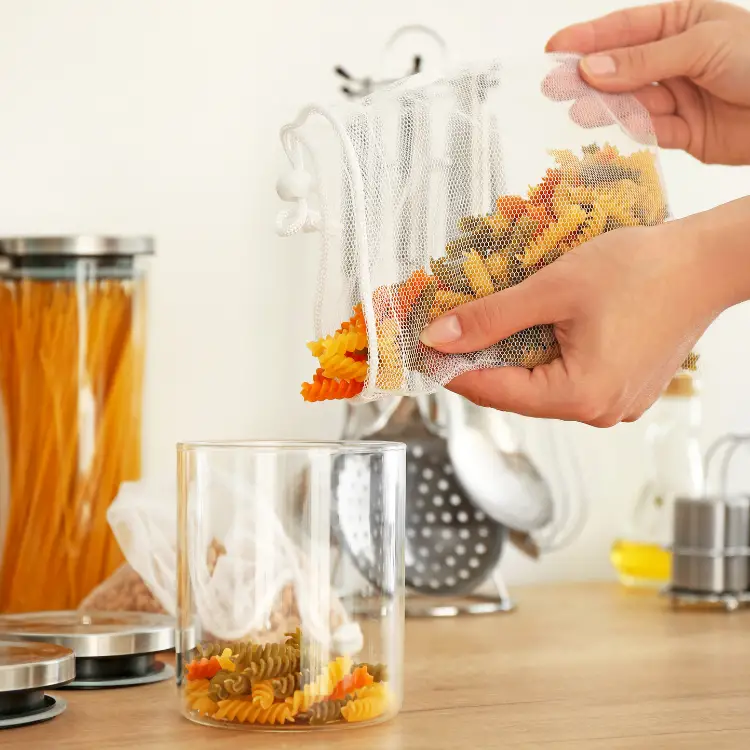 What to Put in Jars On Your Kitchen Counter
Food Items
Pasta
Whether it's elbow macaroni or tall spaghetti noodles, putting dried pasta in jars can help add a lot of interest to your kitchen counter. 
You can put together a set of 2 or 3 different pasta types in uniformly-sized jars side by side to create a cohesive display. 
Cookies
This is fun, especially if you have young children (or adults) who like sweet treats. 
A cookie jar is not only a nice decorative item, it's also one that can contain a lot of memories for the whole family. 
Depending on the size and shape of the cookie jar you have the opportunity to create fun patterns with your stacked cookies that are sure to be a conversation starter.
Rice
By far one of the easiest things to put in jars on your kitchen counter is rice. It has a nice neutral tone and is aesthetically pleasing to look at. 
Not to mention, it's just practical to have it out at arms reach if you eat rice on a regular basis.
Beans
Dry beans are a fantastic way to add a little bit of color to your counter display. 
Color-rich beans also provide a nice contrast against the paleness of pasta and rice.
Because there is such a wide variety of beans, you can easily work in colors like green, red, or brown. 
Oatmeal
Oatmeal is a breakfast staple for many of us and one of the best things to put in jars on your kitchen counter. 
Consider using a wide mouth jar so that you can scoop directly from the container for quick and easy dispensing without the mess.
Sugar
Whether it's white or brown, sugar can make all the difference in desserts or even beverages.
Keeping your in a nice jar on the kitchen counter not only makes good sense, but it's also aesthetically pleasing as well. 
Cereal
Your favorite cereals, whether for kids or adults, deserve their own jars on the kitchen counter.
Go for a crystal clear jar or container over the frosted plastic cereal tubs for the best look. But, stick to 1 or 2 max, because cereal is a bulky item.
This is the reason why we always see those large tall rectangular containers used to store and dispense them. 
Due to the size of the jar you'll need to store cereal, more than 2 on your counter will likely start to encroach on your countertop prep space.
Another option to display cereal is those cereal dispensers like you see at a hotel continental breakfast. 
Personally, I'd love to have those for my kids, but I just don't have the counter space.  But if you do, they're very cool-looking.
Fruit
Citrus fruits look splendid in jars.
Think oranges contrasting against limes and lemon.
They're great to have on hand for cooking and baking, even if you only use them as garnish. 
From an even more practical standpoint, seeing them on your counter provides you with a constant reminder that they're there. 
I can't tell you how many of those little fruits have ended up spoiling after rolling to the back of my refrigerator drawers.  It's that out of sight out of mind thing that the fridge can do to people. 
But I digress, if you want a lovely, low-maintenance jar filler for the jars on your kitchen counter, go for small citrus fruits. 
Treats – Candy, Individually Packaged Snacks, Pretzels, Crackers, Nuts
Who doesn't love a grab-and-go treat?
One way to instantly satisfy those snacking needs is to have treats neatly stored in jars such as candy, individually packaged snacks, pretzels, crackers, and nuts.
With a jar or two of these treats, friends and family can help themselves to whatever, whenever.
They're also great if you're rushing out of the door and need to grab something to eat on the way out. 
Things like breakfast biscuits and mini muffins are great to display in jars by your at-home coffee station.
Coffee & Tea
Ground coffee
Speaking of coffee stations, for all coffee lovers, ground coffee or whole bean will be a no-brainer for what to put in jars on your kitchen counter. 
Be sure to include a measuring spoon for scooping.
Loose Leaf Tea & Tea Bags
Depending on the kinds of tea you enjoy, it's wise to stock up on your favorite tea blends. Your tea jar can also go well on any coffee corner or kitchen counter. Have a guest over who prefers tea over coffee? Your well-arranged tea bags in your jar can be appealing enough for a nice blend selection.
K cups or Coffee Pods
If you're a k-cup connoisseur get a big wide mouth jar and stack them in there just like cookies. 
Or, you can create layers of k-cups with the labels facing out for a really polished look. 
Just avoid mixing different types of coffee or tea, you don't want to have to dig for your favorites and mess up your display.
Flavored water packets
Whether it's for an afternoon or morning quick boost of energy, flavored water packets can help with nutrients when you are on the go.
They're also great if you're not a fan of plain water and need a little encouragement to get in your daily allotment.
It makes sense to position them in a visible spot on the counter for any member of your family to grab and toss in a bag on their way out the door. 
Floral Stems
Floral stems don't have to be restricted to vases.  Use jars on your counter to add a little greenery to your kitchen. 
Utensils
Another non-food item to consider putting in a jar on your kitchen counter is cooking utensils. 
Spatulas, whisks, and wooden spoons make for a great display.  For this one, however, I'd steer away from the glass jars and go for something ceramic.                                                               
Things You Shouldn't Put in Jars on Your Kitchen Counter
Now that we've reviewed a bunch of great options to put in jars on your kitchen counter, there are a few items you should avoid. 
This is easy enough to determine.  If it doesn't belong in the kitchen, don't display it in the kitchen.
Non-kitchen items like balls of yarn, buttons, craft items, collectibles are best left for bookshelves.
If anything, these make your kitchen look cluttered and like a catch-all for junk from around your house. 
Also avoid items that aren't visually pleasing to look at like dates, raisins, or other dried fruit, things preserved in liquids such as pickles or artichokes, and things that can't be easily identified. 
You don't want you, or worse, your guests to be asking, "What's THAT?!"
Conclusion
You can put your jars to good use by letting them serve double duty as storage and décor on your kitchen counter. Dry food items, citrus fruits, tea, coffee, and cooking tools are all great for creating a display.
I hope this post helped you solve your dilemma of what to put in jars on your kitchen counter.  
Below are a few related posts that you may find helpful.
If you enjoyed this post please share it with a friend and don't forget to join the mailing list before you go.  I'll send you a copy of my weekly newsletter filled with weekend reads, decorating inspiration, and the latest deals on home decor.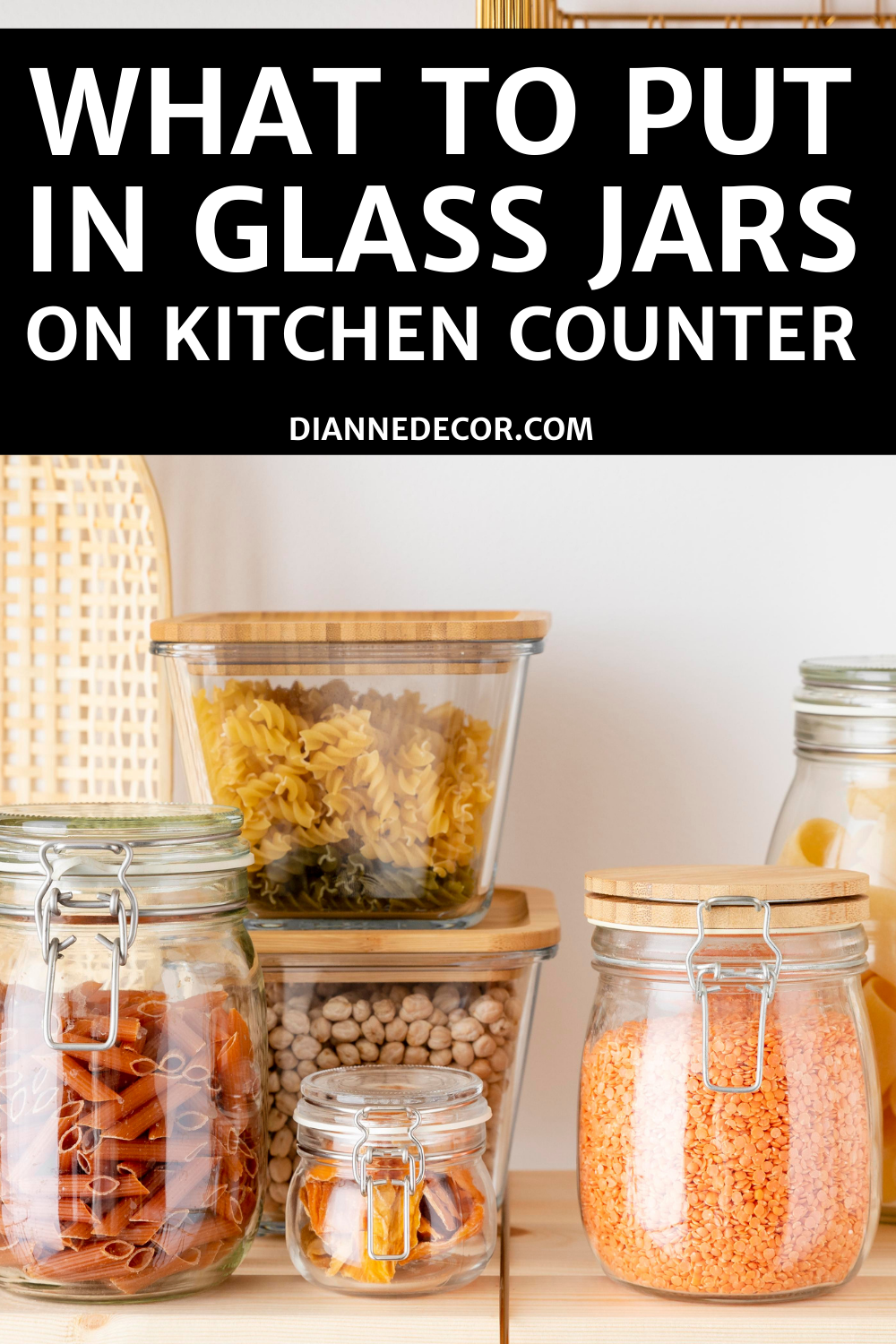 Thanks for reading!
jar decor
kitchen counter decor
kitchen decor
kitchen decorating
kitchen organization
what to put in jars
what to put in jars on kitchen counter