8 Ways to Design a Black and White Kitchen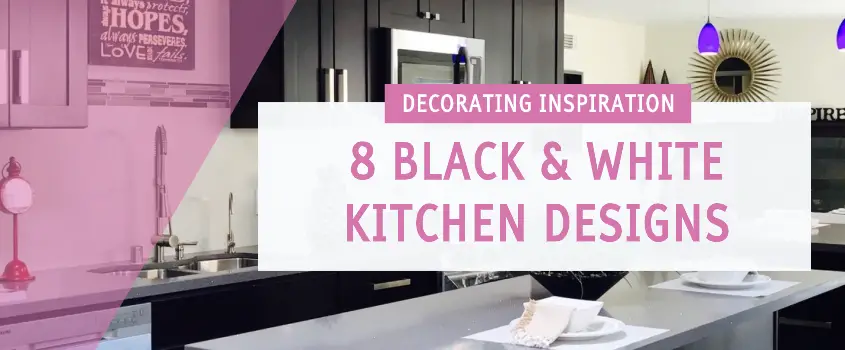 FTC Disclosure - This post contains affiliate links and I will be compensated if you make a purchase after clicking on my links.
*Item received for free for promotional consideration or a sponsored link.
Black and white kitchens, sometimes termed "tuxedo kitchens" are absolutely beautiful when done right.
They do, however, require a delicate balance or else you risk them looking too dark, too light, or too busy.  Choosing the hardware, cabinet, countertop, and floor colors may seem like a breeze when you're only working with two colors, but it requires a keen eye to balance the two.
Here's how to pull off a black and white kitchen like a pro.
8 Ways to Design a Black and White Kitchen
#1 – Contrasting Island
Incorporating a contrasting island will make a great statement piece in your kitchen.  If you're using white cabinets and black countertops throughout the kitchen, pair it with a black island and white countertop.
If you can, go the extra mile and match your range hood and stove with a black finish.
#2 – White Cabinets and Black Counter Top & Floor
This combination uses the rule of planes.  With vertical planes being one color and horizontal planes being another.
In this case, the vertical cabinet fronts are all white and the horizontal countertops and floor are all black.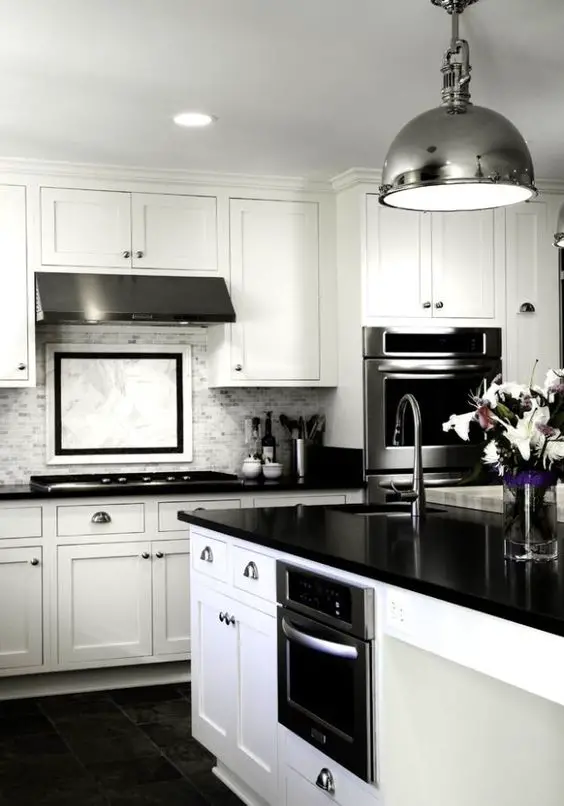 #3 – White on Top, Black on Bottom
A kitchen with all white cabinets on the top and black on the bottom offers a lovely contrast as your eye moves from the ceiling to the floor.
The anchoring black cabinets place a visual weight on the space that is interesting to look at and experience.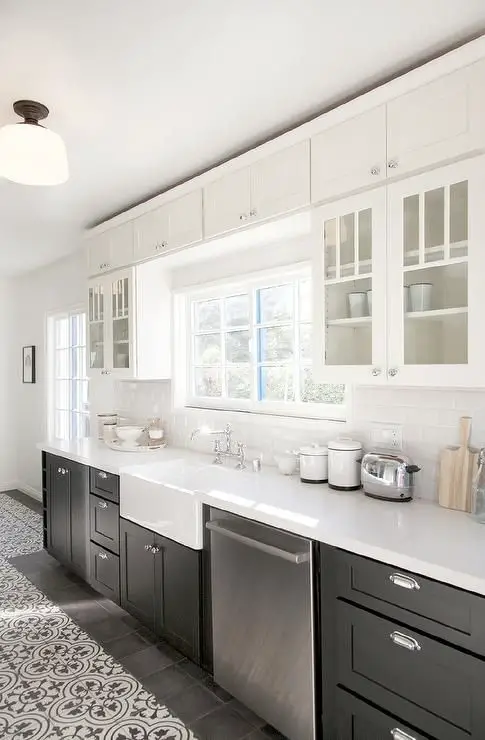 #4 – All Black with White Counter Tops
If you're looking for an alternative to the all-white kitchen, why not simply inverse the traditional design.  Place a white marble counter in an all-black kitchen.
This will add the light accent you desire along with the added visual interest of swirling marble.
#5 – White Cabinets with Black Hardware & Trim
A great way to punctuate your space is with black hardware and trim against white cabinets.
In the example below, we see the upper and lower cabinets in white with a black countertop, black cabinet pulls, black faucets, and black window casing.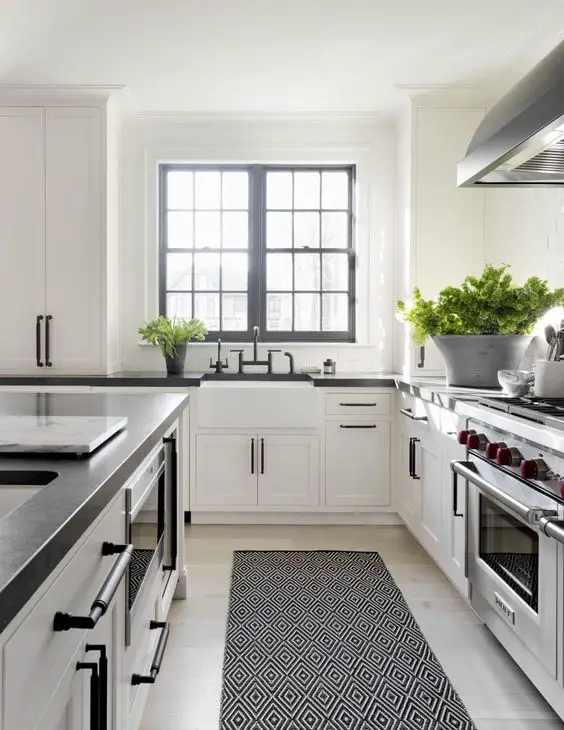 #6 – All White with Black Counters & Black Backsplash
For a really interesting look, consider a black counter and matching backsplash.  Pair that with all white, hardware-free cabinets and you have a really unique look on your hands.
You'll see in the example below that this kitchen almost looks like it was made out of Legos.  Very cool!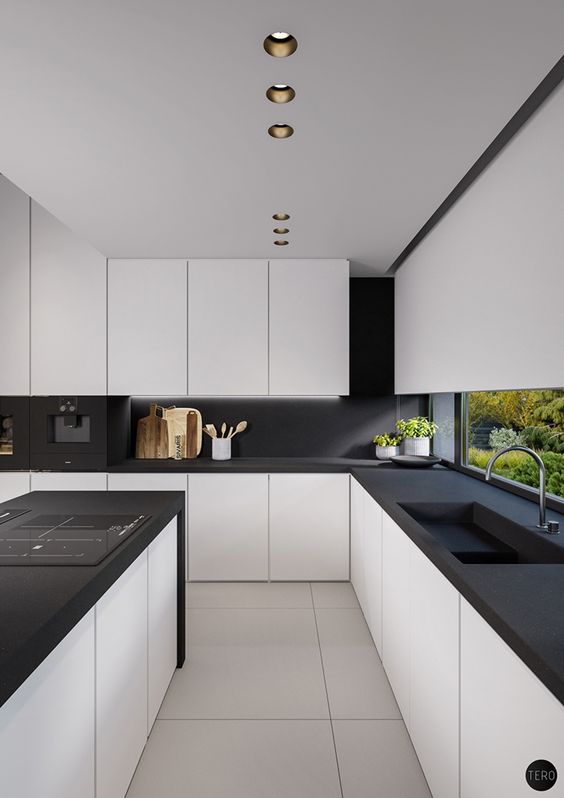 #7 – All White with a Black and White Floor
Without question, a bold checkered floor in an all-white kitchen will steal the show.  Especially when the floor shines the way this one does in the example below.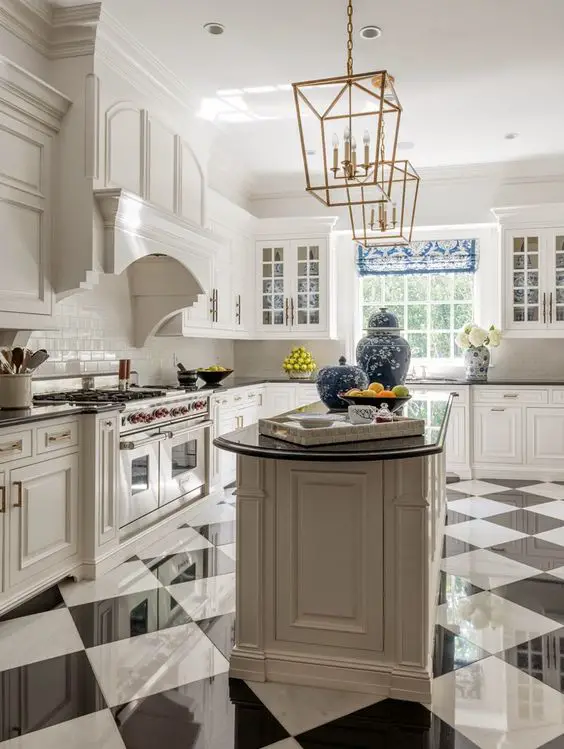 #8 – All White with Black Accents
If you already have an all-white kitchen and want an inexpensive upgrade option try mixing up your accents.
You don't need to redo your floors or paint your cabinets to get that black and white look.
Instead, consider switching out your kitchen decor, bar stools, and lighting to matte black for a contemporary look.
Conclusion
If you have any more ideas on how to create a dreamy black and white kitchen let us know in the comments below.
If you enjoyed this post, please share it with a friend and follow us on Bloglovin' and Instagram for more content.
Thanks for reading!