FTC Disclosure - This post contains affiliate links and I will be compensated if you make a purchase after clicking on my links.
*Item received for free for promotional consideration or a sponsored link.
If kitchen decorating has left you stumped, you're not alone.  For a long time, I thought my colorful dishtowels, appliances, and canisters were enough.
But, when I reviewed photos from a recent family gathering, I was surprised to see just how bare our kitchen looked.  Remember, a photo always tells the truth.
If you're ever questioning whether or not your room design is working, take a picture.  It's like looking at the room through another person's eyes.
Kitchen Decorating Challenges
Back to the kitchen.  It looked like we'd just moved in.  As much as I love my clean island and countertop space, it was too clean.
To the point where the items I did have clustered around looked sparse and randomly placed.  Especially, in comparison to the adjacent living room.
So, I began to hunt around for some kitchen inspiration.  Most of the photos I looked at didn't appear to be so different than my kitchen (aside from color scheme and layout).
But, there was something about them that had a cozy, lived-in feeling that mine did not.  I looked closer to identify the items in the kitchens that were not in mine.
The list I compiled was shockingly small and the items seemingly insignificant.  However, they were clearly making a big impact on the feel of the space.
I started incorporating a few into my kitchen design and was stunned at how much warmer and cozier it became.  Best of all, they were doing it without cluttering the counters or taking away from the clean contemporary feel I'd already established.
If you're in the same boat I was in, here are a few key decor items that are great for kitchen decorating.
Easy Kitchen Decorating Ideas
Cookbooks
Sure you may only use cooking apps and Pinterest to gather your recipes these days, but a hard copy cookbook adds a bit of charm and nostalgia. It can also do double duty as a cord hider.
Just nestle it against your coffee maker or other appliance to hide the cord and outlet.
Printable/Framed Art
You don't have to spend a ton on an original painting.  Check out the Dollar Tree.  They have an awesome collection of cute framed wall art that is perfectly sized for the kitchen.
Hang it on a wall leading into the kitchen, above the pantry door, or rest it on a countertop.  It will add a bit of visual interest to the kitchen.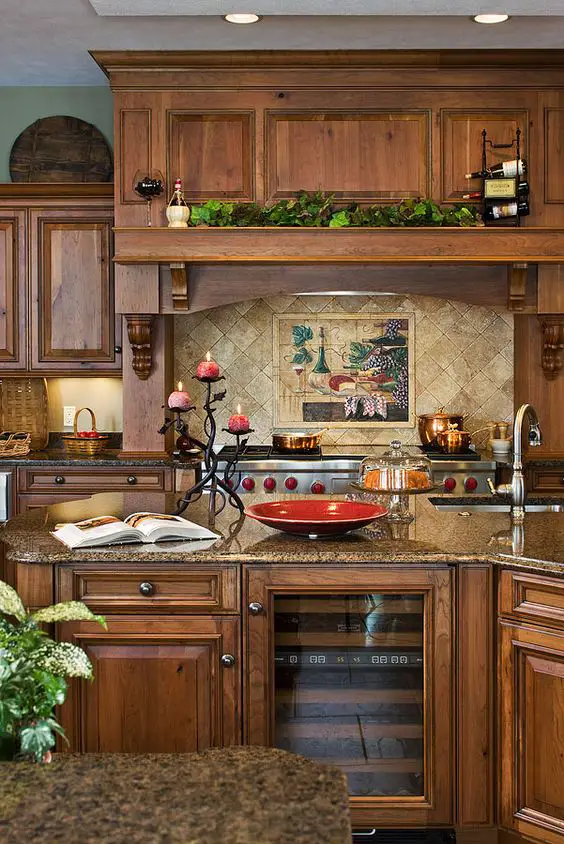 Canisters
Canisters and cookie jars are a timeless choice.  A set of three is rather inexpensive and you can find them in any style you want.
Kitchen Decorating with Baskets
Fabric-lined baskets are another nice item to have in the kitchen.  They can double as storage for small kitchen utensils and measuring cups.  Wood baskets, in particular, will bring a nice natural element into your space as well.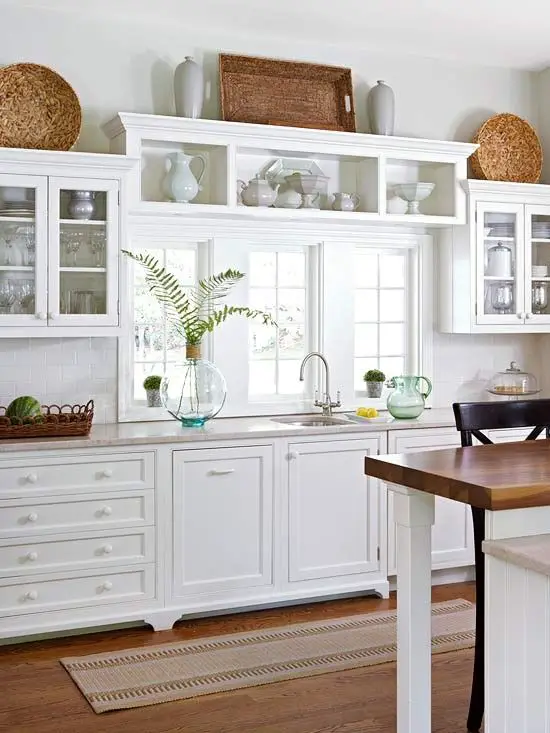 Flowers/Vase
Vases and flowers tend to be a kitchen staple.  They're perfect for a kitchen island because they can easily be moved to the side if you need a little extra space prepping your meal.
Wreath
Try adding a wreath to your pantry door or above your stove on a wall-mounted hood.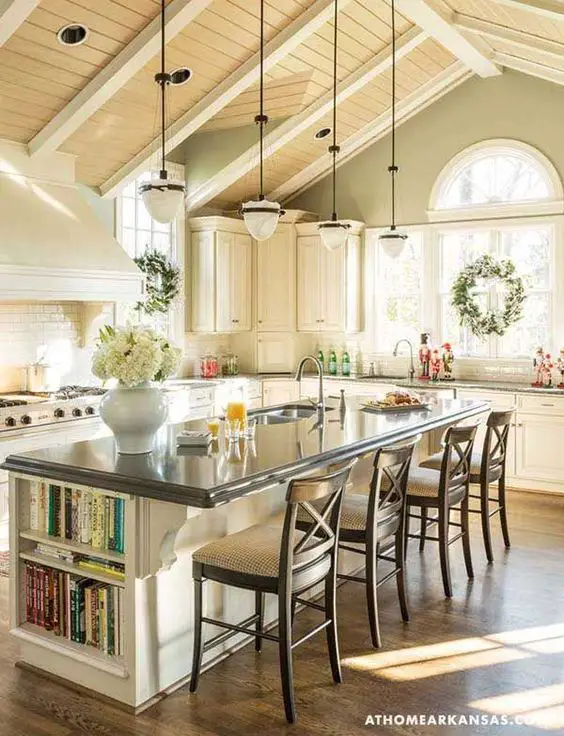 Kitchen Decorating with Sink Trays
Add a small silver or ceramic tray to gather your soap, lotion, or scrub brush by the kitchen sink.  It will stop these items from looking scattered around the sink and give the area a nice polished look.
Bowl of Fruit
A great alternative to a vase with flowers is a bowl with fruit.  Having a nice, colorful assortment of fresh fruits on hand will add a homey feel to the kitchen, and hopefully encourage you to eat more fruit.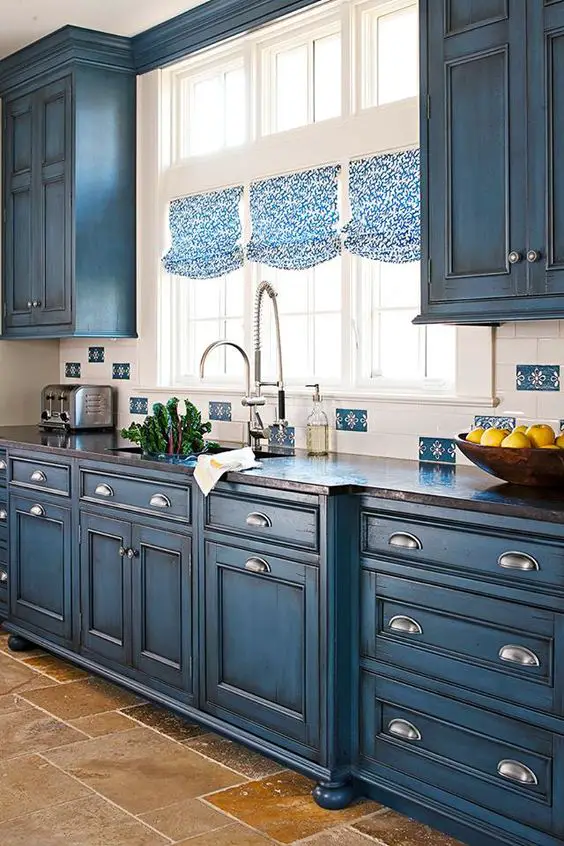 Rug
Adding a rug to your kitchen floor is a great way to bring color and texture to your space.  Rugs can also be used to create a cohesive design throughout your home.
Conclusion
That's it for my list of kitchen decorating ideas.  If you liked this post, please share it with a friend.  For more kitchen inspiration check out our Pinterest Board.  Don't forget to follow Dianne Decor on Bloglovin' for more content.
Thanks for reading!
decor
decorating
home decor
interior design
interiors
kitchen
kitchen decor
kitchen decorating
kitchen inspiration
room design