When it comes to interior design, it takes a lot of creativity and ingenuity to pull off function and form in a small space.
When you have a very limited amount of space to work with, challenges arise quickly.
But, it is possible to create a fully functional, beautiful space with a few designer tricks.
In this post, I'm going to share 4 of them with you so that you're ready to tackle any small space challenge that comes your way.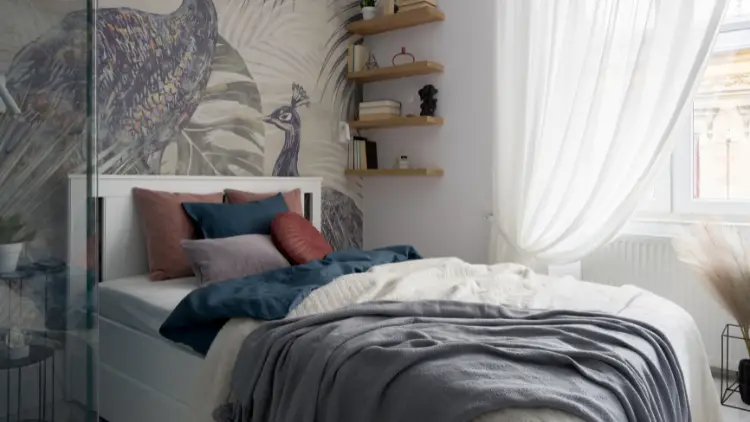 How Can I Decorate a Small Space to Make It Feel Bigger?
If you're struggling to maximize a rather compact space, look no further as there are many ways to do so.
With the help of wall art, the right colors, the right furniture, and utilizing mirrors and windows, it can be done. 
Here are a few designer tips and tricks to steal for your small space.
1. Light & Lighting
Start with making the most of your natural lighting.  Use light fabrics in light shades for your window treatments. 
Make use of mirrors to help bounce around the natural sunlight.  Stick to a light color scheme for your walls and furniture.
Supplemental lighting will illuminate your space in a way that it feels bigger and brighter.
This is especially important if you only have one small window in your small space.
Lighter color palettes tend to make your space feel larger, while darker colors on your walls can make it feel more compact. 
So pay careful attention to not only the color of your walls but also your linens and furniture.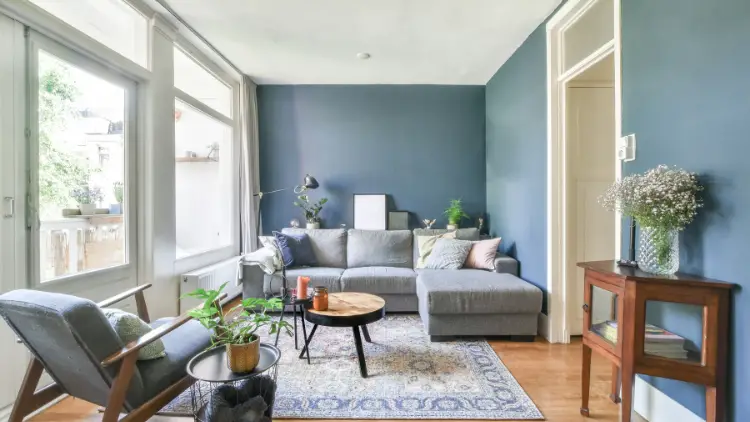 2. Stop Thinking Small
Avoid putting small-scale objects in a small room. 
Sure you may not be able to fit an 8-seater sectional in your small living room, but that doesn't mean you should overcorrect and find yourself with a dorm room-sized chair and side table. 
The same is true for wall decor.  Go for something big and framed out over a gallery wall made up of 20 small items. 
You can use full-sized furniture for your small spaces, however, instead of squeezing in 4 pieces, you may have to stick to two.
An example of this may be a small sectional sofa and a TV stand in a living room, or a queen bed and full-size dresser in a bedroom.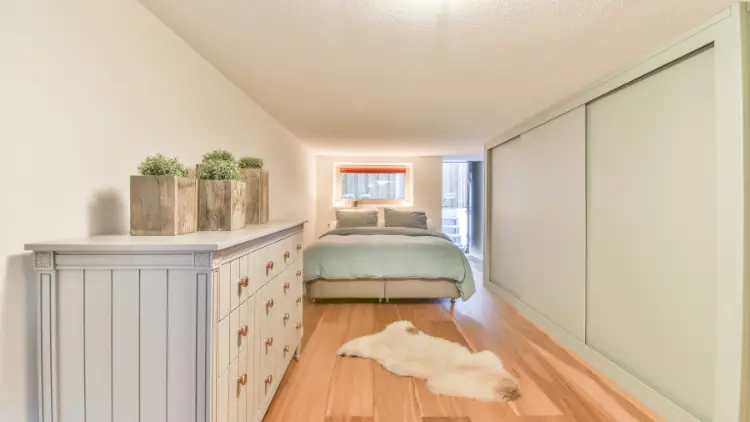 3. Optical Illusions
Trick the eye by hanging curtains close to the ceiling to make your windows appear bigger.  Or, opt for taller furniture like a footed dresser or cabinet.
By doing so, you can trick your brain into thinking that your space is bigger than it actually is.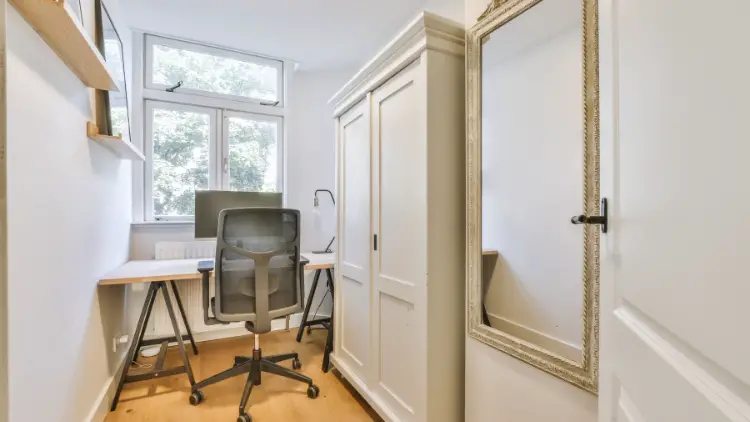 4. Few But Mighty
Don't over-accessorize or over-furnish a small room.  This is a sure way to make it feel cramped and crowded. 
Instead, stick with a few key pieces that really make your space function well. 
Decorate minimally, and avoid tabletop clutter as much as you can. This will help make your small space feel well-maintained and carefully curated. 
Check out the post 7 Small Living Room Design Ideas for furniture layout ideas.  Or, Guest Room Decor For Small Spaces for ideas on what types of items to decorate with.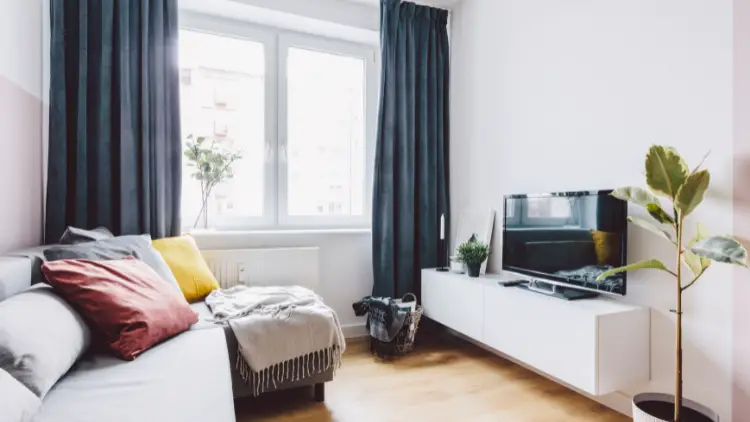 Small Spaces Done Right
If you are looking for inspiration on how to decorate a small space in your home, here are a few designs to inspire you. 
This living room's white and cream walls make the room feel spacious and airy.
The orange and taupe rug ties in quite nicely with the warmth of the wall art and throw pillows.
The sofa set is done tastefully in a neutral brown palette and accompanied by a coordinating set of footstools.
This small assemblage of furniture is perfect for this small space.
This breakfast nook proves that large furniture works even in small spaces.
The settee and mirror command attention while the rest of the elements balance out this heavy display with light delicate features.
The framed mirror is placed perfectly to not only reflect the natural light from the window but also the overhead lighting from the two large orb pendant lamps hanging from the ceiling.
One can say that everything is fixed in this room, and that there is a place for everything.
This method ensures that the room stays organized and clutter free. The magazine rack, ottoman tray, console table tray, and bookshelf are all ways to keep everything tidy and neat.
The large windows are unencumbered by blinds to allow the natural light to spill in.
The addition of the floor lamp, mirror, and table lamp all help to bounce the light around. 
Full-length curtains help elongate the window's appearance in this neutral dining room.
The walls are in a light neutral beige and a large wall art installation helps distract from the small square footage of the space.
If you look closely at the floor you can see where the tile of the dining area ends and the hardwood begins. The tiled area is very, very small. I'd estimate it at around 5′ x 5′.
The high back dining chairs and tall decorative vases help bring the eye upward toward the high ceiling and distract from the lack of space surrounding the table itself.
This goes to show that having the right approach to decorating a small space will make all the difference.
You can never go wrong with white walls and a big bright window.
Here, the light and bright walls help the large built-in shelving to disappear into the background.
On the opposite side of the room, the same is done with the sofa. So much so that at first glance of this photo, you might overlook it entirely as your focus is drawn to the bright beautiful window.
There are many elements in this particular room that make it stand out.
There's no denying there is a bit of competition for attention going on in this space. From the bold red wall art and zebra rug to the blue floor lamp and suspended airplane, there's a lot to take in here.
And while this breaks the "few but mighty" rule and leans more towards a maximalist style, the room still functions well.
Despite the visual distractions, there's ample seating and space to move around in this space. There's also storage for everything, supplemental lighting, and lots of beautiful natural sunlight pouring into the space.
The sectional sofa occupies two full walls in this small space. But, somehow it works without the space feeling overly cramped.
Instead, it's a cozy seating area that is light and bright thanks to the bare windows and large mirror on the mantel.
Minimal décor keeps this space easy on the eyes and functional. It's a small space I'd love to be in.
The whole room here feels grounded. It's rare to see a master bedroom that is compact yet still remains inviting.
Two walls of windows help the light pour into this space and the table lamps along with the chandelier are sure to make a soft, relaxing ambiance at night.
There's ample space on either side of the bed to get in and out and the window treatments being drawn to the ceiling help to make this small space feel bigger.
The lighting plan in this small living room area is expertly done. The overhead recessed lighting comes in two different sizes. There's eye-level lighting to help emphasize decor from the lamps on the shelves and the picture lighting.
To top it all off there's an inviting floor lamp to the side of the sofa.
With all of these lighting options, you can create the perfect ambiance at any time in this space.
Conclusion
You don't have to let your small spaces inhibit you from creating a calming, inviting room. Simply apply the techniques and tips outlined here and you'll be on your way to creating an amazing space.
Here are a few more posts you may like:
Don't forget to join the mailing list before you go. I'll send you a copy of my weekly newsletter, filled with my latest blog posts, decorating inspiration, and the best deals on home decor.
Thanks for reading!
home decorating tips
how to
interior decorating tips
small space