FTC Disclosure - This post contains affiliate links and I will be compensated if you make a purchase after clicking on my links.
*Item received for free for promotional consideration or a sponsored link.
If you're like me, you love looking at all the big, beautiful great rooms on Instagram and Pinterest for living room design ideas.  They're expansive and impeccably decorated.
But, not all of us have a jumbo living room, myself included.  Particularly if you are currently enjoying condo or apartment living.
Or, reside in a city where square footage comes at a premium.  Big or small, living rooms are important, high traffic areas in a home.
And, you may be stumped as to how you are going to make your small living room beautiful and functional.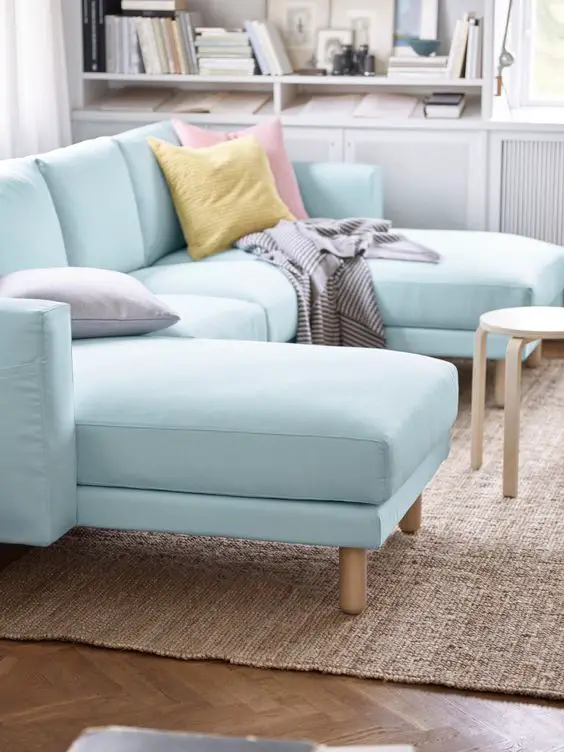 How Do You Make a Small Living Room Look Bigger?
This is a really popular question.  Many will tell you to brighten the room with a light color or add mirrors.
While this is sound advice, neither of these things will help you if you make the mistake of over-furnishing your space.  This means you've used too many pieces or pieces that are too large for your room.
The best way to maximize a small living room is to let it breathe.
Give yourself the space you need to move around comfortably.
7 Small Living Room Design Ideas
To illustrate my point, I've sketched (crudely) 7 layouts that are perfect for a small living room.  Let's take a look at our options.
1. Loveseat + Two Chairs
This option provides you with comfortable seating for 4.  You can add a small coffee table or an ottoman in the center if you'd like.
2. Loveseat + Chaise
If you enjoy the unexpected, consider throwing a chaise into the mix.  This will give you the option to relax and kick your feet up without having to use an over-sized recliner.
3. Four Chairs + No Loveseat + No Sofa
Here is your round table seating option.  It's a great alternative to the standard sofa and loveseat configuration.  This setup is perfect for a small living room and encourages conversation.
For more info on this style of seating check out our post "Have a Seat at My Round Table".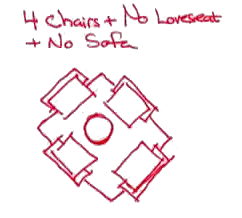 4. Sofa + Two Chairs
This room design is similar to option number one but gives you an extra seat.  If you're someone who like to lay down on your sofa and watch tv or read a book, this will be more comfortable than the loveseat.
5. Sofa + Loveseat
For the maximum number of seats, this is your best bet.
If the length and width of your living room are similar in dimension; you may want to position these two pieces opposite one another.  Then, anchor each end of the loveseat with lamps, small end tables, house plants, or baskets to add symmetry to your space.
6. Loveseat + No Chairs
If you're really cramped for space, a loveseat only option may be the way to go.  You'll need to balance out this setup, however, with a lamp, end table, or plant.
Consider adding a large tufted ottoman that can double as seating in a pinch.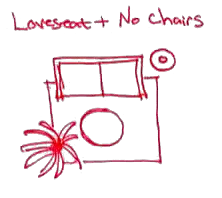 7. Bench + 2 Chairs
Much like the chaise option, a bench is an unexpected element in a living room.  You often see them in bedrooms or entryways, but they can be a nice addition to a living room as well.
I'd think of the bench the same way you'd think of a tufted ottoman. It's extra seating in a pinch, but wouldn't be your everyday go-to spot.
Especially if it doesn't have a back. (FYI – Target has a really great selection of ottomans and benches at all price points.)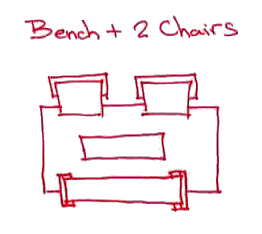 Conclusion
So, there we have it.  Those are my seven small living room seating solutions.  I hope you found this post helpful.  If you did please share it with a friend.
For more room design ideas follow Dianne Decor on Bloglovin'.  Thanks for reading.
Thanks for reading!
apartment living
decorating
furniture layout
furniture setup
home decor
interior design
room design
room idea
room layout
small living room
small room design
small space