FTC Disclosure - This post contains affiliate links and I will be compensated if you make a purchase after clicking on my links.
*Item received for free for promotional consideration or a sponsored link.
How should I decorate my entryway is a question almost every homeowner ponders.  Because everyone's lives, needs, and uses for their front entryway differ so much, it's hard to get a straight answer to this question.
Moreover, your entryway can make a powerful first impression on your visitors.  So it's no wonder, everyone is trying to figure out how to get it right.
In this post, we'll talk break down exactly what should go in an entryway, 3 classic entryway ideas, and how to choose the right one for you.
I'll also offer a few tips for decorating if you're working with a very small area by your front door.
Let's get started.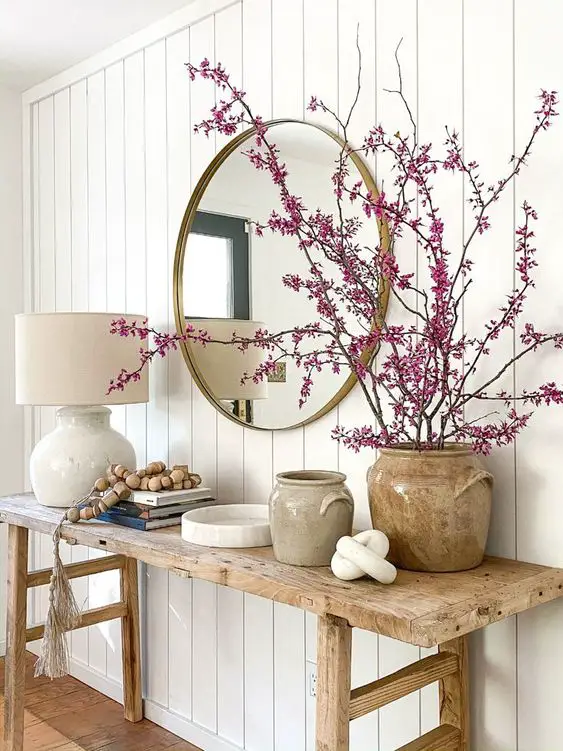 What Should Go In An Entryway?
Items that should go in an entryway include lighting, hooks or hangers, drop and go storage, and a small entryway table.  A chair or entryway bench is another staple item found in most entryways.
1. Lighting
Providing lighting in the entryways of your home is important not only for safety concerns but to create an inviting atmosphere.
While many of us have overhead lighting in this area, consider some additional supplemental lighting as well if you have space.  This can be a lamp or set of lamps on a console table, a floor lamp in the corner, or wall sconces.
A well-lit entryway is especially important for welcoming guests into your home.  Most will not know the lay of the land like you do and while you may be able to navigate your home in dimly lit conditions, others may not.
2. Rugs
An area rug in your entryway is optional, but it does add a really nice touch to your space.
The feeling of a soft rug under your feet after walking outside on hard pavement is a nice feeling.  It's a feeling that instantly puts your body at ease.
Area rugs are also a great way to pull incorporate your home's color scheme into your entryway area.
Because there is likely limited space around your front door, you may not have many opportunities to do so.
A repetitive color pattern helps create a cohesive design for your home.  You can use an area rug in your entryway or a statement piece of wall art to help achieve a cohesive look.
Suggested Read: 3 Tips For Cohesive Interior Design
3. Hooks and Hangers
A place to hang coats and handbags is essential.  You can opt for a standard coat rack, mount some hooks to the wall, or go with a larger hall tree option.  They all serve the same purpose, to give you and your guest easy storage and access to their belongings.
Many times our coat closets are already filled with our family's jackets and outerwear, leaving little space for extra belongings visitors may need to store temporarily.
So, having a coat rack or hooks near your entryway that are reserved for guests is the best option.
There are so many other elegant options for hanging coats that piling them up on a bed should be your last resort.
4. Statement Decor
Your front entryway is the perfect location to showcase a piece of statement decor.  This could be wall art or decor hung above a bench or console table.
Or, a nice sculptural piece such as a decorative bowl or other decorative object placed on your entryway table.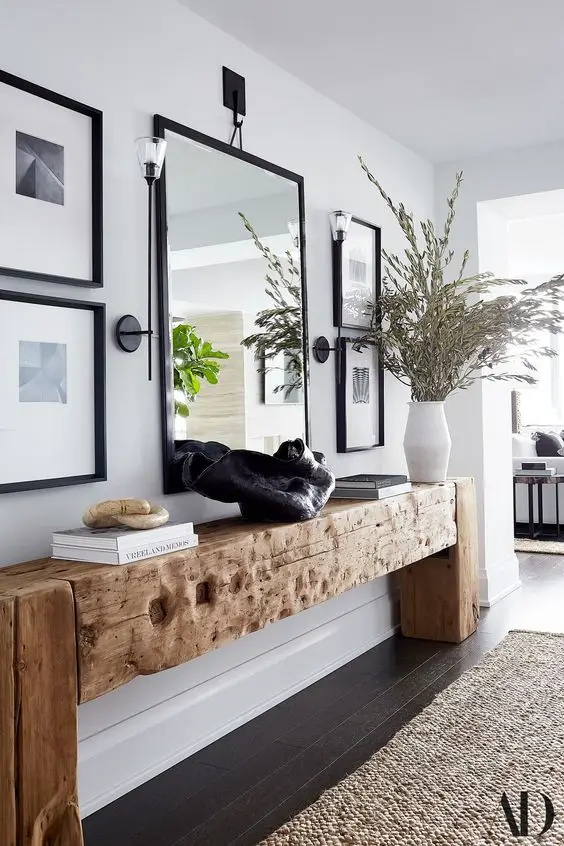 5. Storage
You'll be hard-pressed to find a better storage option for your entryway than a decorative basket.  I have a whole post on where to find affordable decorative baskets and discuss ways to use them.
A basket near your front door is one of those classic entryway ideas that work for everyone.
You can use your basket to store shoes, umbrellas, hats, gloves, scarves, and other outdoor accessories.  They can even be used to store outdoor toys for your kids.
Adding a basket in your entryway is the perfect way to keep the clutter contained while simultaneously adding a decorative accent to your space.
Therefore, the answer to how should I decorate my entryway almost always includes a reference to baskets.
6. Small Furniture
Unless you're opting for a hall tree that serves multiple purposes in an entryway, stick to small, low profile furniture near your door.
You don't want to eat up all of your space with oversized furniture.  This will make it hard for multiple people to maneuver in the entryway at once.
Instead, go for a simple armchair, bench, or low profile console table.  Semi-circle or half-moon tables are also great options.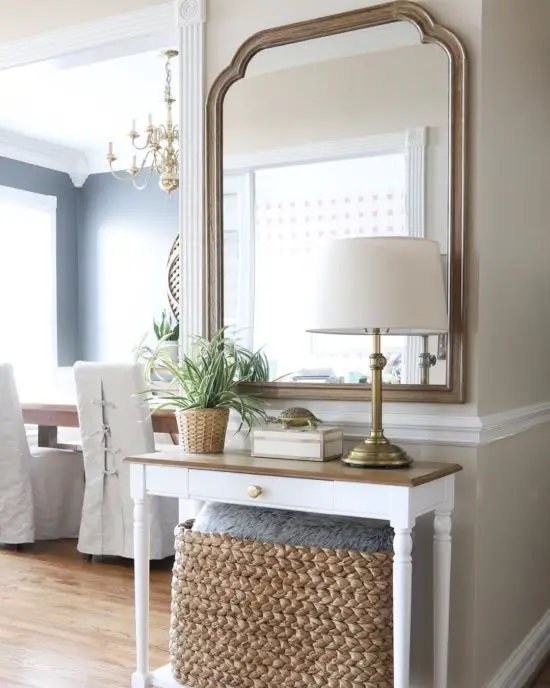 3 Classic Entryway Ideas
If you're stumped for where to start decorating your entryway, here are a few classic ideas that work great.
1. Hall Tree
The hall tree is an all-in-one solution that provides you with a place to sit, a place to store shoes, and a place to hang your coats and bags.  It's a fantastic solution for apartments and smaller entryways.
If you're a family with school-age children that need a place hang backpacks as they come and go, a hall tree is perfect.
Also, if you're a pet owner who has a lot of accessories like leashes, toys, waste bags, and other things for your animals that you take with you regularly, you may find a hall tree useful as well.
2. Entryway Table
An entryway table with a decorative bowl to catch keys, sunglasses, and other odds and ends is another classic look.  You'll often find storage baskets tucked below for shoes, scarves, and hats.
This entryway idea is great because it provides a surface for decorative accents, table lamps, and often shelving below for storing large items in bins or baskets.
Often paired with a single chair, the entryway table style of decorating inside your front door is a good option for those who casually go in and out their front entrance.
3. Bench For Entryway
Placing a small bench in your entryway is a very popular way to style the area just inside your front door.  It's a great option for high traffic entryways.  And it's your best option if you like a shoe-free home.
A place to sit and pull your shoes off or put them on is key to making your no shoes in the house rule easy to adhere to for you and guests.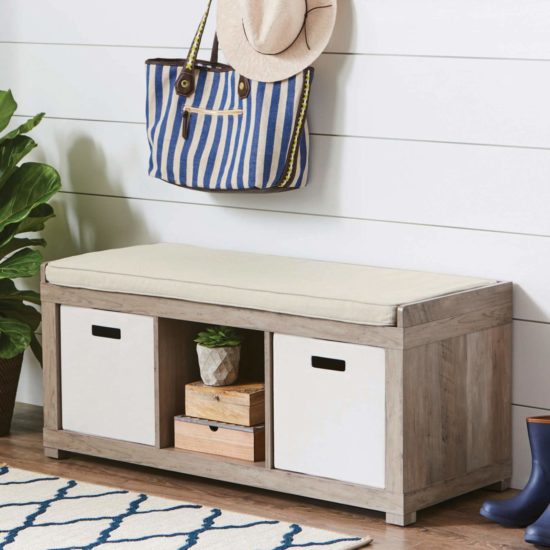 How Should I Decorate My Entryway?
Which Style Is Right For Me?
So, how do you decide which of these classic entryway styles is right for you?  Start by determining the frequency in which you use your front door.
If your main entry in and out of your home is your garage and your kids and pets play in the backyard vs the front yard, go for a console table and chair combo.
On the other hand, if your front door is how you access your home on a daily basis, go for a bench and a coat rack or wall hooks combo.  You'll want to leave yourself as much room as possible to put your coat on and gather your things as you pass through this area.
Finally, if you're in an apartment or have a small entryway area, go for a hall tree.  This may seem counter-intuitive because the hall tree is a larger piece of furniture, but it's an all in one solution.
Apartment settings rarely have coat closets or large entryways.  So tucking a hall tree just around the corner from the landing area just inside your door is a great option.
If you don't have an area like that to utilize then stick to wall hooks and a piece of wall decor only.
And, as I mentioned earlier in the post, if you have school-age children that are coming and going from the bus stop, a hall tree is great for a makeshift mudroom.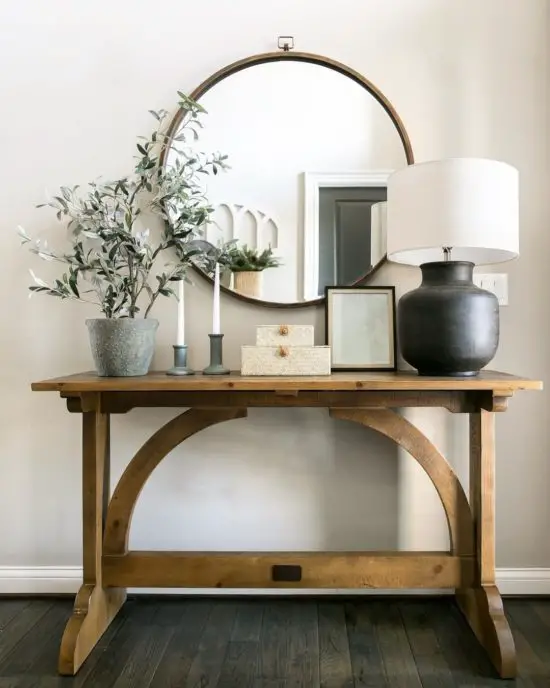 How Should I Decorate a Small Entryway?
Because small entryways are particularly challenging to decorate, I wanted to offer a few ideas for how to approach this design challenge.
1. Wall Hooks & Wall Decor
This beautiful combination of wall-mounted hooks and decor shows that you don't need a lot of space to make a big impact.
And while I do see a console table against the adjacent wall, if all you had were these hooks and decor, you'd still have an incredible small entryway.
The decorative woven rug is another lovely feature of in this space from Our Farmhouse Style Home on Instagram.
2. Wall Hooks & Tiny Table
There's no rule that says you need a full-length console table in your entryway.
This small side table is perfect for this front door nook and the mirror with mounted hooks makes this space useful and functional.
This option also offers a ton of storage for large and small items.  There are hooks for keys, a decorative tray for larger accessories like sunglasses or incoming mail.
Not to mention, the three drawers and the basket on the bottom shelf of the table.
If you're trying to figure out how to get it all done with a small space, this is it!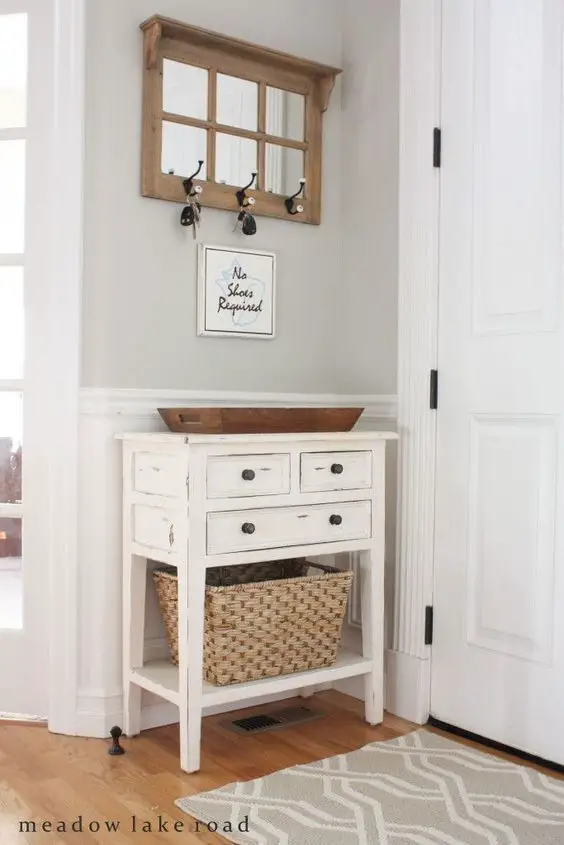 3. Floating Shelf & Stools
Here's a creative solution for an entryway that can't accommodate both a table and seating.  This tiny entryway features perfectly scaled footstool/ottomans, a wall hook, and a floating shelf for decor, and a catch-all bowl.
It's a genius combination and a great way to style your small entryway.
4. Hanging Baskets & Wall Hooks
If you don't have on the floor for a large decorative basket, consider mounting a series of smaller baskets on the wall like Tina at InspireReality.blog.
Make sure to click through to her Board and Batten Entryway post to see all the details.  You'll find other images that show her use of a small cubby just around the corner from these baskets and that is being used as a hall tree.
It's a fantastic setup.  Smaller items can be stored by the door without being cumbersome.  Larger items like backpacks and shoes are housed just around the corner.
This is a fantastic small entryway idea.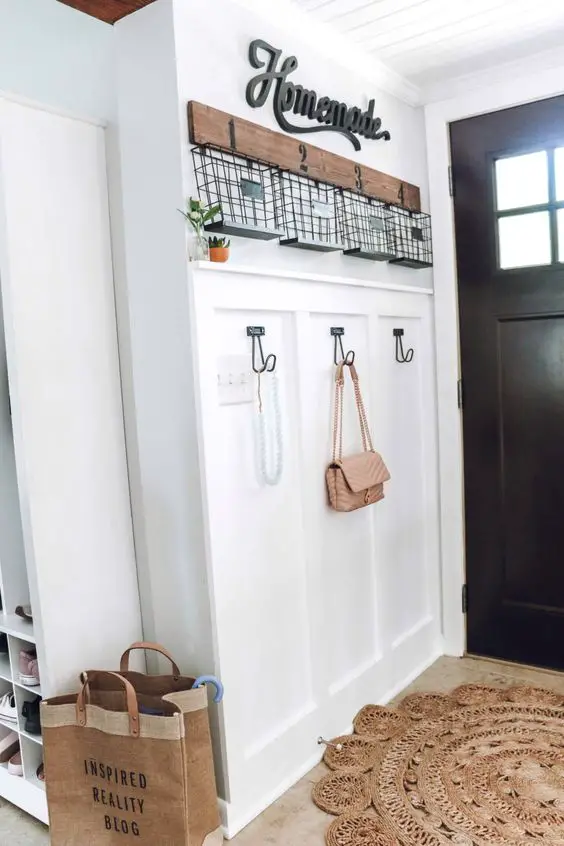 5. Skinny Bench & Wall Shelf
Last but not least is another board and batten style entryway.  In my opinion, this front door entry is the most jam-packed with decorative elements but does not lose its function in the process.
The wall light, mirror, hooks, and mini bench all work together wonderfully.
There are a lot of natural textures and warm tones in this entryway.  They make this styling feel contemporary with a slight boho vibe.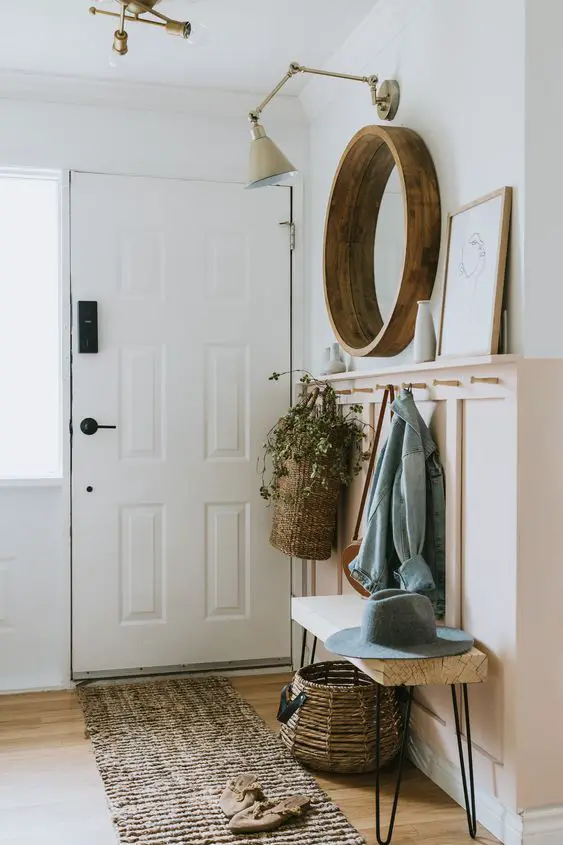 Conclusion
That's it for this post.  I hope you found it helpful and that it provided a great answer to your question: how should I decorate my entryway?
If you did please share it with a friend and follow Dianne Decor on Medium for more from me.  You can also find me on Pinterest, Twitter, and Instagram.
To have my latest posts delivered directly to your inbox, join the mailing list before you go.  I'll send you a copy of my weekly newsletter filled with weekend reads, decorating inspiration, and the latest deals on home decor.
Thanks for reading!
decorating idea
entryway
entryway bench
entryway decor
entryway decorating
entryway idea
entryway styling
entryway table
front entryway decor