FTC Disclosure - This post contains affiliate links and I will be compensated if you make a purchase after clicking on my links.
*Item received for free for promotional consideration or a sponsored link.
Decorating a small space can be tricky.  But decorating a small space with a super important function as a half bath can seem impossible.
But don't let this overwhelm you. There are still some style designs you can easily implement even if you have a very small space. 
In a half bathroom, it's all about having the right approach to marrying form with function.
Here are a few tips to get you started.  
Half Bathroom Defined 
First, let's talk about the standard components of a half bathroom.
A half bathroom is most often found on the first floor of a residence and adjacent to a living room, kitchen, or dining room. 
It contains a toilet and sink but no bathtub or shower. 
Other fixtures include a decorative towel rack or a few small wall shelves. 
You may also hear the term "powder room" used to refer to the half bath in North America.
What's great about half baths is that they're convenient for your guests and you as well.
Guests don't have to navigate through private areas of the home or upstairs to sleeping quarters.  
Instead, they can make use of the powder room then, easily rejoin activities in the kitchen, dining room or living room.
The good thing about half baths is that you can wow your guests for half the budget of a full bathroom renovation.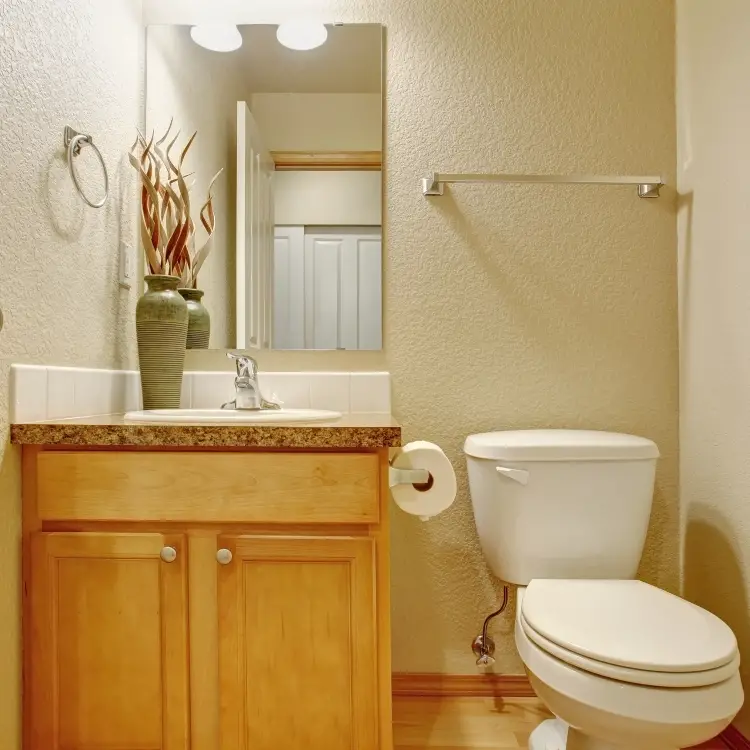 Things You Should Never Do When Decorating a Very Small Half Bath
But, before you begin there are a few things to keep in mind.
Avoid using décor that will take up floor space. 
In a half bath, space is a prime commodity. You need every inch you can get to maneuver around a small bathroom. 
Avoid adding baskets, floor plants or free-standing toilet roll holders or towel racks that take up too much space.  
They will hinder movement and lead to an uncomfortable cramped space.  This is not just true for regular usage of the space, but also when it comes to cleaning.
Avoid dark walls if you only have no windows and no overhead lighting. 
Dark walls require good lighting.
If there are no additional vanity lights over the mirror or wall sconces, steer clear of dark colors.  
The same holds true if you don't have a window in the bathroom. Dark colors tend to make a room appear smaller. For half baths, this is rarely advisable.
Instead of going for deep vampy blues, greys, or black, consider adding a feature wall instead.  Wainscoting or board and batten make a lovely addition to a very small half bathroom.
Decorative Items That Are Perfect for A Small Half Bath
Now that's out of the way, there are several decorative items that are fantastic for styling a very small half bathroom.
Wall Art
Even if your half bath is tiny, it doesn't mean it needs to be bare. 
Use wall art to reflect your personality and style. The options are virtually limitless.
If you have a coastal palette in mind for your half bath, you can purchase complementing wall art such as a painting of the sea or beach. 
If you have a cottage-like look for your half bath, you can select countryside pictures, and so on. There's no need to go over the budget as you can find affordable artwork in thrift shops and garage sales.
Toilet Tank Caddy
Let's talk about a space-saving storage solution.
Toilet tank caddies can be placed on top of the toilet tank to display an assortment of half bath essentials. 
Toilet paper, soap, towels, air fresheners, and even small potted plants can be tucked into one of these caddies.
What's great is that there are many materials used for these caddies.
They come in durable stainless steel or woven materials and are easy to clean. 
It also provides convenient open storage and it's easy to see which essentials need to be replenished as soon as possible. 
Small Area Rug
A rug adds warmth and comfort to the bathroom.
There's no shortage of choices and materials when it comes to small area rugs. 
Choosing one that works with your overall style is relatively easy.
Just be sure to go for a machine washable rug that's easy to maintain.
Bathrooms are a high-traffic area and bathroom rugs, in particular, can pick up dirt quickly.
Wallpaper
Wallpapers can give your bathroom a major style upgrade.  
Putting up wallpaper will cost you a fraction of what it would to install expensive decorative tile on your walls.
What's more, peel and stick wallpaper is easy to replace if you decide to give your half bath a makeover in the future.
Go for a modern geometric pattern, classic vintage floral, or anything in between.
Floral stems like eucalyptus stems, tea rose stems or branches
For a time, dried foliage was the craze because of the practicality of potpourri and décor rolled into one. They required no maintenance and were prettier than plastic flowers.
Nowadays faux florals have come a long way.
You can easily add a minimalist vase with a few eucalyptus stems or tea rose stems.
I currently have artificial tea rose stems from Birch Lane that I featured in my Blue and Mauve Living Room Refresh For Spring in my entryway, but they would look fantastic in a small half bath as well.
Small potted plants are also perfect for decorating a very small half bathroom.
If they're real they can help purify the air.  But even if they're artificial, the greenery can be rejuvenating to the eyes.
Decorating with natural elements, real or faux, adds a layer of comfort and warmth to any space.
If you do go for real plants, choose ones that are low maintenance and don't need a lot of sunlight.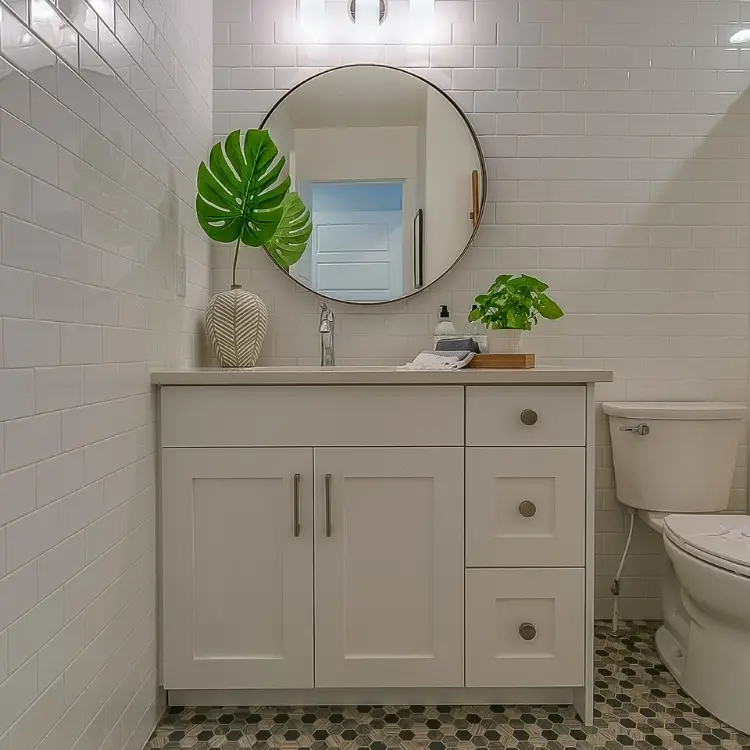 Wall-mounted shelves 
Maximize storage space in a very small half bathroom by installing wall-mounted shelves.
The great thing about installing wall-mounted shelves is that they can be a decorative accent all on their own.
Before you even style them with trinkets, plants, jars, or bathroom essentials, you can make a statement with the type of shelf you choose.
Floating shelves, industrial pipe shelving, gray-washed transitional style shelves, and traditional shelving with ornate scrollwork supports are just a few of the options.
Check out the post "20 Over The Toilet Decorating Ideas" for more ideas on shelving types and what to put on them.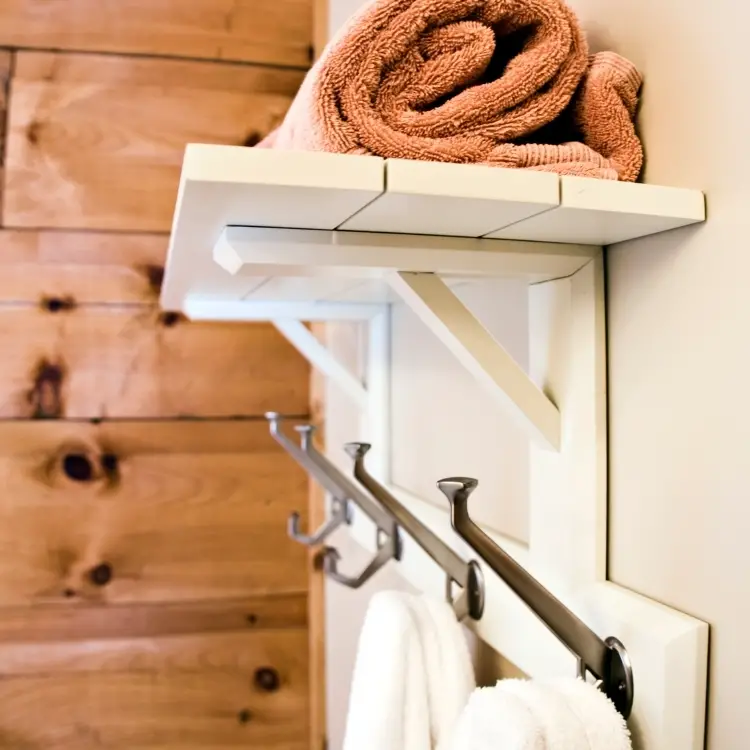 Decorative floor tile
Fancy floor tiles are a great decorative accent for any bathroom.
They can anchor your space and set the tone for the rest of the bathroom decor.
Best of all, because floor space is so limited in a half bathroom, you can install a nice tile and still stay within a reasonable budget.
If you really want to save big, go for a peel and stick tile for a quick makeover.
6 Examples of Beautifully Decorated Small Half Bathrooms
In need of some half bath inspiration? I've got you covered. Here are 6 phenomenal half bathroom decorating ideas.
1. Dark Shiplap Bathroom
This modern farmhouse-style half bath makes use of wooden accents for the mirror and floating shelves.
It keeps the color palette of white and black. 
The lighting over the vanity is a beautiful touch and the woven baskets for storage make this bathroom very on-trend.
The potted plant adds an additional layer of natural decor to the room that makes it feel especially inviting.
The artwork reinforces the color scheme beautifully without distracting the other beautiful details going on in the room.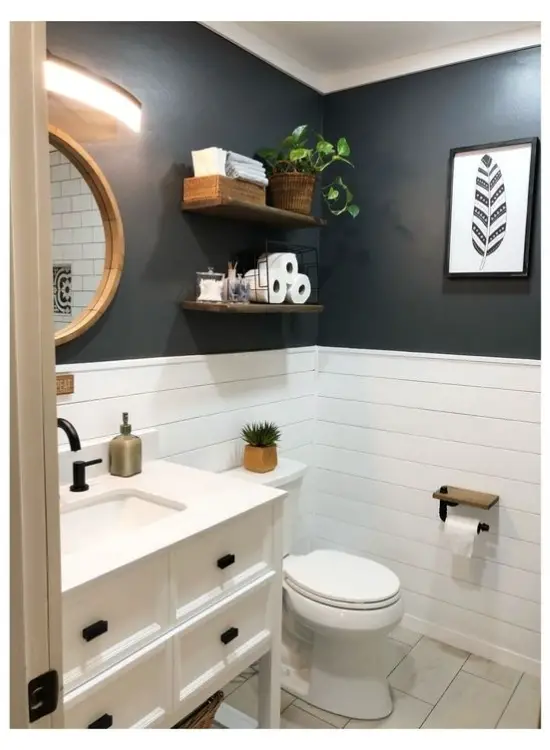 2. A 90's Era Powder Room
This powder room brings back the glitz and glamour of the previous century.
The white walls balance off the highly detailed wallpaper which pairs expertly with the dark blue vanity. 
The beautifully balanced gold wall sconces exude glamour.  The shades are a particularly nice touch that is coming back into style.
The coordinating faucet, mirror, and cabinet hardware all work together to give this room a sophisticated and intentional color scheme.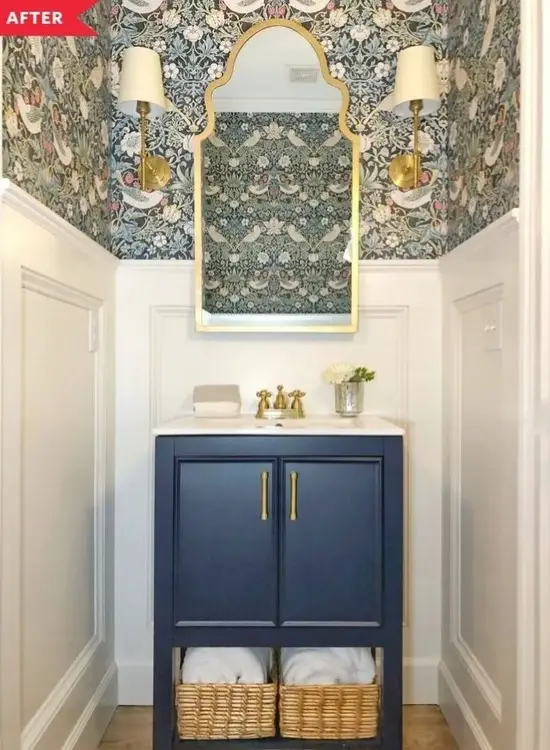 3. Farmhouse Half Bath
This design is just refreshing to look at. 
You really can't go wrong with a neutral palette like this.
This bathroom isn't overly adorned.  Rather, simplified and comfortable with an intentional design.
Black accents are repeated throughout the entire design and the dark gray flooring with white grout and a fantastic shade to coordinate with the light gray walls and vanity top.
4. Rustic Modern Half Bath
It's possible to bring rustic modern into a half bath.  The proof is right here before our eyes.
Better yet, you can do it with budget-friendly elements and minimal decor.
When it comes to rustic modern, it's all about letting the natural materials speak the loudest.
In this bathroom the wood vanity showcasing the natural wood grain beautifully.  The mid-toned wood pops against the white and really draws the eye.
The black mirror frame and drawer handles coordinate well and keeps up that rustic feel along with the woven baskets used for storage.
An all-white palette with some rich earth tones infused into it is a great way to keep things light and bright in a small half bath.
It can make the room appear bigger than it is.
5. Ultra-Small Yet Chic Half Bath
Even super-duper small bathrooms can be chic with a few small decorative touches.
This beautiful bathroom makeover proves that a space is never too small to decorate, you just have to do it strategically.
The chunky, rustic floating shelves and oversized artwork are a beautiful combination.  The simple floral stems help lift the eye away from the small floor space and onto the walls.
For a complete look at this half bathroom head over to citysoulsouthernheart.com.  It's a lovely makeover.
6. Modern Luxe Half Bath 
This space showcases luxe lighting both overhead and on top of the vanity. 
The floor tile pattern marries the black and white walls perfectly.
This black and white contrasting look is very popular right now if you're into the modern aesthetic.
The gold or brass framed mirror is fantastic.
The overall result of this black and white mashup is a streamlined design that's just luxurious.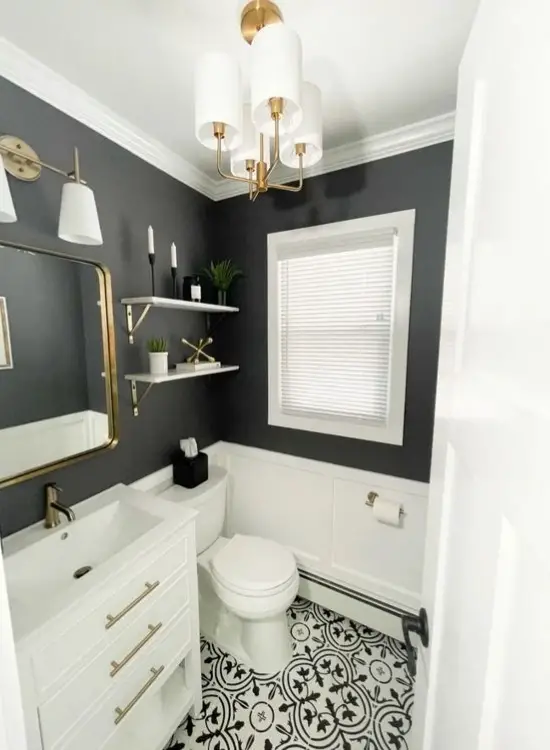 Conclusion
When it comes to decorating your half bath, you don't need to empty your pockets.
You can use the splurge and save method and identify one or two elements you'd like to splurge on, and save on where you can. 
This can be the mirror, the vanity, the flooring, or even decorative wall molding.
Save on the small details like artwork, plants, shelves, and candles.
I hope you found this post helpful.  If you did, please share it with a friend and follow Dianne Decor on Medium for more from me.
You can also find me on Instagram, Twitter, and Pinterest.
To have a copy of my latest posts delivered directly to your inbox, join the mailing list before you go.  I'll send you a copy of my weekly newsletter filled with weekend reads, decorating inspirations, and the latest deals on home decor.
Thanks for reading!
bathroom decor
bathroom decorating
half bath
half bathroom
how to decorate