FTC Disclosure - This post contains affiliate links and I will be compensated if you make a purchase after clicking on my links.
*Item received for free for promotional consideration or a sponsored link.
Bathroom faucets can make a big impact on a small space.  While it may seem like an insignificant detail to some, the style of your bathroom faucet says a lot about you and your home.
That being said, the process of actually sifting through all of the different styles of bathroom faucets is a daunting task.
So, in this post, I'm not only going to highlight 19 show-stopping bathroom faucets, but I'll touch on a few pros and cons of each type as we go along.
This will give you a good jumping-off point when choosing a faucet for your home.
19 Bathroom Faucets That Will Steal The Show
Let's start with a classic widespread faucet.  This type of faucet is by far the most common.  It includes two handles on either side of the spout.  One handle to adjust the hot water and one for the cold.  The word "widespread" references the distance between the handles and the spout.
Anything less than 4 inches in spacing would be considered a mini widespread faucet.
The Delta Lahara faucet below is a gorgeous, contemporary choice.  The flattened out, fin-like handles are really sleek and the finish is lovely.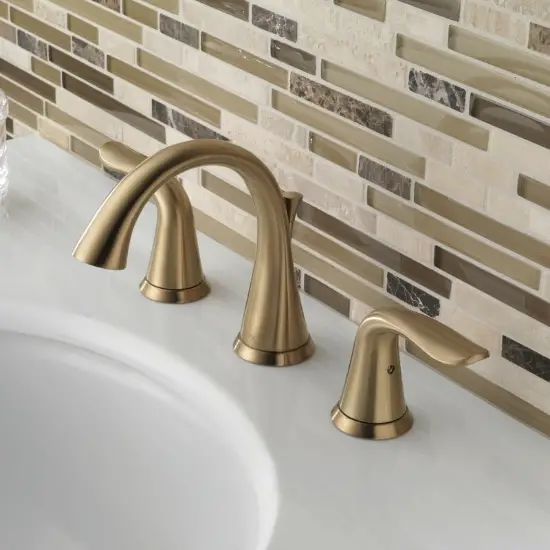 Matte black fixtures are really popular right now.  If you have a modern farmhouse or modern industrial style going on in your home, this is the perfect faucet to complement it.
The smooth, tubular look of this faucet is modern and refreshing.
Another common faucet type is the single hole faucet.  It's named this because you only need to have a single hole cut into your countertop to install this faucet, versus the three you would need with a widespread faucet.
The pros of this faucet style are that it's good for people with dexterity issues.  You don't have to grip and twist knobs to operate the faucet.  Instead, a single handle is mounted to the top of the faucet.
The amount of water coming out of the faucet is controlled by tilting the handle up.  Then, to control the temperature, you would swivel the handle to one side or the other.
Cons for this faucet would be that it's a little more difficult (in my opinion) to get your temperature just right.  I tend to have to fiddle with this faucet type more than a traditional two-handled model to get the temperature I desire.
That being said, this Delta faucet is very stylish.  It has clean lines and a streamlined, angular look that is very cutting edge.
Moving in the other direction is this oil rubbed bronze faucet.  The "rubbed bronze" style gives it a lightly distressed look that would be perfect amongst modern farmhouse or traditional decor.
This futuristic single hole faucet is a definite show stopper.  It's has a really unexpected structure and the spout mimics that of a waterfall style faucet.  It's really cool to look at and only $50!
Here's a true waterfall style sink faucet.  This faucet type would be categorized as a vessel and the spout style is a waterfall.  A vessel faucet is simply a taller version of a single hole faucet that sits outside of a sink bowl as opposed to being mounted on the actual sink.
These faucets are becoming more and more popular as we're seeing raised or vessel sink bowls becoming more popular.  The two items work together as a pair and are often sold together as well.
The faucet pictured below is essentially the vessel version of the single hole faucet in listing number 4 above.
Okay, if you want to get fancy pants about your bathroom, go for something like this glass waterfall bathroom faucet.  It's just so cool and luxe-looking, yet, surprisingly affordable.
You can find this faucet at HomeDepot.com for around $60.
If you're a lover of contemporary or transitional interiors like me, you'll love this faucet.  It's so elegant and sophisticated.  It has an uncomplicated design that still has a lot of nice detailing to it.
I absolutely love the look of this faucet.
Here's another waterfall style faucet that reminds me a lot of the single hole Delta faucet that we looked at in number 3 on this list.  The major difference between these two is the waterfall spout feature.
This means that you're able to see the water before it makes it was over the edge of the spout like a waterfall over a cliff.  It's a really pretty feature that would elevate the look of any bathroom.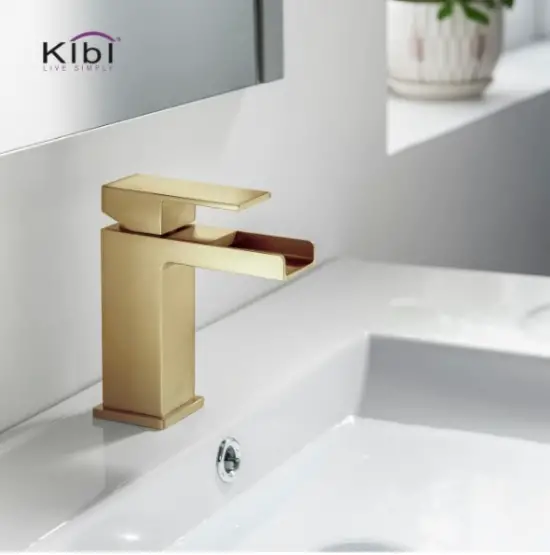 American Classic is the perfect name for the look of this faucet.  However, this is not a "centerset" faucet as the name implies.  Instead, it is a wideset faucet.
Note: Here's an example of a centerset faucet.  You'll see that the faucet and handles are all set on top of a base plate.
Despite the labeling error, I wanted to include this one because it has a classic, refined look to it.  If you have a traditional style home this would be a fantastic complement to your interior.
Here's another matte black option.  The gold accents on the handles really make this faucet command attention.  This super slender look is very modern and paired with the matte black, it makes this faucet unique.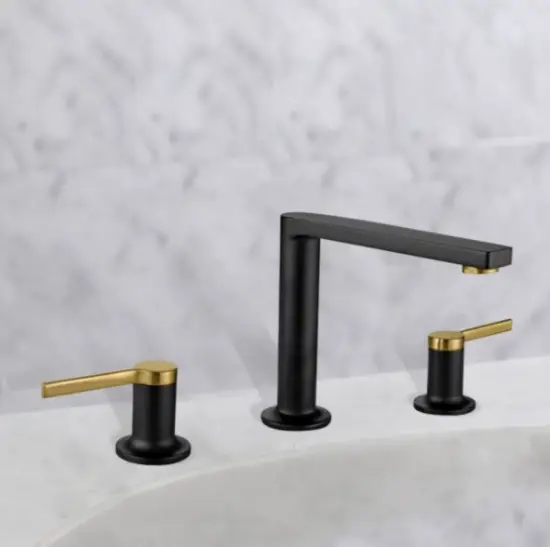 Old is new again with this cross handle faucet.  While the handle style is reminiscent of the past, the faucet spout style is firmly rooted in the present.  I'm not sure I've ever seen anything like this before and wanted to include it on this list because it was so interesting to look at.
I must admit, I find it to be a little bit odd, but at the same time, I can't stop looking at it.  For that reason, I had to include it on this list of bathroom faucets that steal the show.
Now, this is something to see!  If you're solely looking for something that will make people stop and say "WOW", here she is.
However, setting aside the beauty of this Gold Polished Waterfall Bathroom Sink Faucet from Bathselect, I have some questions about its long-term appeal.
For instance, what happens if you only want a small trickle of water?  Does it still create this nice waterfall arc?  Or, does it just dribble over the edge sporadically?
I'm also not sure that I personally would love a square handle.  I can see wet hands struggling to tighten this type of faucet.  But, then again, I've never encountered one that looked like this, so who knows.
I'm curious.  Would you ever put a faucet like this in your bathroom?  Let me know in the comments below.
Wall-mounted faucets in the residential space are few and far between.  Just having this type of faucet would be a conversation starter.  As far as modern bathroom faucets go, this is a good representation.
It's matte black, has a waterfall spout, and has a single handle.  It doesn't get any more modern than that.  If that's your vibe, check it out.
It's reasonably priced under $150 at Houzz.com right now.
Vigo is one of my favorite bath manufacturers.  If you've never visited their website, I implore you to check them out.  Their designs are very sleek and contemporary.
They always seem to have cutting edge designs that are not too over the top for the average person.
The Vigo Madison Single Hole CFiber faucet is a great example.  It's uncomplicated, yet sleek and modern.  The silhouette is classic, but this CFiber feature on the vertical portion of the faucet is very cutting edge.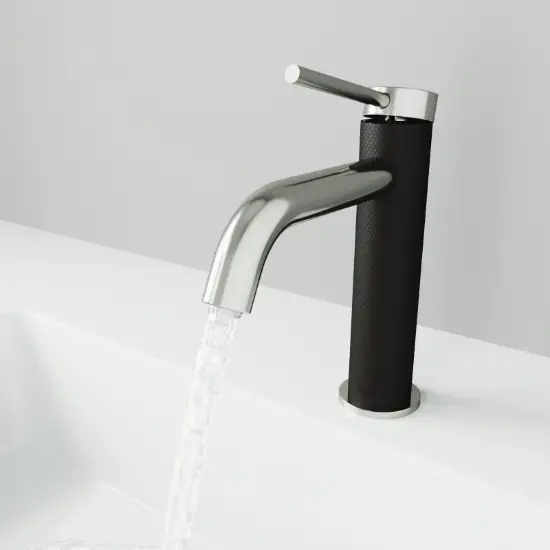 Here's another wall-mounted faucet option.  This one features two square handles and comes with a matching pop-up drain.  If you like this look, but don't love the finish, check out some of the other finish options on their website.
You can get this in antique rubbed bronze (shown below), matte brushed gold, matte black, chrome, and. brushed nickel.
Much like number 7 in this list, the glass waterfall faucet makes a big statement.  The fact that this is a vessel faucet with a nearly invisible handle makes an even bigger statement.
About that handle… did you miss it?  If so, you're not alone.
At first, I thought the image was cut off, but then I realized that the handle is actually that skinny little lever right in the center like the pistil of a flower.
It's very cool and without the bulk of a traditional handle, it makes this faucet look nearly invisible.
Do expect to have to show people how to operate this faucet, however.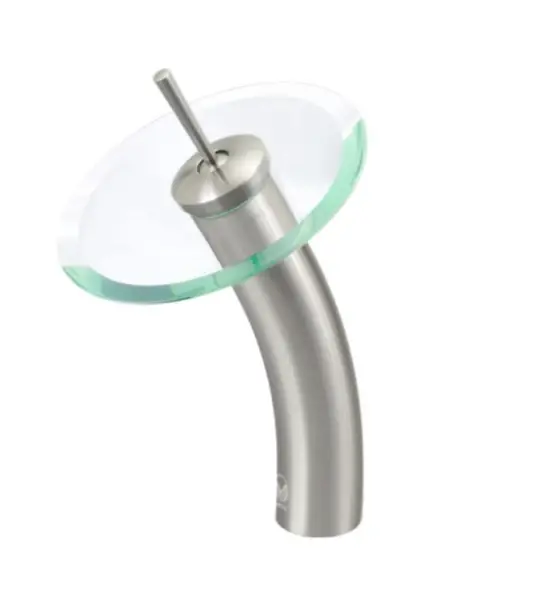 18. Brizo Baliza 1.2 GPM Mini-Widespread Bathroom Faucet
As a lover of shiny things, this Brizo Baliza faucet made me stop and stare immediately.  The shape is incredible and the finish is fantastic.
Its beauty, however, is reflected in the price.  This faucet will set you back about $300.
If you don't know, Brizo is a high-end sister brand to Delta.  So, if you're looking for something similar that's a bit more affordable, search for Delta mini widespread faucets and you'll likely find something comparable.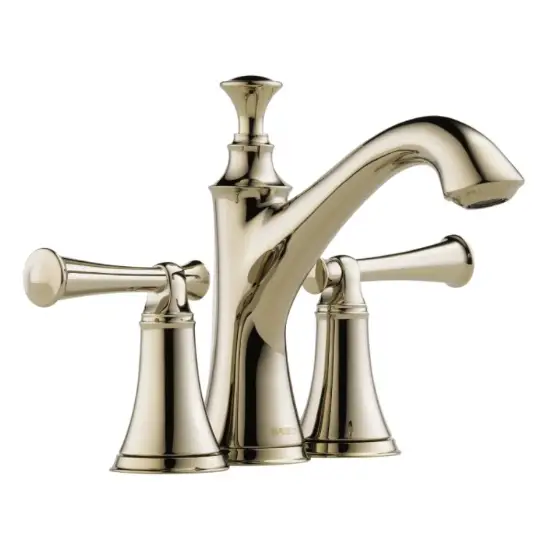 Kingston Brass is another one of my favorite kitchen and bath manufacturers.  Everything they make has an elegant look about it.  The Kaiser faucet below is no exception.
The finish is gorgeous and the gentle curves on the body of the faucet are a sight to see.
Conclusion
That concludes this list of show-stopping bathroom faucets.  I hope you found this post helpful.  If you did, please share it with a friend and follow Dianne Decor on Bloglovin', Pinterest, Instagram, and Twitter for more from me.
To have my latest posts delivered directly to your inbox, join the mailing list before you go.  I'll send you a copy of my weekly newsletter filled with weekend reads, decorating inspiration, and the latest deals on home decor.
Thanks for reading!
bathroom decor
bathroom design
bathroom faucet types
bathroom faucets