FTC Disclosure - This post contains affiliate links and I will be compensated if you make a purchase after clicking on my links.
*Item received for free for promotional consideration or a sponsored link.
While kitchen faucets might not seem like a big deal, but it can make a huge impact on your space.  Back in the day, there weren't a lot of features or finishes to choose from.  The kitchen faucet and sink for that matter were seen as purely utilitarian things.
One handle for hot water, one for cold, a swivel spout, and a side sprayer if you're fancy.  Now faucet sets include soap dispensers, elaborate bridge faucets, pull-down sprayers, separate drinking faucets, and even touch on controls.
Another difference between now and 25 years ago is the price.  With all that new functionality and sleek design came a big price hike compared to the old school style faucets.
That being said, there are some models that are so stunning that they're definitely worth the splurge.  A statement faucet is not only functional but a showpiece for your kitchen.
So, if you're looking to make a statement with your kitchen, here are 10 faucets worth the splurge.
10 Kitchen Faucets Worth The Splurge
This Delta Trinsic Pull Down Faucet is beautiful.  The champagne bronze finish gives the sleek design an even more luxurious feel.  It has a single handle and pull down sprayer with magnetic docking.
If this were mine, I would coordinate the look of my cabinet hardware to match this faucet to give my kitchen a cohesive design.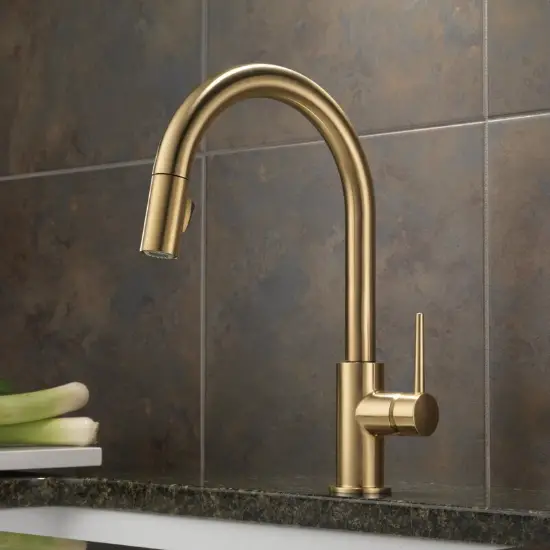 Matte Black fixtures are going stronger than ever and it's easy to see why.  This Kirtley pull-down faucet works similarly to the Trinsic above.  The finish, however, couldn't be more different.
This modern matte black look is fantastic and the deck plate and coordinated soap dispenser anchor this faucet.
A finish like this paired with white or light countertops and cabinets would look amazing.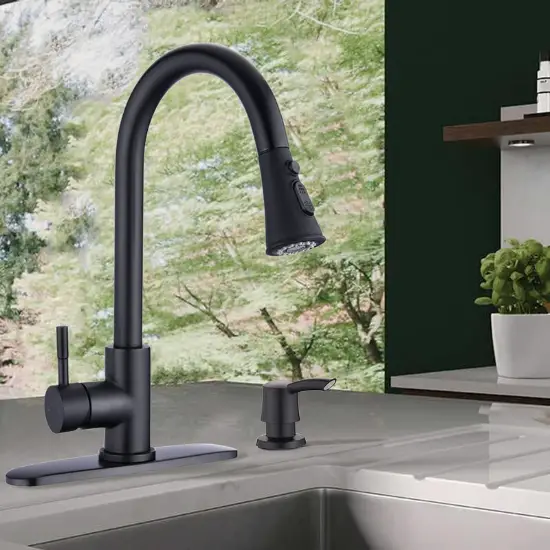 If you want to look like a pro in the kitchen, go for this Edison faucet from Vigo.  The exposed spring coil detailing makes this faucet look like it's right out of a commercial kitchen.
Much like the Edison style bulbs and lighting fixtures, this faucet is right at home with a modern industrial interior.  It would also work among modern farmhouse decor as well.
This style comes in a variety of finishes including a stainless steel and black combo where the coiling is gray stainless steel.  If you like the look of this faucet, check it out now on Wayfair.  It's currently on sale for around $160.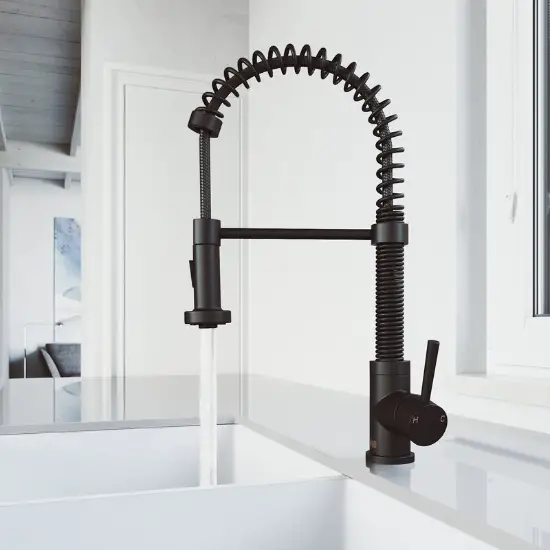 If you have more of a traditional interior, oil rubbed bronze finish on your kitchen hardware is likely.  Why not compliment it with this Sellette Traditional 1-Handle Pulldown Kitchen Faucet?
Its body style screams traditional decor and I love the bronze piping around the spout and handle.
Just like many others on this list, this model features a pull-down sprayer.  What I really like is the fact that they include an optional deck plate.
This means that if you've previously had a 2 or 3 hole faucet installed in your kitchen, you can still use this faucet and the deck plate will cover those holes perfectly.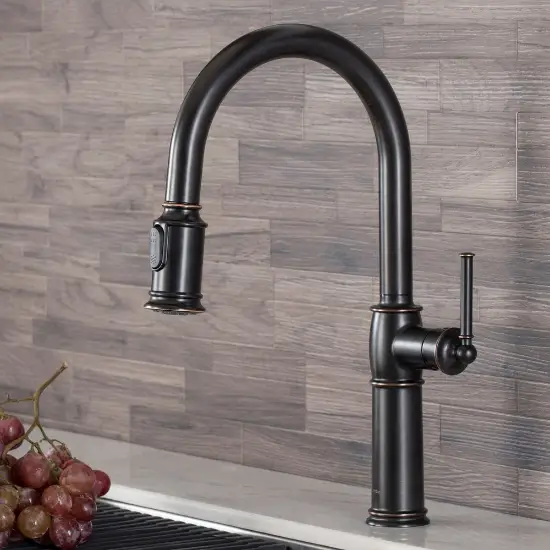 I absolutely love a white and chrome combo.  It's so modern and sleek.  This faucet from Kraus has a striking gooseneck silhouette that different from others on the market.  That combined with their two-toned finish options makes it a real showpiece.
As far as kitchen faucets go, this is a rare find.  You'd be hard-pressed to meet another person with this in their home.  And those who do have it are raving about it.
This 5-star faucet is available on Overstock for $200 and comes in a white and chrome combo as well as a black and stainless steel version.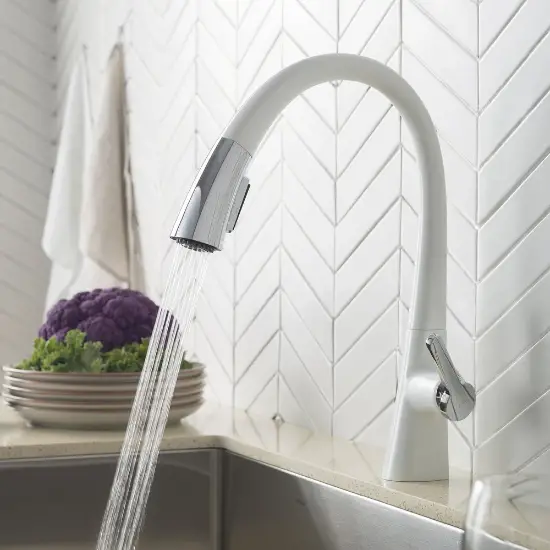 A kitchen faucet is one thing.  But adding a drinking faucet in your kitchen will take it to the next level.  While many people now have the option of having filtered drinking water dispensed from their refrigerators, many do not.
I still see plenty of those Ready Refresh water delivery trucks bringing giant jugs of water to my neighbors.  Others still, prefer pitcher solutions like Brita and Pur.
But, if you still like the idea of getting drinking from your sink, you may want to install an additional water filtration faucet like this one below from Kingston Brass.
Funny enough, our home came with a water filter faucet when we moved in.  I actually thought it was a soap dispenser when we first toured the house, but it wasn't until after we moved in that I realized what it really was.
We actually don't use it because we get our water from the fridge, but if you do have one and are looking for an upgrade, this a gorgeous option.
If you're like me and still prefer a two-handle faucet, here's a lovely option from Kingston Brass.  This faucet has a great contemporary style that doesn't stray too far from the traditional kitchen faucets most of us grew up using.
Do you remember when the hoses on the sprayers were thin rubber and when they wouldn't slide back into place you'd have to slowly feed it back through the hole? Ahhh memories!
Luckily these days the hoses are made of heavier nylon.  Moreover, now they often come with weights to encourage them to slip right back into place without any fuss.
But I digress, this faucet is a classic and would look great in a traditional kitchen.
8. New Orleans 2-Handle Deck Mount Bridge Handle Kitchen Faucet
Here's another two handle option.  This one is from Elements of Design and comes in a brushed nickel finish with cross handles.  I particularly like the form of the spout and sprayer.
I haven't touched on accessibility in this post, but that is certainly something to consider when it comes to kitchen faucets.  Because they are so frequently used, the person(s) using them should be able to operate them with ease.
While I love the sleek look of some of the Vigo faucets, they would require a bit of a learning curve for someone like my grandmother.  Instead, for her, I'd be more inclined to install a faucet like this with cross handles, a spout that can easily be gripped, and a traditional side sprayer.
Moving back in the other direction we see a super sleek, modern Montvale Kitchen Faucet.  The polished chrome is elegant and the single handle and single hole style are very much so on-trend.
This is made by American Standard, includes the soap dispenser, and is currently available at Home Depot for a fair price of $150.
Last but not least, we have a very interesting model from Pfister.  The Ashfield Single Handle Standard Kitchen Faucet looks anything but standard to me.  Let's break down what we're seeing here.
From left to right in the image below we first see the handle for the faucet.  It's reminiscent of an old hand press well pump.  Then we see the swivel spout followed by the sprayer.  Lastly, we see the matching soap dispenser.
This is certainly a look best suited for farmhouse style interiors.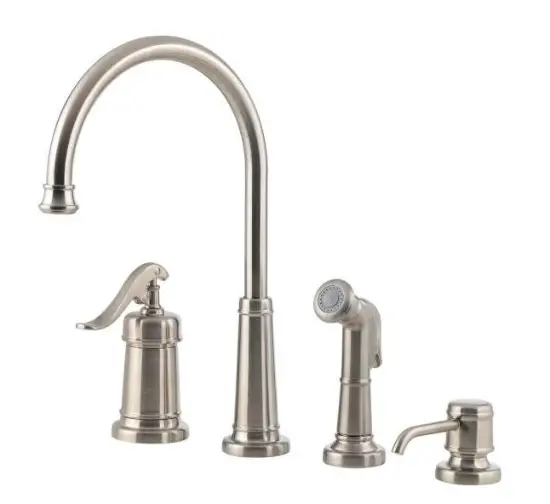 Conclusion
That's it for this round-up of kitchen faucets worth the splurge.  I hope you enjoyed this post.  If you did please share it with a friend and follow Dianne Decor on Bloglovin', Instagram, Twitter, and Pinterest for more from me.
To have my latest posts delivered directly to your inbox, join the mailing list before you go.  I'll send you a copy of my weekly newsletter filled with weekend reads, decorating inspiration, and the latest deals on home decor.
Thanks for reading!
faucets
kitchen decor
kitchen design
kitchen faucets
kitchen fixtures
kitchen ideas
sink faucets