FTC Disclosure - This post contains affiliate links and I will be compensated if you make a purchase after clicking on my links.
*Item received for free for promotional consideration or a sponsored link.
In this post, I'm going to share some places to find easy decorating ideas for your home.
These are not the obvious places like Pinterest and Instagram.
While they are fantastic resources for inspiration, the interiors you find on these sites tend to be more complicated to design.
Lots of time, effort, money, and accessories are needed to achieve many of these over-the-top interiors.
Instead, I'd like to share some places you may not know about and that are filled with easy home decorating ideas. Let's get started.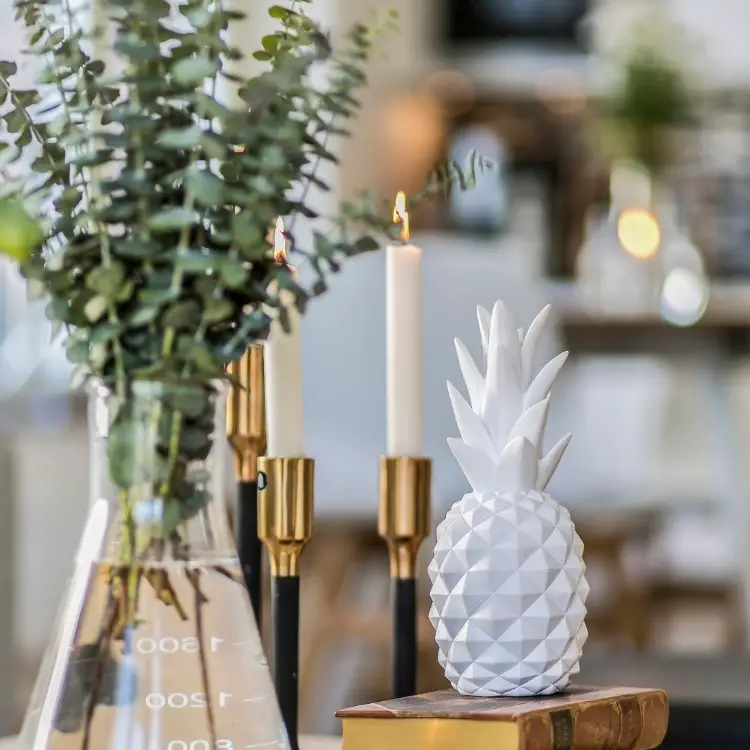 Easy Home Decorating Ideas
Finding ideas and inspiration for decorating your home is easy.  But, finding easy home decorating ideas can be very difficult.
If you've fallen down a Pinterest rabbit hole filled with incredibly beautiful rooms with no idea how to actually create them yourself, you're not alone.
Here are places you can browse online that will give you easy to replicate home decorating ideas for free.
1. Target – 360° Shoppable Rooms
First on this list are the 360° rooms from Target.  These are found within the Room Ideas section of Target.com.
There are a lot of reasons why I like the room ideas section of their website, but what I like the most are the 360° virtual room tours.
Not only are you able to see every angle of a room, but these are also shoppable rooms.
If you see something within the space that you think would work well in your home click the pin on top of the image to find that exact item or something similar.
Another reason why I like the Room Ideas section of the Target website is the variety of different home decor styles showcased.
Under the "Decor Style Ideas" section, you can browse rooms based on style like boho, modern farmhouse, traditional, etc.
2. At Home Ideas & Inspiration
Next is the ideas and inspiration section of AtHome.com.
They have a lot of cool things happening here. First, they have rooms decorated according to popular home decor styles like modern, boho, traditional, and farmhouse (much like Target).
But, they also feature on their ideas and inspiration page what's new as far as their collabs/collections with designers.
Right now they have the Grace Mitchell Collection and the Tracy Boyd Collection available at their stores.
At Home Shoppable Rooms
Next, you have the ability to view shoppable rooms.  Whether you're trying to style a dining room, living room, bedroom, or outdoor space, there are several examples to look at.
While these aren't 360 virtual tours like Target, they do offer multiple angles of the same space to give you a better idea of how everything goes together.
A great way to find easy home decorating ideas from this site is to click the "Shop All Rooms" link.  This gives you an awesome breakdown of room categories and the decorative elements that typically go into that room.
For instance, under the dining room section, you'll be presented with sub-categories to shop.  These are things that you typically see in a dining room, such as dining room furniture, rugs, mirrors, and dinnerware.
This is perfect for someone who is just starting out with decorating.  While you may see a pretty picture of a dining room on Instagram, figuring out the key elements a person used to design that room can be overwhelming.
With this breakdown feature, you can easily know which main points to hit as you start decorating your room.
I think that's really cool and an easy way to approach decor.
At Home IRL
Last but not least, the ideas and inspiration page features an IRL (In Real Life) section.
This area is dedicated to real-life applications for their products.  These photos aren't staged for commercial purposes but rather examples of how other people used them in their homes.
Because these photos are taken by the average person, you'll find that the decorating ideas displayed are usually simple to replicate.
This makes this a great place to find easy home decorating ideas.
3. DwellingGawker
Dwellinggawker is a really interesting site.  It's a bit of a mash-up between Instagram and Pinterest.
On the homepage, you'll find lovely examples of rooms as well as up-close vignettes.
Because one of the requirements for submission is that you aren't linking to commercial sites, you'll find these posts quite useful.  When you click on the image you're taken to the blog post or article featuring this design.
They're more often than not room tours where you can find an in-depth explanation of the design from the person who created it.
The fact that these images and links are moderated ensures that you're getting high-quality resources.
The rooms featured on the site are often easy to replicate and utilize simple decor accents.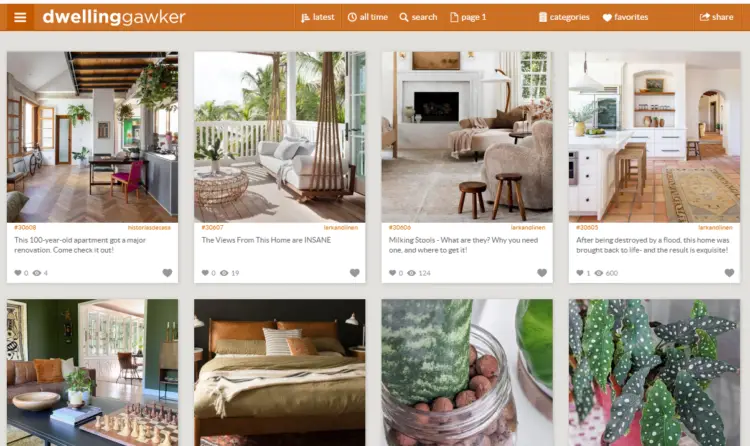 4. Pottery Barn – The Edit
If you know you like a clean, simple, timeless decorating style, check out The Edit by Pottery Barn.
Pottery Barn always has a very classic, refined aesthetic.  You'll never see them straying into home decor fads like neon lights or acrylic chairs.
Within The Edit you'll find a series of lookbooks for the upcoming season as well as their style spotlights where they offer simple styling tips.
In addition, they feature their favorite trends and decorating ideas.  Bedding looks and different pillow pairings are all broken down into shoppable categories so you can view a look, then shop the items from that look below the image.
What makes this different from the shoppable rooms from Target or At Home is that these are zoomed into specific vignettes.  So instead of a whole living room, you're seeing exactly how a single sofa was styled with a simple pillow and blanket combo.
The Edit is filled with easy home decorating ideas like this that you can reproduce in your home.
Design resources like guides for "How To Hang Curtains" and "Find The Right Size Rug" is also available on the page.
The Edit Style
Before I move on, I'd like to make another quick note about the Pottery Barn style.
While I wouldn't say their style is minimal, it is uncluttered and "edited".  One of my gripes with looking for decorating inspiration on places like Pinterest or Instagram is the sheer amount of things that are layered into a single space.
Pottery Barn's rooms aren't overly styled.  They utilize simple things that everyone can find like baskets, pillows, and vases.
So if you're looking for easy home decorating ideas, I highly recommend "The Edit".
5. Havenly
If you haven't visited the Havenly website in a while I implore you to go back and take a look.
When they first launched, the ability to see anything on the website with hidden behind an opt-in.
This was most likely off-putting to visitors.  Especially when you're talking about purchasing services.  Requiring me to submit my contact information before I can even review the services you're offering was enough to make me turn back.
Havenly Design Services
But, let me back up for a moment.  If you don't know what Havenly is, it's a site that offers virtual interior design services.  You can opt for a super affordable live session video call for under $20, a Havenly Mini package in the form of a mood board, or the Havenly Full package where you collab with a designer to create an entire room.
That being said, in this post, I'm not going to evaluate their service offerings, but rather their inspiration galleries.
Havenly Inspiration Galleries
As a person who isn't necessarily looking for a designer to assist me, but is instead, looking to find easy home decorating ideas and inspiration their site is awesome.
From the homepage, you can go to the "Explore" menu to browse styled rooms.
For example, when I view living rooms, there are a ton of different styles and layouts to look at.  This is a much more comprehensive gallery than any of the other e-commerce sites on this list.
On each image you'll also see an option to bookmark the image for future reference and a product count.
Don't let a high product count scare you off.  While you may see a product count of 104, they aren't suggesting that there are 104 items within that room.  Rather they're going to end up showing you all 10 versions of the rug, and all 3 finishes of the coffee table.  This is what racks up the product count in their shoppable galleries.
So, just ignore that feature and look for what you like.  Then, click on the image to view the full details and find some of the items in the space as well as alternative options.
Shopping Havenly Designs
While Havenly does tend to source from higher-priced retailers like West Elm, CB2, and Article, you will find more moderately priced alternatives from Wayfair and Pottery Barn in the mix as well.
What I like about the designs from Havenly is that they're not so over-the-top that the average person couldn't put it together themselves.
I'm sure this is by design.  After all, this is a virtual design service which means their involvement ends at the computer screen.  You will be the one responsible for unboxing and arranging all of these items yourself.
As far as I can tell there are no installation services offered as you would get with a traditional interior designer.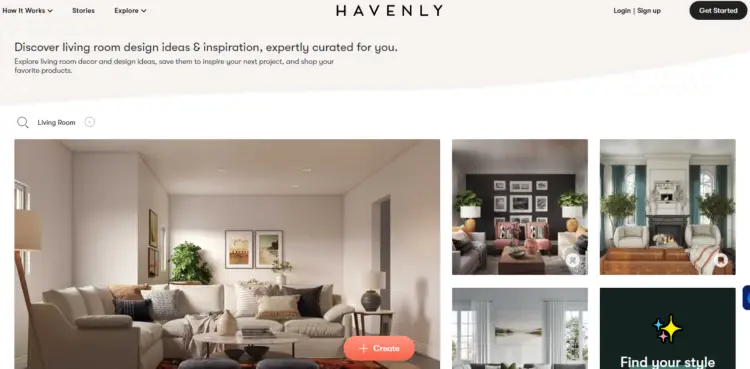 6. Room & Board Galleries
Last but not least, if you're looking for easy home decorating ideas check out Get Inspired at RoomandBoard.com.
Much like the At Home website, their inspiration section divided into four sections.
The first is a section that is dedicated to inspiration by style.
The second section is for finding decorating inspiration by room type.
What makes Room & Board stand out to me from the others on this list is the number of room types and decor styles available to view.
For instance, in addition to the standard living rooms, dining rooms, and bedroom galleries, you can also look at entryway ideas, home offices, storage ideas, outdoor ideas, and kid's rooms.
I find this to be incredibly helpful.
Of course, you also have the ability to shop these rooms if you click on the little tag icon in the lower left-hand corner of the image.
Customer Photos & Home Tours
The third section of the Room & Board inspiration page is where you can check out is customer photos.
Again, just like the At Home website, these are actual customer photos showing how they've styled the items in their home.
Finally, something that is unique to Room & Board is the ability to look at home tours.  This gives you the ability to snoop through an entire home vs just one room.
That being said, they're calling it customer homes and while they may be true, it does not mean that those customers are not well versed in design.
I find this to be blatantly obvious in the homes they've chosen to feature.
They're quite elaborate and full of decorative accents.  Someone starting from scratch wouldn't be able to replicate an entire room easily or affordably if they were using these particular home tours as an example.
That being said, I really loved everything they have to offer on their Get Inspired page.
Conclusion
That concludes this post.  I hope you found it helpful. If you did please share it with a friend and follow Dianne Decor on Medium for more for me.
You can also find me on Pinterest, Instagram, and Twitter.
To have a copy of my latest posts delivered directly to your inbox join the mailing list before you go.  I'll send you a copy of my Weekly Newsletter filled with weekend reads, decorating inspiration, and the latest deals on home decor.
Thanks for reading!
decorating inspiration
easy home decorating ideas
home decor
home decor ideas