FTC Disclosure - This post contains affiliate links and I will be compensated if you make a purchase after clicking on my links.
*Item received for free for promotional consideration or a sponsored link.
Your laundry room may be one of the last places you think of when it comes to home decor.  However, laundry rooms and laundry room accessories have come a long way in recent years.
Whether you have a dedicated room for your washer and dryer, or it's occupying a space in the basement or closet, your laundry experience can be greatly enhanced with a few cool accessories.
In this list, I'll share 13 super stylish laundry room accessories that are affordable and can be used in any space.
13 Super Stylish Laundry Room Accessories
Something as simple as these little "wash, fold, repeat" signs can add a lot of style to your laundry room area.  They're available from Etsy seller LumberandLetters and come in a variety of wood finishes.
I happen to really like the black and white look for the laundry room, however, if you have colored appliances you might opt for one of the other finishes.
This vintage lint bin and lost and found tray is darling.  If you're into that shabby chic look or a fan of the new cottagecore style, you may really like this set.
I also like the fact that the link bin is separate from the regular garbage.  This gives you the ability to repurpose it later.  Check out the post "6 Creative Ways to Reuse Dryer Lint" from TheSpruce.com for ideas.
If you don't have a laundry sink, your next best bet for hand-washed items is a tub washbasin.  These little tubs are perfect for soaking clothes before they're going to be washed because they don't monopolize a sink in your home.
There's nothing worse than having a bathroom sink filled with soaking delicates and then wanting to wash your hands.  A tub basin like this one below with "Laundress" titled on it is a practical laundry room accessory that you'll use over and over again.
4. 'Lost Socks' Wall Sign White/Black – Hearth & Hand™ with Magnolia
Hearth & Hand with Magnolia never seems to disappoint.  This "Lost Socks" plaque with clothespins attached provides you with a stylish way to keep track of those socks missing their mates.
Simple laundry room accessories like these help make your laundry station cozy and functional while not taking up precious space.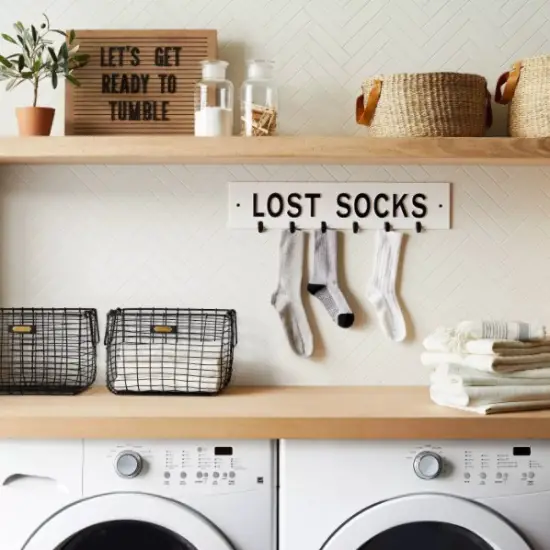 If that classic laundry font makes you smile, check out this "Wash and Dry Laundry Service Co" sign.   It's available in white and black, along with a planked and unplanked style.
The sign is available in a few different sizes and quite large, even at its smallest size option (10 x 20).
With a decor piece this big, you can really make a statement in your laundry space.  You won't need many other laundry room accessories if you invest in something like this to make a bold statement.
When it comes to laundry in my household, this sign is me to a "T".  I loathe laundry and the speed at which it actually gets done is laughable.  And do not ask me to iron.  You've got the wrong person for that.
This is a perfect laundry room accessory for anyone who feels the same.  It's a great mix of metal and wood with a rustic feel.
Best of all, the price can't be beat.  It's currently on sale at Kirklands.com for under $20.
There's no easier way to dress up a room than a little wall art.  This black and blue set of laundry room art is modern and versatile.  Depending upon your space limitations, you could hand these horizontally, vertically, or even break them up and use them on separate walls.
They're available in several different sizes and colors.  Frames not included.
An easy way to make your laundry room look extra stylish is to get a few glass jars to store your supplies.  Powdered detergent in a clear glass or plastic jar with a lid looks so much better than those brightly colored boxes they come in from the store.
Compliment the look with an adorable laundry scoop like this one below from Southern Twine Market.
Placing a runner in front of your washing machines will not only make it easy on your feet but can showcase your sense of humor as well.  The Ottomanson Laundry Mat simply states "Laundry Room – Same Day Service, Do It Yourself!".
In addition to the funny saying, this rug is available in a ton of different styles and colors.  It's currently less than $15 at Walmart.
Another laundry room rug runner that's available on Walmart.com is this one donning the words "Self-Service", "Loads of Fun", and "Drop Your Drawers Here".
It's a really cute rug with a lot of vintage detailing.  This one's a bit more expensive at $35 but has great reviews.
Wall decals are perfect for rental spaces or for people who are just testing out a style.  If you're not into the long term commitment of wallpaper or paint, consider adding a simple "Laundry" decal to your wall.
This one mimics a clothesline and clothespins holding up the letters.  It uses a simple black font and line illustration for a clean, understated look.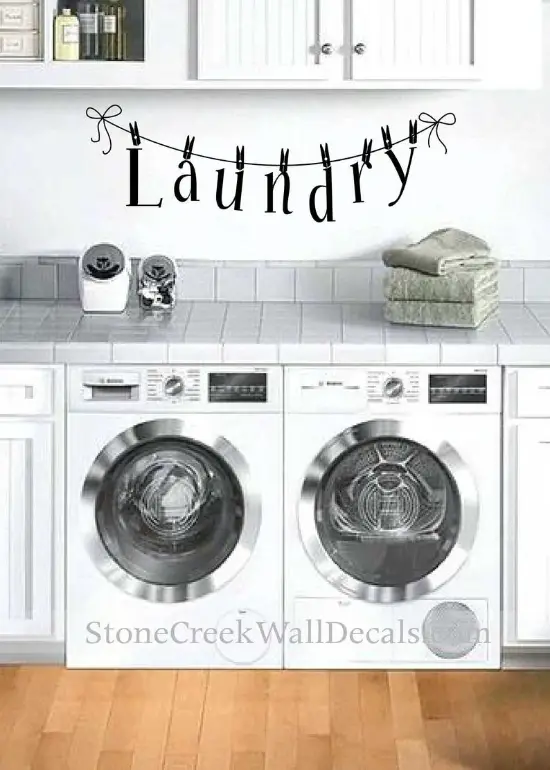 I love everything about this set of laundry room prints.  The color is fantastic, although it does come in quite a number of different options if sage green is not your preference.
The graphics a clean and simple.  The best part for me is the laundry room guide with the list of symbols commonly found on tags.
Now, as I mentioned before, I despise doing laundry.  And as a result, I tend to ignore labels like this unless it's a very special item to me.  That being said, I might be more inclined to pay attention if I were able to learn this laundry shorthand and know at a glance how to treat the garments.
This teachable decor accent is perfect for any laundry room.
Also, in addition to the prints being available in different colors, there are also a variety of sizes to choose from.  Just keep in mind that the frames are not included with this set.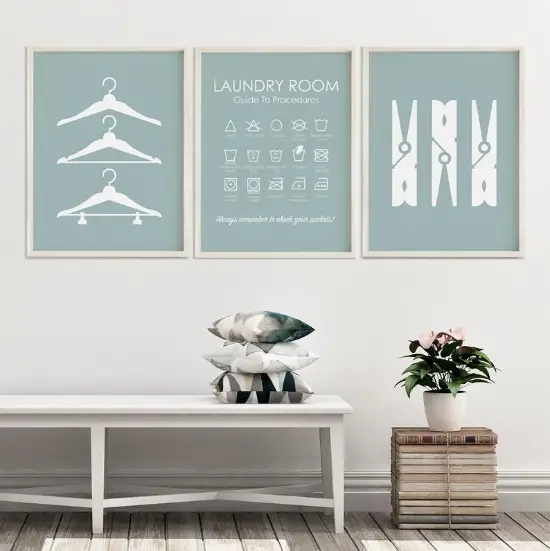 Why have a boring old plastic hamper when your laundry bin can double as decor like this Metal and Fabric Retro Laundry Bin available on Kirklands.com.
Black metal anything is very hot right now and will go especially well with modern farmhouse decor as well as modern industrial style interiors.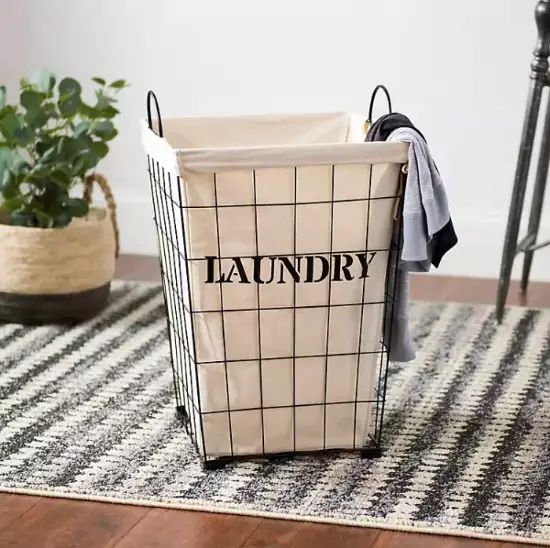 Conclusion
That concludes this list of laundry room accessories.  I hope you found some decorating inspiration from these picks.  Before you go, check out the post "5 Lovely Laundry Room Ideas" for even more decorating inspiration.
For more from me follow Dianne Decor on Bloglovin', Instagram, Twitter, and Pinterest.
To have my latest posts delivered directly to your inbox, join the mailing list before you go.  I'll send you a copy of my weekly newsletter filled with weekend reads, decorating inspiration, and the latest deals on home decor.
Thanks for reading!
laundry accessories
laundry room accents
laundry room accessories
laundry room decor