FTC Disclosure - This post contains affiliate links and I will be compensated if you make a purchase after clicking on my links.
*Item received for free for promotional consideration or a sponsored link.
Have you suddenly found yourself working from home?  Are you struggling to settle into a new routine or find a space to be productive and undisturbed?
If that sounds like you, I'm willing to bet it's because you don't have a designated home office.
So, does that mean you're doomed in your efforts to work from home and your productivity is bound to suffer?  Absolutely not.
While you do need a place that is functional and will provide you the opportunity for focus, it absolutely does not need to be a home office.
In this post, we'll talk about 6 different ways you can create a productive workspace in your home if you don't have a home office.
Let's jump in.
Multi-tasking Kitchen Desk
Do you have one of those random kitchen desks that just holds junk mail and is a dumping ground for your family?  If so, reclaim that space as a workspace.
Clear everything out and start fresh.  Set up your computer, a comfortable chair, a task lamp, a few necessary office supplies like pens and a pad and no more.
The key to making this little space work is to keep it uncluttered and to remove distractions.
The distractions you're going to be subjected to sitting in the core of your home with your whole family around will be plentiful.  This is where your family will play a big role in making this new arrangement a success.
Designate working hours and have the kids play in another space.  If you have to take a break every hour to check on them and give everyone 10 or 15 minutes for questions and to get a snack, that's fine.
The key to working in a space that's out in the open is respect for each other and managing expectations.
Even with a home office, you will need to stop frequently if you're also caring for children.  So don't think that everything would be fine if you just had a room to yourself.  It won't.
So, be clear to your family about what you need and create a structure around the use of the kitchen or any adjoining rooms to your multi-tasking kitchen desk.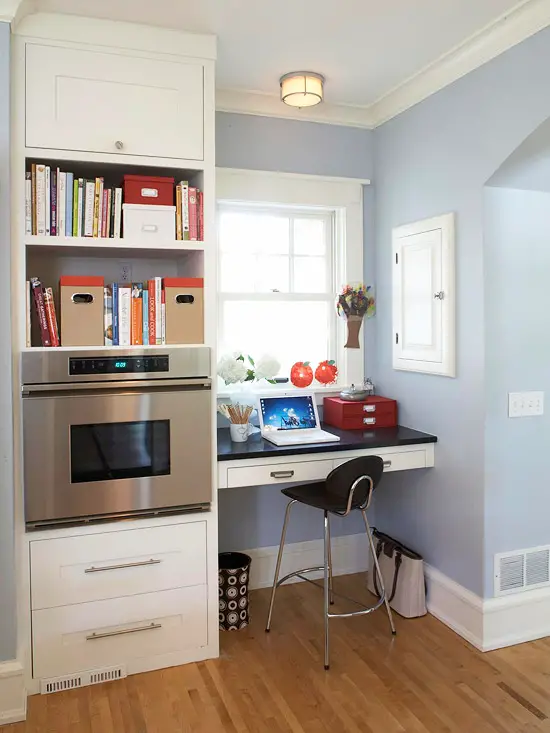 Closet Conversion
If the thought of working out of a dark closet is unappealing to you, I implore you to reconsider.  Yes, you may be lacking sunlight, but a workspace in a closet has incredible benefits.
First, you're isolated in the best way.  If you need a quiet place to think, create, or take a conference call, a closet is a great option.
That being said, you may want to address your background if you're on a Zoom video conference.  But other than that, a walk-in closet will give you ample space to set up a desk and have a quiet space.
You may need to run an extension cord if you don't have outlets and add some supplemental desk lighting, but other than that, all you really have to do is move some clothes out of the way.
You could be up and running in a closet office in 20 mins.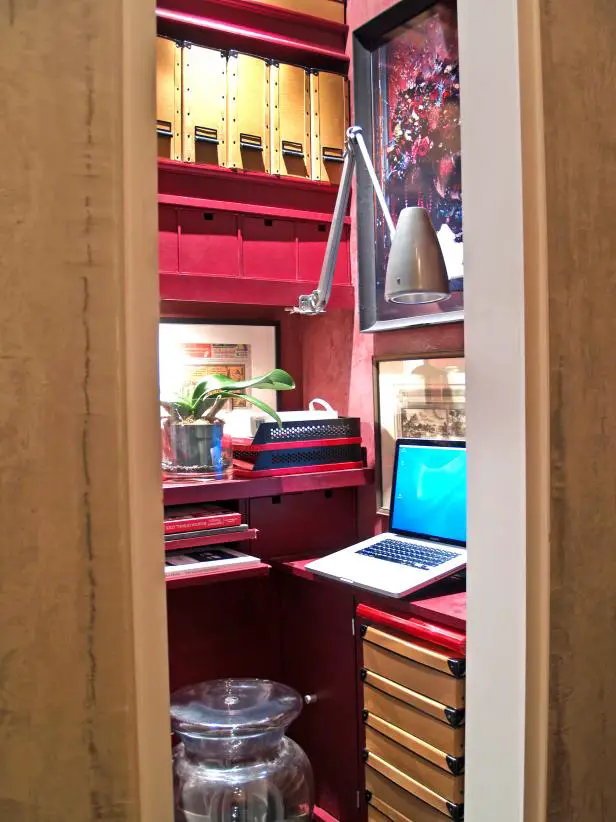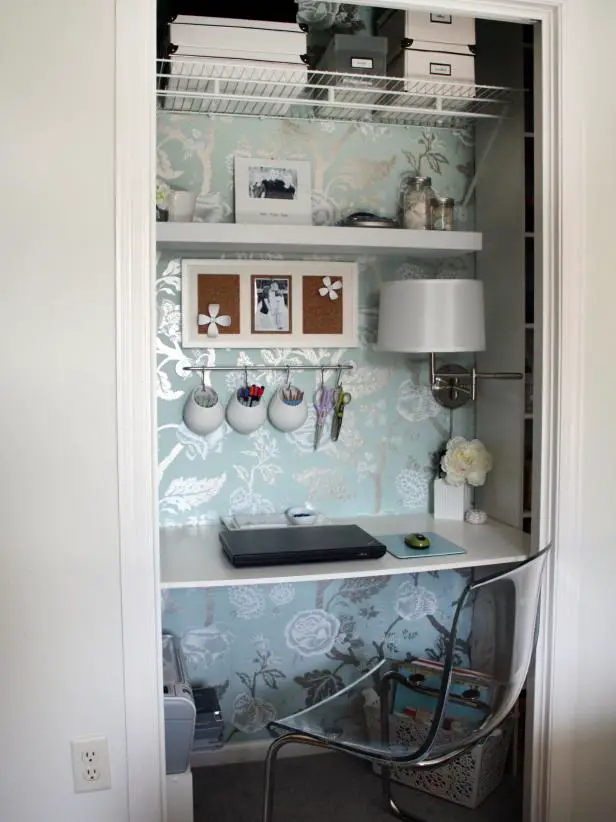 Bedroom Workspace
Basic hotel suites combine a bed, an accent chair, a television, a dresser, a floor lamp, and a writing desk with a chair.  And there's no reason why you can't do the same thing.
If you really need a space where you can close the door and conduct your business in quiet, then consider adding a work station into your bedroom.
Don't forget to add in your extra lighting to help differentiate the work zone from the relaxing zone.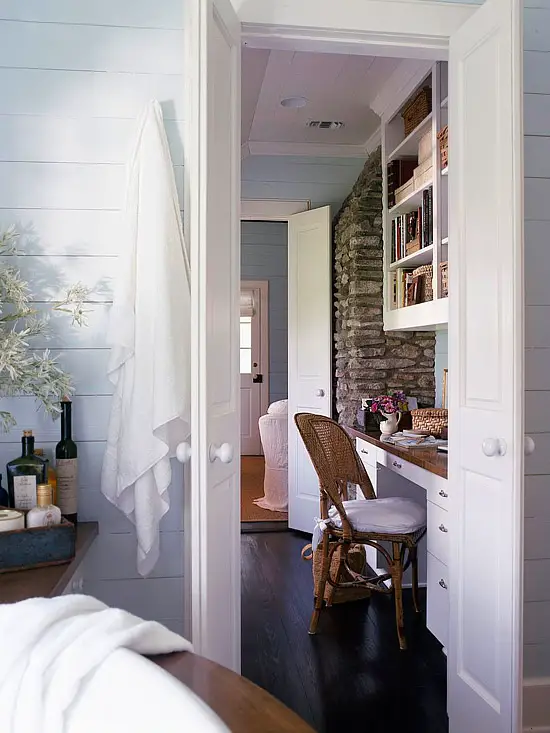 Suggested Read: "Timeless Room Ideas: Master Bedroom Decorating and The Five Senses"
Guest Room Conversion
If you're reading this in the spring of 2020 during the COVID-19 pandemic, you most likely won't need to worry about guests coming to visit anytime soon.
So, if you have a guest bedroom just sitting there empty, convert it into a home office.
If the room is small, go ahead and break down the bed.  Set the mattress up against one wall and break down the frame to give yourself space for a desk, chair, and any other items you may need to work.
Basement Workspace
If you have a basement, use it.  It's an area that will help keep you isolated from noise and establish working boundaries with your family.
If your basement is unfinished, you may need to cozy it up a bit.  Try to air it out if you can and add relocate an area rug from another area of your home to soften the floor beneath your feet.
If you're looking at concrete or cinderblock walls, consider a cheap room divider screen or curtains to soften the space.
One thing to remember, however, when attempting to work out of a basement is you need to clean up the junk if you want any hope of creating a comfortable working environment.
If you're going to be surrounded by shoulder-high stacks of old magazines and baby gear you refuse to get rid of, consider a different option.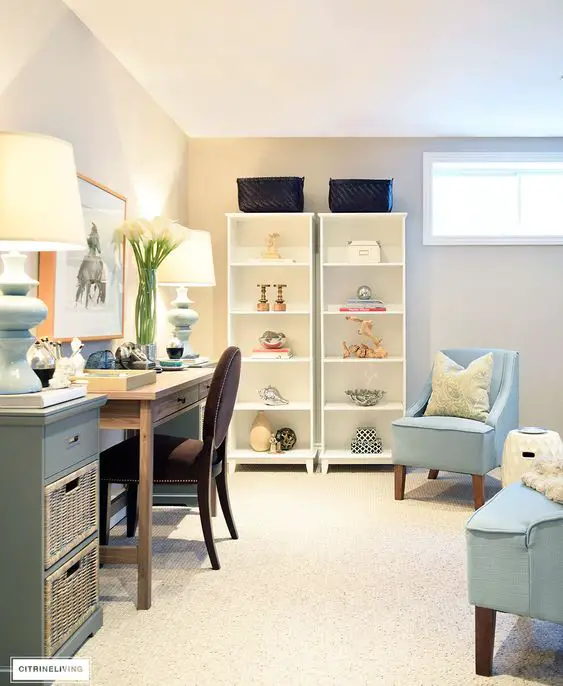 Garage Makeover
If you don't have a basement, your garage could also function as a workspace.  The same rules apply, however.  In addition, you may have some climate control issues to address.
That being said, if you need a lot of space to spread out, a garage office may be the perfect solution.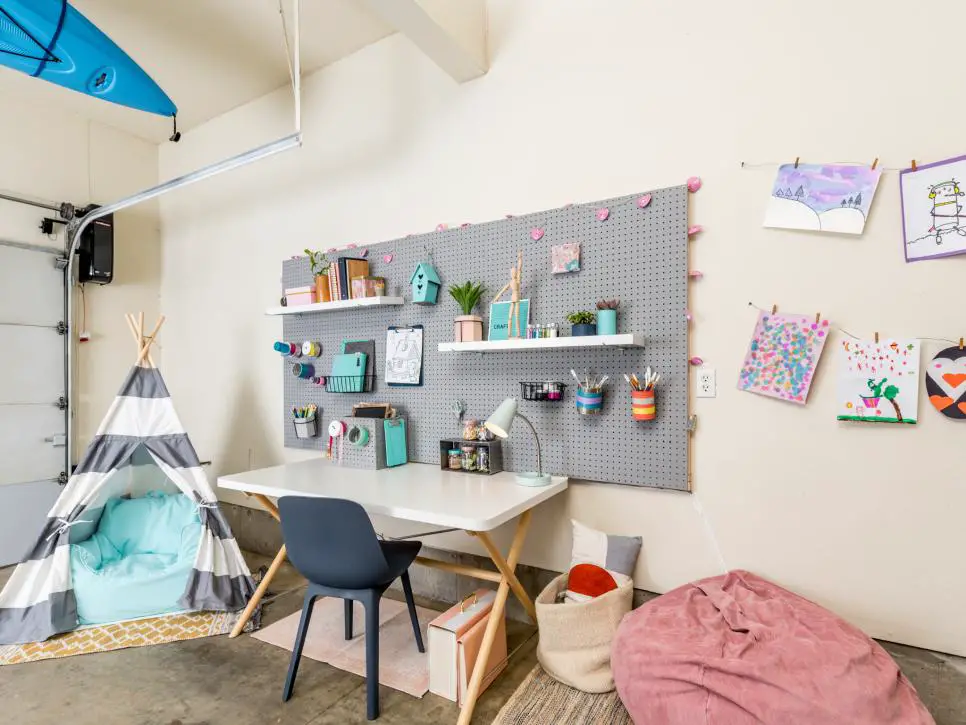 Conclusion
I hope you found this post helpful in your quest to create a home office.  If you have any other ideas for how you can incorporate a workspace into your home, please leave them in the comments below.
Don't forget to join the mailing list before you leave to have new post notifications delivered directly to your inbox.  Thanks for reading!
Thanks for reading!
at home workstation
home office
home office ideas
home workspace
work from home decor
work from home workstation