FTC Disclosure - This post contains affiliate links and I will be compensated if you make a purchase after clicking on my links.
*Item received for free for promotional consideration or a sponsored link.
One of the most cost-effective ways to transform the look of your kitchen is to look into new kitchen backsplash ideas.
We all know that the kitchen is the hub of the home.  So it's no surprise that when it comes to making decisions about the design of our kitchens, we like to take our time and decide our best first move.
Countertops and appliances can be expensive to update.
Your backsplash, however, can infuse a lot of style and personality into your kitchen for an affordable price.
If you've been dreaming about a kitchen update, here are 20 gorgeous kitchen backsplash ideas to change up your look.
20 Kitchen Backsplash Ideas
I absolutely love high shine glass-tiled backsplashes.  Their sparkly reflections make everything look a bit more glam.
These tiles from The Home Depot are affordable and you can use them to create a gorgeous chevron pattern backsplash like the one below.
While I wouldn't recommend attempting to create patterns like this as an amateur.  You can certainly purchase the tiles yourself and just pay for the install to save money on the project.
If you're moving away from a busy or outdated pattern and want something calm and clean, opt for these elongated tiles.  They offer a nice streamlined look while also providing a solid neutral backdrop to your kitchen.
A backsplash like this is good if you have a lot of other architectural elements happening in your kitchen such as open shelving.
While we're not seeing a lot of rustic Tuscan style kitchens these days, what goes around always comes back around.
So, if you really like that look and plan on being in your home for a while opt for a ceramic tile like the one below.
It has a lovely embossed pattern that is slightly distressed.  This is a great kitchen backsplash idea if you like that rustic look.
Gray tones in the kitchen have become very popular lately and this lovely glass mosaic subway tile is totally on-trend.
While this kitchen below uses tone-on-tone decor, you can certainly create a bold contrasting look with this gray tile as well.
By pairing it with a lighter or darker grout you can really make your kitchen stand out and command attention.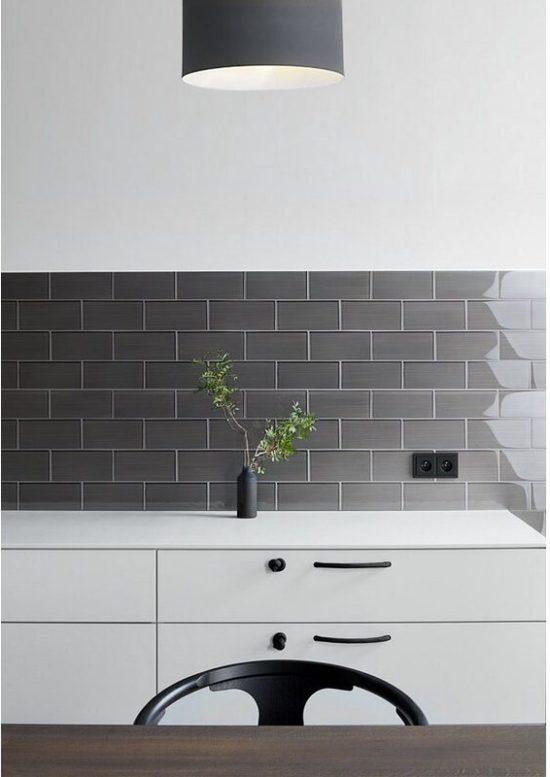 Ornate tiles like the Avaricon Ceramic Field Tile below are fantastic for creating an accent wall in your kitchen.
While I wouldn't use it throughout my entire kitchen area, I would absolutely use it to highlight the stove just as they have in the image below.
The pattern rising all the way to the ceiling behind the wall-mounted hood makes it look even more dramatic and elegant.
Penny round mosaic tiles are not for the faint of heart.  But they are fantastic if you want to make a bold statement.
I would definitely pair a backsplash like this with solid countertops and floors to help make it shine all the more.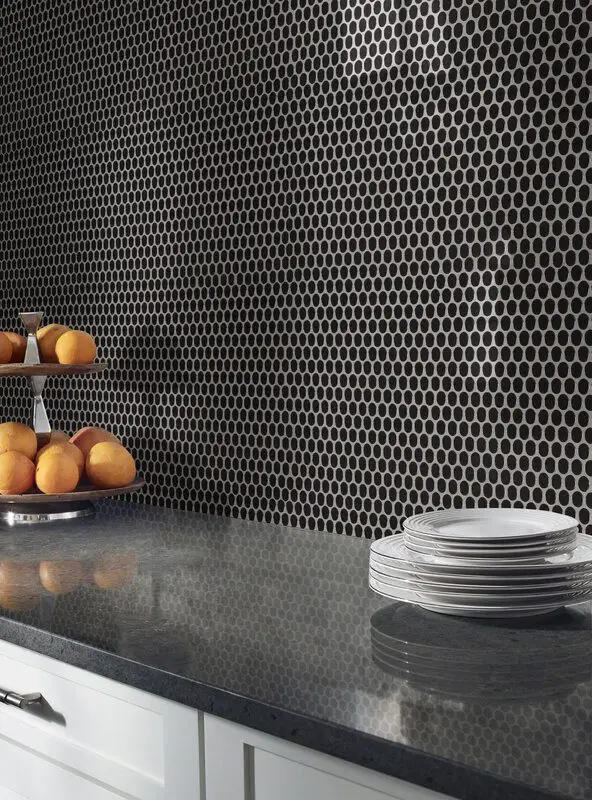 Another really fun statement tile is this Royalty Ceramic Pattern.
Just like the tile in example number 5 above, the design creates a distinct visual cut on the wall.  In this case, we're seeing it as a horizontal accent as opposed to a vertical one.
This pattern is really pretty and would work well with a lot of different cabinet colors and countertops.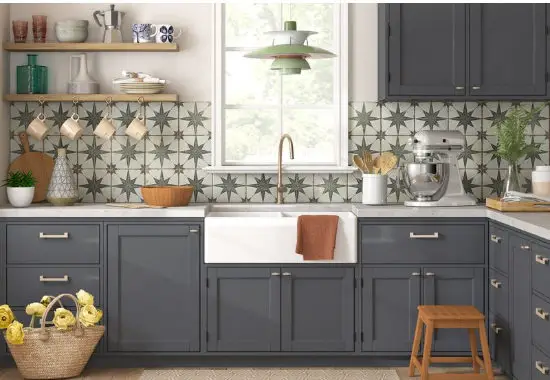 Mosaic pattern lovers this one is for you.
This mesh-mounted mosaic tile is a great choice if you're going the DIY route.
The blue tones in this tile are absolutely beautiful and if this were my kitchen, I'd be sure to choose white cabinets and countertops to make the tile really pop.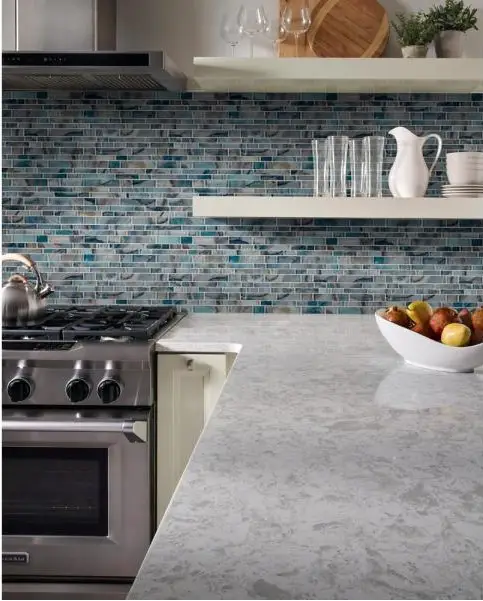 The pebble style mosaic tiles create a fun magic-eye type effect on your walls.  From close up, they'll look one way and from far away, the spacing of the pebbles becomes less apparent and more like a smooth multi-colored backsplash.
While I personally wouldn't have paired it with this countertop, it's still a great kitchen backsplash idea that's been around for ages.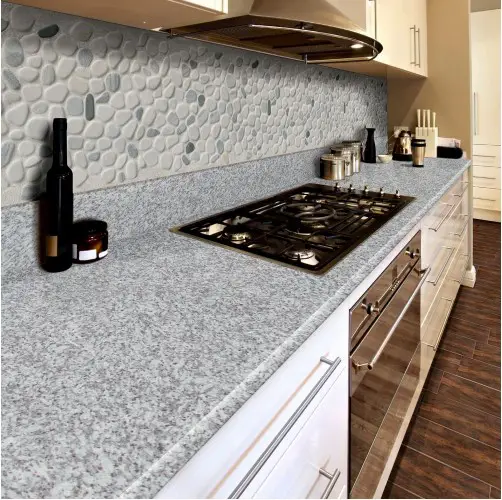 Make sure you click on the link to see this tile close up on the sales page.  It's really beautiful.  What appears to be a dark grout in this photo is actually a lovely satin brass trim around each hexagon shape.
This backsplash will bring an elegant and sophisticated look to your kitchen, without a doubt.
This is another tile that you should take a closer look at.  The detailing in this tile is marvelous and it looks just as good on the floor as it does on the walls.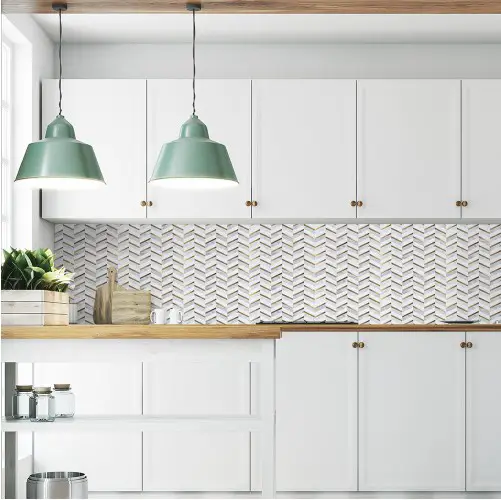 The Georama Nero Mosaic Tile creates an interesting pattern.  This tile lands at the top of my kitchen backsplash ideas for modern or minimalist interiors.
While these interior styles more often than not lean towards solid colors over pattern, I think a backsplash like this would work well.
Sometimes when you have too many simplified shapes and silhouettes that are all one solid color (especially white and gray) your spaces can end up looking very cold or sterile for lack of a better term.
By adding in just a small pattern variation like this and keeping the rest of your cabinetry and countertops solid you'll still achieve the modern look, but with an inviting warmth to it.
The Rio Mesa Desert Sand Mosaic tile looks almost identical to what I have in my bathroom.
And while beige and brown have not been as popular as grays and blues in the past 5 years, they're starting to gain favor again.
This is because calming earth tones are always appealing.  The pattern this tile creates adds a lot of interest to this laundry room and the colors give the room an incredibly warm and inviting feeling.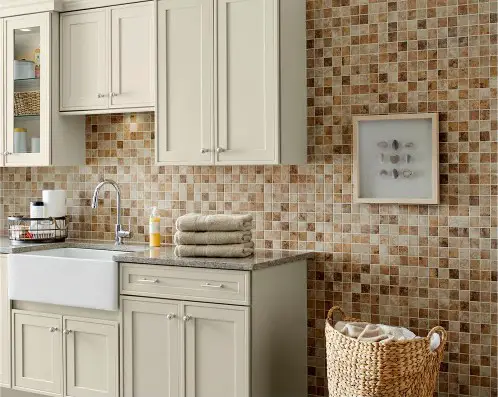 Here's another kitchen backsplash idea that will play tricks on your eye in a good way.
From a distance, I would say that this is a polka-dotted pattern, however, if you look at the detailed images of this tile on the sales page, you'll see that the diamond shape is actually an octagon and what appear to be dots are squares.
These details make this backsplash really interesting to look at.  It's subtle, contemporary, and the veining in the marble gives it a really high-end look.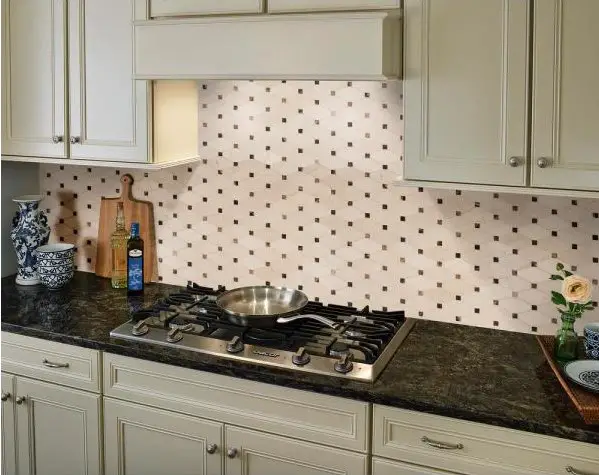 For all those country kitchen lovers out there, this one is for you!  I love everything about this backsplash from the embossing to the faux patina copper color.
Unlike most of the other ideas in this list, this is not tile.  It's actually a high-quality plastic panel that you cut to size with scissors or a box cutter.
To adhere the tile to the wall use construction glue or a double-sided tape the manufacturer offers.
This makes this an easy, one-person DIY project that can be done in a few hours.
Also, don't get sticker shock when you click through to the sales page.  The listing is for a box of 5 panels 18 inches by 24 inches.  That will cover a very large area.  It will likely be much more than you need for the average size kitchen.
So, if you're looking for an express upgrade for your home or maybe one you're renting out, this is a great choice.
That being said, I would definitely pair this with solid, light-colored cabinets and counters, unlike the brown counters in the photo.
Here's another panel application from the same brand, Fasade.  This wave pattern would make a huge statement in any kitchen.  If you're a go big or go home kind of person, this one is for you.
I find this elongated chevron pattern to be really interesting.  It's a refreshing take on the sometimes overdone chevron pattern.
Also, this backsplash is made of marble which will give your kitchen an elevated look.
If you have a traditional look to your decor, this glossy porcelain tile is a great backsplash option.  Its pattern is traditional, but the colors are more contemporary which won't leave your space feeling outdated.
This may be one of my favorite kitchen backsplash ideas on this list.  The Misha Porcelain Patterned Tile is stunning.  It's bold, yet refined.  A look I personally like.
And while this post is focused on kitchen backsplash applications, the sales page shows this tile and other variations of it on floors and showers.  It looks incredible.
You have to check it out!
Last but not least is this Herringbone Mosaic Wall Tile from MSI.  This is another one of my favorites.  The detailed overlapping texture of the tile is gorgeous.
Woven, natural elements in the home are really popular right now and the way this marble backsplash is designed fits the bill perfectly.
Conclusion
If you have any kitchen backsplash ideas that you'd like to recommend, please leave them in the comments below.
I'd love it if you would share this post with a friend if you enjoyed it.  For more from me, you can find me on Bloglovin', Instagram, Pinterest, and Twitter.
To have my latest posts delivered directly to your inbox, join the mailing list before you go.  I'll send you a copy of my weekly newsletter filled with weekend reads, decorating inspiration, and the latest deals on home decor.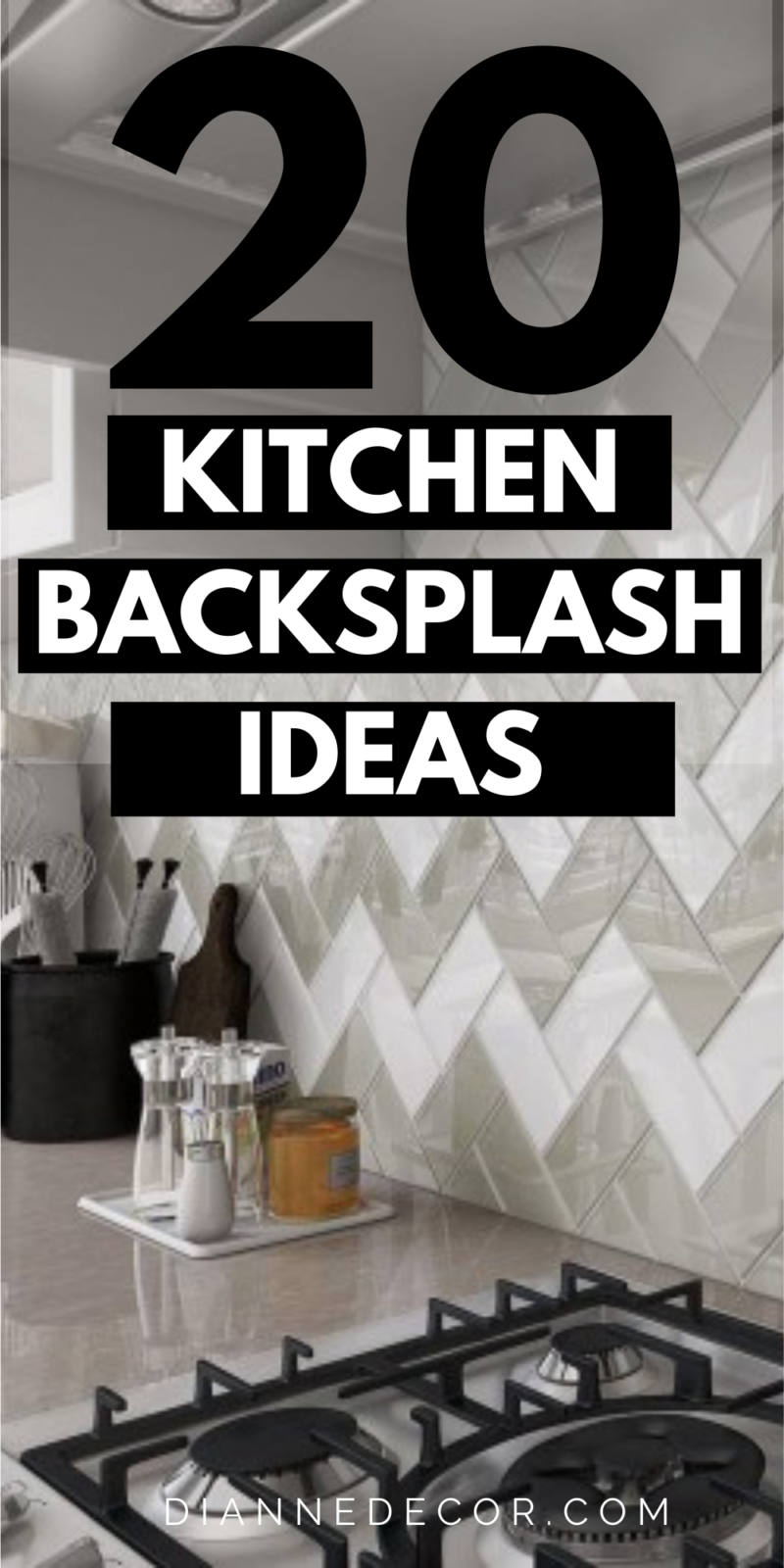 Thanks for reading!
kitchen backsplash ideas
kitchen decor
kitchen design
kitchen ideas
ktichen backsplashes