FTC Disclosure - This post contains affiliate links and I will be compensated if you make a purchase after clicking on my links.
*Item received for free for promotional consideration or a sponsored link.
I've always loved the look of glam dining room designs with beautiful chandeliers and centerpieces.
Although it may not be the most used space in your home, a formal dining room can be an incredible space.
It's a place to not only enjoy a nice meal but to showcase your style.
Unfortunately, I have neither of those things at the moment.  We have a big empty space just waiting for us to fill it.
If you've been hanging around the blog for a while you'll know I spend an extraordinary amount of time on Pinterest.  Over the past 2 years, I've collected over 150 pins full on my Dining Room Decor Inspiration board.
And as I get closer to finally creating the dining room of my dreams, I've been revisiting this board.
I want to narrow down my vision and create a plan of execution for this room
But, the problem is, there are so many scroll stopping beauties on this board that it's hard to focus in on just one to emulate.
So, to further my procrastination, I thought I'd share 7 swoon-worthy dining rooms.  Let me know in the comments below which one is your favorite.
Rustic Chic Dining Room Design
I love this living room because the designer paid so much attention to detail.  The wood tones of the sliding barn door, flooring, beans, and table mesh together beautifully.
One of the things I love the most is tone on tone decorating.  The chairs and the flower arrangements create a lovely tone on tone effect with the sage walls.
This room was designed by Edwina Alexis Vidosh.  She's a Houston area designer and her work is gorgeous.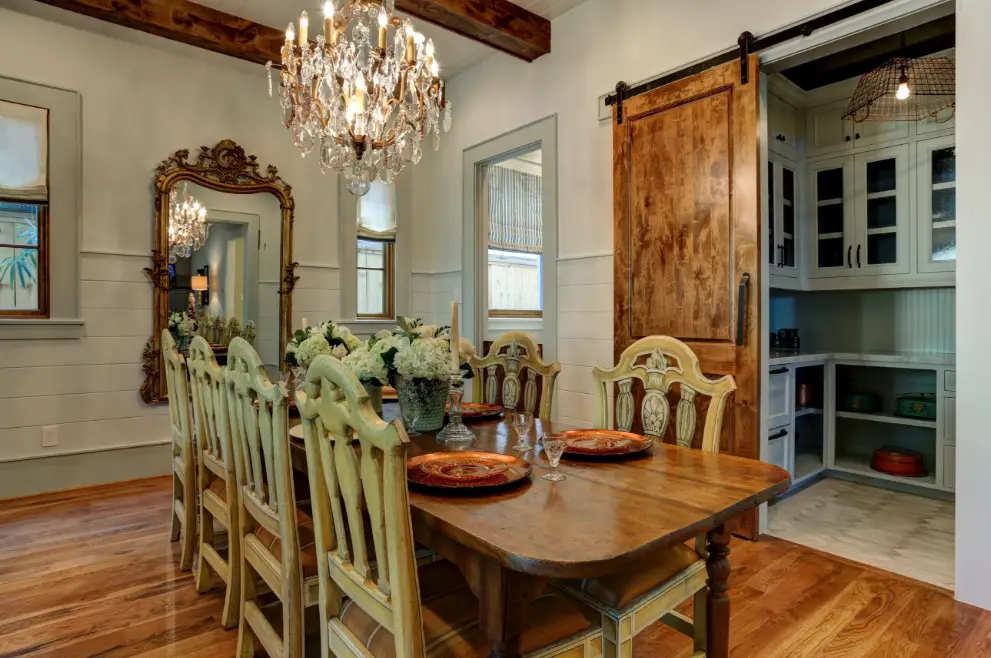 Contemporary Dining Room
A round table dining room always gives me a warm and fuzzy feeling.  There's something about being able to see and hear everyone at the table that's intimate and special.
This layout is lovely and contemporary with the clean-lined wood furniture, floor to ceiling neutral paint, streamlined curtains, and simple framed artwork.
Extreme Opulence
There are no words.  This room truly leaves me speechless.  It's so over-the-top luxurious, I wouldn't even know where to stand in this room, let alone dare to sit.
This interior was designed by Twenty-Two Fifty Interiors and it is gorgeous.
In this image, it's decked out for the holidays with that huge reindeer and sled as the centerpiece.  But, beyond that, the luxurious fabrics, candelabras, and moldings and chandelier make this a show stopper.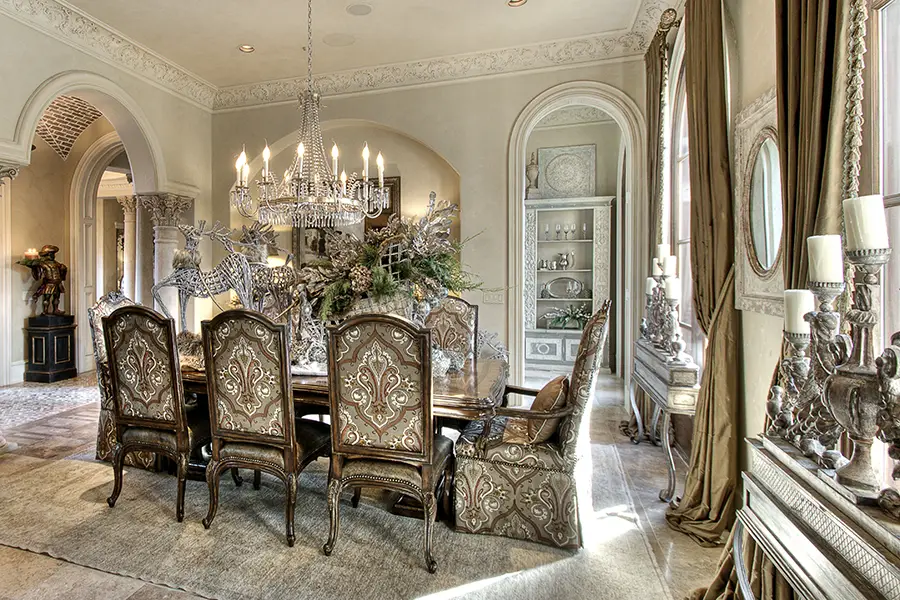 Transitional Dining Room
This room design by Janine Dowling Interiors really speaks to me.  It's uncomplicated and elegant.
The table and chairs are gorgeous and modern.  Not only does the room have a gorgeous view, but the oversized bold artwork on the wall is fantastic.
It reinforces that contemporary feel and gives your dinner guests something to talk about.
Modern Classy Dining Room Design
This dining room from Decorating Den Interiors is a nice mashup of contemporary and traditional design.
The heavy furniture and drapery along with the faux ionic columns near the entryway to the room give it a classic vibe.
However, the glass buffet and mix and match chair strategy help bring it into a more modern space.  I like the mashup of the two styles and the warm neutral tones.
Bronze & Gold Glam Dining Room
This design from Interior Design by Talena is gorgeous.  I love all of the warm tones and the subtle glam from the gold accents.
The curtains have a luxurious, dreamy look and I love the detailing on the base of the table.  This is one of my favorites on this list.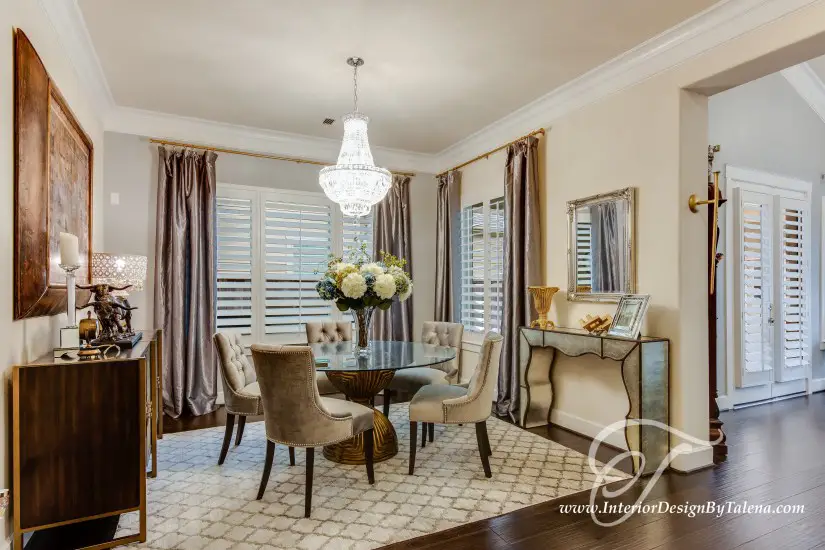 White & Gold Glam Dining Room
Randi Garrett has the most incredible home and this dining room is no exception.  It's bright and airy with a whole lot of glam.
The tablescape below has been designed for a holiday party, but I'd be happy in this space all year round.  The mirrored buffet provides a lovely contrast to all the gold accents.
Also, I love how the base of the room is a neutral white with the white table, chairs, rugs, lamps, and walls.  That makes it easy to change up the look.
I'm curious to know which dining room design style you like best?  Let me know in the comments below.
For more from Dianne Decor check follow me on Bloglovin' and Instagram.  Or, join the mailing list to have the latest posts delivered directly to your inbox.  Thanks for reading.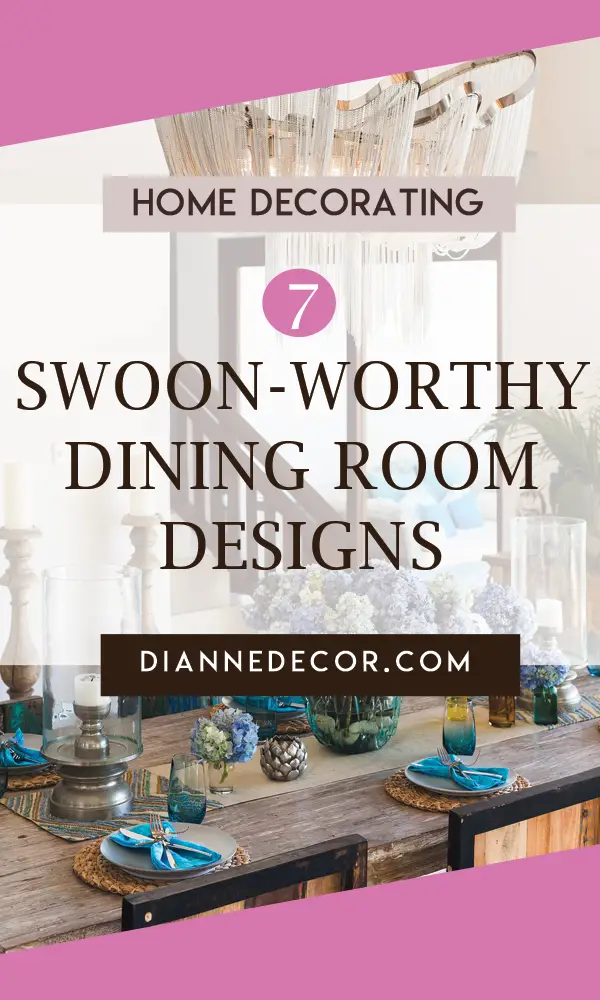 Thanks for reading!
contemporary dining room
decorating a dining room
dining room
dining room decoration
dining room designs
dining room inspiration
glam dining room