FTC Disclosure - This post contains affiliate links and I will be compensated if you make a purchase after clicking on my links.
*Item received for free for promotional consideration or a sponsored link.
In case you haven't heard, Classic Blue is the new Pantone "Color of the Year" for 2020.  Personally, I'm delighted, because blue is the current accent color in our home.
Pantone's annual color declaration is inevitably followed by a flood of clothing, makeup, and home accents featuring this color.
True to form, Target has jumped into the fray early with a really great selection of blue home decor.  Here are 17 of their newest offerings.
#1 – Kenya Fleece Tufted Rug – Project 62™ – Accent rugs make a huge impact on a space.  Changing up your rug can help anchor a new color scheme in your room.
This deep blue rug from Project 62 is beautifully accented with a clean white line pattern.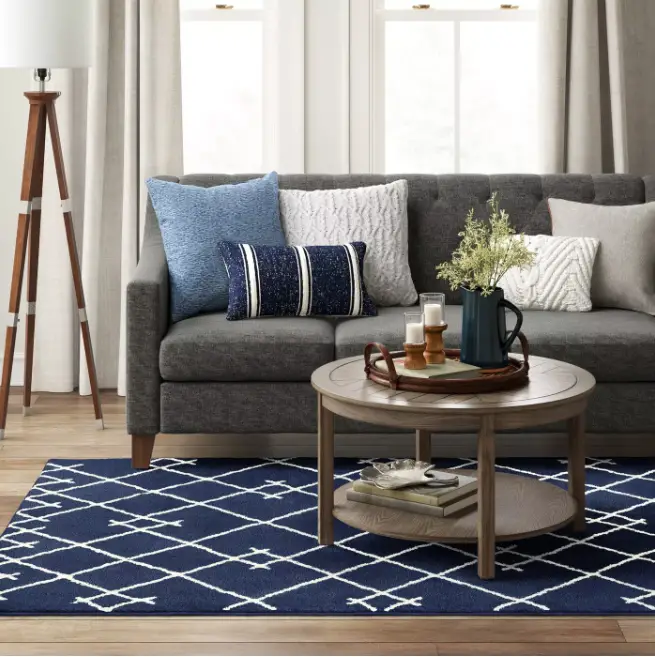 #2 – 72″ x 14″ Top Stitch Table Runner Blue – Threshold – If you like to switch up your dining table decor each season, consider adding a splash of blue with a table runner like this.
It's a nice rich tone that will help make other colors and metals pop in contrast.  The white stitching is a simple, yet nice detail as well.
#3 – 12″ x 4.7″ Seeded Cylinder Glass Vase – Threshold – Vases and candleholders are much like the table runner in that they're easily switched out.  When I saw this gorgeous glass cylinder vase I immediately fell in love.
The wavy texture and gradient colors are really pretty.  Vases like this add a bit of color, but not too much as to overpower their contents.
They also help to obscure flower stems so you don't have to worry about placing them just so.
If you've ever tried and failed to do that perfect spiral with your flower stems, like me, this type of vase will help you skip that step.
#4 – Framed Watercolor Blue Abstracts 16 x 20 3pk – Project 62 – I'm a big fan of switching out small wall art pieces.  Particularly ones like the trio set below.
They're an easy way to decorate for the season or in this case, incorporate a hot, new color trend.  What I like most about this set is that there's a bit of color variation.
This will help you compliment tones already existing in your space.
#5 – Square Washed Texture Bed Pillow Blue – Opalhouse™ – Throw pillows and pillow covers are one of the many ways you can decorate on a budget.
These are easy to swap out and the perfect way to incorporate texture into your space.  Tassels are also really popular right now.
The texture, color, and tassels in this pillow are perfectly on trend.
#6 – 18″ X 24″ Scenery Wall Decor – Hearth & Hand™ with Magnolia – Another gorgeous wall art piece is this watercolor scene below.
It's a beautiful, clean illustration and would work especially well if you're trying to create a minimalist vibe.
#7 – 20″x20″ Girl With Head Kerchief Framed Wall Print Gold – Opalhouse™ – Okay, so this isn't exactly classic blue, but it was too cute not to throw into the list.
Remember, tone on tone decorating is a lovely way to add richness and depth to your space.  The lighter blue background of this image would complement classic blue wonderfully.
#8 – Kenwood Chevron Blackout Grommet Curtain Panel – Sun Zero – Window treatments bring a lot of style and character into a room.
These curtains, in particular, have a really contemporary feel to them.  They're stylish with a modern chevron pattern that contrasts beautifully against the blue.
#9 – 34″x20″ Textured Rug With Fringe Blue – Opalhouse™ – This textured rug from Opalhouse would look great in a kitchen or a bathroom.
The classic blue fringe on each end really makes this piece stand out.
#10 – 16″x20″ Scribble Abstract Framed Wall Print Blue – Project 62™ – Another lovely blue wall decor piece from Target is this Scribble Abstract print.
I absolutely love the blue and white contrast here.  We're definitely seeing that as a theme in a lot of the blue home accents.
Although there are many colors that will compliment this shade of blue, if you want a bold contrasting look, pair it with white.
#11 – Velvet Solid Room Darkening Window Curtain (38″x84″) – Prima – These velvet curtains look so luxurious.  You can tell they have a nice weight to them by the way they drape onto the floor.  If you're looking for a solid blue window treatment, this is the one I'd choose.
There's something about velvet that makes anything seem a bit more lux.
#12 – 24″x42″ Paisley Curtain Tier Panel Blue – Threshold™ – In contrast to the curtains above, these short curtain panels are light and airy.  Again we're seeing the pairing of white and blue, but in this case, the white is much more dominant.
If you don't want your walls or windows to be a focal point, but rather act as a neutral backdrop for other items in the room, a print like this for your curtains is perfect.
#13 – Bali Throw Pillow Collection – Pillow Perfect – The Bali pillow collection below is stunning.  The patterns have great movement and vibrancy.
If you like the look of mixing and matching patterns but aren't sure how to do it, look for a collection like this.  The designs coordinate splendidly and they make the solid blue statement sofa and chair the focal point of the room.
#14 – Set of 4 Decorative Ceramic Balls – Blue – Small home accessories like this set of decorative ceramic balls are great to have on hand.  They're super versatile and can be used to fill a vase, accent a tray, style a shelf, or help create a centerpiece.
#15 – Sun Zero Clarke Geometric Print Textured Thermal Insulated Grommet Curtain Panel – This set of curtain panels from Sun Zero feature a fantastic pattern.
I think these would go well with a tropical style interior.  Or, if you have an otherwise neutral color scheme, this type a pattern is perfect to liven up your space.
They will draw the eye to the window, so make sure your view outside looks good.
#16 – Framed Embellished Canvas Abstract 50″x25″ – Project 62™ – The last decorative wall accent I'll include in the list is this tall abstract canvas painting.
Much like the abstract trio listed at #4, there are a lot of blue tones mingling with some brown, green, and gold.  Artwork like this is a subtle way to incorporate classic blue into your existing look.  If you have greens, browns, or gold currently featured in your home, this would look great alongside those colors.
#17 – Valora Blue and White Cylinder Jar – Small – A&B Home – An easy way to splash around an accent color is shelf decorating.  When I saw this blue and white jar I immediately envisioned it styled on a bookshelf.  It has a great pattern, but its size is such that it won't overpower your room.
If you're looking for small accessories, things like this jar and the ceramic balls are perfect.
That concludes this list of classic blue home accents.  I hope this saves you some time in your quest to update your space.
I think this is my favorite Pantone Color of the Year yet.  In the last two years, we've seen ultraviolet and coral as their named colors, so this is a welcome departure from that side of the color spectrum.
For more from Dianne Decor join the mailing list to have the latest posts delivered directly to your inbox.  You can also join me on Instagram and Bloglovin'.
Thanks for reading!
blue decor
blue home accents
classic blue
classic blue decor
color of the year
color of the year 2020
pantone
pantone color of the year