FTC Disclosure - This post contains affiliate links and I will be compensated if you make a purchase after clicking on my links.
*Item received for free for promotional consideration or a sponsored link.
Fall decorating is in full swing and everyone's creative juices are flowing.  The new season is bringing fresh ideas for how to decorate and I love it.  A new idea gaining traction is the fall harvest tree.
Yes, a fall tree!  Sometimes termed "autumn harvest tree", this new fall decor trend is popping up everywhere.
What Is a Harvest Tree?
A harvest tree is essentially fall's version of a Christmas tree.
It features seasonal items such as acorns, pine cones, sunflowers, leaves, and burlap.  Rich orange, brown, and red earth tones are often used.
The harvest tree is intended to be an expression of gratitude for the things we have been able to yield from the land.
During the fall season, this expression of gratitude is most commonly seen in the Thanksgiving Day celebration.  However, setting up a harvest tree is a great way to prolong the notion throughout the autumn/fall months.
5 Fall Harvest Tree Decorating Ideas
Just like a Christmas tree, there is an infinite number of ways you could go about decorating a harvest tree.  A tabletop size display would be a great fall entryway decor idea.
Or, you could decorate a tree to be used outside on your front porch.  If you're a go big or go home kind of person, then go ahead and break out the big tree.
1. Tabletop Tree
The large tabletop tree below makes a lovely centerpiece.  The orange and white plaid bow accompanying the star at the top is charming.
Faux round pumpkins and flat pumpkin cut-outs are used in combination with one another to fill out the tree.  I really love the use of the scarecrow planter as the base of the tree instead of a traditional tree skirt.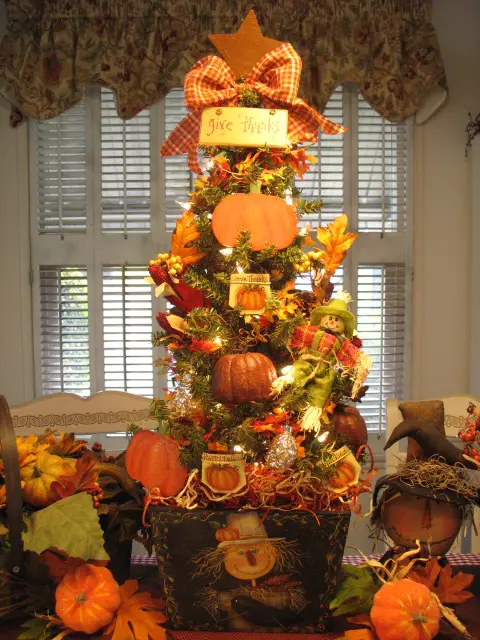 2. Sunflowers and Burlap
In the next example, sunflowers and burlap run throughout this large tree.  The acorns and leaf garland help create nice depth and dimension to the design.
Best of all, this tree will be super easy to transition right into Christmas.  All you need to do is swap out the sunflowers for ornaments and update the bow at the top and you have a lovely Christmas tree.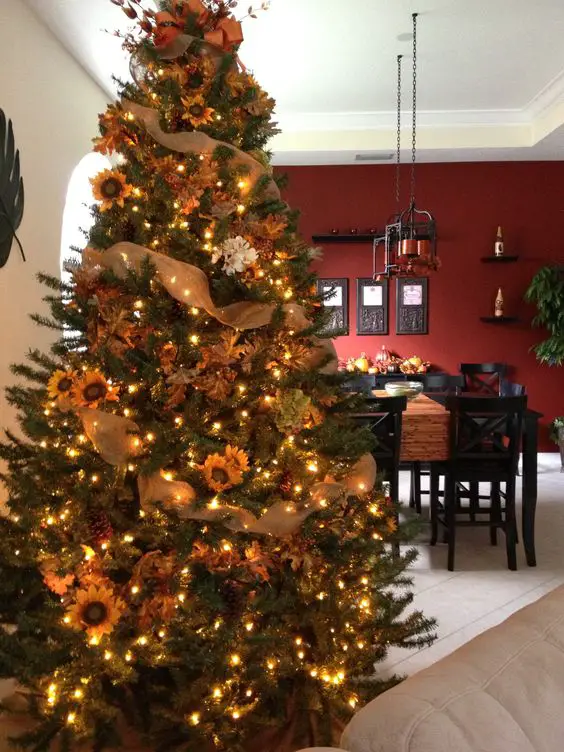 3. Light Neutrals
If you're going for a more neutral themed fall interior check out this tree from Tanis Jane MacIntyre (@redbrickmantle) on Instagram.  This tree is breathtaking.
The faux snow-covered tree is a great base if you have a lot of light neutral colors in your home.  The color combinations she's chosen with the blue and pale yellow sunflowers make the perfect modern farmhouse version of a fall tree.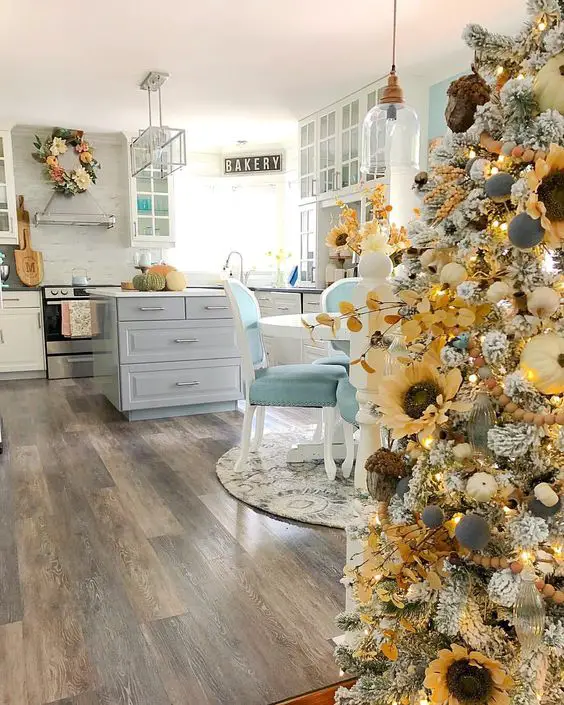 4. Orange Fall Tree
Another unconventional choice is to use an orange tree.  The post How to Decorate an Orange Christmas Tree for 5 Different Holidays by Jennifer Perkins has some great ideas.
I particularly love the big oversized acorns used in the fall tree.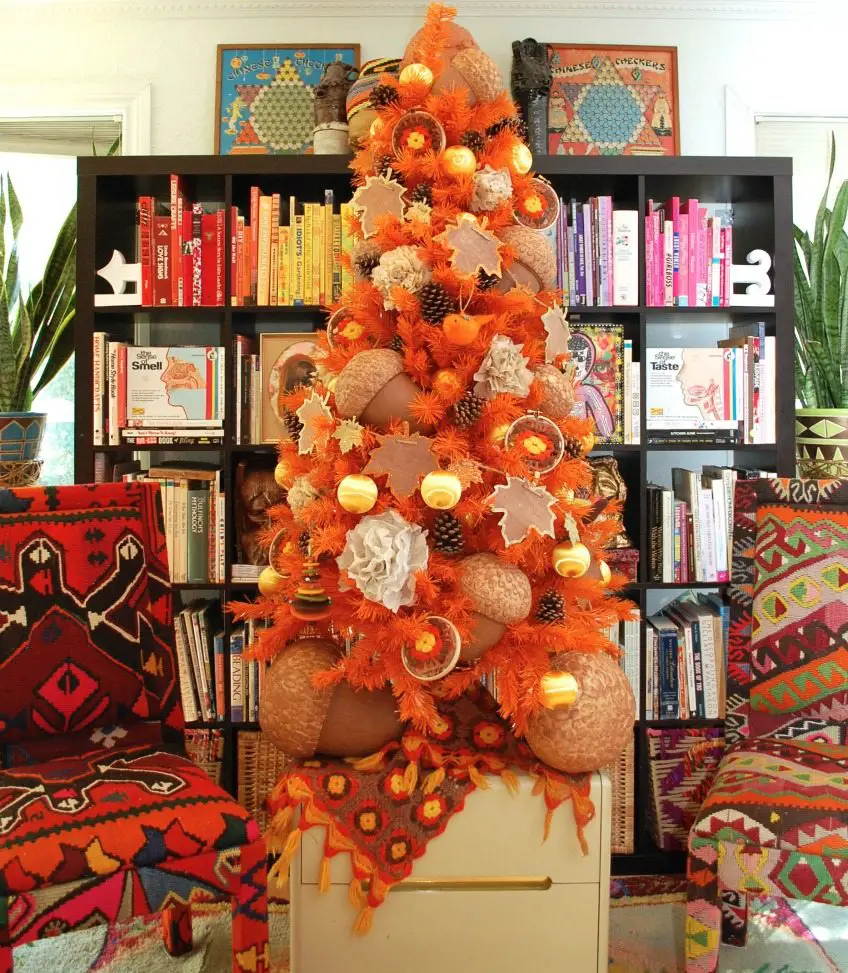 5. Oversized Accents
A second farmhouse style option is this tabletop harvest tree from The Painted Apron.  This tree is definitely more pumpkin and sunflower than tree, but it works.
I love the big accents and the use of the silver tree as a base.  It lightens up the whole arrangement and makes it a great neutral fall tree.
Conclusion
I hope this post gave you some good ideas for your fall decorating.  For more harvest tree inspiration check out the Pinterest Board that goes with this post.  Don't forget to share this with a friend and follow us on Bloglovin' for more content.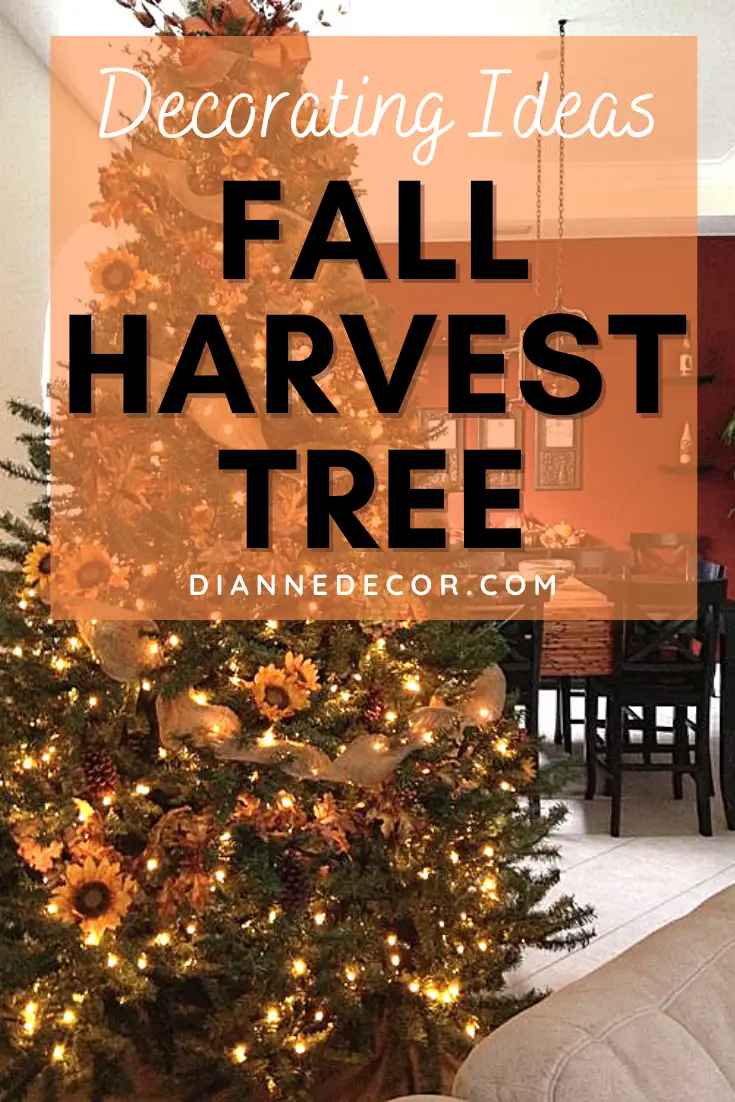 Thanks for reading!
autumn harvest tree
decorating
fall decor
fall home decor
fall home decorating
fall tree
harvest tree
home decor