Do you want to make your home more comfortable, efficient, or modern but you're working with a tight budget? Don't worry. It can be done. Here are 12 home upgrades on a budget that will do just that.
Undercabinet lighting, smart plugs, rechargeable emergency lightbulbs, and solar lighting are just a few of the upgrades the most stylish homes boast these days.
Now, you may or may not have had the need to upgrade some of these items in your home. If fact, I'm very much so an "if it ain't broke, don't fix it" kind of gal.
But, depending on your lifestyle and habits, home upgrades can be incredibly convenient and even add value to your home. 
The items in this list can help with your electricity bill, safety, emergency plan, decor, or make daily routines inside your home easier.
Let's get started.
Types of Home Upgrades
There are a few different types of home upgrades.
Which ones you target is completely up to you. Just remember, that while some upgrades are purely for aesthetics, others can greatly improve your safety and security.
Here are the different types of upgrades for your home:
Upgrades that make daily living more convenient
Upgrades that improve safety
Upgrades that improve the usability of a space
Upgrades for aesthetics
12 Home Upgrades On a Budget
1. Battery operated under cabinet lights
Starxing Battery Operated Wireless LED Puck Lights with Remote Control 
I currently have these installed in my kitchen and love them. They're battery-operated and can be operated via remote control or by manually tapping them on and off.

If you're looking for home upgrades on a budget that are practical and beautiful, this is one you must try.
I wrote a whole review on the Starxing Battery Operated Wireless LED Puck Lights detailing everything from unboxing to installation.
I love how they make my kitchen look and best of all, I love having backup lighting in the kitchen if the power goes out.
And for the price, this is one of those home upgrades on a budget that you don't have to think twice about. It's a win.
2. Smart Plugs
HS103P2 10 Amp Mini Smart Plug 12 Amp & Reliable WiFi Connection by Kasa Smart Store
If you haven't upgraded your home to have smart capabilities, now is the time to do so.
This is one of those home upgrades that I resisted for a long time thinking it was unnecessary.
And while it is, it's also incredibly convenient and I wish I'd done it sooner.
The Smart Plug allows you to use voice control to any outlet. You don't have to bend down, mess up with plugs and look for switches.
It's as easy as saying "Google, bunny lamp off" or "Alexa, fans on". It's that easy. 
Beyond the convenience, smart plugs are also great safety home upgrades on a budget.
Smart plugs give you the ability to control your lights and other electronics from anywhere.
This means that even when you're not at home you can create the illusion that it is occupied. Thus, creating a deterrent for intruders.
You can use create schedules to automatically turn on and off, which will help you save on electricity.
Installation is easy and you can control these plugs by the Kasa App through a phone or tablet.
3. Solar Step Lights
As far as home upgrades go, being able to navigate stairs easily in the dark is a no-brainer.
These solar security lights are eco-friendly and rechargeable. The solar panels charge up during the day and come to life at night.
There are three modes to choose from including dim long light mode, strong light sensor mode, and motion sensor mode.
The lights are waterproof, so they are worry-proof even on rainy days.
Best of all, if you want to target versatile home upgrades on a budget, these are a great voice because they can be used in a variety of places.
Install these solar lights by your garage, yard, garden, front doors, backyards, walls, and perimeter fences.
Overall, they're a great lighting idea for your exterior and will add to your home's curb appeal. 
4. Fence Post Lights
Solar Fence Post Lights Wall Mount Decorative Deck Lighting
Small yet impactful, fence post lights are one of the most overlooked enhancements you can make to your backyard.
While many flock to the solar garden stakes when you think about home upgrades on a budget for your yard, these aren't the only option.
Solar fence post lights like these, in particular, are art-deco-style lights that will give your perimeter fence a high-end look. Not to mention, it will also help keep your property illuminated so you can see what's happening at night.
This decorative light is great for mood lighting around your property. Each comes with a built-in sensor and automated switch; the light turns on when it's dark out and turns off when it's daytime. 
They're designed to handle a good amount of wind, rain, and, snow. Best of all, there is no complicated wiring required to operate, making them a breeze to install. 
5. Kitchen Tablet Stand
3-in-1 Mount Stand by CTA Digital Store
If you're someone who likes to look up recipes online through your tablet, then this mount stand may just be what you need in the kitchen. This stand keeps electronics away from splashes and spills. You can now free up counter space for cooking and meal preparations. 
Made with high-quality materials such as reinforced heavy aluminum slots, you can be assured that this mount stand is durable and can last for years. The side holders are designed to be adjustable to hold any size and make of any tablet. 
What's to love is the sleek and compact body for storage and portability. It's not just for the kitchen, it's also for your bedroom, living room, deck or patio, even for your car. 
6. Pull Out Garbage Rack
Rev-A-Shelf Single 35 Quart Pull Out Waste Container for Kitchens
Home upgrades on a budget for the kitchen go beyond just lighting and countertop accessories. They're available for your cabinets as well.
It goes without saying that looking at trash or even a dirty waste basket in the kitchen is less than desirable.
This is especially true when you're hosting guests. No one wants to be seated next to the trash while they eat.
New kitchen designs often feature built-in trash cabinets to hide away your basket. They're mounted on rails that slide in and out for easy access.
But, what if you don't have a fancy new kitchen? Don't worry, this home upgrade is available to you too! And for a great price.  
With the Rev-A-Shelf Single 35 Quart Pull Out Waste Container, all you have to do is slide it in and out and keep your kitchen looking neat and clean.
This budget-friendly home upgrade also frees up floor space and improves maneuverability in the kitchen.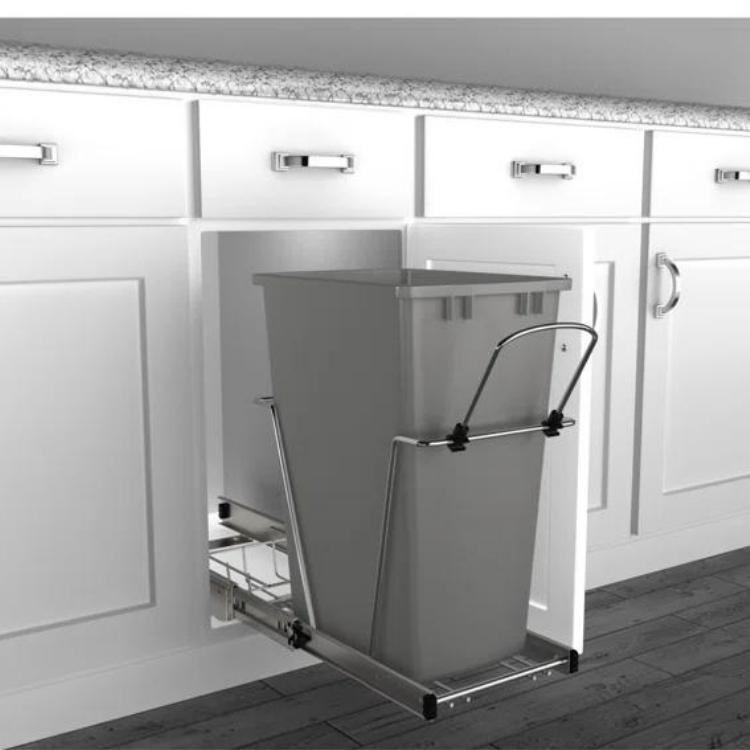 7. Lamp With USB Ports
Adding a small lamp to your kitchen counter is a popular way to add soft mood lighting to your space.
Not only will you improve the visibility of dark corners of your kitchen, but you can create a warm and inviting ambiance simultaneously.
Home upgrades on a budget do not have to be big things. Something as small as a litte touch lamp, or the super popular mushroom lamp is all you need to make a big impact in your kitchen.
It's an unconventional lighting source that is becoming more and more popular.
So, if you're looking to cozy up your kitchen, consider something like a touch control table lamp.
This one is especially nice for the kitchen because it helps to free up essential outlets with dual built-in USB ports at the base of the lamp itself.
You can conveniently charge up all of your devices and have lovely mood lighting in your kitchen.
The touch control can provide 3 brightness levels. It has a 360-degree touch base which allows you to adjust via a gentle tap.
This feature is also great for late-night creeping into the kitchen for a snack. You don't have to turn on big overhead lights or fumble around in the dark looking for a conventional lamp switch.
8. Bluetooth Speakers
iF012 Bluetooth Shower Speaker by iFox Creations 
Upgrade your shower experience with your favorite tunes playing right in your shower with a Bluetooth shower speaker.
This is by far one of my favorite purchases for my bathroom.
Mine is 3 years old and still going strong. 
The iFox mini-Bluetooth speaker is compact and a breeze to travel with. You can enjoy crisp quality sound wherever you are; in the car, shower, out fishing, on bike rides, on the beach, by the pool, or out camping. 
Personally, I've brought mine with me to hotels to use as a makeshift noise machine for my kids.
I've used it in the backyard while grilling.
And of course, its real home is in the shower. The charge lasts a long time and it's easy to sync to your phone.
I highly recommend this one iFox speaker. I'd buy it again in a heartbeat.
9. Cord Hider
A big visual upgrade for any space is to keep your cords out of sight.
Cord hiders are one of those home upgrades on a budget that you'll wish you'd done sooner. Hidden cords make a huge visual impact on a space.
Moreover, cord hiders keep your cords out of the reach of playful pets and young children.
I've purchased this kit twice for my home. One kit gave me enough length to hide the cords for 2 wall-mounted televisions.
After that, I purchased the kit again to hide the cords from a TV we mounted in our master bedroom. I still have enough left over for another project.
The installation is incredibly easy. The parts in the kit are customizable to whatever length and color you require.
The wire channels are slim and sleek so that it perfectly blends in with your home décor. 
This cheap and easy cord hider not only makes your mounted tv look cleaner, but it assures safety and keeps cords tucked away from little kids who may be curious enough to pull at them. 
10. Picture lights

Wireless Battery-Operated LED Picture Light with Remote 
Create an elegant look on your walls with battery-operated picture lighting. 
These lights use 3 AA batteries each.
They're easy to install and best of all, there's no need to call an electrician.
The lighting direction is adjustable along with the brightness.
To save on batteries, it comes with an optional auto-off timer with increments of 15, 30, 60, or 120 minutes. 
The lighting modes are 3000K warm white, 4300K natural white, 8000K cool white. 
This is a feature I wish I'd had on a failed home upgrade project. But more about that in another post.
These not only look good for highlighting artwork, they also look good in mirrors, fitting rooms, closets, and other displays. 
11. LED strip lighting
LED Closet Light Motion Activated 
I don't know about you, but I hate being unexpectedly left in the dark when the power goes out.
When I first created my personal wishlist of home upgrades on a budget, the very first thing I included was emergency lighting.
These LED motion-activated light strips are helpful in the event of power outages. They are rechargeable and motion-activated strip lighting.
They can be installed under the bathroom vanities, closet spaces, cabinets, and even in the trunk of the car.
That being said, you have to be very careful when selecting LED strip lighting. Not all are created equal.
I made this mistake a while back when I was trying to install motion-activated lighting under my bathroom vanities.
My first mistake was not paying attention to the temperature of the light. The lights I selected were a harsh cool tone while the rest of the lighting in my bathroom was daylight/warm toned.
Put simply, it looked awful. And they were surprisingly, too bright.
Finally, I'd purchased battery-operated strip lighting when I should have gone for the USB rechargeable lights.
Also, there are some LED strip lights that only work in the dark.
If you intend to use these as emergency backup lighting, a dim house during the daytime may not be enough to activate some of the nighttime lights.
So, look carefully at the description to make sure they can either be turned on manually or are motion activated day and night.
12. Showerhead

Handheld Showerhead and Rain Shower Combo
Another great bathroom upgrade is a handheld showerhead.
When it comes to home upgrades on a budget, this one is worth every penny.
It's not only helpful for rinsing your hair and washing pets but also for cleaning your shower. 
Beyond the practicality of adding a handheld shower to your bathroom, you have can upgrade your entire shower experience with functions like "stay warm mist" and "power massage".
You'd think this would be a big splurge or come with a complicated installation, but no.
You can snag a showerhead and handheld showerhead combo like this for under $30.
What's great is that there are no tools required, just connect in minutes to any standard overhead shower arm. 
Conclusion
With each passing year, there are more and more budget-friendly upgrades available for the home.
You can easily install any of these home upgrades on a budget and instantly improve the look and function of your home. Best of all, you can complete these easy DIY projects without the help of a technician.
I hope you found this post helpful. If you did, please share it with a friend and follow Dianne Decor on Pinterest, Instagram, and Twitter for more from me.
Here are a few more posts you may enjoy:
Don't forget to join the mailing list before you go. I'll send you a copy of my weekly newsletter filled with weekend reads, decorating inspiration, and the latest deals on home decor.
Thanks for reading!
bathroom upgrades
bluetooth
home upgrades
home upgrades on a budget
kitchen upgrades
smart plugs
solar lights
under cabinet lighting