FTC Disclosure - This post contains affiliate links and I will be compensated if you make a purchase after clicking on my links.
*Item received for free for promotional consideration or a sponsored link.
Under cabinet lighting in the kitchen is something that I've always wanted. But I never thought that I would have it.
Prior to installing the lights, we're going to talk about in a moment, I'd watched dozens of tutorials for DIY under cabinet lighting systems.
Unfortunately, they all involved drilling holes into cabinets and running wires. This is something that I did not want to do.
I wanted wireless under cabinet kitchen lighting.
Luckily I found just the thing to get the job done and it took less than 15 minutes to install.
Best of all, it cost less than $20!
If you want to see what I used to install under cabinet kitchen lighting on a budget, keep reading.
Benefits of Under Cabinet Lighting
Under cabinet lighting is one of the most popular kitchen trends of the last few years. There are a lot of benefits to having a little extra lighting installed in the most highly trafficked area of your home.
Sophisticated Style
Under cabinet lighting looks beautiful and gives your kitchen a sophisticated styling.
That being said, the benefits of under cabinet lighting exceed mere aesthetics.
Improved Visibility
Having a well-illuminated countertop and prep space allows you to maneuver through your kitchen with ease.
You may think that your overhead lighting is enough, but if you have dark granite countertops, dark walls, or dark cabinets you really need the extra lighting.
A direct light that's closer to the countertop surface really gives you a good look at what's on your surfaces.
Moreover, under cabinet lighting can help illuminate your backsplash which may help you bounce more light around your kitchen.
Emergency Back-up Lighting
The ability to light your kitchen during a power outage is a huge benefit.  This is a feature not many people talk about.
But, if you reside in an area that is prone to frequent outages, battery-operated under cabinet lighting is a game-changer.
After all, just because the refrigerator or microwave isn't running, doesn't mean you won't still need to prepare food for yourself or your family.
No longer will you have to attempt to prepare a meal by candlelight or flashlight.
A basic under cabinet lighting system will give you all the light you need during a power outage.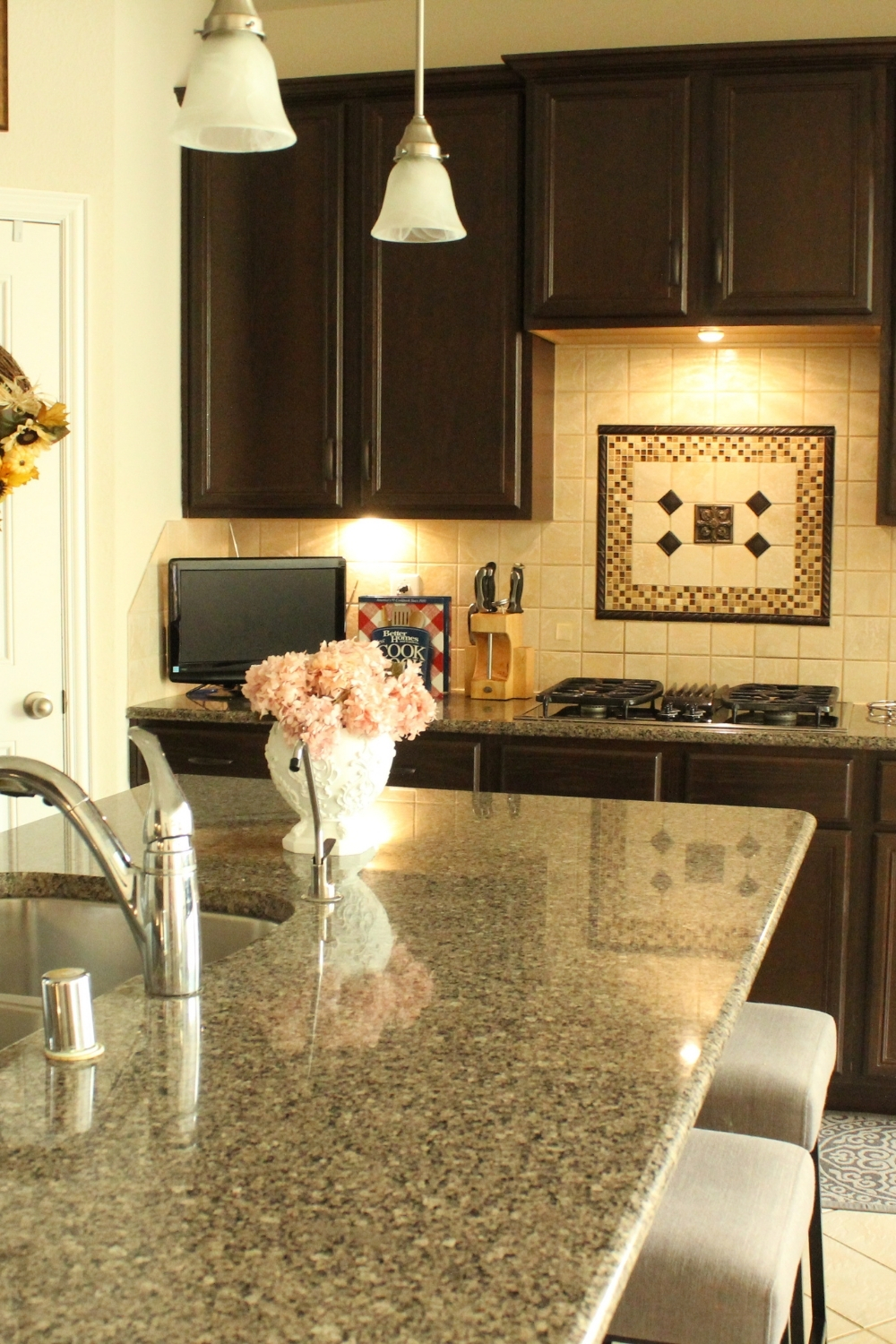 Types of Under Cabinet Lighting
Now let's talk about the different types of under cabinet lighting.
There are a few different categories that your lights can fall under and a number of different features available.
Wired vs Wireless
The first main distinction between types of under cabinet lighting is wired versus wireless.
Wired cabinet lighting relies on your home's electrical system.
You may opt to have it professionally wired to a light switch or go for a plug-in model that is powered by an outlet.
Either way, you will need to run and hide the cords around your kitchen.
Many times this will involve having to drill holes in the underside of the cabinet to hide wires and components.
While this may be an easy DIY project for some, most people looking for an easy install will go for wireless battery-operated systems.
These are installed using adhesive strips and stuck directly to the underside of the cabinet.
They're operated either by remote control or by tapping the power button directly on the light itself.
LED Puck Lights vs LED Light Bars
The two most popular styles of under cabinet lighting are puck lights and light bars.
Puck lights resemble the shape of a little hockey puck.  They are small and circular in shape.
Alternatively, light bars are shaped like long, linear, rectangles.
As far as the actual light that is cast, puck lights and light bars are quite different.
If you want an even light spread across your countertop then go for the bar lights.
However, if you want more or a decorative spotlight effect, opt for the puck lights.
There is a nice rhythm to the lights when they're spaced out evenly that adds an extra layer of decoration to your kitchen.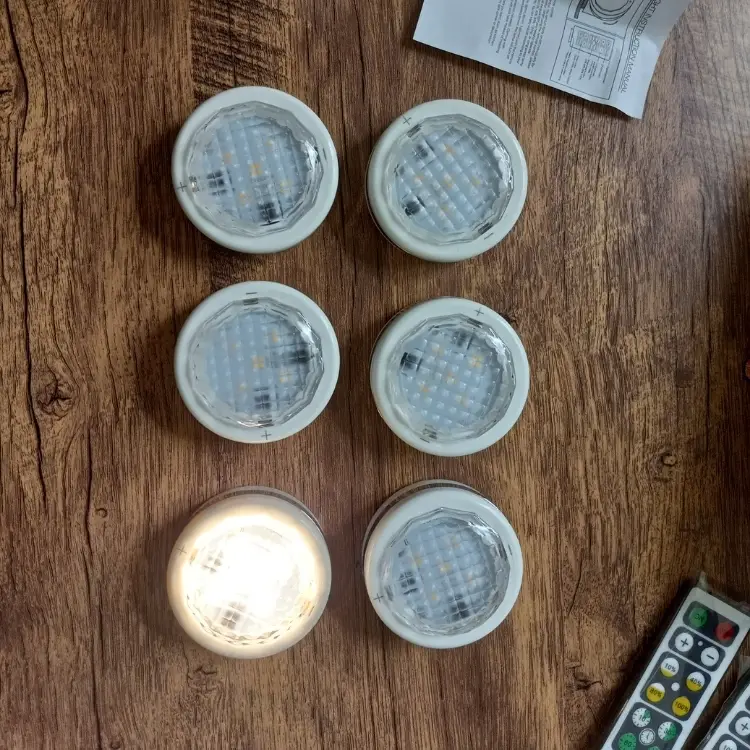 Under Cabinet Lighting Features
These days under cabinet lighting comes with a lot of great features. One of which is the ability to control the lights via remote control or app on your phone.
Some lights are dimmable and are able to be set on a timer.
Others are motion activated which works really well if you are trying to solve issues of lighting at night.
And, some even change colors which makes them a fun addition for the holidays or parties.
Review: Starxing Wireless LED Puck Lights Battery Operated Under Cabinet Lighting
For my kitchen, I purchased the Starxing Battery Operated Wireless LED Puck Lights with Remote Control from Amazon.
These are puck lights that come in a pack of 6. They're currently priced at $16.99.
These lights have a four-star rating with over 8,000 reviews. They come in three different options including a white light with a brushed nickel accent that casts a natural white light. Note: This is the style I purchased.
The second option is a white light with a chrome accent that casts a warm white light.
And the third option is a black light with a gold rim accent casting a natural white light.
These are LED Puck lights that are battery-operated with remote control.
They can also be manually turned on and off by tapping on the light.
Features include preset dimmable settings at 10%, 40%, 80%, and 100%. You can also adjust the brightness using the plus or minus buttons on the remote.
Similarly, there are plus and minus signs on the light itself.  Press and hold down the minus sign on the light to dim it.  Press and hold down the plus sign to brighten.
The lights also have a timer feature.  This will automatically turn your lights off at a preset interval.  The timer options are 10 minutes, 30 minutes, 60 minutes, and 120 minutes.
Each of the lights uses 3 AAA batteries.
Common Questions and Answers
What are the dimensions of the lights?
Each light is about 2.5 inches in diameter and ¾ of an inch tall.
Will the remote turn off all the lights at once?
Not likely. If your lights are installed close together the remote may turn them all off at once.  However, if your lights are spaced out or on different walls in your kitchen, you will need to point the remote toward each area to turn off the lights.
Does the light have a bluish tint to it like some white LED lights?
No.  The natural light is pure white with no blue tint.
Can you use these on top of cabinets for up lighting?
No.  Your remote will have trouble getting the signal to the lights if they are behind the upper cabinet trim.
Do these have motion detection?
No.  There is no motion detection feature for these particular lights.
Do they turn on automatically in the dark?
No.  There is no dusk till dawn feature for these lights.
Can these lights be used outside?
No.  They are not waterproof or weather resistant.
Are batteries included?
No.
Do these lights work with Alexa or come with an app?
No.
Unboxing
When unboxing these lights everything was packaged really well. There were six lights tucked into a divided plastic sleeve, 2 remote controls, and 8 adhesive strips included.
While there wasn't a ton of padding around the lights the box and the content are very compact.
As a result, you won't find the lights rolling around getting damaged inside the box.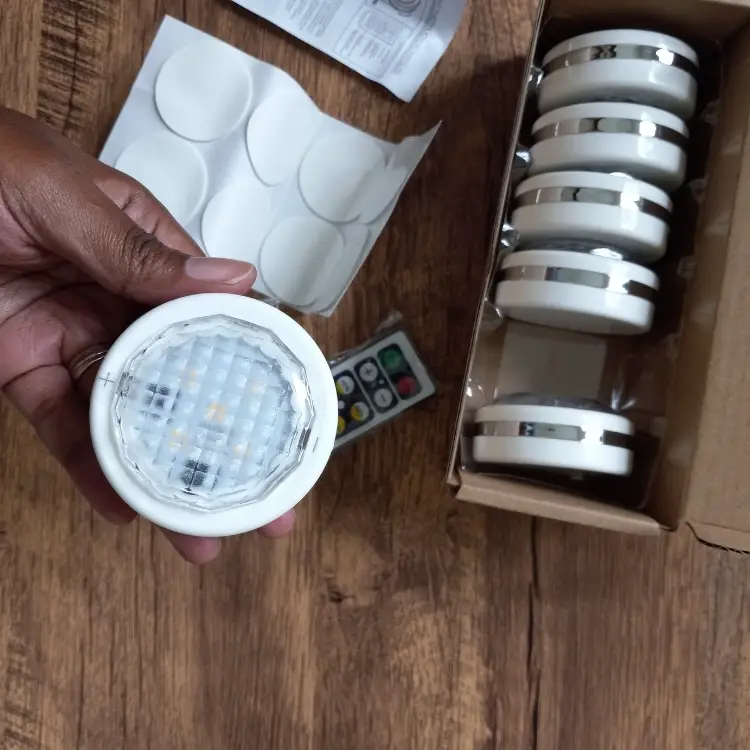 Installation
The installation of these lights is incredibly easy. I didn't even need to refer to the manual. They're self-explanatory.
All you need to do is take the backing off of the lights.  To do this give it a little quarter turn to the unlock position and the backing comes right off.
You'll see the slots to place 3 AAA batteries. When you're done, replace the cover and give it a quarter turn back to the lock position and you're ready for the next step.
The next thing you'll need to do is place one of the adhesive pads on the back of each light you intend to use.  To do this, peel one from the wax paper and place it on the back cover of the light.
I did this for all six of the lights then proceeded to the kitchen to mount them.
Mounting Under Cabinet Puck Lights
Once you map out your placement for the lights, pull the paper backing off the adhesive pad and press it firmly to the underside of the cabinet where you want the light to be located.
In the photos below, you can see that I used all 6 lights.
My kitchen has 4 sets of cabinet doors.  I placed the lights at the midpoint between each set, using a total of 4 lights.
I placed an additional light above my stove and another under a skinny cabinet between the fridge and the microwave.
This gave me plenty of lighting. However, if you feel like you would need more light buy 2 sets and place one puck light under each cabinet door.
Or, opt for one of the bar lights instead.
But, as I said, for me the 6 lights brightened up my space significantly.
One thing to consider before sticking the light to the underside of the cabinet is your front-to-back positioning.
I placed my lights all the way to the back of the cabinet, closest to the wall.  This allowed the light to illuminate the backsplash and counter.
I found that when I position the puck lights smack dab in the center it casts a lot of shadows onto my countertop.
Things like my little kitchen television, my cookbook, and my butcher block with my knives all created shadows and I didn't like that.
Sticking the light all the way to the back of the cabinet removed the shadows.  As a result, the backsplash and countertop are illumintated beautifully.
So, if you have a lot of items already on your countertop, turn the light on and test the position before you stick them down.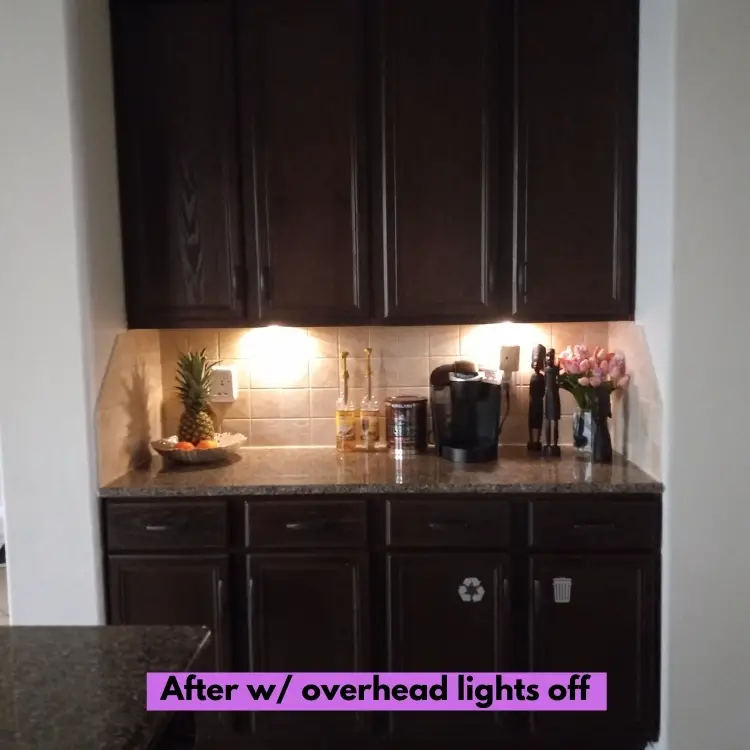 Pros and Cons
Now, let's look at some of the pros and cons for the Starxing Battery Operated Wireless LED Puck Lights for under cabinet lighting.
Pro – They Look Beautiful
The first pro is that they look beautiful.
They cast a gorgeous light along the backsplash and counter in my kitchen.
The light is that natural daylight look that I love.
I also love the fact that they are dimmable.
Pro – Bright Lights
Another pro is the amount of light these give off.
Having dark granite countertops in the kitchen makes it really hard to see all the little crumbs and bits on the counter.
I'm forever crouched down trying to get to eye level with the counter so I can scan for things I missed. With the additional light I now see everything and I love it.
Pro – Backup Lighting Source
I'm also excited to be able to use these as a backup lighting source in the event of a power outage.
Funny enough, the day after I installed this under cabinet lighting we had the power go off and come back on repeatedly as a big storm rolled through the area.
I was so happy to have these installed and ready to go.
The installation couldn't have been easier.  So that's another pro for the Starxing Battery Operated Wireless Puck Lights.
You truly don't even need to read the instructions to figure out how to install these.
Another feature that's really nice is timer setting confirmation.  When you set the timer with the remote the light will double flash to confirm that the light has received the timer request.
So you don't have to worry about whether or not you actually set the timer. You'll know because the light will flash to confirm it for you.
Last but not least the biggest pro of all is, of course, the price.
These are under $20. That's amazing!
Now, on to the cons.
Con – Requires Lots of Batteries
My first big con with these is that they take a lot of batteries.
At first, you may think that 3 batteries aren't unreasonable, but when you use all 6 lights that's a total of 18 batteries. That's a lot.
Moreover, the manual claims that these lights only have a 40-hour battery life. That's not great.
Because of this I highly recommend getting rechargeable batteries.
Amazon Basics sells an affordable 4-Hour Rapid Battery Charger and Rechargeable AAA Batteries.
Con – Not Interconnected
My second con is they are not interconnected.
By this I mean when I press the off button on the remote the lights don't all go out at once.
You have to aim your remote to each zone to get the signal to the lights. For my installation, this means I need to point and press the off button to 3 different zones to get all 6 lights to turn off.
Now take this with a grain of salt because they do not claim to be interconnected. But, a more powerful remote would have been nice.
If you want an interconnected system that is wireless you're going to have to look for one that's Alexa or app-enabled.
Those will run you a little more money, but it may be well worth it if you think this is going to be a nuisance for you.
Con – Saved Settings
The last thing that I'll put in this category isn't really a con but it's something that you should know.
If you use any of the dimmer settings and then turn your lights off, the next time you turn on your lights they will retain the last dimmer setting.
Here's what I mean by this…
If I dim my lights first thing in the morning when I'm making my coffee and then turn the lights off.  When I turn them back on in the evening to make dinner they're going to come back on dimmed at 10%, not full brightness.
Not knowing this led me to think something was wrong with my lights when I first installed them.
Most of the negative comments that I see on this product page have to do with people claiming that the lights are not bright. Or they used to be bright and now are not.
I think that this retained dimmer setting is probably the root of the problem.
Because as you can see in my photos, the lights are quite bright.
Moreover, I took these photographs on an overcast day around 11 am. It wasn't even dark outside.
When it is dark, they shine even brighter.
Would I Recommend The Starxing Battery Operated Wireless Puck Lights?
Absolutely! They're a fantastic addition to my kitchen and I'm kicking myself that I didn't do this sooner.
I've been talking about adding under cabinet lights in our kitchen for almost 2 years now and I just never pulled the trigger on it.
Now that I know I could have spent less than $20 and had them all along makes me feel downright foolish for putting it off.
You can find the exact lights I installed here.  I love the way my kitchen turned out and would buy them again in a heartbeat.
Final Thoughts
These lights are a quick and easy way to install under cabinet lighting and modernize the style of your kitchen.
If you've been considering installing under cabinet lighting I highly recommend checking out the Starxing Battery Operated Under Cabinet Lighting on Amazon.
Conclusion
I hope you found this review helpful. If you did please share it with a friend and follow Dianne Decor on Medium for more from me.
I'm also on Instagram, Pinterest, and Twitter.
If you have any questions please leave them in the comments and I'll be happy to answer them for you.
To have a copy of my latest posts delivered directly to your inbox, join the mailing list before you go. I'll send you a copy of my Weekly Newsletter filled with weekend rates, decorating inspiration, and the latest deals on home decor. Thanks for reading!
Thanks for reading!
amazon
battery operated under cabinet lights
diy under cabinet lights
kitchen lighting
led puck lights
puck lights
under cabinet lighting