Updating a room on a budget is easier than you may think.  It doesn't require a lot of money to give your room a fresh, new look.  In this post, I'll share 8 easy ways to update a room for little or no money.
How To Update a Room on a Budget
The key to updating a room on a budget is to refresh and replace pieces strategically.  To save money, refresh large investment pieces like furniture with new accessories or coverings.  Replace or shuffle inexpensive decor to give your room an update, such as replacing curtains, small wall art pieces, and tabletop accessories.
8 Easy Ways to Update a Room
Here are 8 ways to easily update a room with little to no money.
1 – Curtains
Curtain panels come in various textures, patterns, colors, and lengths.  Best of all, at every price point, you can find ones to suit your room.
A great way to make a huge impact in your room for little money is to frame out your windows with curtains.  The color and length can make a huge impact on the way your room.
They not only provide privacy and control the amount of light entering a room, but they're also a great opportunity to infuse texture and pattern into your space.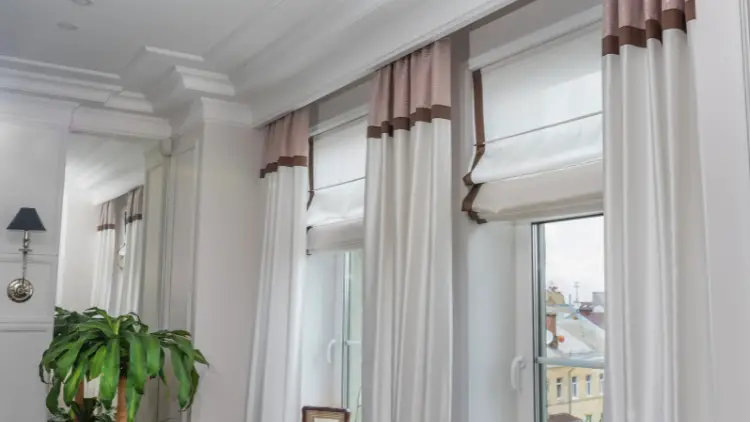 2 – Pillows
Mix and match pillows of different sizes, textures, and patterns to create a more dynamic look. Use pillows as an opportunity to experiment with bold colors and patterns. 
Swapping covers allows you to have a quick and affordable update. Do this instead of buying new pillows to save money.
Inexpensive, high-quality pillow covers of every size can be found on Amazon.  They're typically 2 per package for under $20. 
Layering pillows can help to create depth and dimension. This will add a sophisticated, upscale feeling to your space.
Start by placing larger pillows in the back and the smaller ones in front. 
Mix in pillows with a variety of textures like velvet, leather, fur, knitted, or woven fabrics. This will help add visual interest and tactile appeal. 
To keep your rooms looking fresh throughout the year, try switching your pillows out seasonally. During spring and summer, you can use light, bright colors. Deep and warm-toned colors are great for fall and winter. 
For more on how to decorate your home seasonally, check out The Easy Eight Method.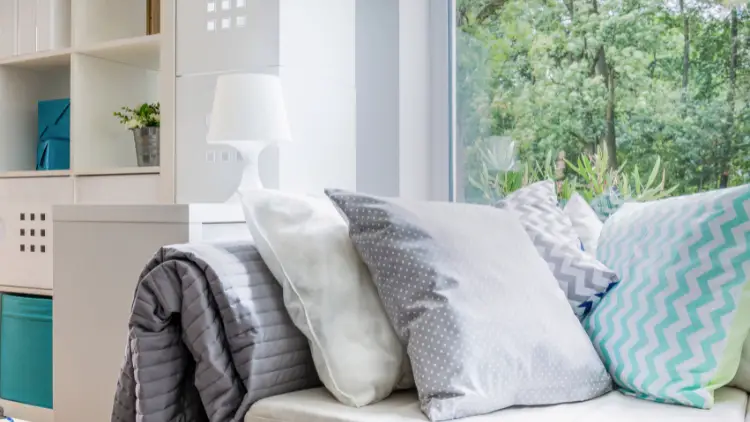 3 – Bedding/Throws
When it comes to bedding, layering is key. 
Use a lightweight quilt or coverlet over your regular comforter or duvet and add a few extra pillows for a more inviting look. 
Try places like Home Goods in-store (not online… read this before you shop Home Goods online) to score a great deal on bedding.
Similarly, consider two small area rugs or runners to go alongside your bed for added comfort and a new look.
This is a more affordable option than trying to scout out a deal on an oversized area rug for your bedroom.
4 – Rearrange Furniture
As a kid, I would constantly rearrange the furniture in my bedroom.  I'd shuffle my bed, nightstand, dresser, and desk around at least 4 times in a calendar year.
It always gave me the feeling of being in a brand-new space.  Best of all, it was free!
Don't underestimate the power of creating a new focal point or flow of a room by rearranging your furniture.
Also, don't be afraid to edit your furniture.  Just because you have a full bedroom set with 5 or 6 pieces of furniture, doesn't mean you have to keep them all in your room.
Break up sets or remove pieces that aren't needed to open up a space.  Sometimes we're limited in options for arranging a room because there are too many pieces.
5 – Slip Covers
Furniture is expensive and often times we tire of our style before we can afford to replace items.
Luckily, there is an easy and affordable way to give your furniture an entirely new look.  So what's the secret?  Slipcovers!

And I'm not talking about your grandma's old, slipcovers that used to slide all around the sofa.  
This particular decorative accessory has come a long way in the past 20 years.  
The snug-fit slipcovers fit so well that no one will ever know they're on your sofa or chair.
I've used and recommend SureFit, but there are lots of other brands out there.  
Just be sure to get a set that includes separate covers for your seat cushions.  In my opinion, this is the key to getting that undetectable look.
Changing the color of your sofa or chairs with slipcovers is an easy way to update a room.  
Because these pieces are so large, they really set the tone for your overall color scheme.  Many times we feel stuck in a style because we can't afford to replace these large pieces or pay to have the reupholstered.  
But, by going the slipcover route you can change up your look for a fraction of the price.  Moreover, you can revert your style for free, just by removing the covers. 
6 – Replace Wall Art
Keep the frames and replace the art.  
Head to Etsy to find affordable, printable wall art in any size.  
Just double-check the description before you buy.  Some sellers are offering the digital file only and you'll need to print them on your own.  Others offer prints that are mailed to you.
Jane.com is also currently selling a set of 6 art prints (11 x 14) for under $15!  That's an amazing deal.  Better yet, there are 50 different sets to choose from.
Give it a try and you'll see that simply replacing your current prints for a fresh new look in minutes.
7 – Add Potted Plants/Faux Tree
Faux plants are a great way to add a touch of greenery and life to a room without the upkeep and maintenance of real plants. 
A large faux plant or artificial tree makes a huge impact on a space.  Or, if you already have a potted tree or plant update the pot and add some moss on top for a fresh, new look.
Create groupings of faux plants in various shapes and sizes. This helps create a focal point in your room, making a visually interesting display. 
You can put together a group of succulents and cacti or different types of indoor foliage. 
Hanging plants in a basket or from a ceiling can help to add height and dimension to a room. This helps free up space on your floor. 
Stylish planters can easily update your room. What's great is that you can easily mix and match them just as you would do with furniture to add a curated and sophisticated look to your space.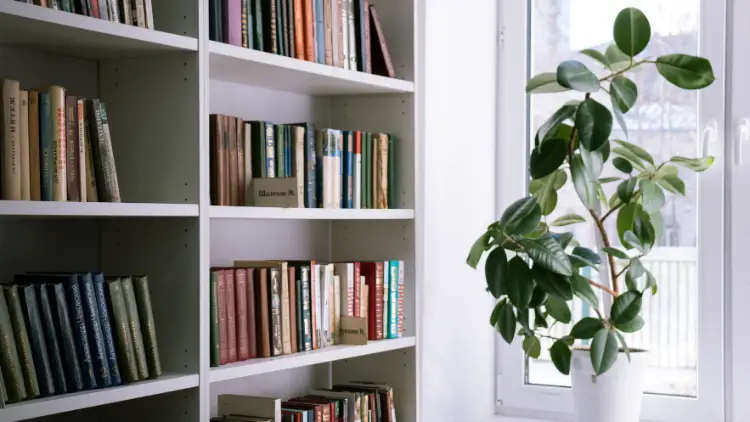 8 – Shuffle Accessories
Another easy way to update a room is to shuffle around your tabletop decor and decorative objects.  
Those gorgeous rattan lamps in your entryway can become your new nightstand lighting.  Or, that bone inlay bowl holding your keys can now become a jewelry tray.
Don't be afraid to see what can find new life in a new space.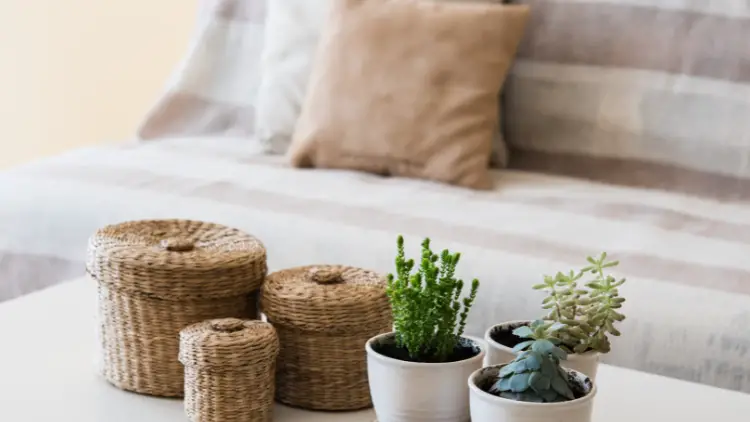 Conclusion
Updating a room doesn't have to cost a lot.  With some creativity and smart thinking, you can transform your space with simple updates. From adding texture to incorporating faux greenery, there are many easy ways to update a room.
Here are a few more posts you may like:
Don't forget to join the mailing list before you go.  I'll send you a copy of my weekly newsletter filled with my latest blog posts, decorating inspiration, and sale alerts on home decor.
Thanks for reading!
decorating on a budget
easy
easy decorating ideas
update a room