FTC Disclosure - This post contains affiliate links and I will be compensated if you make a purchase after clicking on my links.
*Item received for free for promotional consideration or a sponsored link.
Fall has officially arrived and the decorating has begun.  If you're on the hunt for some beautiful, cheap fall decorations, you're in the right place.
This DIY Dollar Tree fall decor is easy, looks amazing, and was made for under $15!  Best of all, it's versatile.  This decor piece can be used as a door wreath or as a centerpiece.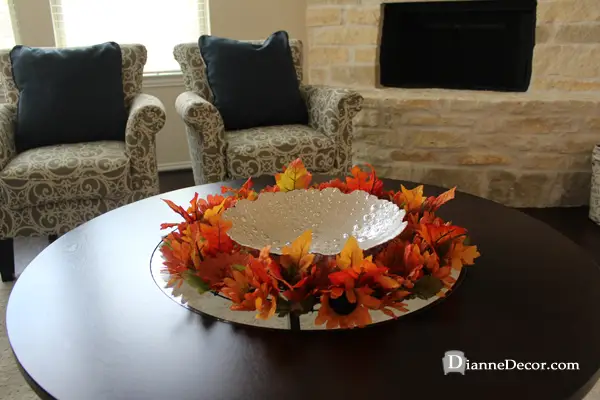 DIY Fall Centerpiece Wreath
This project is super simple and can be easily altered using any florals you like.  It would look great in fall transitional colors like mauve and berry as well.
If you like the Dollar Tree florals but don't want to run from store to store looking for specific ones, try ordering online.
I picked up my large wire wreath form from Walmart, but they do sell smaller ones at Dollar Tree as well if you want to make it a one-stop shop.
Here's what I used to create it:
Oak Leaves (x2)
Grape Leaves (x2)
Sunflowers (x5)
Gerbera Daisies (x2)
Wire Wreath Form
Hot Glue Gun
Wirecutter/Scissors
Step 1: Detach the flower heads and leaves from their stems.  Just give them a little tug, they'll pull off easily.
Step 2:  Use your hot glue gun to attach the flower leaves between the first and second ring of the wreath.  Repeat this step at every vertical connection around the entire wreath.
Step 3: Now, we'll glue leaves between the second and third ring at the midway points all the way around.
Step 4: Complete a final row of leaves that mirrors the first.  They will be attached between the third and fourth ring at each vertical connection.
Step 5: Next, we'll begin adding our flowers.  I started with a ring of sunflowers set between the first and second ring.  Position the flower at the midway point between two leaves.
Step 6: Repeat this process with the daisies.  Place them between the second and third ring between the leaves.
Step 7: Once the ring of daisies is complete begin prepping your larger leaves.  These are the oak and the grape leaves.  Just like the flowers in step 1, they pull right off the stems.  The leaves are attached together in a "U" shape.  To add these to your wreath, loop the leaf under the second wire at the midway point between your sunflowers. See the images below.
Pull up on the leaves gently to make sure the base of the "U" is touching the wire wreath form before gluing.  Here's what it will look like when you've repeated the pattern of leaves all the way around.
Step 8: Repeat the previous step again, only this time stagger the leaves slightly and loop them under the third ring.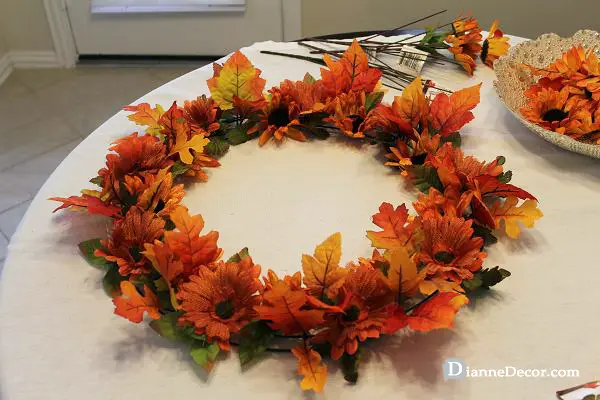 Step 9: We're almost done!  Attach a final row of sunflowers between the third and fourth rings.  Position them so they mirror or appear back to back with the inner row of sunflowers.
Step 10: Fluff our leaves and petals.  Attach extra leaves in any spots that are sparse or show the wire wreath form beneath.  That's it!  You're all done.
This beautiful fall wreath can be hung on your front door, pantry door, or used to create a lovely centerpiece.  I used this on my coffee table and placed a silver bowl I had in the center.
I'm really happy with how this project turned out.  This is the first DIY tutorial I'm posting.  Please let me know how I did.  Comments or suggestions are welcome.
If you liked this post please share it with a friend and follow us on Bloglovin' for more content.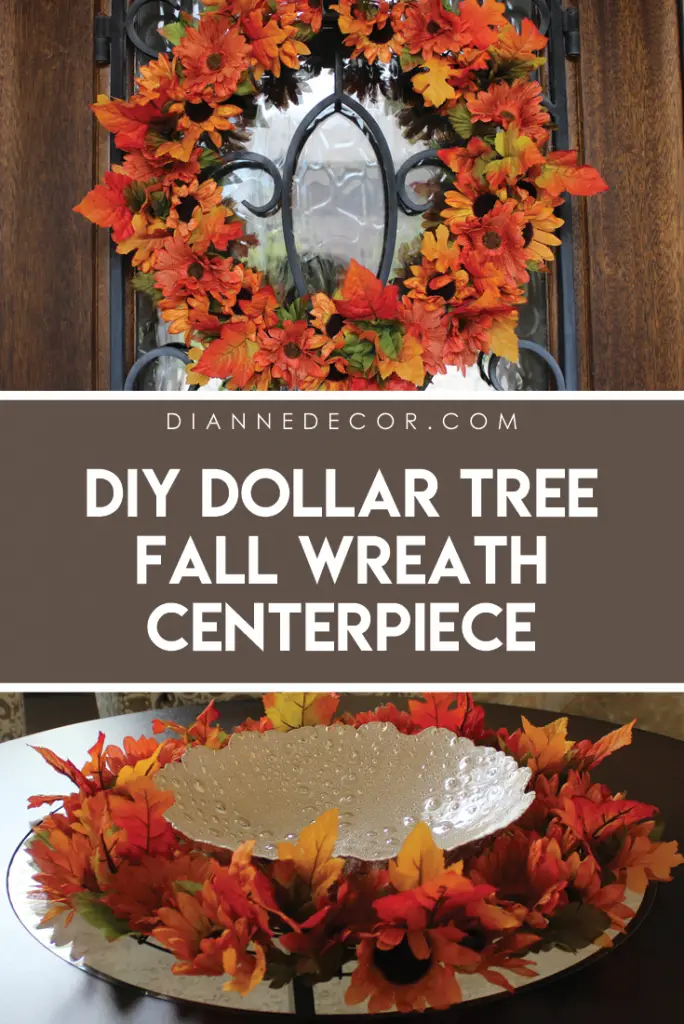 Thanks for reading!
centerpiece
diy centerpiece
diy decor
diy tutorial
diy wreath
dollar tree wreath
fall decor
fall diy
fall diy decor
wreath