Who doesn't want spectacular fall coffee table decor to show off? The fall season is all about gathering together and reconnecting during the holidays.
During this season the focus is on lounging inside, chatting with friends and family, and eating good food.
The living room is the highest traffic area in the home next to the kitchen.
The center of your living room seating area and one of the focal points of the room is the coffee table.
Redecorating your coffee table for each season is part of my Easy Eight Method for Seasonal Decorating.
It's quick, easy, and keeps your home current with each season.
Here are 11 fall coffee table décor ideas to make your living room look fabulous for the fall season. 
Popular Fall Coffee Table Decor
There are some items we see every fall.
They are the symbols of the season and make for fantastic decorative accents to integrate into your fall coffee table decor.
Pumpkins
Pumpkins come in various shapes, sizes, and colors and are perfect for fall coffee table decor.
What's more, you don't have to limit yourself to just pumpkins. You can use gourds and squash as well to add a slight variation.
Whether they are in orange, gold, spotted, or white, it's just not Fall without pumpkins.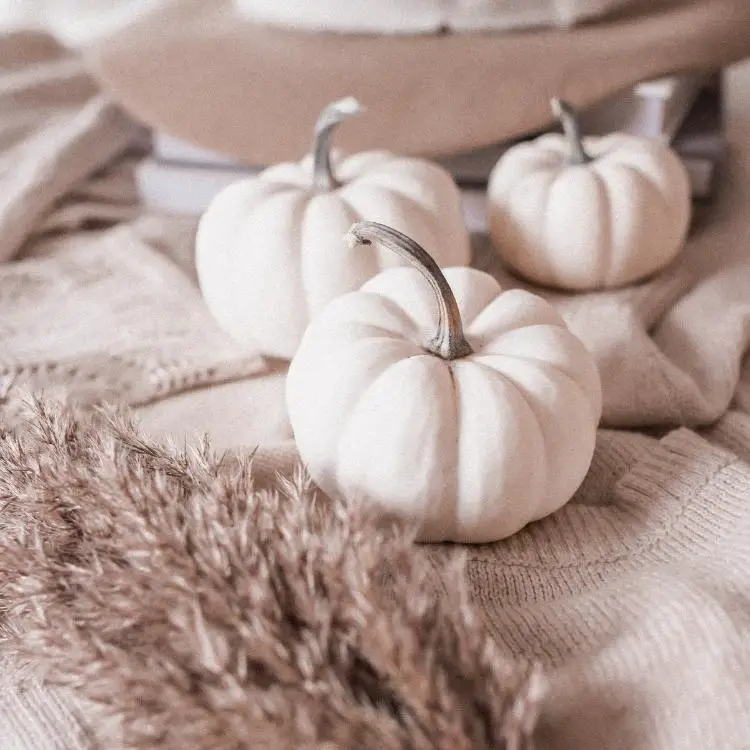 Candles
Musty, spicy, deep scents are popular during the fall season.
Use scented candles in your fall coffee table décor for that warm and cozy feeling.
Even if you don't light them, that hint of enticing fall fragrance is a great addition to your living room display.
Popular choices include pumpkin spice, apple pie, velvet tobacco, mulled cider, vanilla, and fig.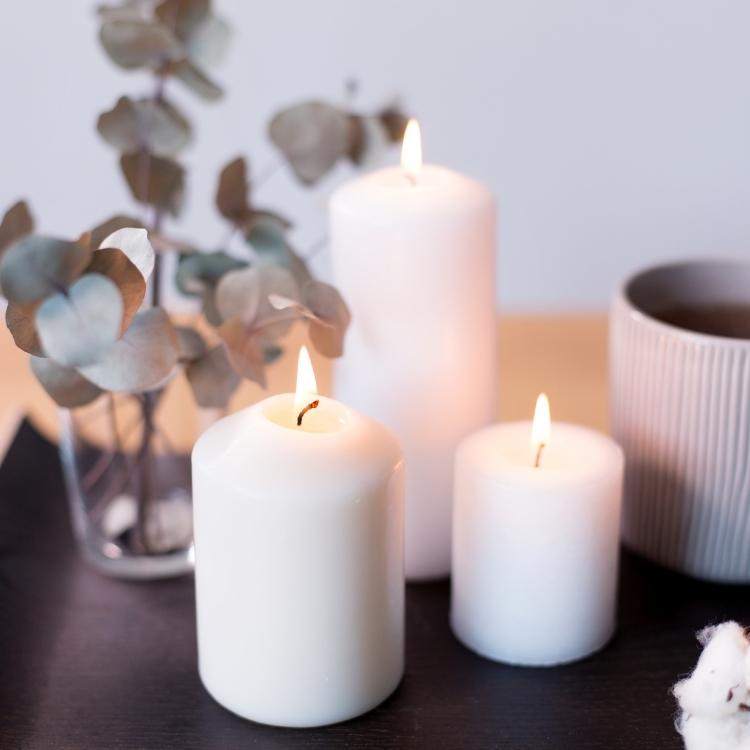 Cotton stems
Cotton stems are one of those beautiful, natural elements that double as home décor. They are a perfect contrast to the rest of the deep colors in the season.
Most faux cotton stem branches come in a long length. This is a great way to naturally make them a focal point of your fall coffee table decor.
While they do have a distinct farmhouse feeling, they'll work well in transitional and modern spaces as well.
They can be paired easily with other fall foliage or stand-alone.
Eucalyptus
Eucalyptus adds a soft, airy touch to your space.
If you have live eucalyptus, a branch or two can add a wonderful scent to your space.
However, more often than not, you'll come across faux Eucalyptus stems, trees, and garlands.
A string of Eucalyptus garland laid across your coffee table is a beautiful base to design around.
It's also great for fall mantels and Thanksgiving tablescapes.
Wheat
Wheat is a classic choice for fall coffee table decor. It can stand alone for a refined look or be mixed in with other dried stems.
Whether trimmed down for a short display or left long and dramatic, you can't go wrong with adding wheat stems to your fall decor.
Grasses
Pampas grass is great all year round. It adds warmth, color, and softness to any space.
Much like the wheat stems, it works as fall coffee table decor in long stems or short.
Beyond the coffee table, grasses are perfect for displaying on bathroom countertops, in floor vases, and even on front porches in the fall.
Baskets
The fall season is about gathering and harvesting crops. Baskets are a symbol of that notion and are a staple fall coffee table decor item.
Because they come in all different shapes and sizes, it's easy to integrate baskets into your coffee table vignette.
For instance, shallow baskets can be used as trays, while small deep baskets can be used as vases.
Long oval baskets can be used to display a collection of pumpkins, acorns, or other decorative fall accessories.
11 Gorgeous Fall Coffee Table Decor Ideas
1. Autumn Books and Flowers
Here's to putting your favorite books in the center of attention.
If I had beautiful-looking books like this, I'd put them on display too!
The muted colors are the perfect compliment to textured plushy pumpkins and the floral arrangement.
This grouping of items is set within a lovely silver tray.
If you've been reading this blog for a while you'll know how much I advocate for a tray on a coffee table.
It just makes good sense. You can pick everything up at once and make space for other things and activities as needed.
This fall coffee table decor idea is a fantastic example of what can be done simply and beautifully.
2. A Bountiful Fall Harvest
Here's a great example of a fall harvest-themed display.
While this looks like it was effortlessly put together, I'm willing to bet it took a lot of careful consideration.
The balance of scale between the large pumpkins, the basket full of small pumpkins, and the vase is fantastic.
The neutral palette of white, orange, and beige is particularly refreshing against the calming wood and basket colors.
The deep colors of the scarf make the light colors of the pumpkins and florals pop even more.
This is a lovely fall coffee table decor idea.
3. Nesting Wooden Bowls
Tiny pumpkins, wheatgrass, and some wooden nesting bowls with bead accents, what's not to love?
This is one of my favorites on this list.
This fall coffee table decor setup is minimal and clean, yet the expertly structured layers make it incredibly interesting.
A mixture of textures, check.
Wooden nesting bowls, check.
Kitschy cute pumpkins, double check! 
4. Pumpkin Luxe Setup
This ultra-luxe setup couldn't be more different from the raw, rustic example above.
It features delicate floral stems, a woven wicker tray, glass jars and glass pumpkins.
The variation of textures is clever, tying together the glass pumpkins as high-end pieces.
This arrangement says "I'm ready for an elevated fall, y'all". 
5. Focus on Mattes
In this fall coffee table decor arrangement, the focus is on burnt orange leaves, matte black beads, and even a matte gold tray.
The mini wooden pumpkin adds a very appropriate natural texture.
The whole palette pairs perfectly with a clean, white, and black combination. This is another example of a minimal display with all the right textures and colors. 
6. Simple Fall Colors in the Living Room
This arrangement shows the natural beauty of fall elements, all in white.
White is always clean and refreshing to look at, and this suits any coastal design. It's also easy to put together.
Organize your all-white pumpkins in a round, whitewashed wooden tray, with a mix of white candles.
Instantly, you have a beautiful monochromatic fall coffee table decor idea that will work for anyone.
7. Classic Fall 2.0
Classic fall colors don't have to look old and outdated. The key is to pick 1 color to feature and create a tone-on-tone display of that color.
Here, deep and light amber tones are on full display.
The glass jar, pumpkin, signage, basket, and even the cognac leather pillow in the background all play up these tones against a neutral black/white/gray backdrop.
It's fabulous! 
8. Green and White Farmhouse Fall
The combination of green and white is not the first thing I think of when it comes to fall colors.
But, this display proves that you don't have to resign yourself to dried wheat and florals to make your display scream fall.
Here, this refreshing arrangement checks all the boxes.
Mini pumpkins are present in a farmhouse-style wire basket, with a fall-scented candle nearby.
A bouquet of green leaves in a mason jar sits atop a ready-to-read hardbound book.
Altogether, this muted fall coffee table display looks balanced, clean, and sophisticated.
9. Calming White Fall Centerpiece
The understated look of this fall coffee table display in wood and white is lovely.
The raw, rough texture of distressed books and bark around the wood tray look spectacular in contrast to the smooth and plush pumpkins.
The candlelight makes this entire styling look warm and inviting.
Moreover, the rustic wood tray helps keep this fall coffee table decor compact, in place, and easily movable.
10. All White Farmhouse
White represents innocence, purity, and cleanliness.
This beautiful setup feels crisp and ambient.
The distinction of the rough cotton branches against the smooth glass pumpkins makes just the right statement for an all-white farmhouse décor.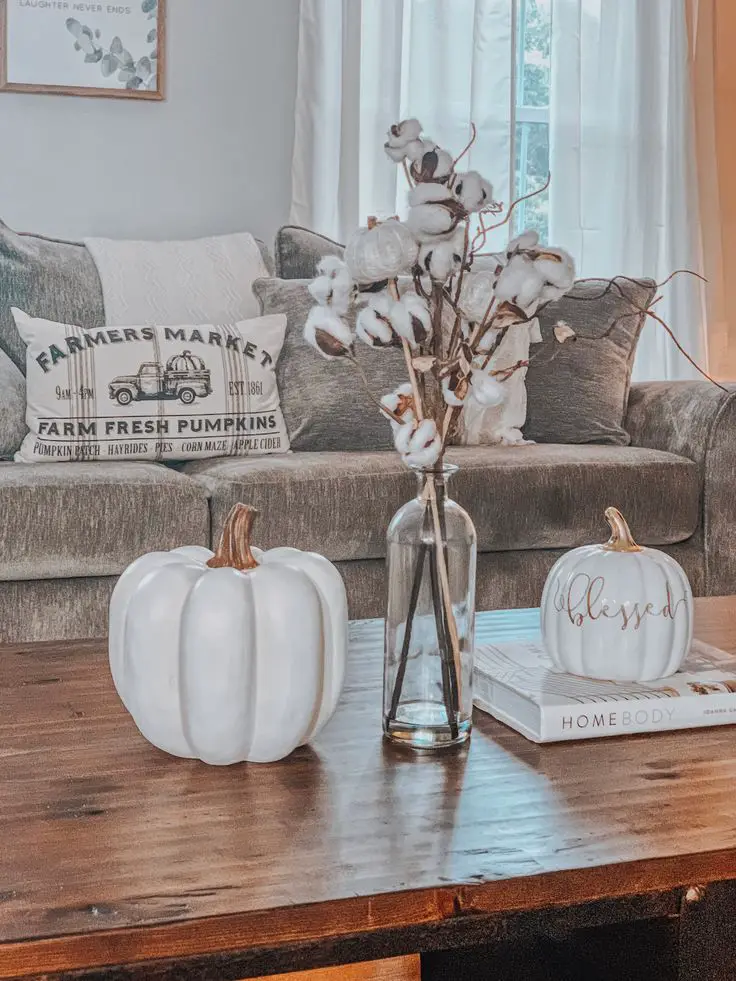 11. Love to Be Home in the Fall
One of the easiest ways to bring fall indoors is to add a splash of the colors you see outside into your home.
For this arrangement, the fall colors can be as simple as orange and beige.
The beautiful arrangement of orange mums is the perfect background for the white mini pumpkins, lantern and candle, and wooden crate.
Overall, the feeling I get from this room is homey and lived in. Everything I want for the fall.
Conclusion
If you want to style your coffee table for fall, follow any one of these beautiful examples and you can't go wrong.
I hope you found this post helpful. If you did, please share it with a friend and follow Dianne Decor on Pinterest, Instagram, and Twitter for more from me.
Here are a few more posts you may enjoy.
Don't forget to join the mailing list before you go. I'll send you a copy of my weekly newsletter filled with weekend reads, decorating inspiration, and the latest deals on home decor.
Thanks for reading!
coffee table decor
fall coffee table decor
fall decor
fall decorating