FTC Disclosure - This post contains affiliate links and I will be compensated if you make a purchase after clicking on my links.
*Item received for free for promotional consideration or a sponsored link.
Organic modern style is quietly taking over interior design. 
Pinterest has reported a surge in the term "organic modern" among its searches. 
In this post, we'll explore this trending style and talk about how we can use it along with other adjacent interior styles to craft a warm and inviting home.
What Is Organic Modern Style of Decorating?
Organic modern plays between rustic elements and contemporary touches. 
The modern style on its own can look cold and without character.  But, incorporating certain organic pieces can feel cozy and inviting. This is what the organic modern style is all about.
Organic modernism combines natural materials and neutral colors with modern design for an elegant, welcoming look. 
The organic modern style creates a refined blend of layered styling and clean lines. 
This style is easy to showcase in your living room, dining room, or bedroom.  But it can, of course, be used in any room of your home.
Moreover, the warm yet sleek look of this style appeals to a wide audience making organic modern style highly sought after.
Hallmarks of the Organic Modern Style
Anyone can pull off the organic modern style. 
By combining nature-inspired pieces and streamlined architectural elements it's easy to create an interesting space that is both sophisticated and cozy.
There's a lot of flexibility with this style as well.  But, before I get into that, let's first talk about the hallmarks of the organic modern style are:
A neutral earth tone color palette (nothing too bold or bright)
Organic and clean lined shapes
Natural materials and textures
These three elements all come together to create the organic modern style of decorating.
And if these three hallmarks sound familiar it's because we see them in several other interior decorating styles.  
Let's take a look.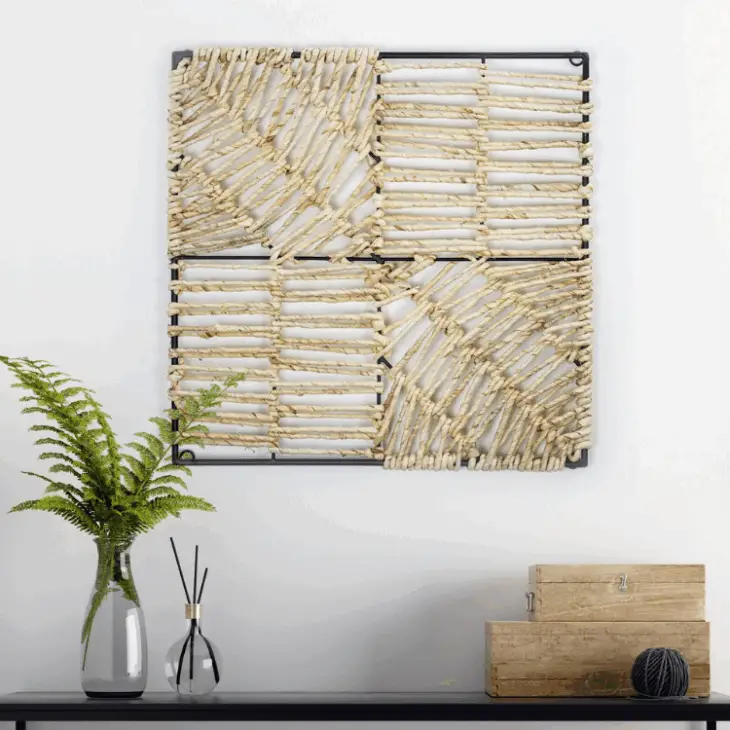 Interior Styles Similar to Organic Modern
Mid-Century 
Mid-Century modern heavily revolves around a particular furniture style and color palette.  Long rectangular silhouettes dominate most items such as sofas, desks, console tables, and bed frames.
Propped up on seemingly disproportionate skinny tapered legs, it's easy to spot this style.
Colors include mid-toned woods like walnut complemented by warm mustard yellow and terracotta tones.
Some mid-century modern furniture features softly rounded edges, most often seen in chairs and sofa arms.
This combination of clean-lined and organic shapes is something we see in organic modern as well.
Scandi
Scandinavian design is close to organic modern due to the minimalist blend of textures and soft earth tones. 
Although in recent years we're seeing more dark tones incorporated in this design style to contrast with its typical clean white backdrop.
This makes for a sleek and modern feel-but also warm and inviting much like Organic Modern. 
The Scandinavian style emphasizes clean lines but with a focus on utility, and simple furnishing that are functional yet cozy. 
Desert Modern 
Desert Modern is described as the fusion of mid-century modern and bohemian, using desert tones and southwestern accents. 
The color palette consists of shades that can be found in the desert, such as camel, sand, and terracotta.  Artwork and patterns featured in textiles are often geometric.
Overall, the feel of desert modern is relaxed and informal. 
Organic Materials & Textures
Incorporating organic textures and material is all about opting for what is natural. 
Go for real wood, stone, or natural fibers for your decorative accents.
Light and mid-toned woods are also very popular in the organic modern style.
The combination of natural materials and muted colors create a calming and relaxing atmosphere.
Skip items that are overly adorned, smoothed, or polished and instead go for things that embrace the natural, raw texture of the materials like ceramic or clay pots, bowls, and other decorative accents.  
The same goes for artwork.  The simpler the better.
Shapes & Silhouettes
Shapes and silhouettes play a big role in the organic modern style of decorating.
Traditional geometric shapes are softened ever so slightly with gently rounded edges.  And while there are curves, we're not talking about bold curved furniture.
Instead, think of the difference between an eased edge countertop and a bullnose countertop (example below).
Transfer that idea to furniture and you have types of silhouettes found in organic modern.  At their core, they are traditional geometric shapes with softened edges.
Organic Modern Furniture
Overall, the primary furnishings such as sofas and tables should have clean lines (rectangular or circular), and accessories such as coffee tables or other décor can be used to bring in more organic shapes. 
If you're feeling a little bold go for reclaimed wood with a live edge as a statement piece of furniture. 
Headboards, side tables, and ottomans are all great ways to showcase more organic forms in your home.
Easy Ways Implement the Organic Modern Style
1. Start with a thorough declutter. Minimize items on tabletops and counters.  Go for statement pieces over collections.
After all, Organic Modern is appealing because it is uncluttered. This is what makes it so calming.  
While it's not exactly minimalist, you should certainly be leaning in that direction for organic modern.  Less is more with this style so start by giving your spaces a good declutter.
2. Brighten your color palette.  Light and bright fabrics and wall colors along with natural stones and woods is the way to go.
On the surface, it may seem like the color palette is a bit washed out.  But, there are lots of rich shades that can be incorporated in Organic Modern such as terracotta, sea glass, and black. 
Just be careful and use them sparingly.  It's the light colors like white, beige, brown, and gray that provide that relaxing ambiance.
As far as wood tones are concerned, these are the easiest to incorporate.  Lighter woods have been trending for a while now and furniture in these shades can easily be found at all major retailers. 
3. Simplify wall art and go for woven or carved pieces and organic shapes.
When it comes to wall art, oversized paintings, or indigenous carvings from natural materials such as wood, stone or metal makes quite the impression. 
Of course, these pieces should be consistent with the overall color palette in your home.
Go for sculptural art of simple tasteful framed artwork over galleries or painted accent walls.
4. Juxtapose straight edges with natural curves.
Organic Modern delivers because it is uncluttered and cozy.  Simple silhouettes and pared-down functional furnishing help to enhance this feeling. 
That being said, this style still encourages you to create a clever mix of straight edges and natural curves. 
In order to maintain an uncluttered space, choose only a handful of large decorative accents to display and give ample breathing room. 
This will always look better than a shelf full of small tchotchkes.
Conclusion
Nature-inspired, muted, and natural, are the calling cards of the Organic Modern decorating style. 
If you're already into Mid-Century Modern, Scandi, Modern Farmhouse, Boho, or even Desert Modern, it's an easy transition into this new style. 
I hope you found this post helpful.  If you did, please share it with a friend and join the mailing list before you go. 
I'll send you a copy of my weekly newsletter filled with weekend reads, decorating inspiration, and the latest deals on home decor.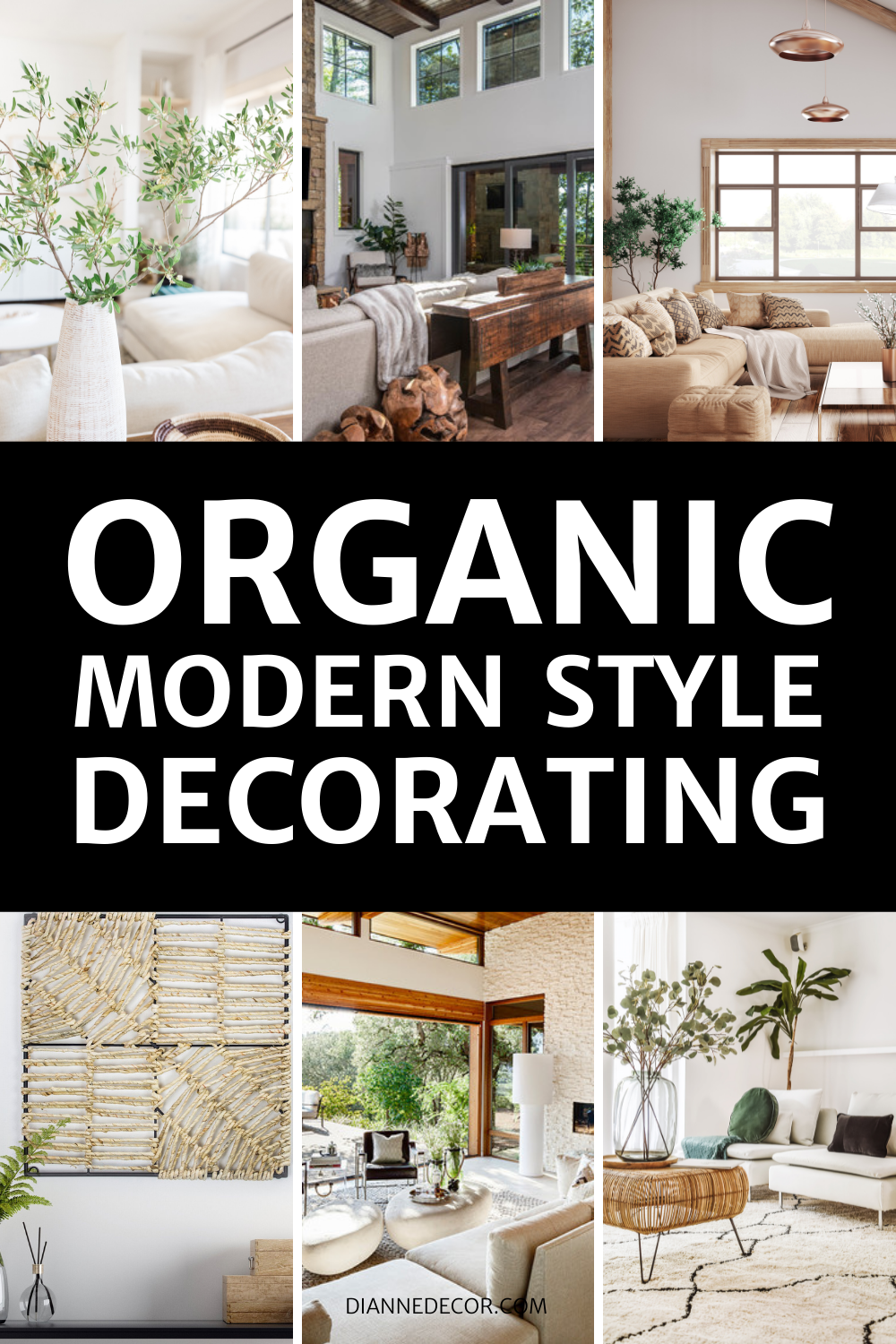 Thanks for reading!
home decorating
interior styles
organic modern
organic modern style