How Do I Choose a Wreath for My Front Door?
With so many different wreath types, styles, and colors it's no surprise you may be asking yourself, "how do I choose a wreath for my front door"?
Each new season brings a fresh opportunity to style your entryway. It's a great time to switch up colors, patterns, materials, and even messages.
Without a doubt, your choice of front door wreath can say a lot about you. If you want to make a great impression on your visitors from the moment they walk up to your door, take the time to choose a great wreath.
However, there are a lot of things to consider beyond aesthetics. These include the about of traffic through your front door, the type of door you have, as well as visibility and security.
In this post, we'll discuss all of those things to help you decide which wreath is best for you.
Let's get started with the different types of front door wreaths.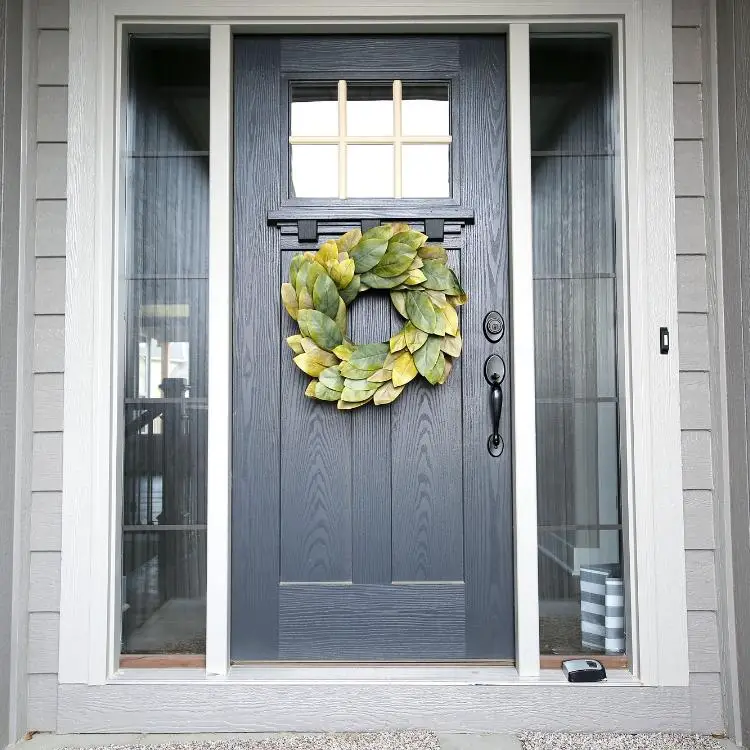 What Are the Different Types of Front Door Wreaths?
There are many types of wreaths that can be displayed on your front door.
Whether you opt for something simple or extravagant, it's all a matter of preference.
So, how do I choose a wreath? Start by narrowing down your preferred wreath type.
What do you want guests and your family to see when they arrive at your door?
Traditional Ring Wreath 
The traditional ring wreath is perhaps the most common one that you will come across.
Most wreaths found in stores are traditional ring wreaths. I'd venture to say 90% of wreaths you'll see on your neighbor's and friend's doors are of this style.
That being said, there is an incredible amount of variety within this category of wreaths.
You can go rustic with grapevine or ethereal with a delicate hoop wreath.
During the holidays you may see ring wreaths made from Christmas ornaments or even Easter eggs.
If you like this traditional look, skip ahead to the section "How Do I Choose a Wreath For My Front Door".
On the other hand, if you want to see all of your wreath-type options, keep reading.
Wood Door Hanger Wreath
The traditional wreath is only one option. Another choice that has been gaining popularity in recent years is the wood door hanger wreath.
There are, however, some pros and cons to weigh with this choice.
You can get incredibly creative with monograms, phrases, or full laser-cut scenes.
Wood door hangers are also very durable and can handle a door slam or two.
As for the cons, they tend to cover peep holes which may prove to be a safety issue for you.
They're also more likely to show wear and tear from the elements.
Painted or stained portions of the door hanger may become faded from the sun, or a poorly sealed hanger may start to show signs of mildew in humid climates.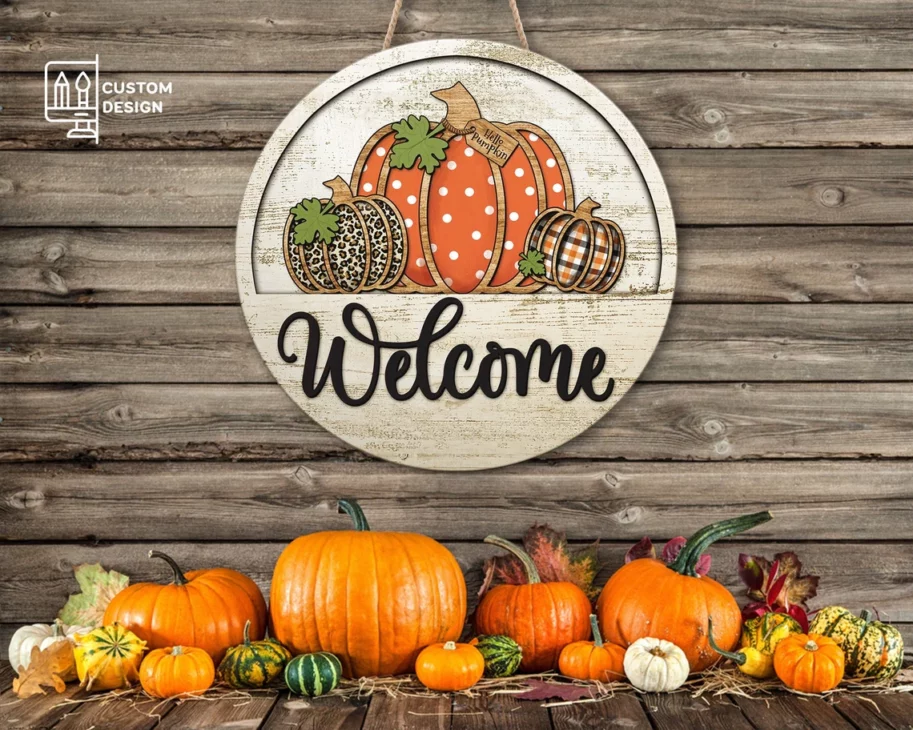 Basket Wreath
How do I choose a wreath when everything looks the same?
If you find yourself asking this question, venture all the way out of the box and forget the traditional ring wreath and door hanger.
Instead, go for something really unique like a basket wreath.
Yes, I said basket wreath.
This style is newer than the others and is great for oversized doors or double doors.
If you have a spacious porch, these can serve as a pretty focal point to lead the eye to the entrance.
Of all the wreath types, basket wreaths tend to be the most expensive.
However, if you don't mind taking on a little DIY project, you can make it very affordable. The biggest hurdle is finding the right basket.
Hobby Lobby and World Market both have options under $20.
Once you've selected your baskets, grab some seasonal floral stems at Dollar Tree or Walmart to complete your look.
Swag Wreath
A swag wreath creates a nice streamlined look as it cascades down your front door.
Play around with flowers, greenery, ribbons, or ornaments depending on the season.
Just like the basket wreaths, a set of swags for a double door entry is a standout look.
Traditional wreath and swag combinations tend to be popular during the Christmas holiday season.
If you can't choose between the two, go for a set and you'll get a fully coordinated front door styling.
Custom Shape Wreath
Last but not least, if you want a unique, showstopping look, a custom shape wreath is the best way to go.
You can choose different common shapes such as an ampersand, heart, or star.
Or, you can look for something more specific that symbolizes a season or a holiday like this witch-hat-shaped wreath below.
Snowmen and Santa hats are popular in the winter and bunny-shaped wreaths are a go-to pick in the spring.
No matter which shape you choose, you're sure to stand out from the crowd. 
How Do I Choose A Wreath For My Front Door?
Now I don't mean to overwhelm you, but the answer to the question, "how do I choose a wreath for my front door" doesn't end with selecting a wreath type alone.
There are other important factors to bear in mind.
The top 4 things to consider when choosing a wreath for your front door are season, door type and traffic, message, and visibility.
Season
A front door wreath is one of the easiest ways to decorate for a new season.  It also gives your house some added curb appeal.
Believe it or not, your wreath can cheer up any passerby when it can be seen from a good distance, and remind them of the festivities for a new season. 
The time of year or season will help you narrow down colors, floral types, and messages.
If you are preparing for winter festivities, your colors will become warmer and darker.
When it's time for spring and summer, you will tend to lean more towards cheerful and pastel colors. 
If you're not up for changing out your wreath each season, choose an all-year-round front door wreath.
Door Type & Traffic
The amount of traffic through your front door is a huge consideration when choosing a wreath.
You don't want something that is too delicate if your front door is your main point of entry/exit to your home.  
Also, consider the type of door you have.
Do you have a plain smooth front door?  Do you have a decorative iron over glass?  
Here's why it matters.
My door, for example, has a scrollwork iron grill mounted over a glass insert.  Because the iron grill protrudes off of my door a traditional over-the-door wreath hook does not lay flush against my door.
This makes my wreaths tend to dangle when I use a traditional over-the-door wreath hook.  
So, I always have to secure my wreath at the bottom to prevent it from swinging and slapping against the door each time it is opened and shut.  
To do this I use a zip tie to attach a section of the wire wreath form to a piece of the iron scrollwork.
If I were to choose a wreath with a foam base or a grapevine wreath it would be trickier. 
So, consider your door type and traffic before you choose your wreath.
Message
Front door wreaths and welcome mats are the perfect way to share a greeting with your guests and neighbors. 
What way to better express your personality than through seasonal greetings right at your doorstep?
Messages can be simple, such as Hello or Welcome. Or they can be seasonal such as Merry Christmas or It's Fall Y'all. 
Or if you want it to be funny or silly, you can wreaths can say My Doorbell Is My Daschund or Silly Rabbit Ate All the Candy.
Depending on the season, humor can set the tone for your guests when they arrive.
Sometimes the answer to the question, "how do I choose a wreath" is as simple as finding one that says what you want to say.
Visibility & Security
Last, but certainly not least, choose a wreath that does not impede your ability to see out. 
While many of us have video doorbells and security cameras, not everyone does.  
Make sure your peephole isn't covered by your wreath if you use it.
Conclusion
How do I choose a front door wreath? Pick one that reflects your tastes and personality.
There are an unbelievable amount of options available. Start by choosing your preferred wreath type and then take time to consider the 4 things outlined above. 
Moreover, it's a staple decorative accent when it comes to seasonal decorating.
I hope this post helped you answer the question, "how do I choose a wreath"?
If it did, please share it with a friend and follow Dianne Decor on Pinterest, Twitter, and Instagram.
Here are a few more posts you may like.
Don't forget to join the mailing list before you go. I'll send you a copy of my weekly newsletter filled with weekend reads, decorating inspiration, and the latest deals on home decor.
Thanks for reading!