FTC Disclosure - This post contains affiliate links and I will be compensated if you make a purchase after clicking on my links.
*Item received for free for promotional consideration or a sponsored link.
If you're a fan of simple home decorating, the idea of having a year round front door wreath probably appeals to you.
While I'm a big advocate for redecorating each season, it's not always the most budget-friendly option.
Furthermore, some people just don't want all the fuss. That doesn't mean, however, that you don't want to present a warm welcome to your guests.
If this sounds like you, a front door wreath that you can use year-round is for you.
In this post, we'll talk about which colors work for all four seasons and which types of wreaths make the most sense for this type of decorating.
Then I'll share some inspiration and examples of my favorite year-round wreath styles to get your ideas flowing.
Let's dive in.
Best All Year Round Wreath Colors
The first color to consider for a year-round front door wreath is green.
The logic behind this is similar to why planting evergreen shrubs in your flowerbeds.  Green is a natural color that will always give with other outdoor elements.
It's also a color that continuously shows up in seasonal decor.
In spring we see light, bright greens, in winter we see deep piney green, in the summer we see rich grass green, and in the fall muted greens are popular.
Blue is another color that's great for a front door wreath.  The same formula works here with light and bright in the spring, rich in the summer, and muted in the fall.
In the winter, there are a lot of icy, snow themes that play off of blue, making it a popular color behind green, red, and white.
Speaking of white, you might want to opt for this classic neutral, however, be aware that bright white will dull over time after being exposed to the elements.
Also, if the exterior colors of your home are rather dark, be aware that you'll end up with a high-contrast look if you choose white.
All Year Round Front Door Wreaths
The best way to stand the test of time through the seasons is to stick with an organic style wreath.  Hone in on styles derived from natural elements like greenery and florals.
Steer clear of anything too flashy like peacock feathers, glitter, or all-ribbon wreaths.
There are a few style options that work really well as front door wreaths year-round.  Below are a few examples.
A rustic wreath with a grapevine base and a monogram initial or simple sign is a great option.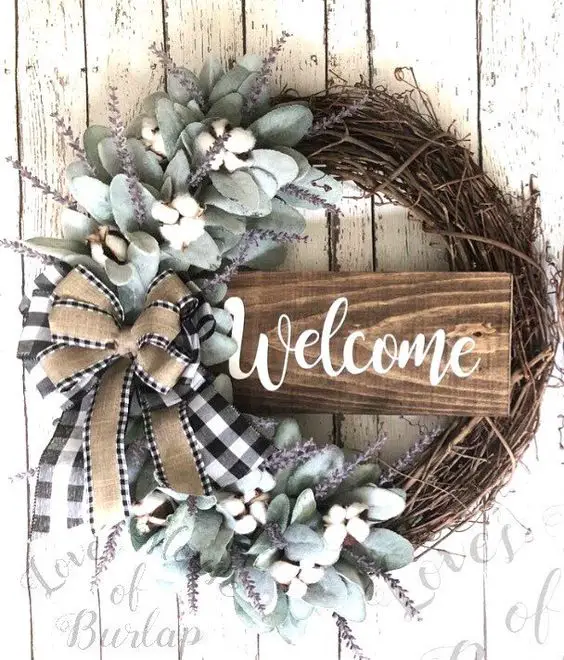 If you like the idea of a muted green wreath with just a bit of whimsy, go for a eucalyptus wreath.
A structured boxwood wreath is a classic and will look great on any front door.
Combining a grapevine wreath with some cotton stems will give you a nice rustic look while also adding a bit of interest to your front door.
For an alternative wreath style consider a basket wreath filled with florals or greenery.
Who says every wreath has to be circular?  Add a personal touch (or a chic symbol) to your front door.  As a plus, boxwood greenery fits every season and will never look out of place.
If you're all about an eclectic all-season look, consider a multicolored wreath like this.  It has a touch of every season's quintessential colors and blends them all expertly, giving you a look that's always in-season.
If you like shaking things up, you could always leave the wreath up year-round, but add seasonal touches to it.
People tend to associate florals with spring, but they can easily be incorporated into year-round decor if they're executed properly.
This combination of eclectic wildflowers blended with a mixture of greenery is fresh and lively without seeming too stuck in any one season.
If you love florals, lavender never goes out of season – or out of style.  This wreath feels fresh and vibrant and provides a lot of visual movement.
It would go well warming up a crisp white door, or it could add a pop of color to any home with a neutral façade.
If your home leans into the rustic-chic aesthetic, consider something like this.
Incorporating neutral twigs with a smattering of delicate blossoms gives a touch of understated femininity that goes with any season.
Just be sure to keep an eye on it and clean it regularly to keep the blossoms from getting dingey.
Who says greenery has to be understated?  This wreath's bold magnolia leaves stand out visually without relying on added embellishment, meaning it'll stay stylish and relevant throughout the whole year.
It also looks very clean and modern.
If your heart belongs to the beach, consider straying from the traditional botanical wreath and instead paying homage to the ocean. 
Brown doesn't have to stay relegated to fall for your front door, especially when it's paired with other modern neutrals. This clean-lined, modern pick is great for a home that keeps it simple.
If you want to warm up your front door without going too traditional, or if you like to keep things simple, consider a half-wreath.
It adds a touch of personalization, and the addition of metallic tones keeps it sleek and modern.
If standalone botanicals feel too minimalist and florals feel like too much, try decor that incorporates fruit.
The lemons in this wreath add a pop of color and a bit of fun but don't feel overly frilly or feminine.
If you want the coziness of a wreath but can't find one that fits with your modern farmhouse aesthetic, a shiplap design like this is a great idea.
The design fills the same function as a wreath, but with a twist that feels nostalgic and modern at the same time.
It can be challenging to nail an eclectic front door look like this, but if it suits the style of your home, I say go for it.  When it goes right, it can't be beaten.
The wood stain ties well with any style of exterior, the burlap adds warmth, and you still get a touch of greenery. 
I'm finishing with this one to prove that even vibrant, colorful wreaths can be used year-round in the right situation.
If your eye is drawn to colors that are traditionally associated with a specific season (like the white, pink, and purple in this wreath), you don't necessarily have to fight that.  If it goes with the rest of your aesthetic, lean into it!
Year-round doesn't have to mean neutral, simple, or plain.  If a bold choice matches your aesthetic, go for it – but be deliberate about it.
Conclusion
I hope you found this post helpful.  If you did please share it with a friend and follow Dianne Decor on Medium and Instagram.
To have my latest posts delivered directly to your inbox join the mailing list before you go.  I'll send you a copy of my weekly newsletter filled with weekend reads, decorating inspiration, and the latest deals on home decor.
Thanks for reading.
Thanks for reading!
all year round wreath
door wreath
entryway decor
front door wreath
wreath
year round wreath