14 Sweet Spring Tablescape Ideas
FTC Disclosure - This post contains affiliate links and I will be compensated if you make a purchase after clicking on my links.
*Item received for free for promotional consideration or a sponsored link.
Hey there, party people! Are you getting ready for a fancy feast at your place? Well, get ready to impress your guests with these spring tablescape ideas.
Tablescaping is all about setting up a table in a way that's as stylish as it is social, and even has its own competitions!
It's like landscaping for your dinner table, and it was first called out by TV chef Sandra Lee in 2003.
Sure, tablescaping is usually at its peak during Thanksgiving, Christmas, and New Year's, but with spring in full bloom, why not take advantage of all those beautiful colors and make your table pop?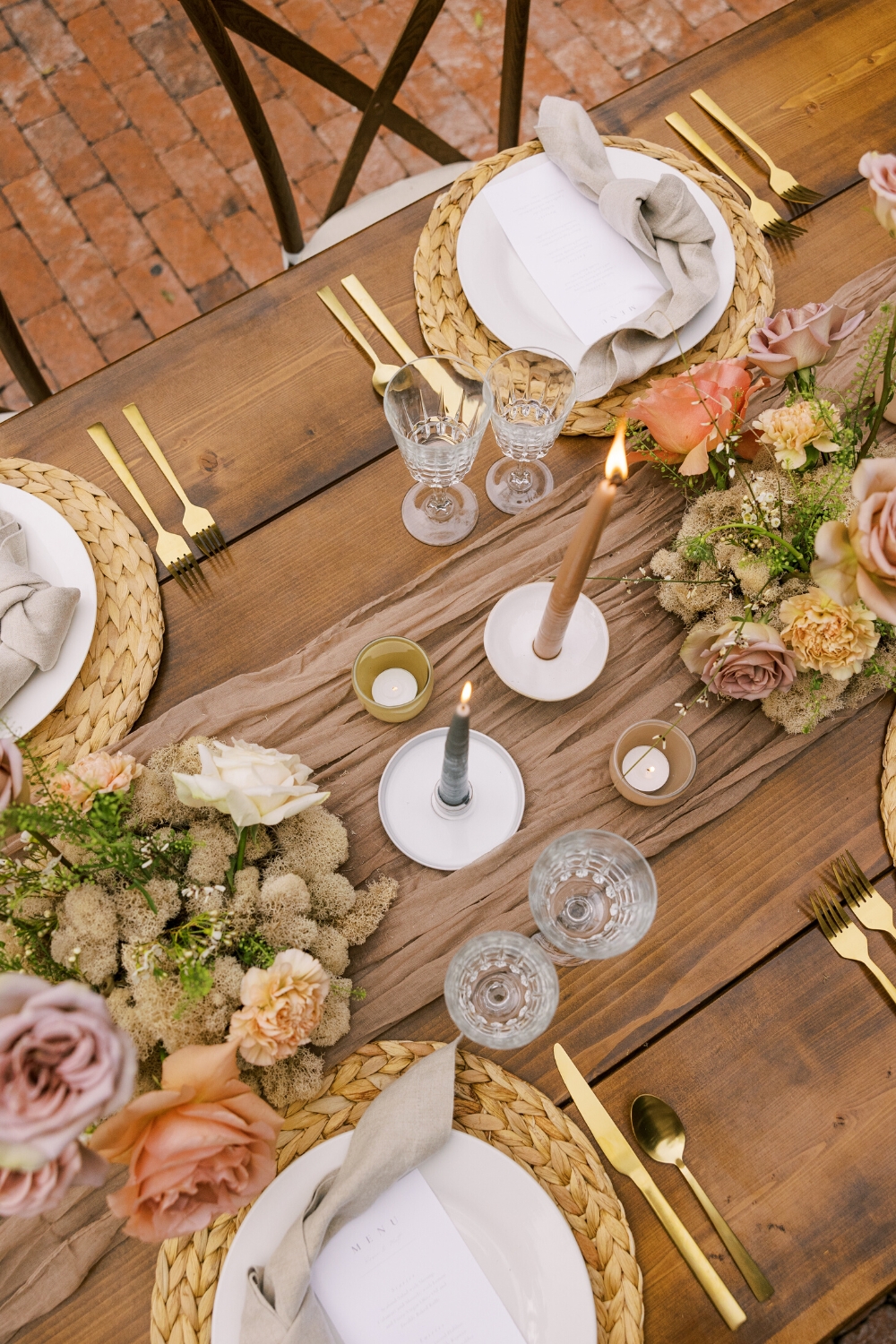 Wow your guests with a stunning table setting!
Tablescaping isn't just for special occasions, it can be a fun way to set the mood for an intimate dinner with your loved one, or for a close gathering with friends and family.
And it's not just limited to social events – you can even use tablescaping to impress potential buyers when showing off your home or to dazzle some relatives dropping by for a visit.
So go ahead, let your creativity run wild, and see how tablescaping can transform your dining experience!


Tip 1: Mix and Match Chargers and Cutlery

Let's talk about mixing and matching charger plates and cutlery, because half the fun of tablescaping is finding the perfect pairings.
Depending on your theme, you can go wild and mix patterns and colors to create a vibrant and eye-catching table setting.
To keep things cohesive, try sticking to a consistent color palette and incorporating flowers and accessories that complement your chosen colors.
With the right selection of goblets, charger plates, candlesticks, and floral arrangements, you can set the mood and impress your guests.
Don't be afraid to play around and find the perfect combination for your next sit-down affair!
Tip 2: Don't forget the details!
If you're the type of person who loves to plan and mix things up, you know that the little things can make a big impact.
When it comes to tablescaping, paying attention to the details can take your table from basic to beautiful.
You don't have to go overboard, though. Handwriting place cards can be a bit much, but in today's world, you can get creative and assign small figurines to each guest.
It's a fun and unique way to personalize each place setting.
If you're a stickler for details, don't forget to pick out the perfect napkins and napkin ring holders to match your theme.
And if you've been practicing your napkin folding skills, now's the time to show them off!
Spring weather can still be chilly, so candles are a great way to add warmth and romance to your intimate gathering.
And if you want to take things up a notch, throw in some figurines of varying sizes to complete the look.
Your table will be a feast for the eyes as well as the stomach!
Tip 3: Let's Talk Seating
When it comes to being a great host, seating your guests in the right way is key. You don't want to leave anyone feeling awkward or uncomfortable at the table.
One trick is to seat people together who have a lot in common, like those sisters-in-law who always have a lot to catch up on or those cousins who love to reminisce about old times.
If you're hosting a mix of people who don't know each other, it can be a good idea to seat them next to someone who can help break the ice.
And if you want two people to hit it off, make sure they're seated close together or across from each other.
That way, they can chat without having to raise their voices over the clinking of silverware.
15 Inspirational Spring Tablescape Ideas
1. Blush and Florals:

Looking for a table setting that exudes sentimentality? This blush and floral theme is perfect for a spring or summer outdoor gathering.
The organic materials used create a simple yet elegant vibe.
A branch of leaves adds layers to the floral napkin that is held together by a gold napkin ring.
The centerpiece is a low arrangement of pink roses and white flowers that are given dimension by blush watercolor place cards.
I have to admit, this is one of my favorite spring tablescape ideas on this list. I had to put it first.
2. Spring Brunch:
For a ladies' brunch, this table setting is ideal.
The pink and gold accents are complemented by the contrast of black and white striped candles.
Floral table runners are one of those classic spring tablescape ideas. This one is accentuated with two vases of pink tulips in the center.
The gold charger plates and cutlery further enhance the overall look of the setting.
3. Blue Porcelain:
The blue and white china used in this setting has a rich history that has graced the homes of western royalty.
The blue porcelain is framed by an all-white charger plate with exquisite details.
It is complemented by blue glass goblets, silver cutlery, and lovely white and blush flowers as a centerpiece.
4. Green and White Easter:
Looking for an Easter table setting that is both soothing and adorable?
The centerpiece of this table setting uses Easter eggs together with potted green leaves, low candles, and white rabbit figurines.
The overall neutral palette is further enhanced by a green patterned placemat.
5. Yellow and Blue French Country:
Yellow is a cheerful color that can sometimes be difficult to pair with other colors.
This table setting does it right by matching it with a lovely blue that perfectly complements the yellow dainty roses.
The printed blue and yellow table runner is perfectly matched with the printed napkins on each plate.
6. Citrus Country Chic
This classy tablescape is perfect for a wine country meal with its simple yet eye-catching citrus elements.
Oranges, grapefruits, and lemons are beautifully arranged with fresh leaves, while raffia placemats serve as a natural background to the layered plates framing a striped pastel yellow napkin.
The citrus colors make it perfect for both spring and summer occasions.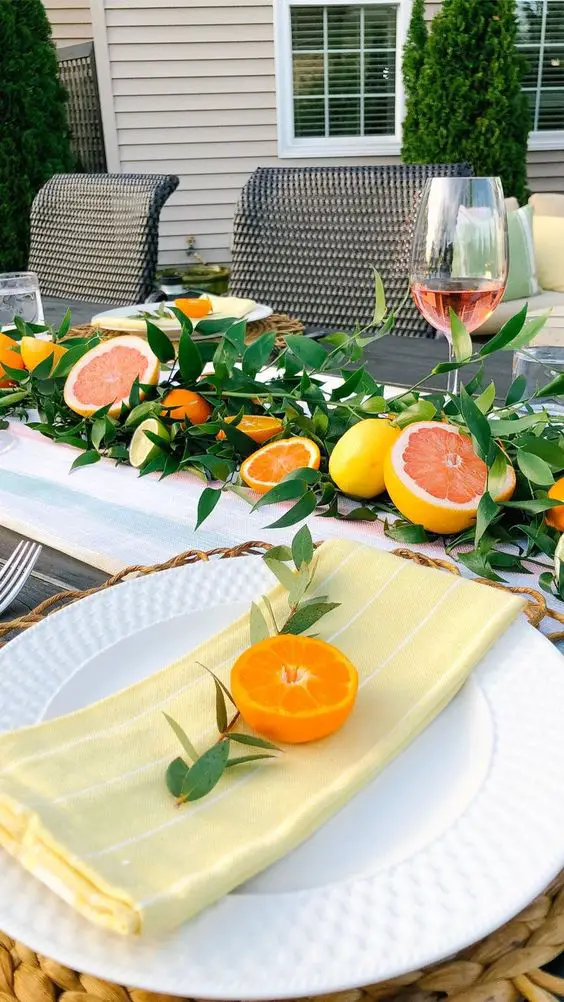 7. Breezy Neutrals
The inviting appeal of this setup comes from its all-neutral palette.
The centerpiece makes a big statement, making it suitable for any spring party or simple dinner.
The simple white dinnerware and hyacinth chargers make up each place setting, creating a casual and effortless look.
8. Golden Glow
This table setting exudes warmth with its simple votives, few flowers, and matching vintage goldware and glasses.
The classic white dishes and taper candles give it an intimate and modern feel, creating a comfortable ambiance perfect for any occasion.
9. Colorful Spring Flowers
The colorful collection of spring flowers complements the pastel tableware and colorful sleek candles in this setup, giving any industrial-themed venue a contemporary vibe.
It creates a strong and striking urban style, making it perfect for bold spring events.
The flowers are the star of the show, creating a stunning tablescape.
10. Intimate Dainty Tulips
Creating an intimate table setting doesn't have to be expensive.
Hyacinth chargers serve as the perfect base for white ceramic pinpoint plates layered with scalloped floral plates.
Pink buffalo plaid napkins add just the right contrast to the neutral tablecloth, perfect for spring.
For a subtle classy detail, gold flatware that won't rust or fade is the way to go.
Lastly, white ceramic bunnies against pink glass tumblers add a precious touch, while fresh tulips with stems add a cheerful element to the setting.
11. Rustic Candy Pastel
This simple and effortless tablescape is perfect for those who are leaning towards the rustic farmhouse theme.
Classic pink glasses are paired with silverware, pastel pink napkins, and branches of blooms in a low, white vase.
The highlight of this setup is the white bunny figurine guarding the overload of tiny pastel eggs, which adds a meaningful touch to the overall look.
12. Vintage Copper Easter Table
This whimsical yet feminine tablescape sets the tone with old rose colors and vintage copper elements.
Consistency is maintained by keeping the dinner plates, napkin rings, and serveware in white, allowing the more colorful pieces to pop.
Gorgeous spring flowers, votive candles, and pastel mini eggs complete the look.
GET THE LOOK
13. Modern Black and White Easter
The black and white color scheme gives this Easter tablescape a modern and classy look.
Orange carrots add a pop of color to the neutral palette, while the gray sculpture serves as the centerpiece in a bed of hay, surrounded by black and white eggs and greenery.
Bunny plates layered on buffalo plaids and striped linen placemats complete the look.
14. Colorful Egg Hunt
This intimate table setting features colorful pastel eggs, making it perfect for an Easter Sunday brunch.
The darling Lenox Butterfly Meadow pieces are also incorporated, adding to the casual vibe.
The place settings are kept simple with woven placemats, beveled goblets, and florals on each plate to fill the space.
Overall, the look is tailored and thoughtful.
Conclusion
For tablescaping this spring, your creativity is the limit. Feel free to mix and match charger plates, cutlery, glassware and other dinnerware.
Details also add such as plain and printed patterns on linen.
Candles, flowers, figurines, and candy add a huge difference too.
Sticking to a consistent color palette helps with determining the overall look.
Spring is the right transition to a breezy season, recovering from winter.
It's the right time to also catch up with loved ones through a meal, and your tablescaping skills might just need a debut soon enough.

I hope you found this post helpful. If you did, please share it with a friend and follow Dianne Decor on Pinterest and Instagram.

Here are some related posts you may like:



Don't forget to join the mailing list before you go. I'll send you a copy of my weekly newsletter filled with weekend reads, decorating inspiration, and the latest deals on home decor.
Thanks for reading!