FTC Disclosure - This post contains affiliate links and I will be compensated if you make a purchase after clicking on my links.
*Item received for free for promotional consideration or a sponsored link.
When walking into your home office you should smile and feel ready to get to work.  After all, why give up the cubicle to be stuck in a room you don't like.
For many of us, our home office is the place where we're working to make our dreams come true.
Whether you're using it full time or after work at a conventional gig, it needs to be functional, comfortable, inspiring, and beautiful.
When it comes to choosing an interior style for your office there are many options available.
You can go for mid-century modern, modern industrial, chic and sophisticated, or my personal favorite, a glam home office.
Yet, no matter which interior style you choose, there are a few key elements you need to create the home office of your dreams.  Let's take a look at each.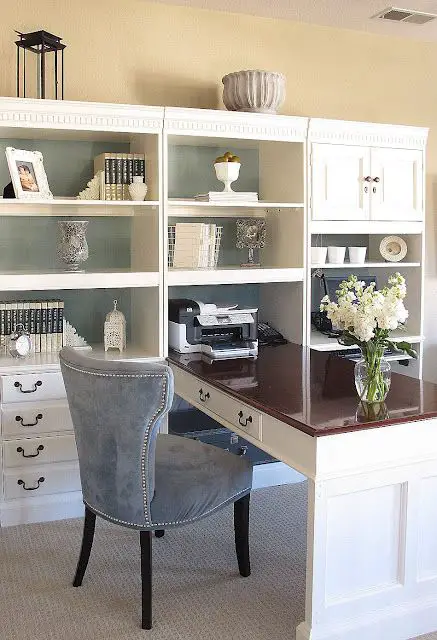 Home Office Decorating Must-Haves
1. Ample Workspace
Having ample workspace does not mean you need a large room.  It simply means you need a clean desk and space to maneuver.
Try not to over-decorate your desktop with too many accessories.  It's hard to be productive when you can't move your computer mouse without bumping into things.
You should be able to use your devices freely and write on a piece of paper that's bigger than a post-it pad.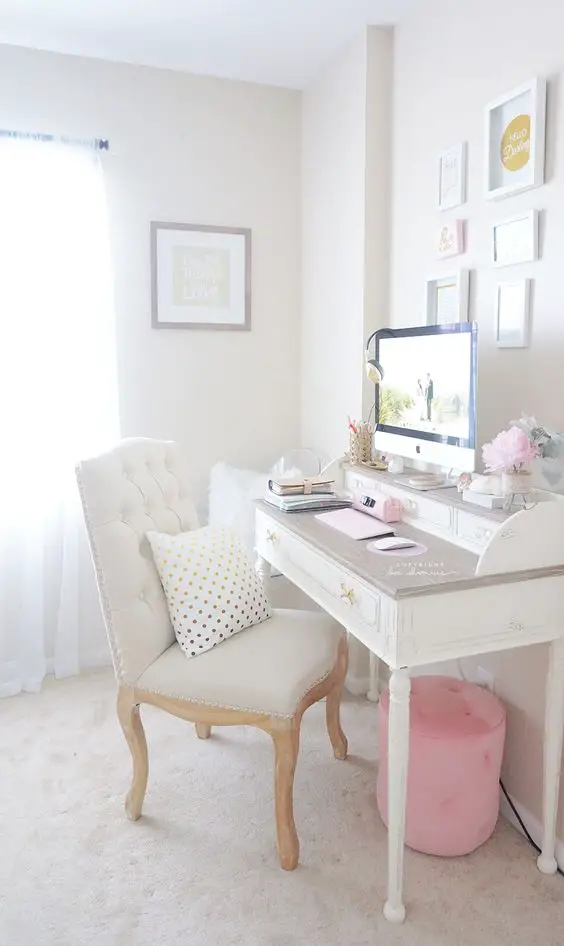 2. Comfortable Seating
When it comes to seating there are a ton of options.  You could go for a traditional office chair or even a fancy leather executive chair.
However, if you want to glam up your room consider something a bit unconventional like a parsons chair or a wingback chair.
These are great, comfortable options that will soften the overall look of the room with their upholstery.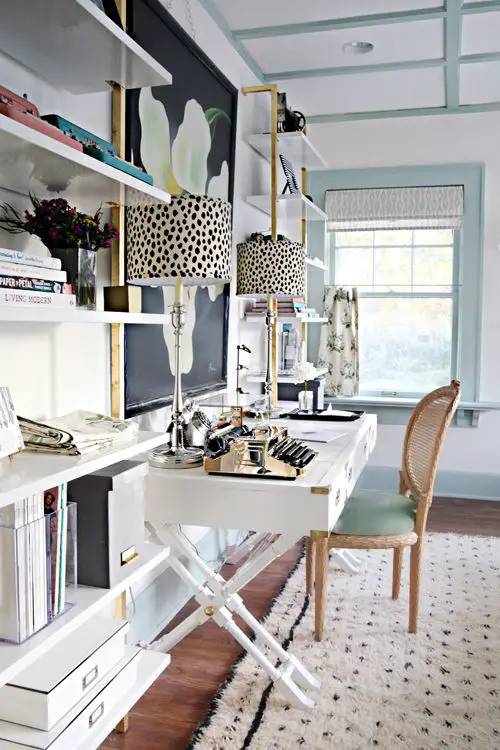 3. Supplemental Lighting
Whether it's a floor lamp or a desk lamp, add a secondary lighting source to your room.  You may find it more comfortable to use these in the early morning or late evening hours instead of bright overhead lights.
Alternatively, you can install a dimmer switch and upgrade your overhead lights to a nice chandelier.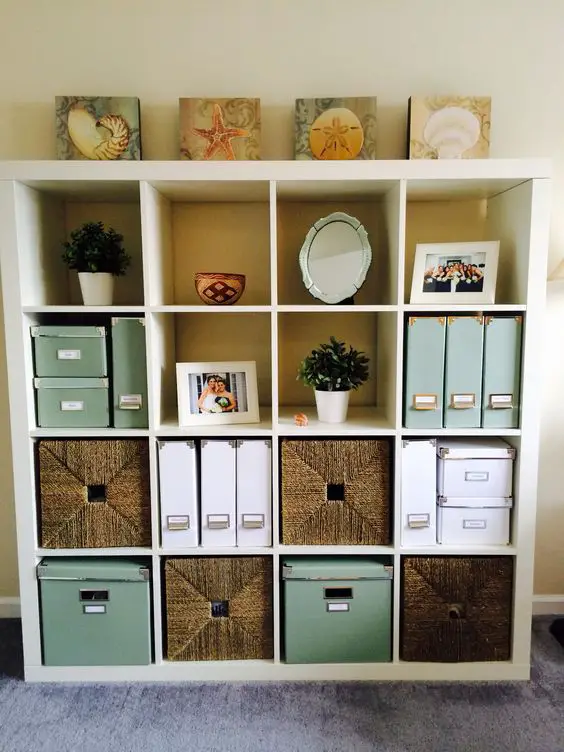 4. Organized Storage
Hanging files, storage boxes, storage bins, etc. should be labeled and easily accessible.
A big part of keeping your office neat and tidy is having your paperwork in check.  Piles and piles of documents in an inbox benefits no one.
It looks messy and will sit there as a constant reminder of things you have yet to address.
It's very hard to be creative and productive in that kind of environment.
Create an organization and storage system that is functional and minimizes visual clutter.
5. The Extras
Okay, here comes the fun.
Now that you have the functional parts of your office taken care of, go ahead and add in a few extras.
Wall decor, area rug, house plants, and maybe a few glam accessories.
Quill.com has some great DIY projects that are perfect for creating an extra special space.  Check out their post "5 Ways to Make Your Boring Office Glam" for more ideas.
5 ways to make your boring office extra glam
Infographic by
Quill
Conclusion
Do you have any tips or advice for creating the home office of your dreams?  Please share below in the comments
For more home office inspiration check out "10 Outstanding Office Sheds".
If you liked this post share it with a friend and follow Dianne Decor on Bloglovin' for more content.
Thanks for reading!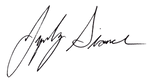 decor
home decor
home office
interior design
interiors
office decor
office decorating
workspace