FTC Disclosure - This post contains affiliate links and I will be compensated if you make a purchase after clicking on my links.
*Item received for free for promotional consideration or a sponsored link.
It's official! Ultra violet is Pantone's color of the year for 2018.  Expect to see a lot of purple in the coming months.  I have to say, we couldn't have asked for a more versatile color.  Regardless of the season, ultra violet will be easy to work into your home decor.
As with all trends, it's best to stick with easily changeable accents.  Avoid renovating your whole home and painting entire rooms.  A simple accent here and there will create a lovely, on-trend look for your home this year.  Here are 15 easy ways to decorate with ultraviolet.
15 Ways to Decorate With Ultra Violet
1. Towels
Hand towels, dish towels, bath towels, washcloths, and sponges are great functional accents.  Not will you use them, they're also highly visible and will be seen by at least one person every day.
2. Wall Art and Decor
A beautiful painting with splashes of ultraviolet, or a wall clock is a great addition to a sitting room, bedroom, or office.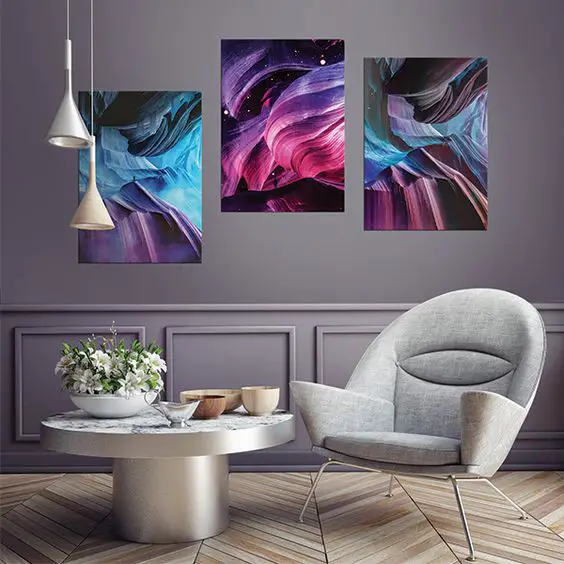 3. Furniture
Ultra violet accent furniture such as end tables, coffee tables, ottomans, chairs, sofas, shelves, etc. can really make your space unique.  This is a great opportunity to upcycle some second hand furniture and make it a statement piece with a bit of paint or upholstery.
4. Rugs
Anchoring your space with this color in the form of an area rug is a great option.
5. Wall Color/Wallpaper/Tile
There are many options when it comes to incorporating a new color into your walls.  This can be done with a simple bucket of paint, or a nice wallpaper.  A self-adhesive tile backsplash would also be a great choice.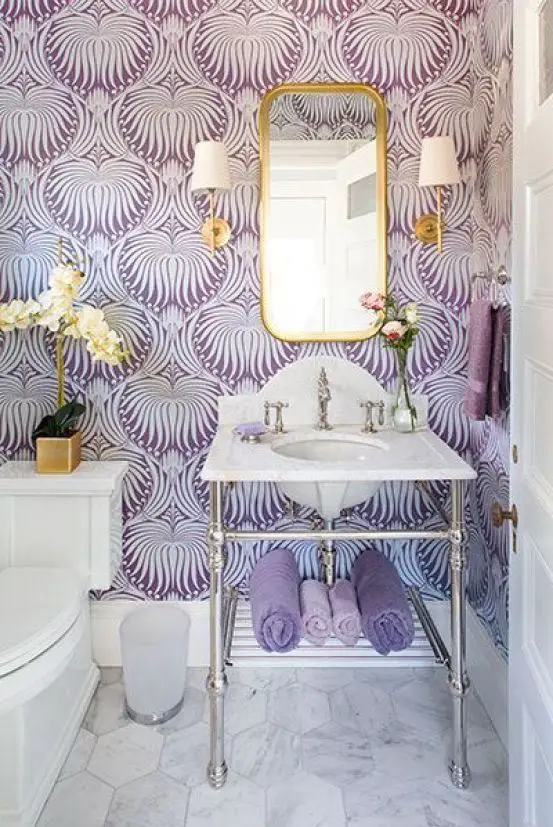 6. Appliances
We've seen custom colored appliances for a while now.  If you like this look.  Why not go for ultra violet.  A coordinated standing mixer, toaster, or microwave will certainly get your kitchen on-trend.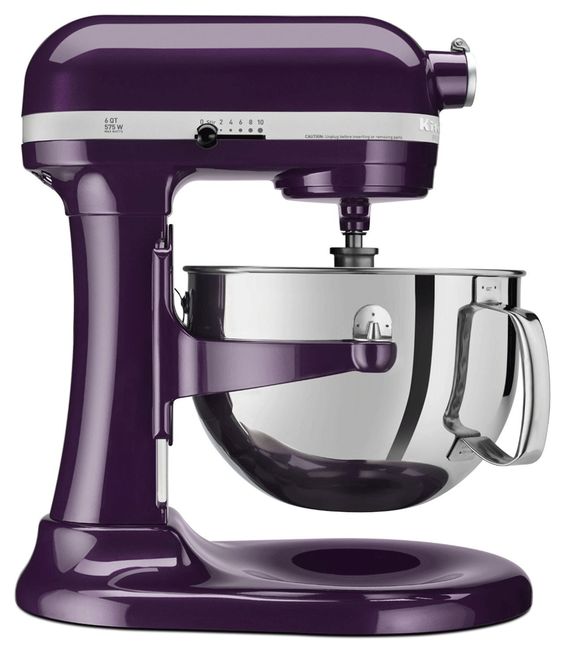 7. Table Accents
Small table accents such as figurines, decorated plates, and bathroom accessories are an easy, fun option.
8. Mirrors
A painted mirror is another great weekend DIY project.
9. Pillows
Throw pillows on your sofa or chairs are a surefire, easy way to update your space quickly.  Ultraviolet pillows will carry you through spring and summer easily.
Save money and grab some decorative pillow covers from Amazon and use the pillows you already have.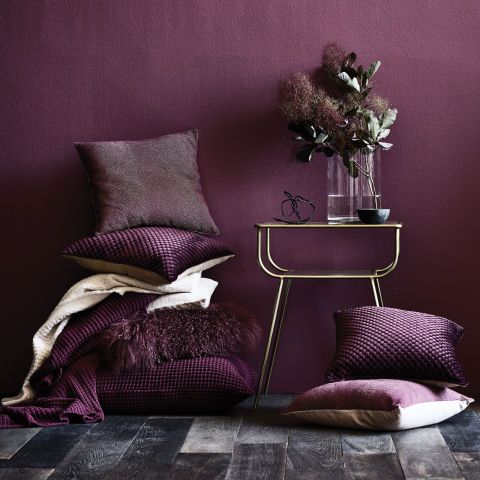 10. Flowers & Vases
Create a gorgeous centerpiece with some real or artificial flowers.  Think violets, sage, wisteria, or butterfly bush.  Or, opt for a purple vase and any color flower you'd like.
11. Soaps
This may seem like cheating, but purple-colored hand soap in a recycled clear pump is about as easy as it gets and looks pretty.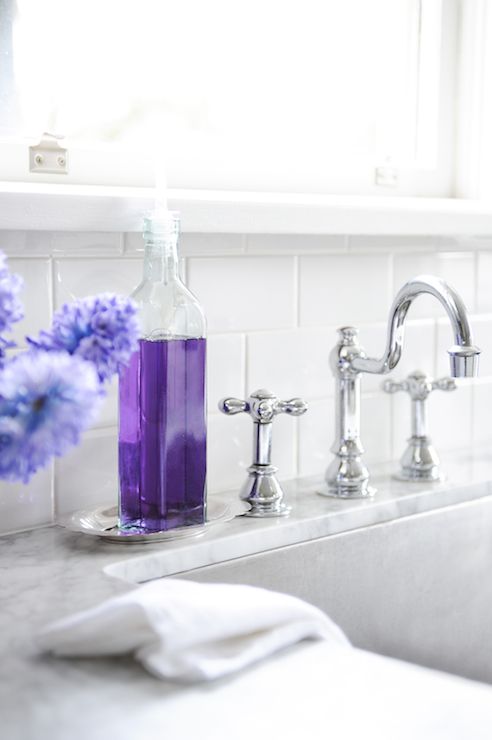 12. Candles and Candleholders
Here's another easy option.  Candles and candle holders can be easily found in a variety of colors.  They're also inexpensive.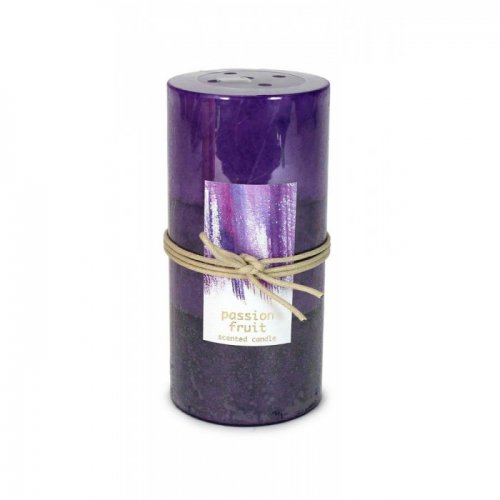 13. Bedding & Blankets
Add ultra violet to your bedroom decor by switching out your bedding or adding a throw blanket.
14. Glassware and Servingware
Think Dollar Tree or Target Dollar Spot for an inexpensive set of colored glass and plasticware.  Ultraviolet glasses and napkins would make for an incredible tablescape on your summer patio.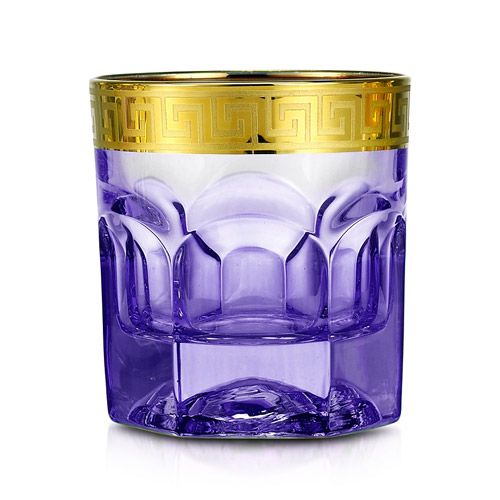 15. Wreath
Yet another great DIY project.  Wreaths for your front door will look warm and inviting with a little ultraviolet added to it.  You can make a wreath from scratch easily.
There are a ton of great tutorials on YouTube.
Or, you add some artificial flowers or ribbon to a wreath you already have.
Conclusion
Please comment below if you have any other ideas for jumping on the ultraviolet trend this year.  If you liked this post please share it with a friend and follow Dianne Decor on Bloglovin' and Instagram.
To have my latest posts delivered directly to your inbox, join the mailing list before you go.  I'll send you my weekly newsletter filled with weekend reads, decorating inspiration, and home decor deals.
Thanks for reading!
color of the year
color of the year 2018
pantone color of the year
pantone ultra violet
pantone ultraviolet
purple decor
purple home decor
ultra violet
ultra violet decor
ultraviolet
ultraviolet decor