What To Put In A Guest Room Basket
FTC Disclosure - This post contains affiliate links and I will be compensated if you make a purchase after clicking on my links.
*Item received for free for promotional consideration or a sponsored link.
Taking a few extra moments to prepare a guest room basket is always worthwhile.  Your friends and family will greatly appreciate the extra effort from you.
It will also help ease your hosting duties throughout their stay.
In this post, we'll talk about what to put in a guest bedroom basket, how big it should be, and why you should create one in the first place.
Let's get started.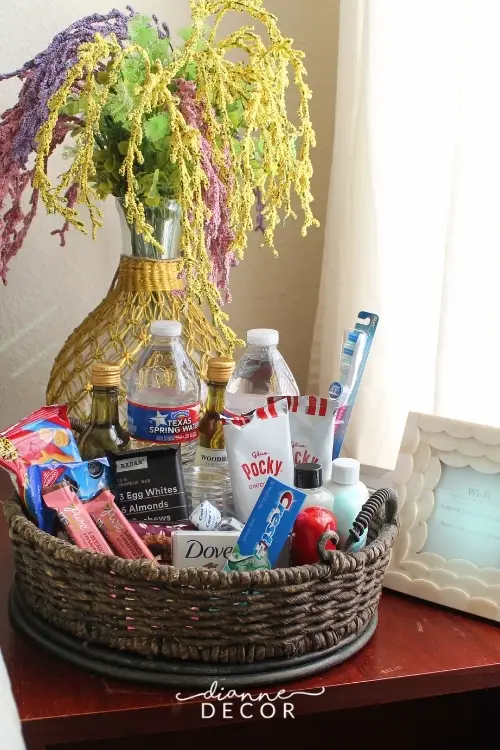 What Is A Guest Room Basket?
A guest room basket is a small container or basket filled with essential items your guests will need during an overnight stay at your home.
Items often included are travel-size toiletries, bottles of water, small snacks, a Wi-Fi information card, and the remote control if you have a television in the room. 
This can be as simple or as elaborate as you want to make it.  Yet, no matter how you choose to style your guest room basket, there are a few staples that you should always include.
We'll talk about what those staple items are in a moment.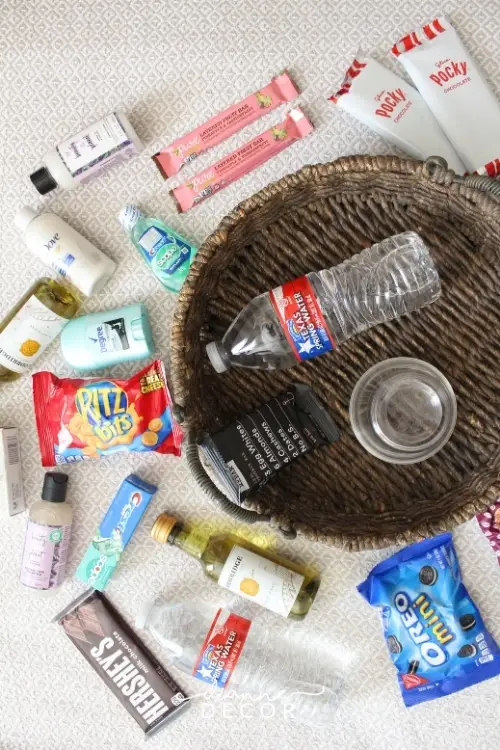 How Big Should A Guest Basket Be?
The best size for a guest basket is 6 – 12 inches in width and no more than three inches deep.  If you have a circular basket, opted for something no more than 12 inches in diameter.
When it comes to creating this type of home entertaining tool, bigger is not always better.
A guest basket should be small enough to rest on a side table or nightstand without taking up too much space.  The best thing to use to create a guest room basket is a small storage basket.
These are inexpensive and can be found at just about any discount store, like Dollar Tree, Dollar General, and the 99 cents only stores.
If you want something woven, like a wicker or rattan basket, try Michaels or Target.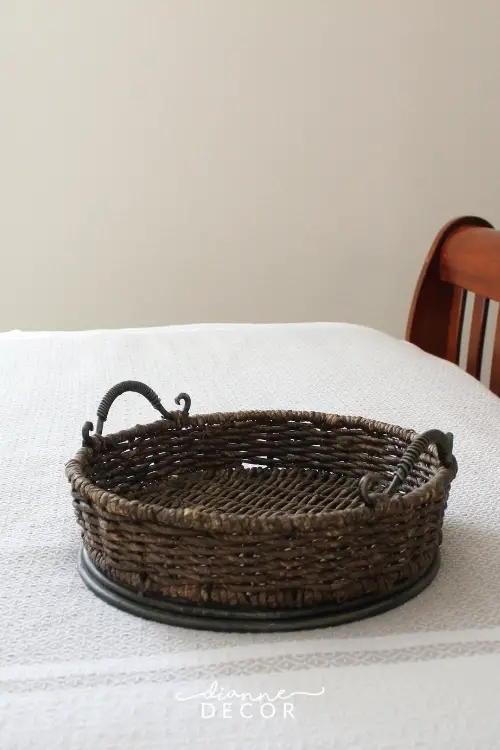 What To Avoid When Creating Your Basket
Avoid large gift baskets, fabric bags, and oversized decorative baskets.  These are too big for this use.
You don't want to create a chore for your guests by making them have to figure out where to store this giant basket.
If it does not have a designated home, they will be confused as to what they should do with it.
Should they take the items out and give the basket back to you?  Is it okay to place the basket on the floor?  Should they put their belongings on the floor and place the basket on the nightstand?
Having a basket that is too big will prompt these types of questions.
So, make sure your basket is petite and small enough to rest on the edge of a side table without taking up too much surface area.
Or, you can have your guest basket placed on the bathroom countertop you intend for them to use.  However, I would only do this if that bathroom is designated for guests only.
Also, I would avoid putting edible snacks in a guest basket that is going to be placed in the bathroom.
Suggested Read: "Why Guest Bathroom Decor Is Important".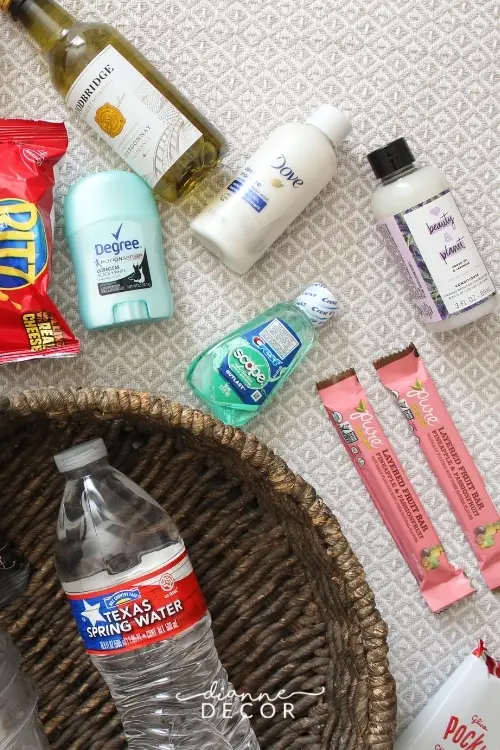 Do I Need A Guest Bedroom Basket?
While you don't need a guest basket, they are incredibly helpful and make your guests feel special when they visit.
When someone comes to stay overnight in your home they are naturally hesitant and reserved about where to put their things, how to locate things they may need, and when it's appropriate to ask for those things.
I can't tell you how many times I've forgotten a small toiletry at the end of the day and waited until mid-morning the next day to ask for it from my host.
It sounds really silly, but this type of thing happens a lot.
So, providing some essentials (whether they end up needing them or not) is a really lovely gesture.  It will make your guests feel at ease, welcome, and special.
Not only that, but it will help ease your hosting duties!
You won't have to run back and forth to make sure they have this or that.  And, you won't have to answer questions like what's the Wi-Fi password, do you have any extra toothpaste, can I have a glass of water, etc.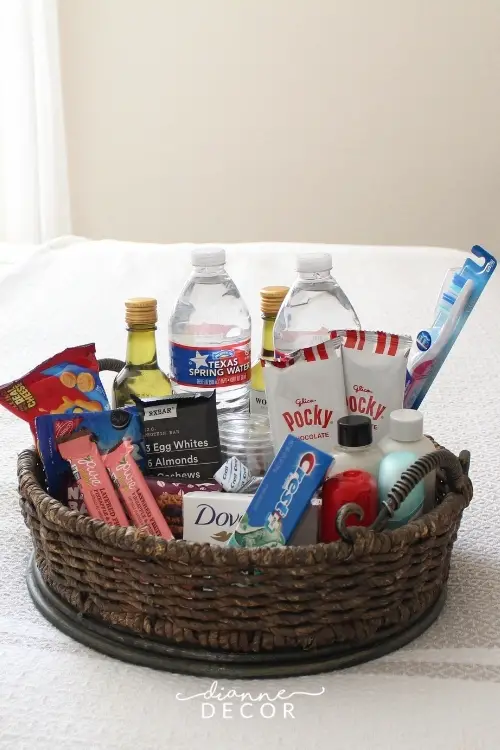 Use A Guest Basket To Make Your Guests More Comfortable
Moreover, you won't be hounding them to make sure they're not hungry and need a snack.
This is another big one for me.
Most people, even family members, are afraid to go into someone else's refrigerator or pantry.  There's a bit of a personal boundary that exists when it comes to the food in another person's house.
As a guest in someone else's home, opening the refrigerator and helping yourself to a snack without permission is considered rude.
And despite how many times I tell a guest to feel free to take anything they'd like, they'll still sit there hungry in their rooms waiting for the next official meal.
However, if you can provide a few individually packaged snacks to place in their guest basket, they're more likely to avail themselves of this treat.  For this reason, I always try to have a few snacks on hand to place in my guest bedroom basket.
Another major benefit of having this type of hosting tool is it cuts down on prep time.  If you replenish your basket when you're changing the bedding and straightening up after your guest leaves, your room will ready to go for the next visitors.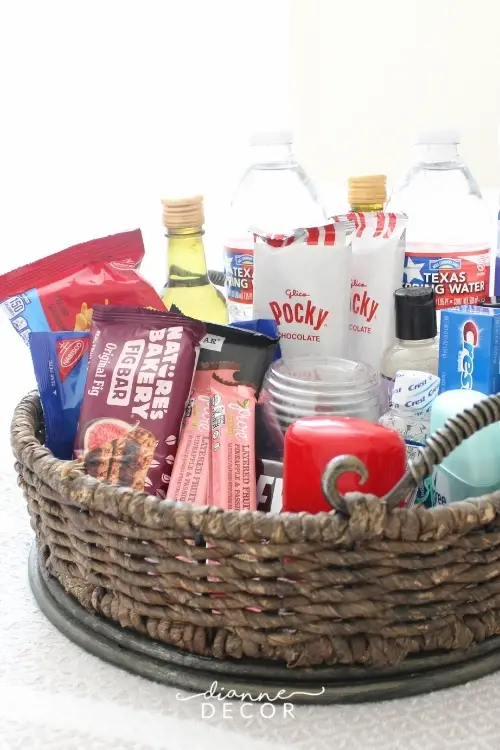 What To Put In a Guest Room Basket
The first thing that should be included is 2 bottles of water and a few snack options.  A card with your Wi-Fi network name and password is another important item to place in your basket.  Adult beverages are optional but are always a really nice touch.
Finally, I like to include a few small toiletries. If you do not have room for these items in your basket, they can be placed on the bathroom countertop instead.
Tissues, travel sized lotion, shampoo, conditioner, bar soap, toothpaste, and an extra toothbrush are a good start.  They are all things that I have ready for guests each time they visit.
As a general rule of thumb, include the same things that you would see in a hotel room when you check-in.
There will always be an information card with internet access instructions, soap, shampoo, conditioner, and possibly a shower cap.
Leave their bath towels rolled or folded to the side.
Of course, there are other things that guests may need like hangers and iron and ironing board.  But, these are not things that should be contained inside of a guest basket.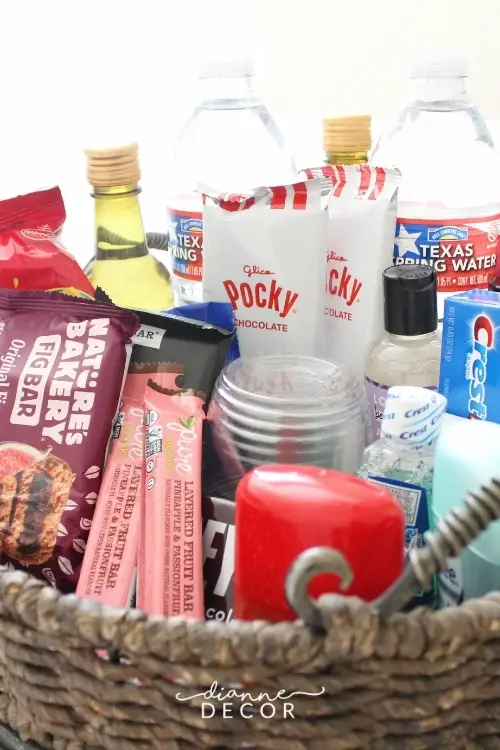 The Most Important Items In Your Guest Basket
Including bottles of water is absolutely essential.  For some reason, guests will rarely ask for water even though they need it.
Moreover, you don't want to put them in a position where they feel obligated to provide a reason for their request, like "I need to take my pills".  Many people like to keep these types of things private.
So, always have water on hand for them in the privacy of their room.
If I have single-serve bottles of wine on hand I will include them in my guest basket as well.  But, this is completely optional.  However, offering a water alternative like apple juice or cranberry juice is a bonus.
When it comes to including edible items in your basket, I generally tried to provide 2 sweet snacks and 2 savory snack options.  This could be a mini bag of Oreos, Pokey sticks, a bag of Cheez-Its, popcorn, pretzels, or trail mix.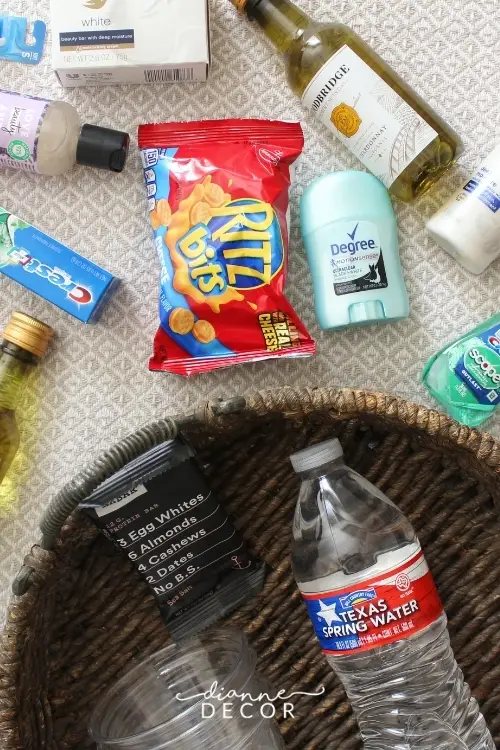 Conclusion
Do you use a guest basket for your visitors?  Please let me know in the comments below.
If you found this post helpful please share it with a friend and follow Dianne Decor on Bloglovin'. I  can also be found on Instagram, Pinterest, and Twitter.
To have my latest posts delivered directly to your inbox join the mailing list before you go.  I'll send you a copy of my weekly newsletter filled with weekend reads, decorating inspiration, and the latest home decor deals.