3 Guest Bathroom Must-Haves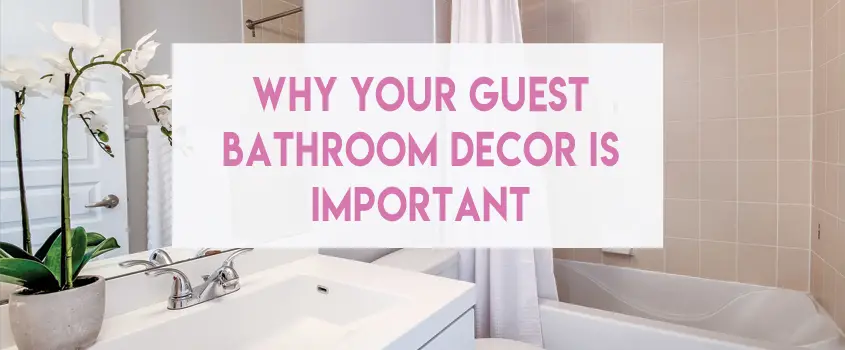 FTC Disclosure - This post contains affiliate links and I will be compensated if you make a purchase after clicking on my links.
*Item received for free for promotional consideration or a sponsored link.
Guest bathrooms are no longer being overlooked.  The term was recently trending on Pinterest and for good reason.
More and more time is being spent making guest bathrooms inviting and mater bathrooms an oasis.  The two, however, have very different needs and your bathroom decor choices should reflect that.
For this post, let's take a look at guest bathrooms in particular.
The three must-haves for a guest bathroom are functionality, visibility, and accessibility.  Let's break those down a bit.
1. Guest Bathroom Functionality
If your powder room is small or a half bath, stay away from any large items that do not provide a necessary function for guests.
A three-compartment laundry hamper may be great for your master bath, but it does not belong in your guest bathroom.
For guest bathrooms where visitors are showering, consider placing the hamper in the bedroom closet.
If you're working with a half bath there is no need for a hamper at all.  No one is showering or brushing their teeth in that room.  Realistically, the only laundry coming out of that space is a hand towel and possibly a floor mat or rug.
Reading material and magazine racks are another item that can go.
Besides my own personal opinions about reading materials in a bathroom (eww), they are unnecessary for a non-overnight guest who will most likely spend less than 2 minutes making use of the facilities.
The idea is to declutter items like this to make space.  You want to have ample space for your visitors to be able to turn about and move around without bumping into things
People come in all shapes and sizes, so accommodate those who may need a little extra room.
2. Visibility
Make sure anything your guests may need is front and center.  Don't make them hunt for extra toilet paper below the sink if you can help it.
Hand towels, Kleenex, and the soap should all be visible.
3. Accessibility in Your Guest Bathroom
I can see it, but I can't reach it.  You never want a guest to experience this.  It's incredibly frustrating to not be able to reach something.
Especially something as important at toilet paper!  And worse than the tiptoe struggle to reach something, is the walk of shame back out to the party to ask for assistance.
Put everything on a low shelf or even on the floor in a basket if children are expected.
Additional Guest Bathroom Decor Ideas
Lotion, floss, breath mints, Tylenol are all "nice to have" items.  You might think it excessive, but it will always be appreciated by someone who really needs them.
Place a little tray on the countertop with a few choice items along with a candle or some flowers.
Now, for sure you do not need to do this on a daily basis.  However, if you're expecting folks for a gathering, its a nice idea.
Remember, people, retreat to the bathroom for more than just the obvious.  They may want to make sure they don't have food in their teeth or want to refresh their makeup.
Best Guest Bathroom Decor Choices
Okay, so back to the decor.  Which accents are best to help you achieve this balance?
Here they are:
Open or floating shelving
Keeps everything visible and accessible as long as the shelves aren't too high.  Use them for Kleenex, candles, decor accents, etc.
Baskets
Place spare toilet paper rolls in a basket if you don't have a dedicated rack.  Disposable hand towels can also be housed in a small basket.
Trays
Corral the "extras" on a nice tray.  Not only will this make a beautiful display, but it can be easily slid to the side of your countertop if someone needs a little extra space.
Do you have any creative ideas for a guest bathroom that you'd like to share?
Comment below or feel free to post a link to your blog on the subject.