FTC Disclosure - This post contains affiliate links and I will be compensated if you make a purchase after clicking on my links.
*Item received for free for promotional consideration or a sponsored link.
After 2 babies and countless sleepless nights, I've tallied up a list of nursery room regrets.  These are things I wish I had, and feel would have made things easier in the early years.
Moreover, there are a few things that I wish we'd had to make transitioning into the toddler years easier.
So, before you set up your nursery, check out this list to avoid making the same mistakes I did.
A Dresser
Okay.  I know for most people a dresser is a no-brainer.  But I'm not a dresser type of person.  
In fact, since leaving my parents' home at 18, I've never owned a dresser.  It seemed like a totally unnecessary, bulky item to me.
That being said, I've likely had this perspective because I've always had a spacious walk-in closet.
If you don't have a walk-in closet, then a dresser is essential for you.  But I digress.
I've been using one of those hanging organizers with fabric bins to keep smaller items like undergarments and exercise gear for years.
But boy do I regret not getting a dresser for my kids' rooms from the get-go.
I really love and recommend the Delta Children Nursery Storage 48 Piece Set.  This is what I used for both kids and 4 years later it still rocks.  I no longer use the little divider tags, but they were helpful in the early months.
When my daughter got into the "I can do it" stage at around 3 years old, the hanging organizer became a problem.  Mostly because she couldn't do it.  ????
She'd rip the bins out of the hanging organizer and pull down 6 hangers every time she tried to get one sweater.
Her closet was a mess.
Had I gotten a dresser, she would have been able to easily access everything.  It would have enabled her to not only get dressed without assistance pulling her clothes down, but also to put things away.  
Now that she's 4 she can sort and put away her own clothes into the bins.  She can't, however, get those bins tucked back into the organizer because they're a bit snug.
So, for these reasons, I highly recommend getting a dresser for your nursery room.  Your newborn will grow quickly, and you'll want to help them help themselves to some of the daily tasks.
Types Of Dressers for Nurseries
1. Dresser With Changing Table Top
In hindsight, this is the option I wish I'd chosen.  
It's the best of both worlds with the storage capabilities of a dresser and the ability to multi-task as a changing table.
By way of example, the Delta Children Waverly 3 Drawer Dresser with Changing Top is shown below.
The changing top is removable which makes this a great grow-with-me type of product. 
It comes in a classic design with delicate detailing. And, of course, It perfectly matches the Waverly Crib. 
I'm a big fan of the Delta Children brand.  We have several pieces of furniture from them in our kid's rooms.  They're heavy, sturdy, and look great.
2. Traditional Dresser
A traditional dresser is something we've recently transitioned to and it's awesome.  It's a great way to help enable young ones to not only get themselves dressed but help put away their own laundry.
We opted for the Delta Children Epic 3-Drawer Dresser and it's lovely.  It was, however, quite a project to put together.  So just keep that in mind going in.
This dresser comes in a traditional style. It is simple yet elegant and can suit any playroom, nursery room, even bedroom, home office, or living room. 
It offers enough space to store and organize clothes, toys, linen, and other items. The top can be used to display favorite books, photos, plushies, ornaments, and more. 
The Delta Children Epic 3-Drawer Dresser comes in an array of colors. It is built to last for years with sturdy construction. 
It is also equipped with a metal glide system with safety stops on the drawers. 
Now I will say… despite "3-drawer" being in the title of this product, I looked at the photo and thought I was getting 5 drawers.
This is not the case, and I was a little disappointed.  The drawer front on the top row is purely decorative.  This is, in fact, one big drawer, not two.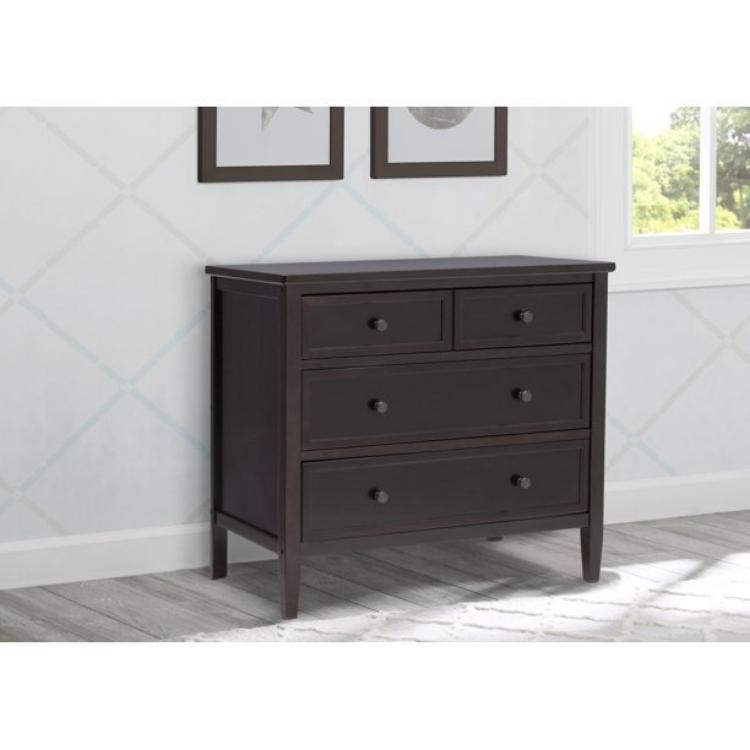 3. Wood/Metal Frame Dresser with Fabric Drawers
The third option you have for a dresser is one with a wood or metal frame and fabric drawers.  This is by far the least expensive option.
If you're in a temporary space or just need to save some money, this will get you the storage space you need at an affordable price.
Most dressers with fabric drawers are less than $100.
The CubiCubi Dresser with 6 Drawers on Amazon boasts a great rating of 4.3 stars.
It's constructed with a durable steel frame and includes 6 fabric drawers with a sturdy wood base. 
This dresser is perfect for additional storage for a bedroom, walk-in closet, playroom, living room, and even an entryway. 
And of course, the top of the dresser can be used to display a decorative vignette or serve as a tv stand for a lightweight tv. 
A Glider Chair
Why oh why did I buy a rocking chair for a room with wall-to-wall carpet?  Why didn't someone stop me!
It's the worst.  
On our high pile carpet, it's nearly impossible to rock in the chair without getting winded.
I absolutely regret not buying a glider instead.
The difference between a rocking chair and a glider is that, unlike a rocking chair, a glider has a built-in frame or rail on which it glides smoothly back and forth.
Because of this built-in base, you can glide on any surface.
The Delta Children Epic Nursery Glider Swivel Rocker Chair shown below is a great option with a classic style.
It has a supportive back and a durable frame.
Best of all, because of its neutral upholstery, it can easily be moved to another room once the early baby days are over.
Automatic Night to Day Nightlights
Tabletop night lights or lamps are one of those nursery room staples.  But despite having them I never used them.  
There was too much light when I crept in to check on them in the middle of the night.  
While they could sleep through conversations and other household noises, the light was a surefire way to wake them up and I did not want that.
But I still needed some type of light for a late-night diaper change.
So, instead of using the lamps or tabletop nightlights I would turn on the hall light or the closet light and crack the door.  It was just enough indirect light for me to see what I was doing.
It wasn't until I decided to install automatic plug-in night lights in our hallways downstairs that I thought of putting them in the kids' rooms.
I'm sure others have come to that conclusion far sooner than I.  Unfortunately, it took me over a year to come to this solution.
In the end, it was a total game-changer.  
The lights are low to the ground and give just enough light to see what's happening in the room.
While I've now tried a few different brands, these are the ones I currently have from Amazon and they're great.
What I like best about them is that they don't monopolize two outlets as some others do and I only need one in each bedroom to see everything. 
The Vont 'Aura' LED Night Lights are equipped with a daylight sensor that automatically adjusts the brightness according to the ambiance.  
It gives off a soft light that is not harsh to the eyes, perfect for nursery rooms and guest bedrooms. 
They can also be handy in bathrooms to avoid any mishaps and even staircases. 
These are also fantastic energy savers and claim to cost only less than 30 cents to operate for the whole year. 
Conclusion
There are so many useful, transitional pieces for nurseries these days. 
These are just some of the additions we've added over the years that may work for your nursery room as well. 
I hope you found this post helpful.  If you did, please share it with a friend and join the mailing list before you go.
I'll send you a copy of my weekly newsletter filled with weekend reads, decorating inspiration, and the latest deals on home decor.
For more from Dianne Decor follow me on Pinterest, Instagram, Twitter, and Medium.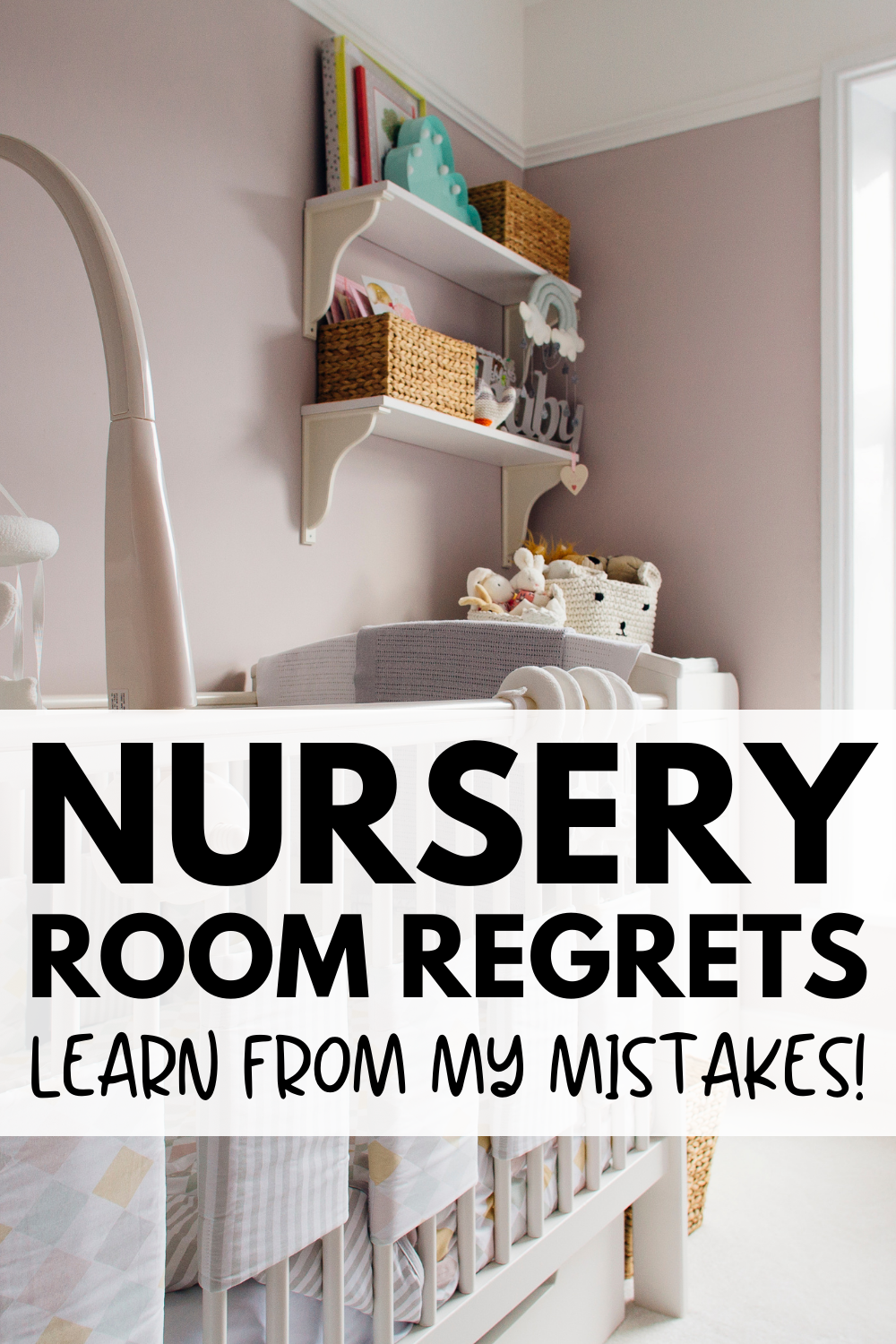 Thanks for reading!