What's the Studio McGee and Threshold Collection All About?
FTC Disclosure - This post contains affiliate links and I will be compensated if you make a purchase after clicking on my links.
*Item received for free for promotional consideration or a sponsored link.
I have to admit, I wasn't familiar with Studio McGee until I saw the announcement of their recent collaboration with Threshold on the Target website.  However, after looking into the brand a bit more I have a lot to share.
The Threshold brand from Target has teamed up with designer Shea McGee from Studio McGee to create an affordable line of home accents and furniture.
In this post, we'll take a look at what's included in the line, the pricing, and I'll give my opinion on whether or not I think it's worth checking out.
Let's get started!
What to Expect from Studio McGee
As an avid proponent for budget-friendly home decor, I'm always excited to explore Target's new decor lines (see Project 62 and Opalhouse).  They routinely keep their price points in a good range and this line is no different.
Within this collaboration, there are small home accessories starting at $8.99 up to $349 for furniture.  This is a nice affordable spectrum.
Some of the home accents offered are vases, planters, pillows, throw rugs, blankets, framed wall art, baskets, and a few tables.
What's the Style Profile?
The colors in this collection are very muted and neutral.  There are very few pops of color to be found.  So if you're into soft beige and cream-colored neutrals, you'll like what you see.
The style of the home decor offered in this collaboration is contemporary with splashes of traditional.
The structure of the furniture, baskets, and wall decor is traditional.  But, the simplified textures and lack of accouterments give the pieces a contemporary flair, in my opinion.
Top Picks From Threshold Designed with Studio McGee
In total, you can expect to find around 80 different items to choose from in this collection.  Of these, a few really stood out to me and I've included them below.
All of the furniture does appear to be sold out at this time.  This doesn't surprise me though.  The furniture is by far the best of this collection.
And, although I do really like the woven basket selection, they're more than I'd pay for this particular home accessory.
Without further adieu, here are my favorite picks from the line.
Artificial Fern Plant in Pot Green/White
Welcome Doormat Natural
Artificial Citrus and Eucalyptus Wreath Green
Ceramic Glazed Ribbed Bud Vase Peach
Artificial Olive Tree in Pot Green/White
Terra Cotta Porch Planter Cream
Copperton Wood X Base Console Table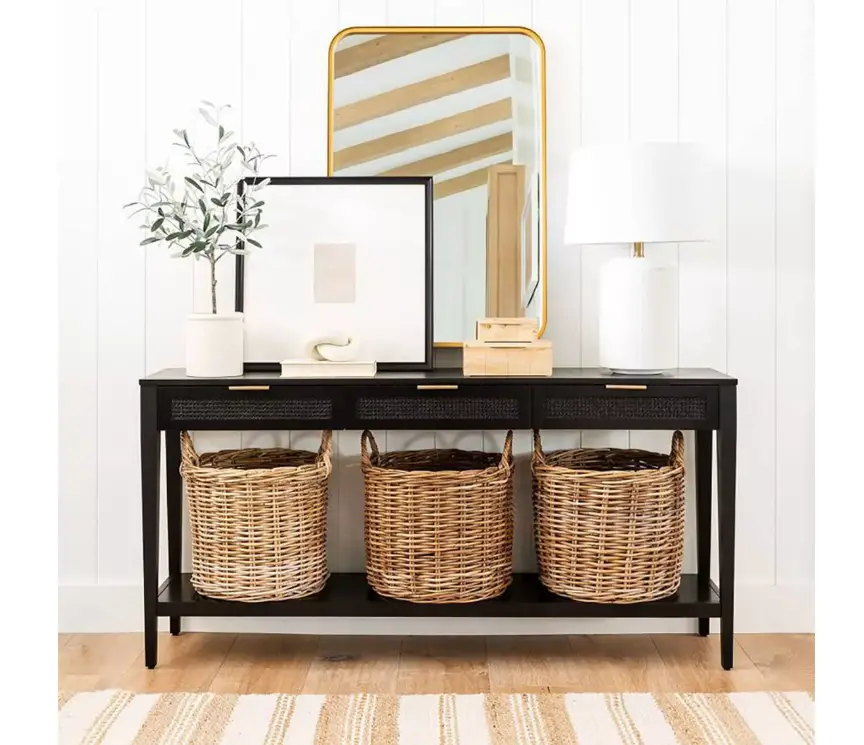 Copperton Wood X Base Accent Table
Final Thoughts About Studio McGee and Threshold
Overall I think this collection is really lovely.  If you're trying to decorate on a budget I'd steer clear of the handwoven baskets and framed art, but go for the vases, planters, and furniture.
For more from Dianne Decor join the mailing list to receive my weekly newsletter and follow me on Instagram and Bloglovin'.