FTC Disclosure - This post contains affiliate links and I will be compensated if you make a purchase after clicking on my links.
*Item received for free for promotional consideration or a sponsored link.
For a decorating enthusiast like me, you know window treatments can take a room to the next level.
Honest, there are few things that thrill me more than getting a new set of curtains.
I'm sure I'm not alone in this.  There's just something really fun about changing up the look of your canvas.
When decorating your home, consider your blank walls, windows, and floors to be your canvas.  Nothing makes a room look more polished than beautiful window treatments.
Although curtains and mini blinds are the most common form of window treatments, there are many more options.  Here's a breakdown of the window treatment options for your home.
What Types of Window Treatments Are There?
1. Shades (Roman Shades, Solar Shades, Pleated Shades)
Shades are raised and lowered over the glass to provide privacy, darken a room, control temperature in the case of solar shades, and overall look stylish.
When shades are opened, you typically are able to see straight through your glass to the outside.  Depending upon which type of shade you choose, you may opt to pair them with a valance.
2. Shutters
Indoor shutters are often seen in farmhouse revivals, beachy vacation homes, and those looking for a country-style look.  Although a bit bulky, shutters are very effective in controlling light and temperature.

3. Window Blinds (Wood, Faux Wood, Plastic Mini Blinds)
The most common window treatments are blinds.
You'll find mini blinds as a staple in rental properties.  They're inexpensive and easy to install.  Although, plastic mini blinds are not super pet or kid-friendly and can be a pain to dust.
Wood and faux wood blinds come in a variety of finishes and are thicker than plastic mini blinds.  This option is preferred for homes and will give your space an upgraded feel from mini blinds.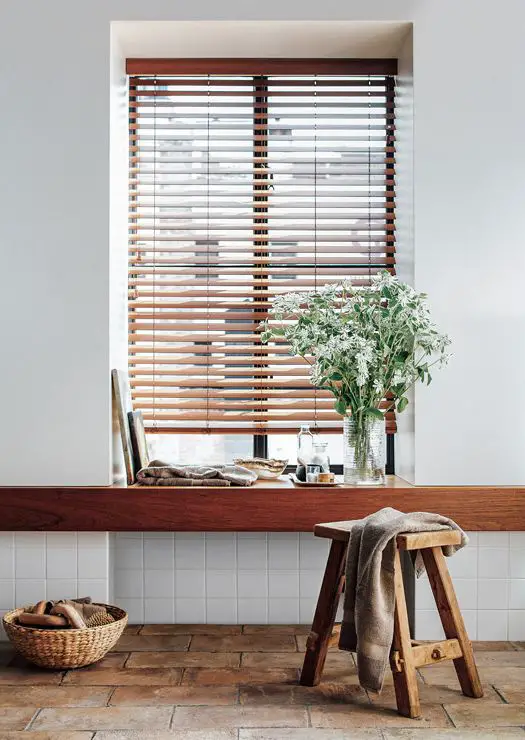 4. Drapes
Drapery and curtains function in a similar manner.  They are long pieces of fabric that slide along a curtain rod or rail.
Typically, curtains and drapes are installed in a two-panel per window manner.  This allows you to draw curtains closed in the center of your window for privacy.
Drapes are generally made of a thicker fabric with a more elaborate pattern than drapes.  They also tend to be a bit more expensive as many drapes have a built-in liner for thermal insulation on the backside.
5. Curtains
A curtain can vary in thickness, but generally are a lighter option than drapes.  Blackout curtains are popular for darkening a room and keeping your space cool in the summer months.
6. Sheers
Sheers are just that, sheer.
This is a thin fabric window treatment that you can see through.  It provides a small amount of privacy while letting lots of natural light shine into your room.
You'll notice that many hotel rooms use a combination of drapes with sheers on a double curtain rod.  This allows you to darken the room completely if you'd like or to let in the light with the sheer drawn and the drapes open if you choose.
This is my personal favorite.  It's great to have options.
7. Valances, Swags, Cascades
The top of your window may be treated with a valance, swag, or cascade.
Valances can be used to hide your curtain rod, or just add an extra finishing touch to your window.  While swags and cascades are used to add a dramatic effect to your window and are most often seen in sitting rooms.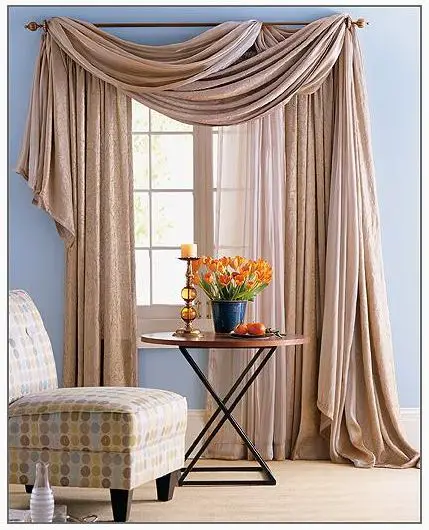 Conclusion
So, now that you have the breakdown of the most popular options, how do you choose?
Start with identifying your needs.  Do you have too little light or too much light coming into your space?
Are you in need of privacy from close neighbors or have large street-facing windows?
Do you have a room that gets super hot in the late afternoon?
Figure out what your needs are and use this to narrow down your options by which window treatment will help you achieve what you want.
What types of window treatments do you have in your home?  Comment below with your favorites.
Thanks for reading!
blinds
cascade
curtains
drapery
drapes
faux wood blinds
mini blinds
plantation shutters
pleated shades
roman shades
shades
sheers
shutters
solar shades
swag
valance
window treatments
wood blinds