FTC Disclosure - This post contains affiliate links and I will be compensated if you make a purchase after clicking on my links.
*Item received for free for promotional consideration or a sponsored link.
When you're keeping a living room color scheme neutral, it can be hard to find a way to pull the atmosphere together in a way that feels cohesive and complete. When you're facing that problem, neutral area rugs can really come in handy.
To help get you started, I've compiled these ideas for neutral area rugs for living rooms. These pieces add visual interest and can incorporate texture and patterns to drive home your thematic goal for a room.
16 Neutral Area Rugs For Living Rooms
This simple crisscross geometric design adds a bit of angular feeling to a room without overwhelming the senses.
It also comes in multiple neutral tones and sizes, which gives you options for what direction to take.
Go with the lighter option to keep a room feeling upbeat and calming, or opt for the darker gray or black as an anchor and for some contrast.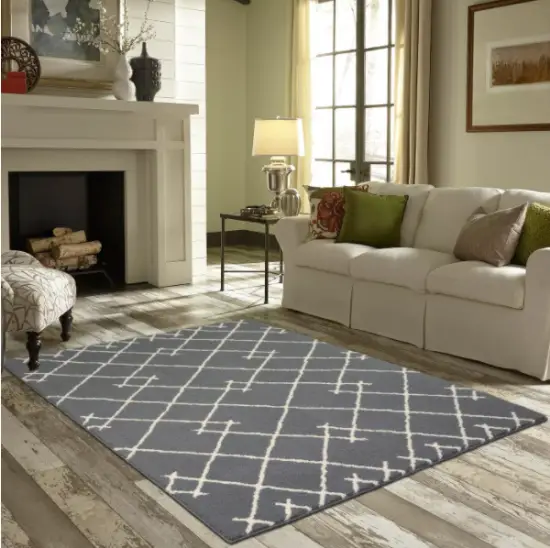 I love this triangular design; it feels a bit edgy and pops without needing to rely on color, which means it's versatile and can still play nicely in a lot of different décor arrangements.
The contrast adds a feeling of texture, making it a great way to stick to a monochromatic palette while keeping visual interest.
The pattern feels slightly tribal, yet modern, so it's a great option for the world traveler in your home.
3. Chevron Woven Area Rug – Project 62™
A classic pattern updated to feel as unique as ever. I love this as a floor runner.
If you opt for a full-sized area rug be advised that the design has a lot going on visually, so in bigger sizes, it'll go best in rooms that keep it simple elsewhere.
Another neutral rug with a slightly more contemporary pattern is this Noxen Area Rug available from BoutiqueRugs.com.  The diamond-shaped pattern and zig-zag borders are lovely and the cream and black colors are soft.
Of all the items in this list, this might be my favorite.  The design feels classic and classy without being loud, stuffy, or overly wrought.
It makes old-world elegance work in a contemporary application, and you can easily incorporate it into an existing room's décor without clashing with other pieces.
Gold tones add just a hint of warmth, but don't worry – this piece can absolutely still play nicely in any color scheme.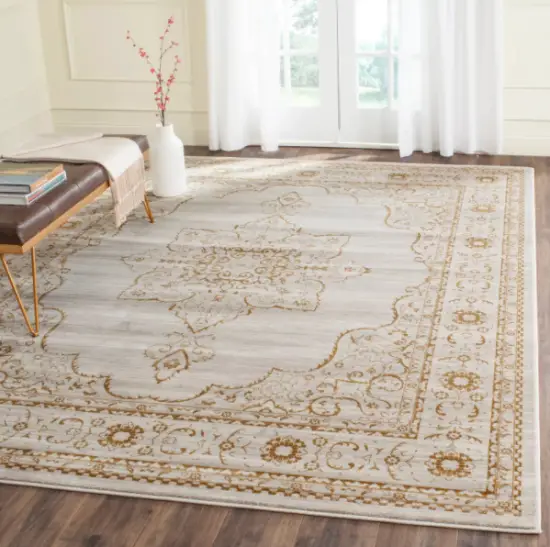 If you prefer a fluffier rug, the Fenstanton Area Rug has a plush pile and a contemporary "x" style pattern throughout.  It's great for a living room or bedroom and the 8 x 10 size is currently on sale for only $164!
This is a gorgeous rug for that price.
The vertical barely-there, almost-distressed feel of this rug would pull together a simple room décor beautifully.
It adds warmth and structure to a room if you like to keep things simple with just a few purposeful, modern pieces.
Who doesn't love a hardcore-cozy rug underfoot?
This might not be a practical choice for everyone, especially if you have pets that are prone to shedding, but in the right placement, this piece can do so much.
Its voluminous fluff adds dimension where a lower-pile rug simply wouldn't, and it adds a feeling of warmth and hominess all on its own.
I want to curl up on it just looking at it, and that's exactly the type of room you'd want to put this in.
Yet another win for the timelessly classic look, this rug would fit in just fine in a Jane Austen movie but will look perfectly at home on your floor as well.
I like this option if you're working with a slightly darker color scheme (like the rich wood stain shown in the picture), or if you favor a distressed, lived-in vibe.
Quietly whimsical and undeniably feminine, the floral motifs throughout this demure piece give it a breezy air.
I'd love it alongside plants and flowers, or in any room that needs a touch of playfulness.
For the intricacy of the patterns and the subtlety of the color scheme, I'm surprised this piece isn't more expensive.
Here's another great option for the lovers of fuzzy, high-pile rugs. While the easy-to-match beige and light grey color choices both would work anywhere, this belongs somewhere you'll get to feel it underfoot.
If there's a bedroom in your home where you've noticed people tend to congregate, or if someone in your household is a social butterfly, a cozy rug like this invites your guests to linger.
And I love that the geometric pattern is playful without being busy.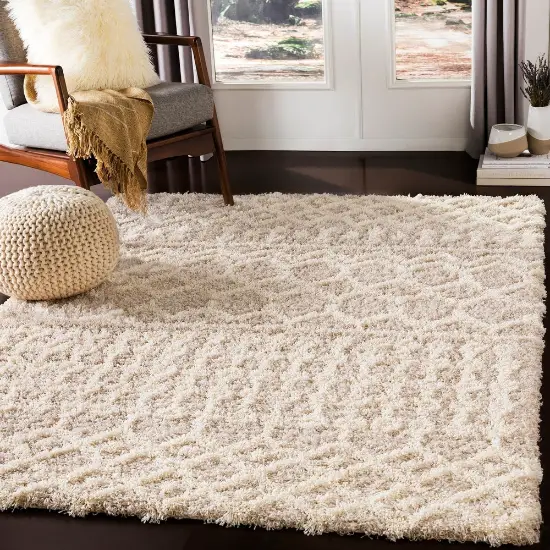 This collection is admittedly heavy on geometric patterns, but it just goes to show there are so many directions you can take them.
This bold style would go particularly well in a sunny reading nook, a spot where you take a break from your day, kick off your shoes, and can enjoy the atmosphere (and doesn't it look so soft and pleasant underfoot?).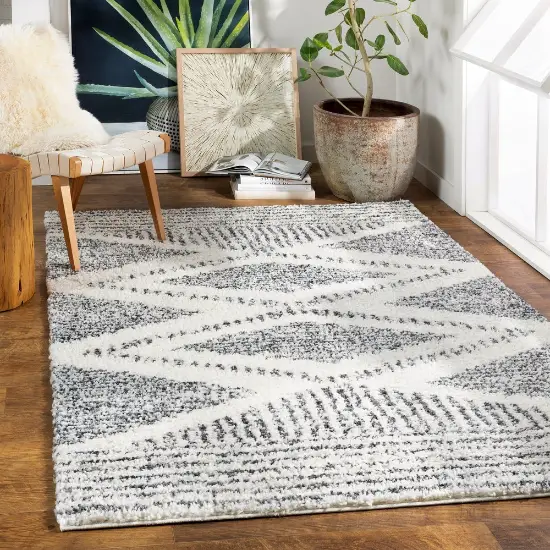 Again we have a misty mid-tone gray abstract number ideal for a minimalist, modern setting.
Its low pile makes it great for a high traffic area like a living room, and its reserved styling makes it ideal for rooms that just need one more finishing touch to bring it all together.
I love it as a mid-point to anchor rooms with a lot of whites and blacks.
This is one of my favorite pieces on the list. It's low pile, so you know it can stand up to years of use, but in this case, you don't have to trade practicality for texture and visual interest.
The interweaving scrolls are classic and can mesh well with a huge variety of décor styles, and the geometric patterns interspersed throughout give it a modern twist.
It feels just feminine enough to feel cozy and sweet without being overly froofy – a fantastic visual backdrop.
Once again, a practical low pile still brings it in terms of texture and depth.
This rug manages to make a statement without incorporating any color, making it a great focal point in an otherwise-minimally decorated room.
The pattern is so pronounced that you can start with this piece and work around it, letting the rest of the room take cues from the bold abstract curves.
Last but not least is the Alstead Area Rug from BoutiqueRugs.com.  This rug is very popular and has stellar reviews.
It's a plush pile Boho rug that would look great with several home decor styles besides Boho.
If you have a modern farmhouse interior, contemporary, or eclectic; this rug would work wonderfully in your space.
Conclusion
I hope these neutral area rugs inspired you to play with different ways to add visual and textural interest – keeping a living room neutral doesn't mean it can't still have a bold style!
For more Dianne Décor follow me on Bloglovin', Instagram, Twitter, and Pinterest.
To have my latest posts delivered directly to your inbox, join the mailing list before you go.  I'll send you my weekly newsletter filled with weekend reads, decorating inspiration, and the best home decor deals of the week.
Thanks for reading!
area rugs
living room rugs
neutral area rugs
neutral area rugs for living room