FTC Disclosure - This post contains affiliate links and I will be compensated if you make a purchase after clicking on my links.
*Item received for free for promotional consideration or a sponsored link.
Welcome to part two of my Holiday Party Planning Series. In the month of November we'll shift into full gear by tackling 5 new tasks.  This set of items is designed to help you prepare your home for guests to come and go throughout the upcoming months.  Whether you're planning a large end-of-year party, or plan to have a couple of couples over for a football game; this is the perfect guide.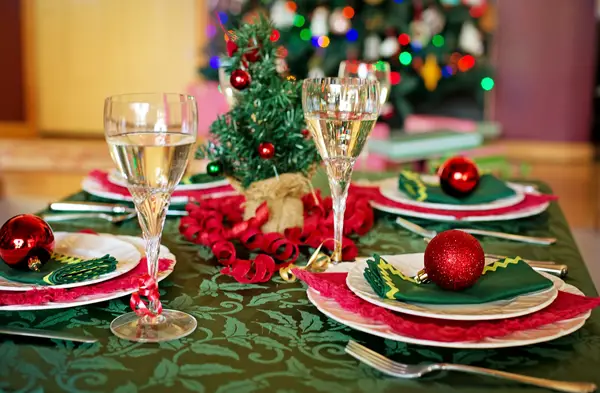 If you missed the first installment in this series you can check it out
here
.  In that post we covered some pre-planning topics like choosing your event, attendance, evaluating what you'll need, estimating costs, and deep cleaning checklists.
In the month of November, leading up to Thanksgiving there are a few areas you should chip away at consistently.  We all know that a huge part of a stress free holiday season is preparation.  By planning in advance and getting some of these things done early in the month, you'll set yourself up for success.  Most importantly, they will save you from running to the grocery store every day for a week before your holiday party.  Or, spending all day cleaning and rushing trough last minute chores.
Holiday Party Planning & Home Preparation
1. Pre-Invitations
November is when you want to start your pre-invitations, or sending out "feelers" to get an idea of guest availability.  You can find ideas on how to do this in the post "Hostess Secrets: A Step-by-Step Guide to Informal Invitations".  This will help you get a rough count on how many people to expect.
If this is an adults only party, always assume there will be a +1 for a guest who is single.  In fact, you should encourage it.  No one likes to be alone during the holidays while other people are laughing, smiling, and recalling fun times their significant other.  So, unless you're hosting a singles mixer; let your guests know they are welcome to invite someone along.  If they don't, that's up to them, but the considerate thing to do as the host or hostess is to offer.
This padded guest count will also help you be prepared in the long run.  You won't have to panic about not having an extra table setting or enough champagne glasses at the last minute because of an unexpected guest.
2. Deep Cleaning
Deep cleaning of your home starts now.  In the previous post we talked about generating a checklist of items that need to be completed.  If you're still not sure where to start, these are the areas I recommend getting in tip top shape before the entertaining season.
Clean baseboards
Clean floor corners
Wipe down interior doors and door frames
Dust mini blinds
Clean interior windows and sills
Wipe down light switches and outlets
Clean out kitchen cabinets and organize pantry
Clean cabinet fronts
Deep clean appliances (oven, fridge, garbage disposal, stove, dishwasher, washer/dryer)
Change your vacuum and air filters
Clean fireplace
Clean coffee pot
Wash guest linens
These are areas that you may or may not clean on a regular basis.  So, they may be in need of attention.  Particularly if the last deep cleaning you did was in the spring time.  Closer to the date of your holiday party you'll do another full cleaning, but it won't be nearly as involved.  Stay tuned for that in part three.
3. Non-Perishable Stock Up
Begin stocking up on your non-perishable food items and baking products now.  Do this by picking up 3 items in duplicate each time you're at the grocery store.  If you go to the grocery store once each week, by the end of the month you'll be stocked up on your core items.  Below is a sampling of things that I know I go through year after year.  Of course, your list may look a little different.  You may make your stuffing or cranberry sauce from scratch, or might not bake at all and don't need vanilla extract.  Just use this as an example.  Compile your own list of 12 items you know you will need before the end of the year.
Pumpkin puree
Flour
White sugar
Brown sugar
Vanilla extract
Unsalted butter
Stuffing mix
Macaroni
Cranberry Sauce
Gravy Packets
Salt
Cocoa powder
Finally, before I close out this section, I want to touch on paper products.  If you're planning for Thanksgiving start picking up your paper products now as well.  Even if you're having a traditional sit down meal with real silverware, cloth napkins, and dishes.  Your guests may want to take something to go home with them.  Avoid never seeing your favorite casserole dish again by having disposable "to go" containers on hand.
4. Fix It List
Make a list of anything that needs to be repaired or replaced in your home and in your wardrobe.  Replace light bulbs that are out, dead batteries, clear slow draining sinks, sharpen knives, replace water filters, and any other pending home maintenance tasks.  As for your wardrobe, this is a good time to bring items you know you'll want to wear to get cleaned, tailored, etc. Take the stress of completing these items the week of your event by getting them done now.
5. Meal Planning – Part I
It's a little early to plan out the details of your menu right now.  However, it is the right time to get an idea of how you want to serve your guests.  Are you planning a sit down meal?  Will there be entrees or just appetizers. Or, is it going to be desserts and drinks only?  Are you breaking out the fine china or is this a paper plates and plastic forks affair.  These are the aspects of meal planning that you should be ironing out now.
That concludes the task list for November.  I know it may seem like a lot, but I promise you it will all be worth it.  You'll see in the next installment just how little needs to be done before your holiday party.  We'll talk about invitations, menu, and your day before express cleaning.  I hope you're enjoying this Holiday Party Planning Series.  If you are, please share this post with a friend and follow Dianne Decor on Bloglovin' and Instagram.
Thanks for reading!
holiday party
holiday party planning
home entertaining
hostess
party planning