FTC Disclosure - This post contains affiliate links and I will be compensated if you make a purchase after clicking on my links.
*Item received for free for promotional consideration or a sponsored link.
Your home's common areas are an ideal place to make memories you'll treasure for years to come.
When you think about it, a home is more than just a structure. It's a gathering place for your family. It's a private space for rest and relaxation, socializing, and self-care.
So, let's talk about the common areas in your home.
In this post, we'll talk about different types of areas where people gather in a home.  We'll make distinctions between terminology, and which types of common areas are best for your family.
What Are Common Areas in A House?
Common areas refer to locations where groups of people can come together for conversation, dining, entertaining, or other activities.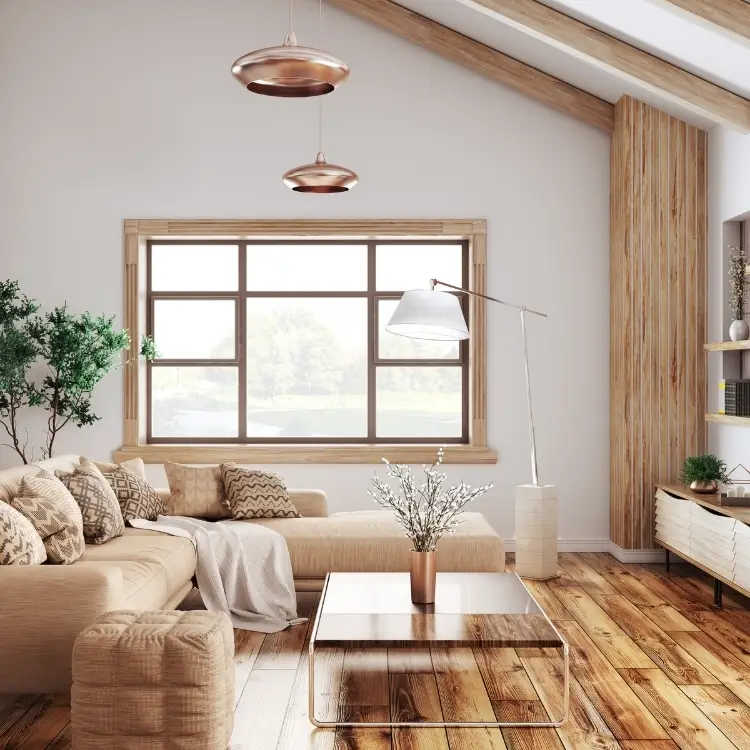 Family Room
The family room is an all-purpose room in a house that can be used for intimate, casual gatherings.
The family room is meant to be a place where family members and guests gather for activities like lounging, reading, watching television, and hosting game nights.
The living room and family room might seem to serve the same purpose, but they usually feel very different.
Living Room
Living rooms are usually one of the largest rooms in a house. It is one of the main common spaces of the family home, along with the kitchen.
According to New York Times' Joan DeJean, living rooms started out as a formal display space for welcoming guests in the 7th century.
Over time, they've morphed into a casual gathering space. In more contemporary homes, the living room is more relaxed.
However, in a stricter sense, the living room is reserved for more formal functions.
Living rooms are usually large and located in the middle or the front of the house, an ideal spot to receive guests. This explains why they were earlier referred to as front rooms.
The usual living room sizes also can accommodate large couches, TVs and entertainment centers, and other ornamental storage units. If one were to display statement art pieces such as large paintings and sculptures, it would be in the living room.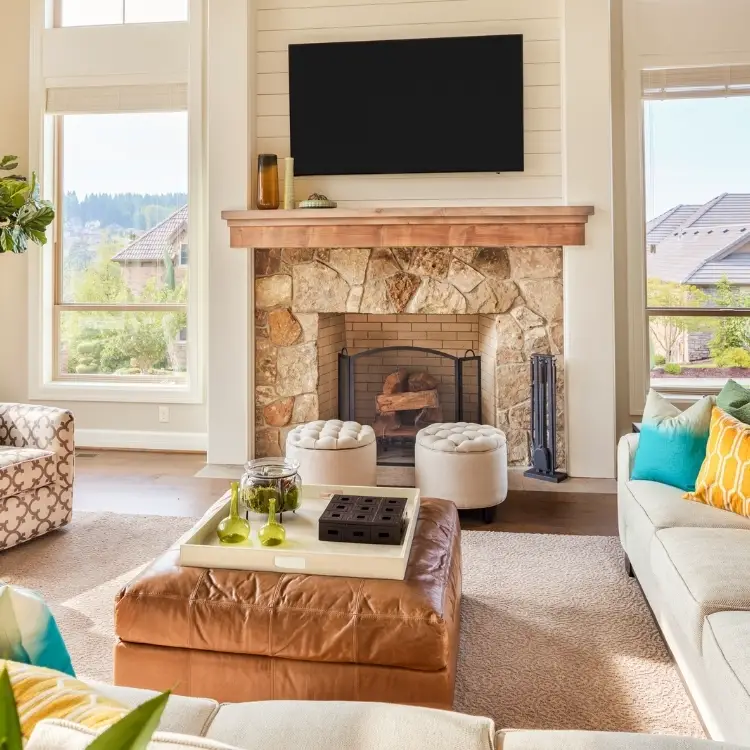 Kitchen
The kitchen is the heart of the home. Its main functions are to prepare, store, and cook food for residents of the home. Other tasks that can be done in the kitchen are dishwashing and entertaining for small groups.
Over the years, the domestic kitchen has expanded, which can house larger appliances to accommodate a large family. Modern kitchen designs have evolved to include bars, coffee nooks, and intimate breakfast nooks.
Dining Room
The dining room is designed for eating meals, especially when there is company around. Dining rooms vary in size and can either be just a small corner for a dining table or an entire room.
No matter the style or size, it is a place to gather for everyday meals and special occasions.
It is usually adjacent to the kitchen for easy access to food. Other pieces of furniture in the dining room can include china cabinets, liquor carts, and side tables.
Great Room
The concept of a great room goes back to medieval castles and mansions with their great halls and chambers, which served as a large central place for formal functions.
Mid-range suburban American homes have tried to solve the problem of the "dead" living room and marry the idea of the living and family room by returning to the concept of the great room.
The result is one central room, typically with a raised ceiling (often called "cathedral ceilings").
Sitting Room
A living room is referred to as a "sitting room" in British English. It is sometimes referred to as a drawing room for relaxing and socializing in a residential house or apartment.
It is sometimes called a front room when it is near the main entrance of the house, such as the Lincoln Sitting Room of the White House.
The sitting room shares the same purpose as the family room: to gather guests and family members in a comfortable space.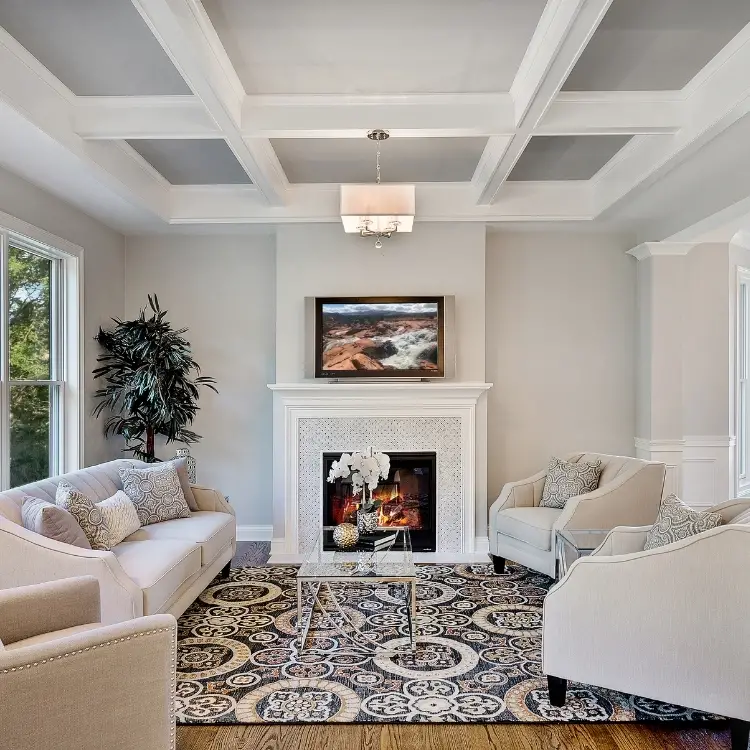 Den
A den is a small room where people can enjoy private activities. It can refer to many different rooms, such as libraries, home theaters, or spare bedrooms.
While living rooms tend to be for entertaining company, dens lean toward the more informal functions.
Dens are commonly used by adults for personalized hobbies, restricting children from these areas. A den may be a man-cave, game room, or craft room.
Playroom
For families that have children, a playroom is a necessity. The playroom can be used to host children's parties or as a casual space for children to have play dates or play alone.
In other parts of the globe such as Australia and New Zealand, playrooms are called "rumpus rooms." In the United Kingdom, they're known as "game rooms."
It is sometimes located in the basement, away from the living area of the house. The playroom usually has a large area, enabling children in moderately large groups to play around.
Modern playroom designs sometimes integrate a built-in playground for kids if the space allows. As the children grow older, the furnishings tend to change, especially for pre-teens and teenagers.
Stairways, entryways, mudrooms, and hallways could also be considered common areas. But since these aren't considered destinations for socialization or activities, they aren't quite the same.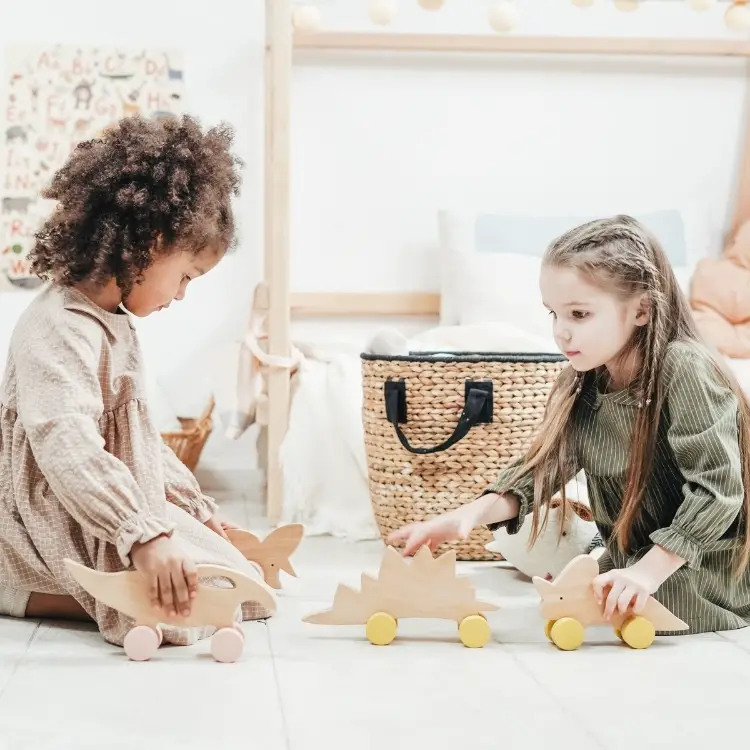 What All of These Rooms Have in Common
The common factor is that these rooms are on the main level of a home and that they gather people in a comfortable space.
These days, a basement is no longer reserved for just laundry and the heater. For maximized use of space, a basement can be a den, home theater, or entertainment room.
For a two-story home, the retreat space is usually located upstairs where the bedrooms are, so the downstairs is reserved for the common areas.
Why Do Common Areas Matter?
When it comes to purchasing or selling a home, the presence of common areas can command a steep price. A home that has several common areas to offer usually is a prime pick in the market.
Common areas serve as receiving areas for guests and function rooms for intimate gatherings among family and friends. They also preserve the privacy of people thriving in a home.
Common areas are referred to as livable spaces.
When it comes to real estate, livable space is what is most important to appraisers, and ultimately to buyers. While bedrooms and bathrooms are most highly valued, they are more locally specific.
The value of a home is roughly estimated in price per square foot – the sales price divided by the square footage of a home.
In addition to square footage, a home's usable space matters when determining its value.
Garages, attics, and unfinished basements are generally not counted in usable square footage.
However, dwelling spaces such as common rooms can influence the ultimate sales price of a home.
Living Room vs. Family Room
It all boils down to how the space is used.
Some homes have a grand living room that gets occasional use, while everyday social activities take place in smaller, more intimate, and more informal rooms like the family rooms or recreation rooms.
Depending on the family dynamics, social gatherings might also take place in the kitchen.
Living Room vs. Great Room
A traditional living room is a formal space in the home for entertaining guests.
It is solely a formal space, whereas a great room is treated as a space for entertainment, recreation, and relaxation.
Great rooms are far more casual than living rooms and are occupied and used every day.
A great room can be used like a living room, and can be decorated in any comfortable style as required. It can fit couches, lazy chairs, and televisions where people can gather around.
But the space is typically larger than the living room. A living room can't usually serve the same purpose as a great room.
Playrooms & Dens
Sometimes, dens seem a more sensible choice to be turned into a playroom especially when they are attached to a family room. This helps parents or nannies keep an eye out for young children.
However, playrooms don't have to be too loud or feel out of place in terms of design.
A few elements can be incorporated in a playroom to ensure consistency when it comes to design especially if it flows from a family room or a great room.
A neutral color scheme is a great way to start, and the other visual elements can add a little depth to signify that it is a children's playroom.
These can be rugs, pillows, art, and furniture in a neutral palette.
A playroom can use barn doors or an accordion divider or folding screen to separate the space while still allowing for the room to be visible for supervising children.
Keep in mind that furniture pieces can be disposed of quicker than custom built-ins. This way, the space can be easily converted into a bonus room when the children grow up.
A playroom can also use a furniture piece for adults such as a rocking chair or comfortable sofa for when there is interaction with kids, like storytelling, board games, etc.
Formal Living Rooms and Parlours
Before World War I, the parlor was a formal room for receiving guests in homes. The living room was for the family's daily use.
There was usually a formal dining room adjacent to the parlor. Homeowners would consider these rooms the best-appointed rooms and furnish them with higher-quality pieces and fittings than the rest of the house. The goal was to put their best foot forward.
For a while, the parlor combined the functions of a living room and family room, especially with smaller houses being built in recent years.
Lately, the family room and parlor designations have fallen out of favor especially with open plan houses.
The terms have changed with the needs and styles of the times.
Conclusion
Common areas are defined according to use and function.
At the end of the day, what's important is that these dwelling spaces are used by family and friends to strengthen their bonds with each other.
Your rooms can be called whatever you like and used however you like.
Life is short to be fussing about labels. What's important is to thrive and live where it matters.
That's it for this post.  If you found it helpful please share it with a friend and follow Dianne Decor on Medium for more from me.
You can also find me on Pinterest, Twitter, and Instagram.
To have my latest posts delivered directly to your inbox, join the mailing list before you go.  I'll send you a copy of my weekly newsletter filled with weekend reads, decorating inspiration, and the latest deals on home decor.
Thanks for reading!
common areas
den
family room
great room
living room
parlor
playroom
sitting room