FTC Disclosure - This post contains affiliate links and I will be compensated if you make a purchase after clicking on my links.
*Item received for free for promotional consideration or a sponsored link.
One of my favorite things to do is to scroll through Pinterest and pin party food ideas.  This year I developed a mild obsession with charcuterie board design.
They're beautiful, colorful, and when done right, a complete show stopper.
The problem was, my boards were never done right and I couldn't figure out why.  So, I decided to branch out beyond Pinterest and look for a real guide.
Surprisingly, despite the endless number of images and examples online, there are very few instructional books available.
In the end, I settled on Beautiful Boards by Maegan Brown and I couldn't be happier with my decision.
Beautiful Boards by Maegan Brown
The imagery in this book is incredible.  It includes 50 different board designs ranging from small snack platters to full meal boards.  Every single one is gorgeous.
She tells you exactly what you'll need to assemble the board, what size board, how many it will feed, and tips on arranging the design.  It was exactly what I needed to gain a better understanding of how to construct a nice arrangement.
Funny enough, it wasn't until I looked closely at the book cover and saw "thebakermama" written below the author's name that I realized I had been following her on Instagram all along.  Talk about a coincidence!
With the book in hand, I attempted Maegan Brown's cobb salad meal board.
I found everything except the glazed pecans at Walmart.  The one stumbling block I came across, however, was that her board was round and the only board I had was rectangular.
There were no large round boards at Walmart.  I should have tried Target because they have a nice selection there, but I decided to work with what I had instead.
I sat and stared for a while trying to figure out how I was going to do this.
As I worked through my creation, things that I had overlooked in previous charcuterie board attempts (more on that below) became clear.  Here's what I learned.
Charcuterie Board Design Secrets
#1 – Adapting Circular Board Designs
Most circular board designs are using the largest ingredient as a central focal point.  Smaller items like condiments, sauces, and toppings are arranged in an outer ring around the main ingredient.
In the case of my cobb salad, the main ingredient was the lettuce.
So, how do you adapt a circular design to a rectangular board?  Start by creating an "s" shaped pattern using the main ingredient down the center of your board.
The undulating shape will bring in the same pleasing curves that you see in a circular design.
Then, flank each side of your center ingredient with stripes of other ingredients.  Think of this as fringe on a scarf.  The secondary elements are added in perpendicular rows up and down the sides.
Using this method, you'll be able to adapt any circular design to a rectangular board with ease.
#2 – Colorful Ingredients
Incorporating vibrant colors into your design is a must.
On my very first attempt at a board, I did not have enough color variation (among other things).
Although everything on this board was delicious, colorwise, it was all one-note.  I included deviled eggs, bacon-wrapped smokies, garlic shrimp skewers, and hot wings.
It looked drab and unappealing.  If I had been expecting guests I would not have presented them with this board.
Luckily, this was for an at-home date night with my husband, so the number of witnesses to my failure were few.  From this, I learned that color is absolutely crucial to creating a beautiful board.
#3 – Fillers
Small filler items are the finishing touch you need to make your board appear bountiful.  Fillers are things like nuts, berries, crumbled cheese and garnish.
Use these to fill in any gaps or bare spaces, particularly those around the outer perimeter if you can.  Neglecting to add in fillers may leave your board with an unfinished/almost there look.
Note: Regarding fillers around the perimeter… expect for items to fall off of your board unless you're working with a rimmed platter.  It's inevitable that you will lose and olive or two or five, here and there.
#4 – Utensils
A pretty board that can't be eaten easily is a fail in my opinion.  Brainstorming how you actually plan to eat your beautiful board beforehand is important.
If you plan to share the board among a few people, consider toothpicks or mini cocktail forks.  This is a much better option than having everyone's hands in the dish.
Not to mention, forks and toothpicks offer a little precision when selecting items off the board.  This will help keep the design intact longer.
If you have something that needs to be scooped and gathered like the cobb salad board, then just go for salad tongs and know that your design will pretty much be destroyed once you start eating.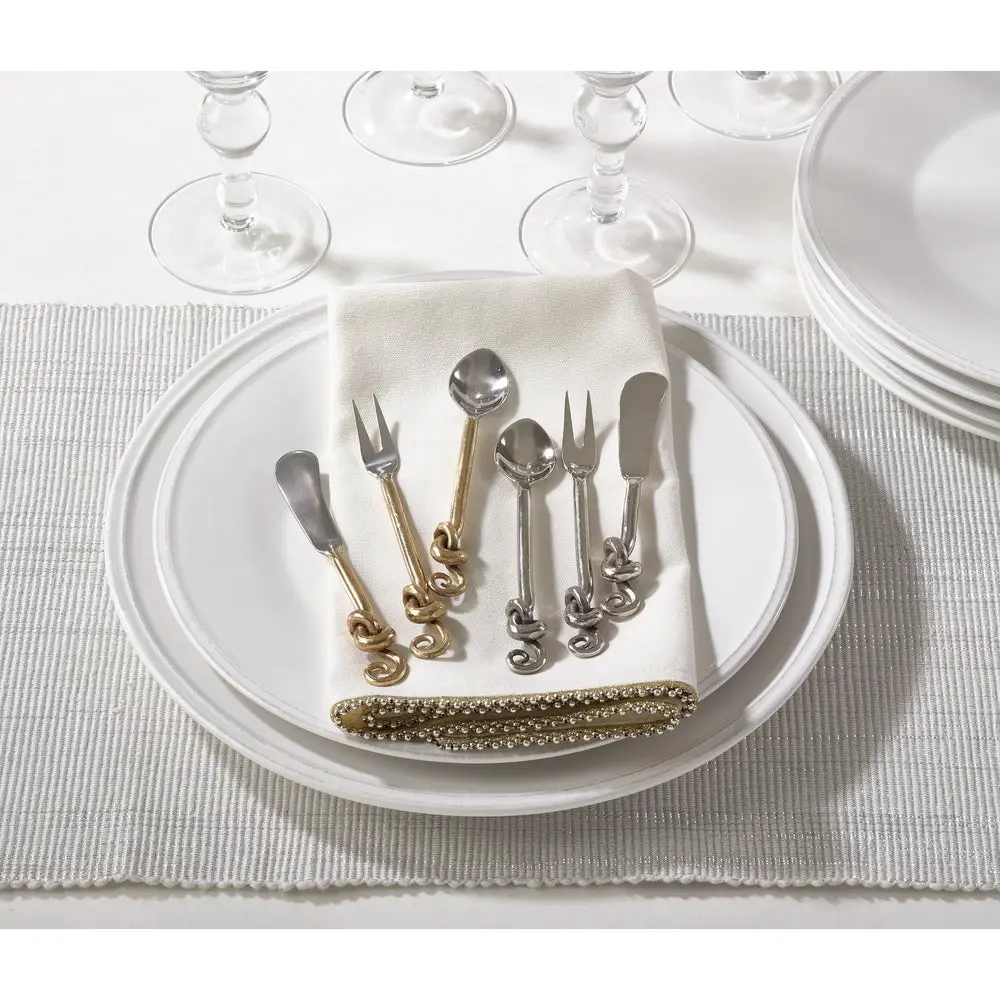 #5 – Balancing Hot and Cold
Avoid having hot and cold items on the same board.  No one wants hot lettuce and cold meatballs.
You can, however, mix hot food with room temperature food.  The same is true for cold food.
For the most part, unless you're making a specialty board, most designs call for food that can sit at room temperature.  Think chips and dip, fruit, olives, cookies, brownies, crackers, etc…
When it comes to cured meat and cheese boards, there is definitely a clock on those items once you take them out of the refrigerator.
However, it's unlikely that it will take you more than 2 hours to eat your board, so I wouldn't worry about that too much.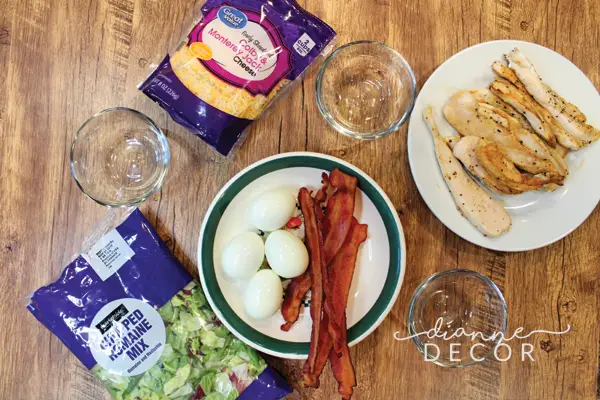 #6 – Board Selection
You do not need a charcuterie board to create a charcuterie board.
I know that sounds funny, but hear me out.
The term charcuterie board is generally used to describe a way of serving food.  It's a way to arrange and serve a meal, snack, or appetizer.
The actual board is simply a serving platter, tray, cutting board, etc.  It's okay to use whatever you have on hand.
If you are, however, in the market to buy something new and are rummaging around Amazon you may not find good results using the term "charcuterie board".
Instead, try the term "large serving board" for wood trays or "large serving platter" for ceramic and porcelain trays.
Conclusion
That concludes my 6 charcuterie board secrets.  I hope this helps you find success with your next board.
If you found this post helpful, please share it with a friend and follow Dianne Decor on Bloglovin' and Instagram.
To have my latest posts delivered directly to your inbox, join the mailing list before you go.  I'll send you my weekly newsletter filled with weekend reads, decorating inspiration, and home decor sales.
Thanks for reading!
appetizers
charcuterie board
home entertaining
party food
party food ideas
party platter
party tray
snack board