FTC Disclosure - This post contains affiliate links and I will be compensated if you make a purchase after clicking on my links.
*Item received for free for promotional consideration or a sponsored link.
Modern glam decor continues to be one of the most popular categories of interior styles.  One of the most admired color palettes for this interior style is blush and bronze.
The combination of these two warm-toned colors is wonderful.
Whether you call it modern glam decor or Hollywood glam, you're in for a dramatic, glamorous, look.  Second only to farmhouse decor, over the top glitzy interiors flood my Instagram feed on a daily basis.
In this post, we'll talk about how to decorate with this combo along with few alternative color palettes.
How to Decorate with Blush and Bronze
Hard Surfaces and Soft Surfaces
One approach to decorating with blush and bronze is to assign one color to your hard surfaces and another to your soft surfaces.
More often than not, you will see soft surfaces such as furniture upholstery, throw pillows, rugs, and bedding in blush.  Hard surfaces like accent tables, mirror frames, picture frames, and tabletop decor are used in a bronze finish as accent pieces.
This straight forward approach to decorating makes decision making simple and quick.
Of course, this method can be used with any color combo but works especially well with blush and bronze.
This is because bronze is metal and inherently a hard surface.  Even a painted faux bronze finish would require a hard surface, so it's easy to follow suit with this approach.
Bronze Foreground and a Blush Background
The second method of decorating with these colors is to assign one color to your foreground and the other to your background.
For instance, you might paint your walls blush and use picture frames, wall art, or furniture in a bronze finish.  Or, a pink tabletop with bronze figurines or candle holders on top would work as well.
Similar Color Palettes to Blush and Bronze
Part of the reason the blush and bronze color palette is so popular is the existence of several similar color pairings.  Before blush and bronze there was pink and gold.
In 2019 the Pantone color of the year was "living coral" we saw lots of coral and copper pairings.  Rose gold which is more of a blush and bronze mixed together is still going strong as well.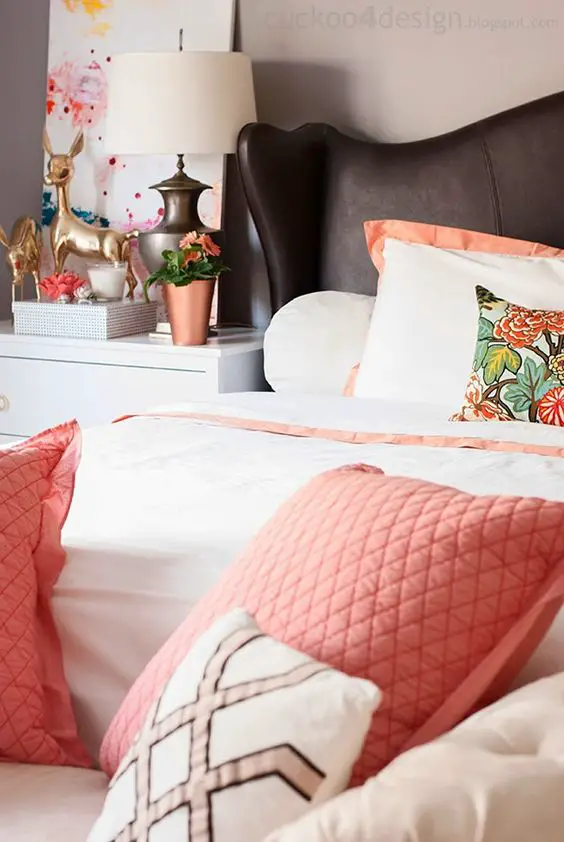 The use of any of the aforementioned color pairings works well when creating a glamorous, feminine look.
If you're looking for inspiration for your living room, nursery, or glam home office; consider this color palette.
If you find yourself having trouble locating "blush home decor", try using the term pink or coral instead.
Bronze Metal Alternatives
One of the most important things to consider when decorating a room is to use what you have.  Particularly, if you're working with a tight budget.
The good thing about this color scheme is it's easily substituted. 
If you don't have bronze, use copper, or gold, or even a mid-toned wood tone like oak or walnut.  When paired with a pink tone it will give off the same vibe as blush and bronze.
Conclusion
Do you have any tips on how to use blush and bronze?  I'd love to hear them in the comments below.
If you found this post helpful, please share it with a friend.  For more content from Dianne Decor follow us on Bloglovin' and Instagram.
Thanks for reading!
blush and bronze
coral and copper
glam decor
glam home decor
hollywood glam
home decor
interior color palettes
pink and gold
room design
rosegold