FTC Disclosure - This post contains affiliate links and I will be compensated if you make a purchase after clicking on my links.
*Item received for free for promotional consideration or a sponsored link.
Hosting overnight guests without a guest bedroom doesn't have to be as bad as you imagine.  There are several viable no guest room solutions including converting a room, doing a day to night switch, the bedroom shuffle, or an Airbnb staycation.
The best choice for you depends heavily on your own personal needs, duration of stay, and your relationship with your guest.
In this post, we'll get into it all, and hopefully, by the end, you'll find a solution that will work for you.
But first…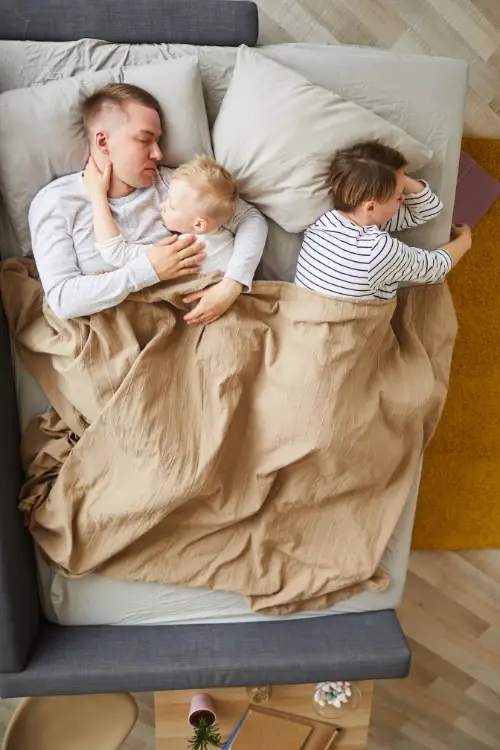 Here's What I Don't Recommend
Before I wade any deeper into these murky waters, I'm going to tell you what I'm not recommending in this post.
Bed sharing and room sharing are best left for kids.  Do not offer to host adults and assume they will be comfortable bunking in your bedroom.  It's not cool.
I also wouldn't put anyone over college-age on a sofa to sleep for the night.
Everyone needs their own personal space and a good night's rest.
The fact of the matter is, sometimes you just don't have the room to host overnight guests and that's okay.
If you have a studio apartment or already have roommates, your best solution may be to help your guest find a local hotel or Airbnb in a good neighborhood.
Skip to the section titled Airbnb Staycation for more on that.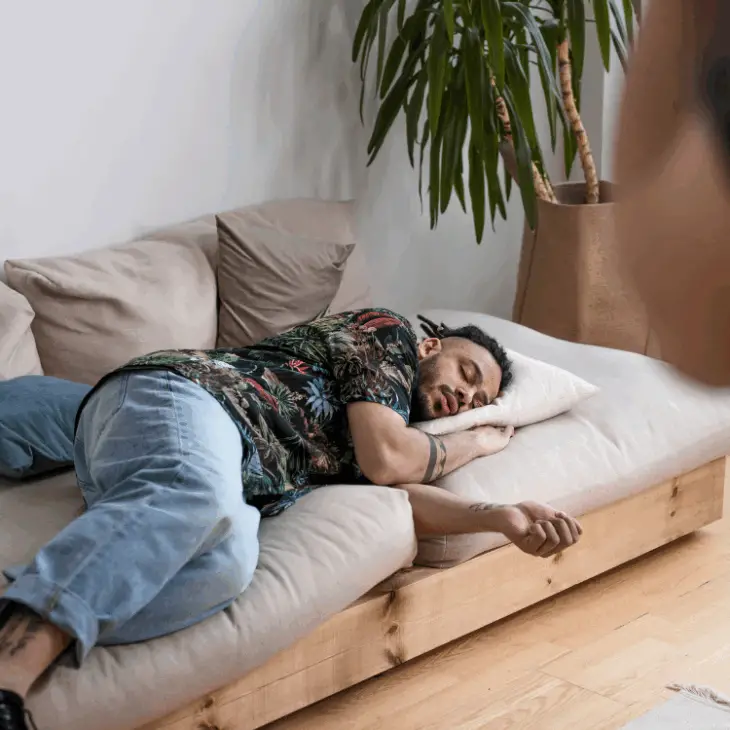 No Guest Room Solutions
At some point in your life you will likely encounter a situation where you want to host an overnight guest, but just don't have a spare bedroom. 
Don't worry.  Here are 4 no guest room solutions that don't involve pitching a tent in your living room.
1. Convert a room
An office, den, playroom, or finished basement can easily be converted into a bedroom for overnight guests. 
A foldable bed frame and a mattress will help you transform a space into an instant bedroom.
An air mattress is often people's go-to option for a temporary bed.
But if you're like me and dislike air mattresses with a passion, don't worry.  There are a few other options to top your foldable bed frame.
There's the ever-popular Millard Tri Folding Mattress.  You can find these in a number of places including Amazon, Wayfair, Mattress Firm, and Home Depot.
The sizes range from a cot to a queen and are all under $200.
There are also roll-up mattresses that will run you around the same price.
No matter which option you choose, converting a room will give your guest some much-needed privacy and comfort.
2. Bedroom Shuffle
If you already have multiple bedrooms, consider shuffling or combining sleeping areas to free up a bedroom.
Have siblings share a room or bunk the kids with their parents. Bunking kids with their parents works especially well when your kids are very young.
As we all know, kids are different.  While some may take it in stride and view it as an adventure, others may find sleeping alone in a new space scary, even when they're in their own home.
So figure out what is best for your family.
There are, of course, other deciding factors like the size of the bed needed for your guest(s).  In the end, that may ultimately be what factors into your decision the most.
Side note: If you're about to make a transition from a toddler bed to a twin, consider upgrading to a full size instead.  This will give you a lot more flexibility in the long run.  Not only will you have extra space for relatives to sleep comfortably, but your home will be more marketable as a short-term rental a la Airbnb (if you're considering that).
3. Day to Night Switch
If you don't have a spare room with a door that you can convert, consider doing a day-to-night switch.  
This is most commonly done in the living room.  
Whether you have a pull-out sofa or an air mattress, converting your living room into a makeshift guest room at night is a viable option.
While a private room with a door is preferable, this is just fine for a short 1 or 2-night stay.
A room divider or curtains will help to increase privacy and seclusion in this open setting.
Just remember to be mindful of your guest late at night or early in the morning.  
Discuss plans for the morning before you say goodnight so that they aren't startled awake by banging pots and pans at 6 am.
4. Airbnb Staycation
It's easier than ever to find affordable, comfortable, accommodations out of town and in town. 
You may be surprised to see just how many of your neighbors have their homes listed on sites like Airbnb and VRBO.  
Instead of sending your guests to a hotel and having them commute back and forth to your home or apartment to visit, do an Airbnb staycation.
Find a trendy place in your area that's a tourist hot spot with lots of things to do and offer to stay with them.  It will be easy to find a condo or home big enough for everyone to have their own room, and best of all you can split the cost making it affordable for everyone.
It's really a win-win situation.  They don't have to pay as much as they would at a hotel, and you don't have to pay to buy an air mattress or room divider or extra pillows, etc.
All you have to do is bring yourself and some food and you're good to go.
and split the cost. 
This is a perfect opportunity to stay close by to tourist destinations and spend quality time with your guests. 
Moreover, this arrangement will give you the feeling of a mini-vacation.
Being in another part of the city may lead you to discover new hidden gems like boutiques, coffee shops, and little mom-and-pop restaurants.
Other Considerations
Naturally, there are other factors that you may need to consider before deciding which no guest room solution is right for you and your guest.
What's The Purpose of Their Visit?
Are they here to visit you for an extended period of time, attending a conference, funeral services, or graduation ceremony?
Consider the amount of time you will be spending with your guest in your home.  
If it's an old college friend that's just looking for a place to crash for a night while they attend a conference you may not want to go through the hassle of the bedroom shuffle.  
It may be simpler to add a rollaway bed to your study or pull out the sofa bed in the living room. 
Or maybe, your guest is in town for work and giving a presentation.  They may need some additional working space and quiet to prepare.
In this case, you may want to convert a room or go for an Airbnb staycation.
Who's Visiting?
As a general rule of thumb, I never give up my bedroom for a guest.  But I will bend over backward for certain family members like my parents or grandmother.
Under no circumstances is grandma getting an air mattress in the office. 
On the other hand, teens like nephews or nieces can certainly handle the day to night switch with little to no issues. 
Also, don't forget to consider accessibility.  Is the person visiting okay with stairs, or need to be close to a bathroom?  
Their needs will help you determine which accommodation is best.
Conclusion
We all want to make our guests feel welcome. 
Of course, their expectations also need to be managed when you're in a space with no guest room. 
Make it clear to your guests what the sleeping arrangements will be when they visit.  In the end, they may decide it's more comfortable for you and them to stay in a hotel down the street.
But, with the no guest room solutions, we discussed in this post, that doesn't have to be the only option.
Remember, it's your offer of hospitality that counts the most.
If you enjoyed this post, below are a few more you may like.
Don't forget to join the mailing list before you go.  I'll send you a copy of my weekly newsletter filled with weekend reads, decorating inspiration, and the latest deals on home decor.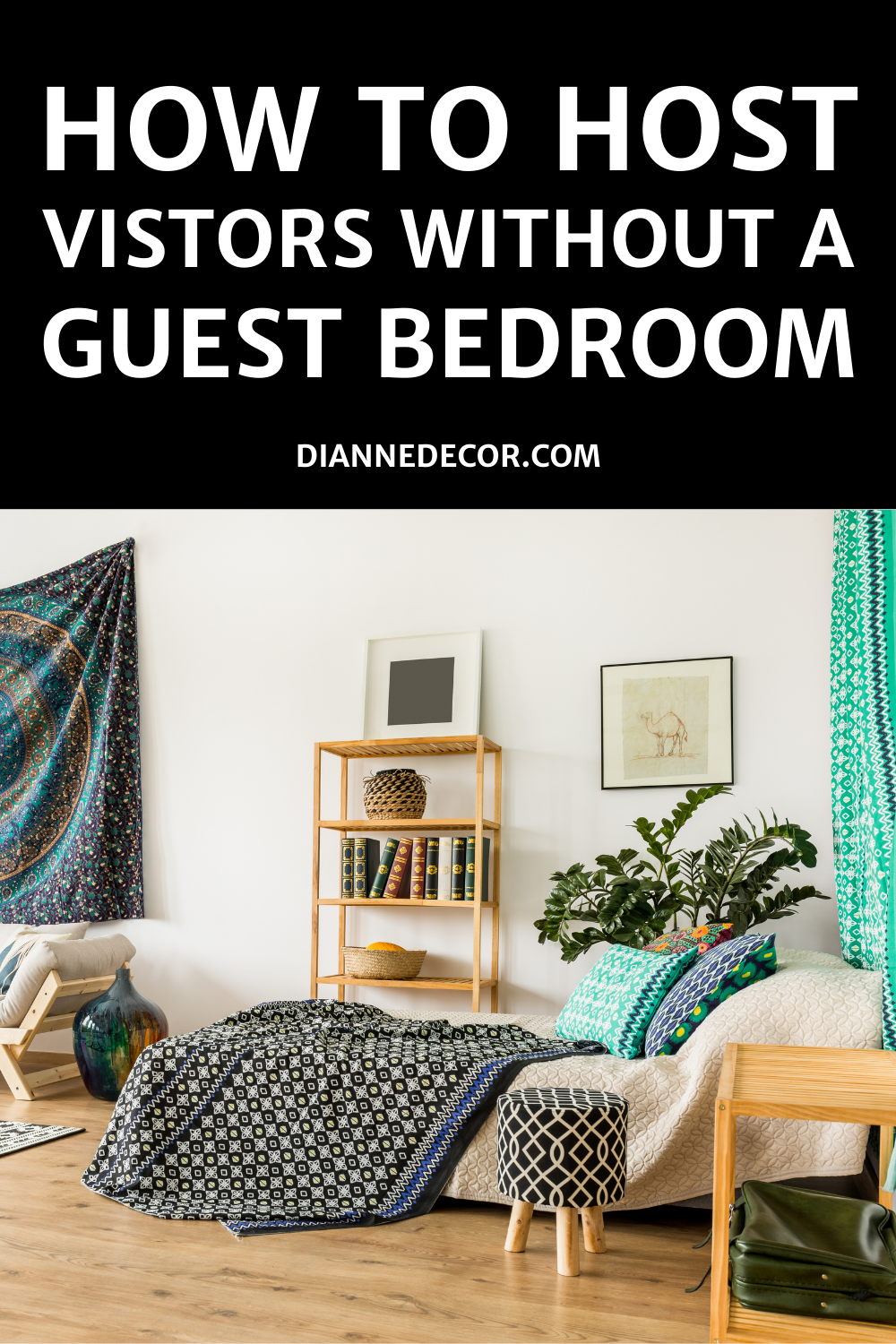 Thanks for reading!
guest bedroom
house guests
no guest room
overnight guest