The Ultimate 4th of July Party Planning Guide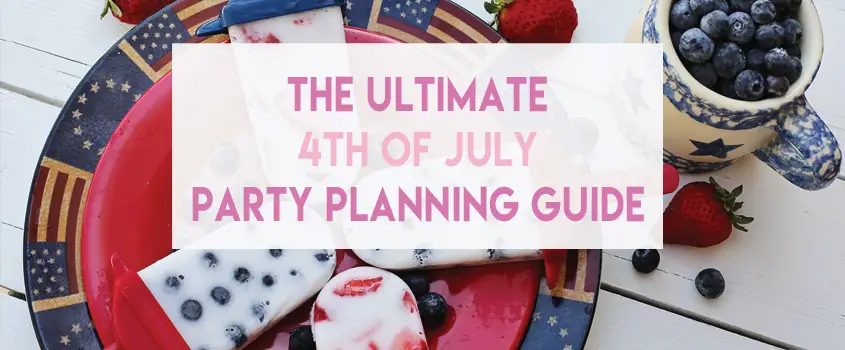 FTC Disclosure - This post contains affiliate links and I will be compensated if you make a purchase after clicking on my links.
*Item received for free for promotional consideration or a sponsored link.
Independence Day is just around the corner.  Second, only to Christmas in my home, the 4th of July is one of my favorite holidays to celebrate.
The weather is great, there are fireworks, grilling, and late summer nights.  Planning a 4th of July party, however, can be a daunting task.
The stakes are high and you will likely have to cover your bases for both adult and kid-friendly food and entertainment options.
In this post, I'll share my ultimate 4th of July party planning guide.  We'll go through everything you'll need to cover to plan and host a successful event step by step.
There's a lot to cover, so let's get started.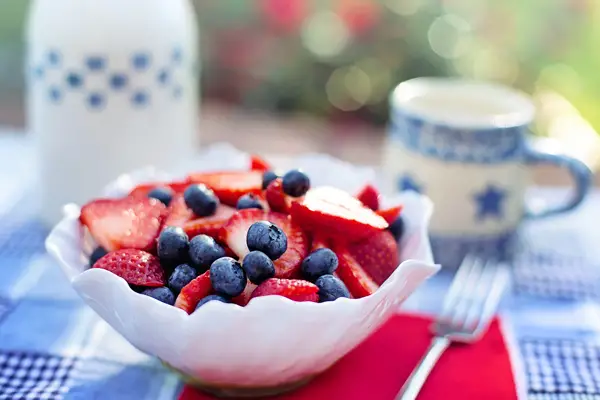 4th of July Party Planning Guide
1 Month Before
One month before the holiday settle on time and date for your event.  The date is a no-brainer.  Hold your event on the 4th of July.
Unlike a holiday party, which could happen anytime in December prior to Christmas, Independence Day is a fixed date.
The time and duration for which you choose to host guests, however, is totally up to you.
I recommend leaving your doors open to guests for at least 4 hours.  While many of us will have the day off from work, not everyone will.
Hosting for a larger window of time will allow folks that have to work on the holiday to stop by before or after their shifts.
So, if you can swing it, it's not unheard of to have an open-door policy for up to 8 hours on the 4th of July.
About a month out you'll also want to create your guest list and send out formal or informal invitations.
A rain or shine plan should also be formulated at this time.  Will you cancel your event if it rains?
Or, will you attempt to accommodate your guests indoors.  If so, how will you do it?  Other things to consider if it rains are how you will keep your grill and grill master dry?
Do you have enough table or counter space indoors to hold all of the food and beverages?  Will you have room left over to give everyone a place to rest their plates and drinks?
Renting tents may also be an option if you have space and resources.
Finally, a month before your 4th of July party start stocking up on the paper products and non-perishable items you'll need.  Think paper plates, plastic cups, napkins, paper towels, condiments, etc.
All of these things will likely go on sale at your grocery store around this time.  This makes stocking up now a good move for your budget and your sanity.
Be sure not to forget things like extra toilet paper, disposable guest towels, extra handsoap, etc.
[std alias="4th_of_july_party_planning_checklist"]
3 Weeks Before
Complete a full deep cleaning of your house 3 weeks before the party.
Tackle things like blinds, curtains, door frames, baseboards, window sills, windows, clean your fridge and oven, and declutter your pantry.  You don't have to do your entire home.
If you don't have the time or energy for that, focus solely on the party zones.  Entryway, kitchen, living room, guest bath, and any other areas you may use for guests should it rain.
Backyard prep should also happen at the 3-week mark.  Clean up your flower beds and power wash your patio, deck, patio furniture, and outdoor rug if needed.
Freshen up any potted plants or garden areas.  Remove debris from your yard.  Look for large branches or stones that people could trip over.
Haul out any extraneous items like leftover DIY project material, tools, extra bags of soil, etc.
This is especially important if you're expecting young kids who will be running around chasing bubbles and dodging the sprinkler.
2 Weeks Before
Next, start planning your 4th of July party menu.  What food options will you offer?  What are the drink options?  Will you have kid-friendly snacks and beverages available?
Two weeks before the party tackle your home maintenance chore list.  Replace burnt out light bulbs, make minor repairs, and address any obvious pest control issues such as hornet nests or fire ants.
Inventory your kids' entertainment and adult entertainment options.  Things like bubble makers, sidewalk chalk, bean bag toss, horseshoes, etc. are all great to have on hand for the 4th of July.
This is also a good time to make sure you have extra sunscreen, bug repellent, and basic first aid supplies on hand.
If you're planning water-related activities for young ones have a few extra towels available as well.
Last but not least, pick up a pack of thank you cards now.  Having them on hand before your event increases your chances of getting them out in a timely manner.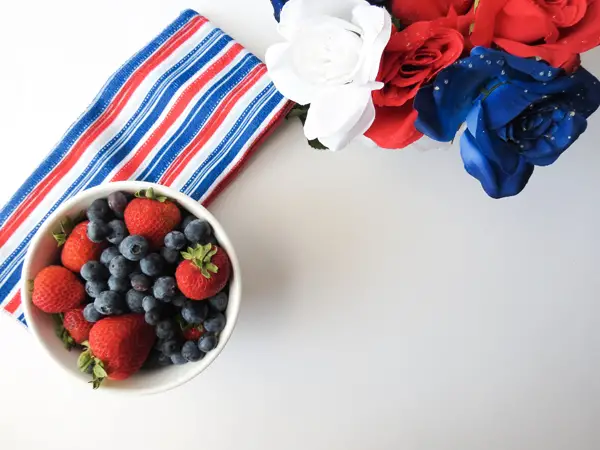 1 Week Before
Create a layout for your party.  Where will people grab a beverage?  Where will the trash be placed?  Will you keep the food indoors or outdoors?
Consider anything you would normally look for yourself at another person's home.  Strategize your seating arrangement at this time as well.
As much as you may want your guests to hang outside, it's almost inevitable that a few will be more comfortable indoors.
For example, older guests like your grandma, or friends and family trying to feed infants and very young children.  Make sure you have a small area where they can sit, eat, and be comfortable inside.
One week before the party get your final guest count and add a few extra for good measure.  Purchase specialty and adult beverages now to avoid chaos in stores just before the holiday.
Also, pick up any special decorations you'd like to use, or work on a few easy 4th of July DIY decor projects.  If your county allows the purchase of fireworks, you'll likely see them on sale one week before the holiday.
This is a good time to go ahead and get that task out of the way as well if you plan on using them.
Finally, make arrangements for your lawn to be cut, hedges trimmed, and fresh mulch spread.  Please do not wait until the last minute to do this.
Fresh cut grass may trigger allergy sufferers and mulch can smell absolutely awful.
Be sure to do this at least 3 days in advance to avoid these issues.
2 Days Before
Now is the time to purchase your fresh meat and produce, assemble party favors, and clean your party zones.  Cleaning shouldn't be too tasking if you completed the deep cleaning a few weeks ago.
A quick once over with the broom or vacuum on the floors should suffice.  Declutter and wipe down countertops, and make sure everything is presentable.
This is also a good time to take inventory of breakable items and possibly relocate them for the party.
1 Day Before
The day before your 4th of July party, set up your decor.  Balloons can be inflated at this time as well, or you can wait until tomorrow.
Stage your food stations by placing all of your serving bowls and platters where you want them.  Set out silverware, cups, plates, bowls, trash can, coolers, etc.
Now is the time to give you grill and grilling accessories a good cleaning as well.  Picking up bags of ice the day before is also a good idea if you have room to store it.
Day of Event
On the morning of the 4th of July clean your guest bathroom and if needed do a quick 15-minute express cleaning.
Next, start to prepare final menu items.  Fire up your grill if you're using wood or charcoal and place your beverages on ice 30 minutes prior to your guest's arrival time.  This way you can offer everyone a cool beverage as soon as they arrive.
Your grill will also be ready to start cooking if you choose to wait until guests turn up.
Personally, I think this is a good time to cook a few easy things like hot dogs or sausages.  That way I can get in a snack before things get hectic.
Plus, you'll have delicious smells coming from the backyard to welcome everyone.  But, do whatever works for you.
The Day After
Resting and enjoying leftovers is all I ever want to do the day after hosting.  Take this day to relax and enjoy all the food and snacks you don't usually have hanging around.
All too often, the host or hostess doesn't get to do this as much as they may want the day of the party.  They're usually busy making sure their guests are enjoying themselves.
If this sounds like you, take the day off to enjoy it.  You deserve it.
2 Days After
Complete a final clean up and put away any games, coolers, folding tables, extra chairs, etc. that were used for the party.  Write out, address, and mail your thank you cards 2 days after the party.
If you wait much longer you may begin to forget who attended and what they brought.  It's always nice to include a personalized thank you and acknowledge contributions to the event (i.e. cookies, potato salad).
If you can't remember what everyone brought, a simple "thanks for celebrating with us" or "we loved having you at our 4th of July party" will suffice.
Conclusion
Planning for your 4th of July party is a lot of work, but it's so much easier with a plan of action.
I hope you found this guide helpful.  If you did please share it with a friend and follow Dianne Decor on Bloglovin' and Instagram.
Also, don't forget to download your free copy of my 4th of July Party Planning Checklist below.
[std alias="4th_of_july_party_planning_checklist"]