FTC Disclosure - This post contains affiliate links and I will be compensated if you make a purchase after clicking on my links.
*Item received for free for promotional consideration or a sponsored link.
Are you looking for a beautiful, yet practical gift idea for someone who loves to entertain?  Serving sets are the way to go.
As someone who hosts a number of gathering with family and friends each year, I'm always in need of large bowls, platters, and other serving pieces.
Unless you've registered for items like this at your wedding (wish I had), you'll need to piece your collection together on your own.
After years of serving food out of those big aluminum disposable trays, I became determined to acquire some real serveware.
Where to Find Inexpensive Serving Sets
In my search, I found that these pieces can range anywhere from $10 to $200 or more.
So, where can you get the best deal on great quality pieces?  Amazon, of course.
The variety of items and brands is simply unmatched.  I found some great deals that won't break the bank and would make any receiver smile.
If you're shopping for yourself, newlyweds, a new homeowner (don't forget to check out our new homeowner gift guide), or for someone who hosts a lot of events; check out this list.
Serveware and Serving Sets Under $50
This is a great piece to have if like serving appetizers on a charcuterie board but aren't quite skilled enough to create an amazing freestyle design.  Everything is divided out for you with the little dishes and it even comes with a knife and spreader.
Suggested Read: "6 Charcuterie Board Design Secrets Revealed"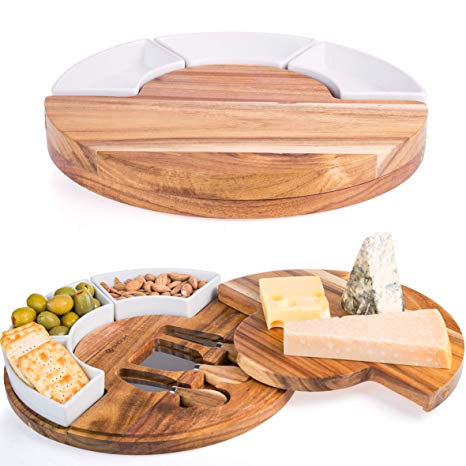 These Moscow mule mugs are really trendy right now.  The copper finish on these is a nice touch and this set even comes with the metal straws.
I have to admit, I'm a sucker for shiny, etched, cutlery.  I don't know what it is, but I just love it.
This 10 piece set is lovely and has a holly leaf design on the handles.  It's a great find for under $50 for yourself, or to give as a gift.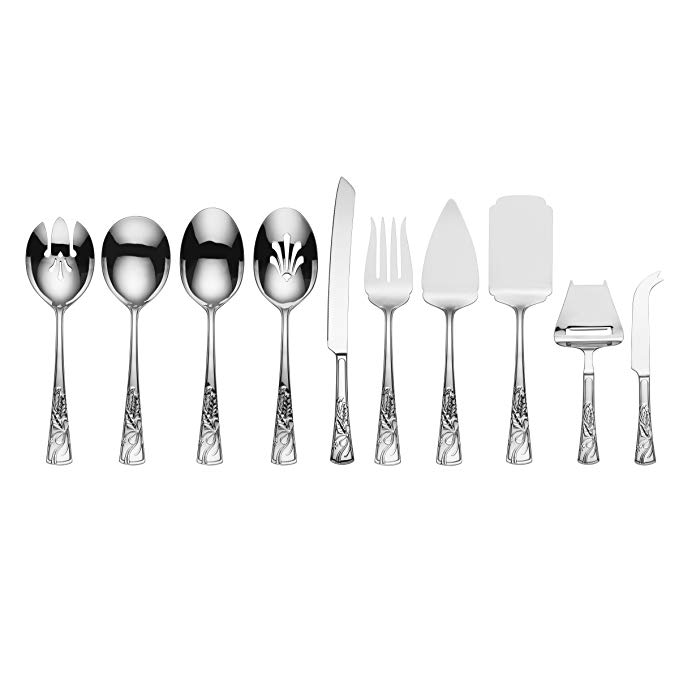 For $20 this little dip set is a great buy.  If you like the look of clean, white serving sets, but want to add a little personality to your collection, this is a great option.  It's cute, simple, and functional.
For a more casual serving option, this 4 piece set is a good option.  The black base adds a lot of style to the set.  If you're into modern industrial decor, this would likely jive well with other items in your home.
Here's another all-in-one cheese board option.  Unlike the first board in this listing, this is rectangular with a channel running in a u-shape around the board.
It doesn't have separate removable dishes, but it does provide a lot of space to arrange your items.  The cutlery is also included in this set.
7 – 4 Piece Condiment Server Set
This is another casual serving set.  There are 4 sections in which to add your items, but the real standout in this piece is the carrying hook.  This feature alone would make me reach for this over others.
When I see this set, all I can think about is a classic Christmas.  This set has vintage style graphics that are quite nostalgic.  Although I'm not in love with the graphic in the middle of the large platter, I do love the pine branches that rim the tray.
And the saucer and salt and pepper shakers are darling.  This is such a great find for under $50.
These teeny tiny spoons are basically just for decoration.  By no means are you going to get a lot of mileage out of this set.  But, for a special occasion like a Mother's Day Brunch buffet, or high tea.  This mini spoon set would make a big impression.
Every time I see a bowl like this I think of my mom's chocolate trifle.  Anytime we had a big cookout with lots of family in attendance, my mom whipped out this signature dish.
This bowl is definitely going on my wish list.  The textured pattern really makes this something special, and you can't beat the price.
Conclusion
That concludes my picks on the best serving set deals under $50.  Stay tuned for more gift guides over the coming week.
If you enjoyed this post please share it with a friend.  Don't forget to follow Dianne Decor on Bloglovin' for more content.
Thanks for reading!
gifts
home entertaining
hostess gifts
serveware
serving sets
servingware