FTC Disclosure - This post contains affiliate links and I will be compensated if you make a purchase after clicking on my links.
*Item received for free for promotional consideration or a sponsored link.
When it comes to entertaining, the living room design is key.  This is, by far, the most used room in my home when guests are visiting.  Followed, in close second by the kitchen.
There'll be more about kitchen design in another post.  But, for now, living room design is the topic of the day.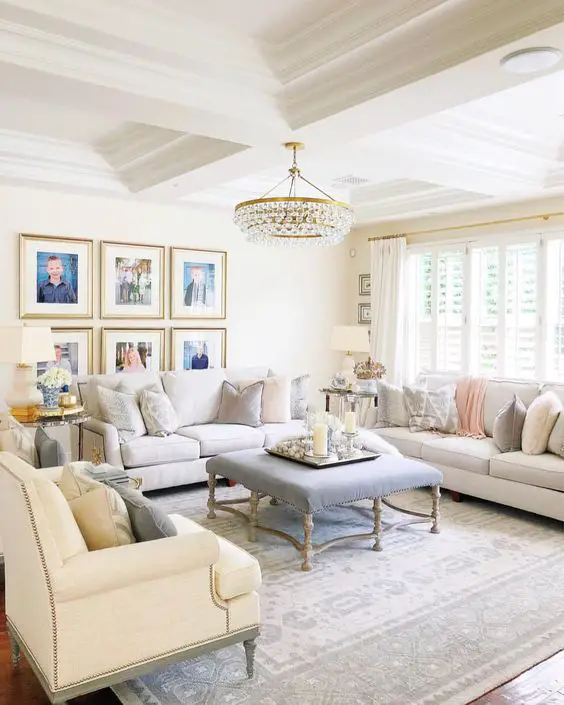 Gorgeous living room design room @randigarrettdesign via Instagram
Living rooms host a ton of different functions.  They're used for entertainment, to watch tv, listen to music, read a book, play a game, etc.
5 Living Room Design Mistakes to Avoid
Designing a room with so many possibilities can be tricky.  Besides the obvious place to sit down and rest a glass, living room design is very personal and the way the space is shaped will vary from home to home.
So, how do you ensure that your room looks good, is functional, and is inviting to guests?  Avoid these common mistakes and you'll be well on your way to a beautiful room.
#1 – The Wrong Scale Furniture
Do you have a giant great room?  If so, size up to a large sectional for your main seating.  Or, divide the space into two separate sitting areas.
Furniture that does not properly fill the space can make things feel like they're floating around or unfinished.  Also, make sure to anchor your furniture with a great rug.
If you, on the other hand, have a smaller space or are in an apartment, scale down.  A 5 seater sectional or a 3 seater sofa and an accent chair will suffice.
Placing oversized furniture in a space that is not big enough to hold it has the potential to create a host of problems.  It can impede your ability to move around the space, place you too close to a television, or obstruct a doorway.
Avoid all of these by choosing the right scale furniture.
#2 – Not Enough Lighting
Your living room design should be functional by day and night.  A lack of lighting is usually something we only notice when the sun goes down.
Most living rooms have large windows that look out to a front or back yard.  With all that natural sunlight coming in during the day, you might not reach for a light switch until 6 or 7 pm.
How can you tell if your space is improperly lit?  Easy.  If you have to turn on a light in an adjacent room to get the level of lighting you want in the living room, more light is needed.
Try placing floor lamps or table lamps on each end of the sofa to supplement.
#3 – Not Testing Paint Color Properly
When testing paint colors you may be inclined to paint a small patch of the wall before painting the whole room.  While this is a good idea, it's better to swatch a larger area.
Especially, if you're intending to paint a living room.  Since they tend to be one of the largest spaces in a home, a swatch that is at least the height and width of your body is ideal.
This way you can get a true feeling of walking into a room completely covered with that color.  You will have a better sense of what it feels like to be surrounded by that color.
#4 – Too Many Photos
Photos are a great way to warm up your home and create an inviting feeling.  Not to mention, they're great conversation starters.
However, we've all been to that one house with too many photos.  A wall, or buffet table, or a mantle overloaded with frames can make you stop and take a breath.  Almost as if your mind is preparing itself for having to digest a ton of information at once.
As nice as it is to take trips down memory lane, don't overload your guests.  A few photos are nice but collections should be restricted to photo boxes or a dedicated gallery wall in a hallway or staircase.
#5 – Too Matchy Matchy
As tempting as it is to just order from a complete set of furniture from a store, don't do it.  They'll often try to sell you the entire collection for a discounted price.  And it may seem like a good deal since you know you'll want all of these pieces (lamps, end table, coffee table, sofa, loveseat, etc.) anyway.
But, by purchasing a fully matching collection you risk your room looking overly staged.  It can be uncomfortable for you and for guests.
Worse, it may lead to you not using this space in your home if it doesn't bring comfort to you.  Buying the full collection of furniture and accents is sort of like leaving the placeholder photo in a new frame.
Try to go for a more lived-in look by curating pieces that coordinate, but don't necessarily match.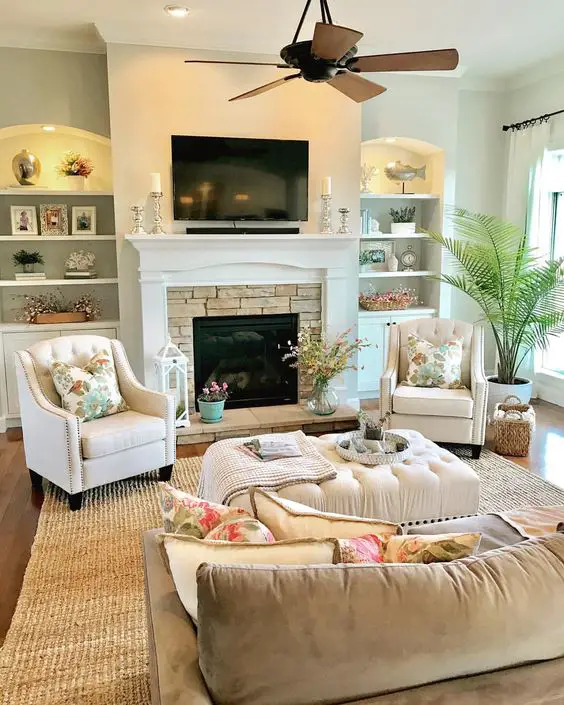 This living room is beautifully balanced with coordinating furniture and accents by @wowilovethat via Instagram
Do you have any design tips to share or mistakes to avoid?  Comment below.
If you found this post helpful, please share it with a friend and follow us on Bloglovin'.
For living room design inspiration check out our Pinterest board here.
Thanks for reading!
design ideas
design mistakes
living room decor
living room design
living room ideas
room design