FTC Disclosure - This post contains affiliate links and I will be compensated if you make a purchase after clicking on my links.
*Item received for free for promotional consideration or a sponsored link.
Sand & Stable is a brand carried exclusively by Wayfair. The Sand and Stable furniture features farmhouse charm with coastal sophistication.
Think Hamptons coastal, classic farmhouse pieces, and seamless design for well-loved spaces.
Sand & Stable is inspired by places of ease and comfort. With farmhouse details, neutral and relaxed hues, classic coastal prints, the collection gives a sense of slowing down and turning your home into a beach escape.
About Sand and Stable
Sand & Stable's style is a combination of country and the coast. It offers a refreshing look by adapting elements from land and sea, from barn wood to coastal hues.
What items are there and how much do they usually cost?
The brand offers a wide range of home décor options, from bedroom furniture and bedding, living room, outdoor, area rugs, kitchen and dining, office furniture, lighting, wall art and décor, and baby and kids.
Since Sand & Stable is exclusively available from Wayfair, you get the convenience of shopping online, 1- or 2-day shipping, and an easy website to browse and comparison-shop.
The collection combines casual farmhouse elements reminiscent of barns and stables with the breezy coziness of coastal living.
The colors feature soothing hues and breezy fabrics, just like you'd expect from seaside escapes and resorts.
The trademark textures of modern farmhouse and coastal are prominent in the furniture and fabrics.
There's the wide use of slatted designs on wood surfaces. Accessories such as baskets make use of rattan materials for storage. Light fixtures have touches of geometric detail.
The furniture collection uses a lot of charcoal gray, rustic brown, franklin blue, whitewash, and antique elements.
Oak, pine, natural and weathered oak finishes are common. They use relaxed, modern silhouettes for pieces that are both comfortable and sleek.
Vintage botanicals, modern gingham in subtle pastels, and bold stripes give a resort-like touch.
If you love minimalism paired with rich oak textures, then this brand is something you might want to check out.
Small furniture pieces like end tables start around $200. Bigger furniture sets range anywhere from $999 to $2,200.
Patio furniture ranges from around $200.00 to $1,300.00.
During sales, you can find great deals on decorative items like cushions, mats, lighting, and linens.
Modern Farmhouse Meets Hamptons Coastal
Sand & Stable's style is a mashup of Modern Farmhouse and Hamptons Coastal.
Even if you don't live in a farmhouse or up in the Hamptons, you can still achieve that laidback and affluent look with the help of this particular brand.
There is no question that the brand can play up any bright, airy spaces in your home with the integration of blue, gray, greige, and the deep finishes of oak and vintage blue.
But, avoid whitewash if your spaces already have a lot of white.  Otherwise, you risk having your place look like a hospital.
Sensational Finds From Sand and Stable Furniture
Here are my favorite picks from Sand & Stable's product line.
This distressed solid pine coffee table's natural finish adds a coastal farmhouse touch. The butcher block style lends a tasteful wood grain and knots for a semi-antique look.
The four flared legs with x-shaped support give an architectural, farmhouse look. The open shelf maximizes space.
The solid wood and steel combination pairs excellently with any family room or living room, creating a relaxed ambiance in your space.
The planked top makes it a lovely minimalist addition for any upholstered leather or polyester finish, making it look better with age.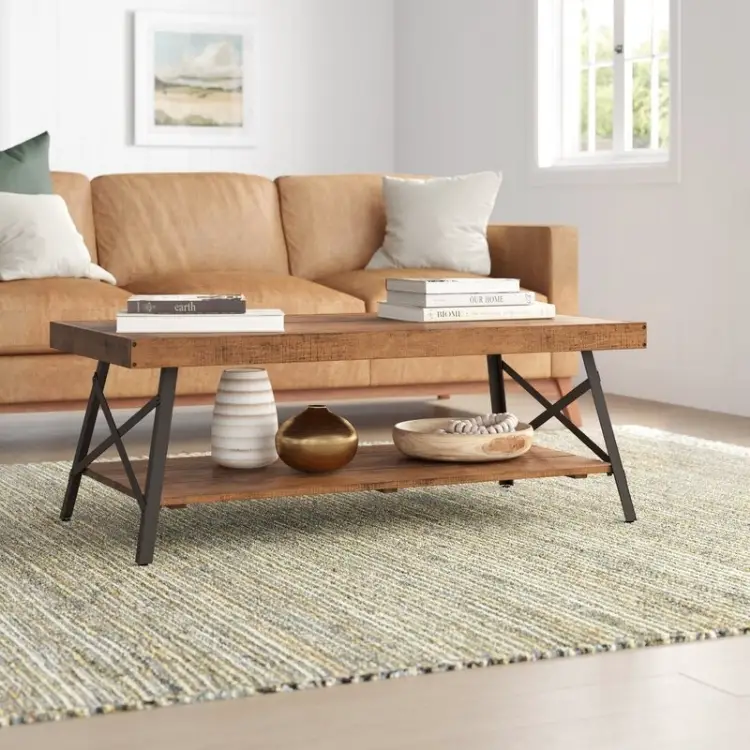 Another farmhouse-coastal luxe pick, this gorgeous distressed dining table can easily transition from a casual get-together to a posh and modern party.
It all depends on what chairs you pair it with.
Informal wood chairs and soft accent pillows give a casual feel. But pair it with upscale upholstered armchairs for a classy look.
This pouf is rich in texture and character. The braided jute construction gives it an artisanal feel.
It comes in seven colors and can easily complement any coastal or bohemian-themed space.
This piece is a lovely conversation starter and can help bring outdoor elements indoors while upping your space's coziness level.
Crafted from solid reclaimed teak wood in a natural stain and a circular silhouette with a tripod base, the piece's rustic appearance mimics the look of a real tree.
The perfect partner to the Teres Drum Coffee Table, this end table uses the same organic coconut shell mosaic pattern. It's lightweight and durable, making it easy to move around where it is needed.
This table comes in either a light blue or white patina finish.
This is great for tiny homes where you need to maximize space.
This sofa and chaise lounge set features a reversible design and removable back cushions, allowing you to rearrange your living space by installing the ottoman on either side.
The distressed brown upholstering can complement any room. The nailhead trim detail at the bottom adds a subtle, classic feel so you can lounge in style.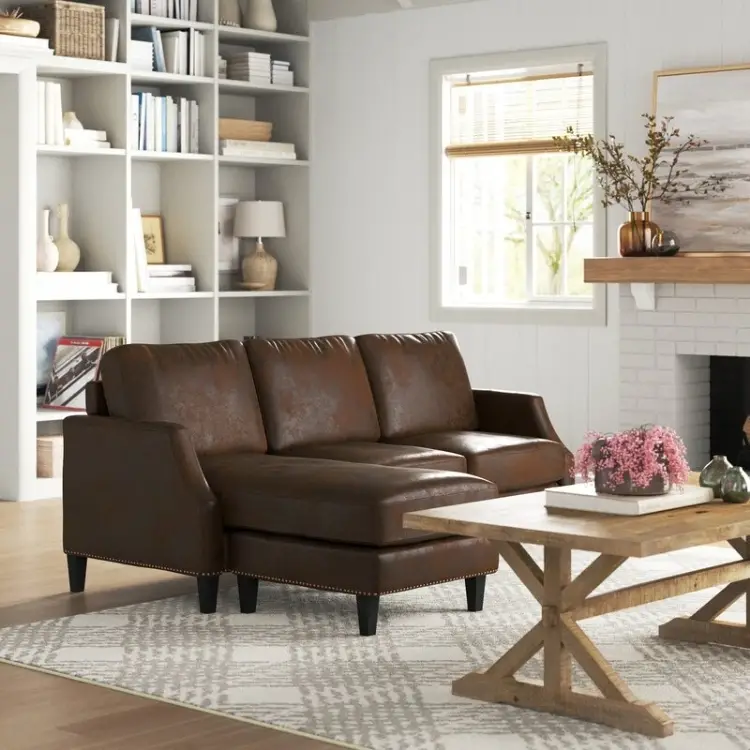 This versatile sideboard provides stylish storage for the kitchen, living room, or patio.
It's made of engineered wood with crown molding for the right touch of farmhouse and coastal style. Choose between a birch or dark walnut finish.
The book match-style doors can act as closed storage, while the three adjustable shelves are great for showcasing decorative pieces. Cable management in the back of the piece helps keep wires tidy.
This piece effortlessly marries coastal and farmhouse. With a breezy striped design, it's the right armchair for a living room or den.
Made of a solid engineered wood frame, its tapered block feet give a sturdy feel.
It would look fantastic tucked into a comfortable corner with a solid-colored decorative pillow or knitted blanket.
This is a great lighting piece for a farmhouse-inspired kitchen. A 1-light pendant look gives off an industrial farmhouse vibe with the clear glass shade, making it a great touch on any kitchen island.
It proudly shows off exposed hardware in a sleek metallic finish. In addition, it has an adjustable downrod and a sloped ceiling-compatible canopy.
Even an Insta-worthy piece of artwork can add a farmhouse coastal vibe. This black-and-white image is relaxing to the eye and adds a touch of the beach to your space.
It's available in a variety of formats and includes wall-mounting hardware, making it ready to hang in any space.
This fresh and breezy piece gives an unmistakable coastal farmhouse look to a master or guest bath.
Materials utilized are metal in a shiny neutral finish and a square backplate with a thin, horizontal bar where three lantern-style tops are attached, reminiscent of fisherman's lanterns.
The seeded glass shades give a water-like effect, creating comfortable and relaxed lighting that adds drama to your interiors.
Coffee tables are an important indicator of your home's style and personality – while creating space to display books, candles, and decorations, of course.
This piece is handcrafted using teak branches to create a rectangular base. The appeal of the raw, unfinished wood and naturally-rounded edges speaks for itself.
Conclusion
You don't have to live on the coast or in a farmhouse to make your space feel like a seaside or country escape. Sand & Stable brings these elements into your home so once you step in your door, you're ready to relax in your safe space.
What's more, you don't need a lot of money to be able to settle in this interior style as most pieces are able to fit your budget. With a little creativity and vision, you'll be settling in your coastal farmhouse abode in no time.
I hope you found this helpful.  If you did, please share it with a friend and follow Dianne Decor on Medium for more from me.
You can also find me on Twitter, Pinterest, and Instagram.
To have a copy of my latest posts delivered directly to your inbox, join the mailing list before you go.  I'll send you a copy of my weekly newsletter filled with weekend reads, decorating inspiration, and the latest deals on home decor.
Thanks for reading!
decor collection
decor line
farmhouse decor
modern farmhouse
sand & stable
sand and sable
sand and stable
wayfair
wayfair decor