FTC Disclosure - This post contains affiliate links and I will be compensated if you make a purchase after clicking on my links.
*Item received for free for promotional consideration or a sponsored link.
MoDRN is featuring a new Neo Luxury decor collection at Walmart.  At first glance, I didn't know what to make of this style.  I couldn't quite place it.
It looked new but familiar at the same time.  I couldn't immediately identify it's style.  But the more I looked at each piece, the more I fell in love.
Here's what you need to know about how the new MoDRN Neo Luxury Decor was born and my top picks from the line.
What Is Neo Luxury?
My very first question when I landed on the promo page at Walmart.com was "what is neo luxury"?  It's a term I'd never heard before.  So off to my good friend Google I went to do some research.
Here's what I learned about the concept of "neo luxury" or new luxury to put it in layman's terms.
The Exclusivity of Luxury
Traditionally luxury items have been enjoyed by only a few.  Luxury by definition is something of great comfort or extravagant in nature.  Most of us, unfortunately, do not live in great comfort or have extravagant lives.
Instead, we witness it via celebrities, titans of industry, and reality tv stars.
During the art deco period in the 1920s and 30s, extravagant living was at its peak.  Art and architecture were revered and the appreciation of things for their purely decorative value was shared by many.
Furniture was upholstered in rich fabrics made of velvet and jewel tones.  Gold was the popular metal at the time.  And we saw crystal featured in chandeliers, glasses, and vases.
Think great gatsby style.
It's also important to note that art deco was also called style moderne, suggesting it was the modern style of the time.
The Inclusivity of Neo-Luxury
MoDRN's approach to defining neo luxury is to combine sleek modern silhouettes with luxury fabrics, colors, and metals like those enjoyed in the art deco era.
In a post about the collection by Kellen McKillop, MoDRN's neo luxury decor is described as embracing traditional elements such as tufting, velvet, and soft edges.  Yet, it remains contemporary and aligned with the modernism trend by having silhouettes with simple, clean lines.
She goes on to say…
Classic elements combine with contemporary, minimalist features to create a glamorous look that embodies the sophistication of the past and the style of today.
That all sounds great, but what I find to be most intriguing about the line is its accessibility.  While this may not have been their intent, they have reimagined the construct of luxury by providing little splashes of extravagance that many of us can afford and enjoy.
This is counter to the idea of luxury in the past where it has been enjoyed by only a few members in society.
Moreover, it's aligned with the idea of "little luxuries" and the current trend of self-care.
MoDRN at Walmart
Overall, the style of decor and furniture designed by MoDRN has always been a unique mashup of styles.
They offer items from many different home decor styles like Scandinavian, modern farmhouse, modern industrial (which they call refined industrial), and boho just to name a few.
FYI: Items from the MoDRN brand on Walmart.com are fulfilled by Hayneedle.  So you can shop directly on their website to find the same collection.
What to Expect From MoDRN's Neo Luxury Collection
Luxurious Fabrics and Rich Colors
Expect rich, jewel-toned colors and plush, touchable textures mixed with a modern minimalist structure.  Table frames, chair legs, and lamp bases are all sleek and streamlined.  The upholstery, on the other hand, is soft, touchable, and often tufted.
The line features a lot of deep blue tones like cobalt blue and turquoise.  Metallic elements are shiny gold and often mixed with marble.
Strong, modern silhouettes like squares, rectangles, and circles form the base of almost every item in the neo luxury decor collection.
My Top Picks
While I don't see a ton of options in the collection currently on Walmart's website.  I suspect that there will be more to come in the near future.
However, from the items I do see, there are a few beautiful pieces that really stand out.
And again, what I'm most impressed by is the price range.  This is a collection of incredibly designed affordable home decor.  Nothing in the list below is over $130.
So, without further adieu, here are my top picks.
1. MoDRN Neo Luxury Dylan End Table
This black and gold end table is lovely.  The way the gold metal frames the tabletop is a clean, elegant style you'll see throughout the neo luxury decor collection.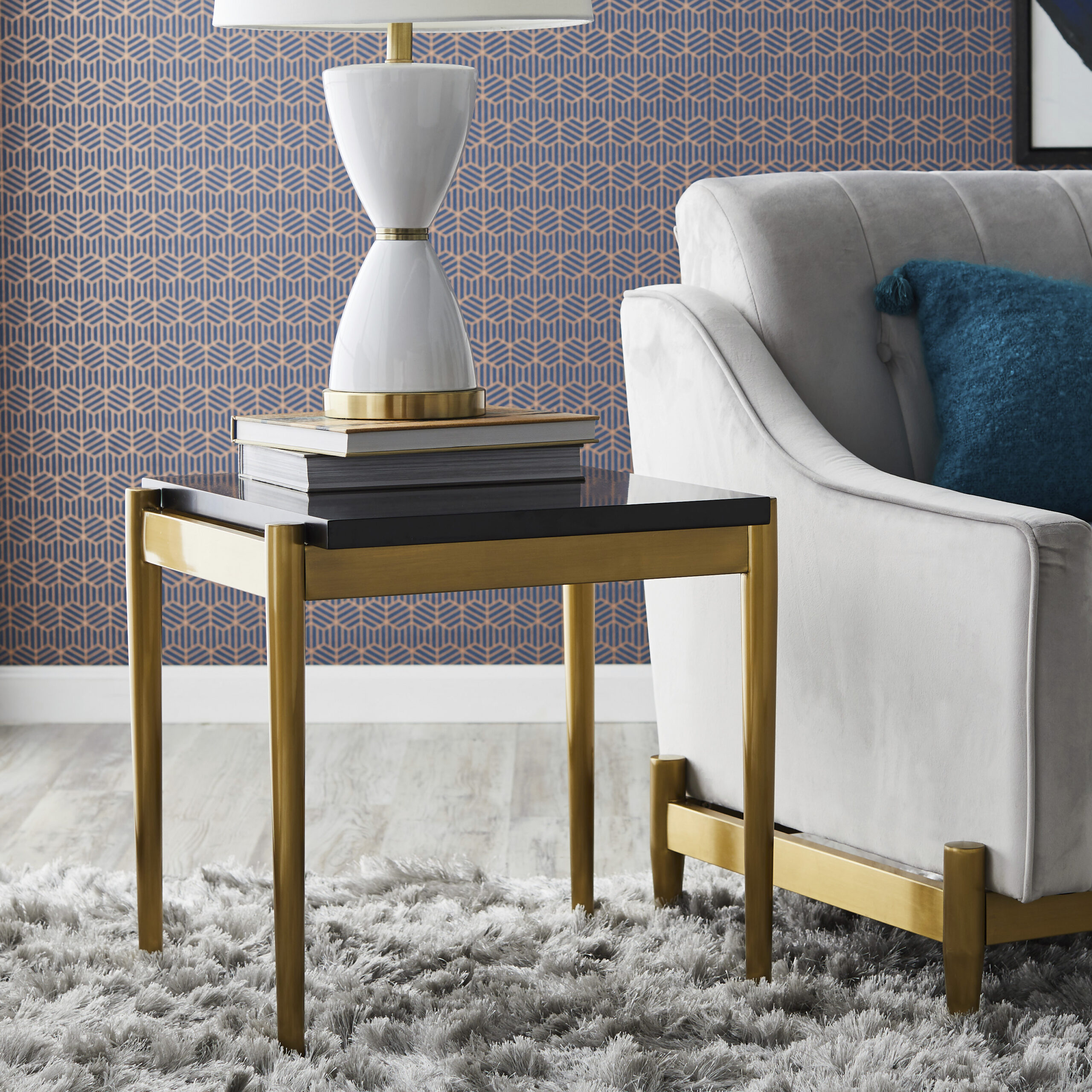 The Marcel Velvet counter stool is upholstered with beautiful blue velvet.  It's slightly shorter than the bar stool in the same style, so be sure to take measurements before ordering.
The Dylan console table is styled in the same fashion as the end table with its gold metal frame and black tabletop.  The feature that really makes this item look sleek is its long tapered legs.
It's another small detail that makes this collection stand out from other modern console tables you may find on the site.
Wall sconces are really big right now, and this one is gorgeous.  It's also practical with its hanging cord.
If you don't mind this exposed wiring look, this is a great piece to install in an apartment or anyplace you don't want to create a lot of holes in the wall to install.
I really love the textured frame and the gold gradient image.  If you look at some of the other photos of this piece, you'll notice a slight shimmer (or gleam) from the gold paint.
I think this is a nice touch and makes this perfect for the collection.
The last item I'd like to feature is the Marni Metal Base Ottoman.  This is really lovely and available in several different colors.
However, pay close attention when ordering this item because there's a rather wide price swing depending upon which color you choose.  It could be anywhere from $51 – $120.
Conclusion
The neo luxury decor from MoDRN is not just a new style.  It delivers style, sophistication, and elegance to the masses so that we can all experience the feeling of a luxurious interior.
In my opinion, what makes this collection really unique is that it offers us a new type of glam.  It's not the traditional shiny, mirrored, silver accents and chandeliers that we currently associate with glam decor.
Instead, it's a calm, sophisticated style of rich colors and metals with an emphasis on form and texture.  I highly recommend checking it out.
I hope you found this post helpful.  If you did, please share it with a friend and follow Dianne Decor on Bloglovin' and Instagram.
To have my latest posts delivered directly to your inbox, join the mailing list before you go.  I'll send you my weekly newsletter filled with weekend reads, decorating inspiration, and the best deals on home decor.
Thanks for reading!
decorating on a budget
home decor
modern
modrn
neo luxury
neo luxury decor
walmart decor